Pumpkin Pie Creme Brulee – Gluten Free
This pumpkin pie creme brulee is a French classic dessert transformed to sweeten your Thanksgiving table with its pumpkin flavor and crunchy top.
Happy Monday my friends! As probably some of you have noticed, I am trying to create content for you 5 days a week and Monday used to be a fashion post, well, this weekend was filled with so much baking and also a birthday celebration that I completely forgot to take some photos for my fashion post. BUT I have something to make it up to you, one of the desserts that I made this weekend: a pumpkin pie creme brulee that is creamy, sweet and delicious!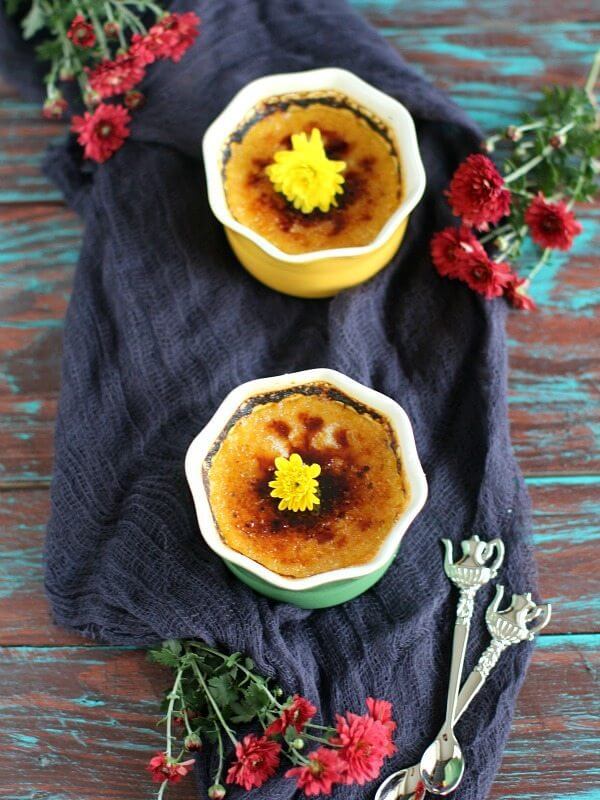 I have raved many times on this blog how I love creamy desserts, and with Thanksgiving right around the corner and grocery stores filled with literally everything pumpkin I just can't resist incorporating it in my baking. This weekend alone I bought one butternut squash and two acorn squashes, and a few cans or organic pumpkin puree that I actually ended up using in this pumpkin pie creme brulee that turned out amazing.

I am all for keeping the traditions and have the pumpkin pie, but you know sometimes you just want something more exciting than pumpkin pie. Imagine when you go to a Thanksgiving party and there is no dessert that you haven't tried, nothing that really excites you! This pumpkin pie creme brulee is the solution, its still festive, it still has that fall vibe, it has the pumpkin for God's sake, but its very tame, it's not overpowering, its sweet, fragrant, with a subtle pumpkin flavor, with a creamy texture and a crunchy sweet shell.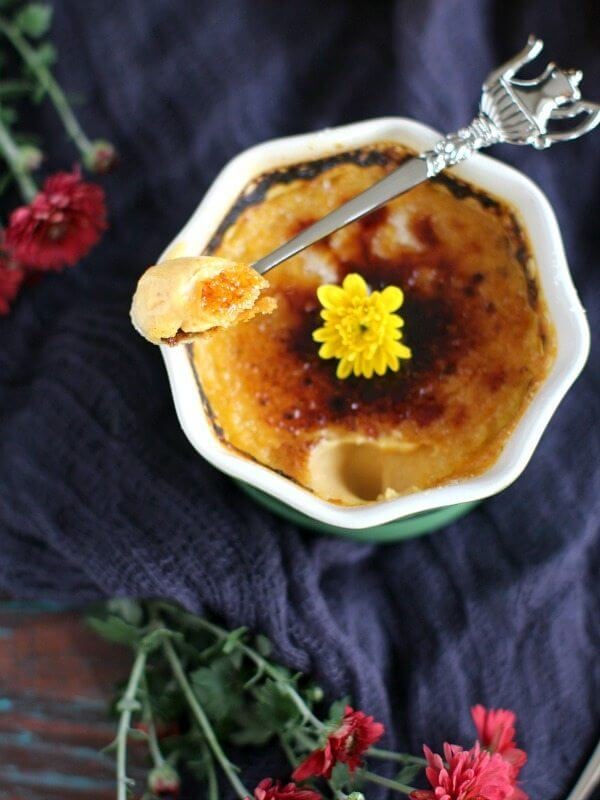 My husband is not a pumpkin lover, and he actually loved this pumpkin pie creme brulee because of its subtle pumpkin flavor. The pumpkin puree also makes this creamy dessert a little more hearty, more consistent and hey you are eating a vegetable, so that is a little healthy (at least let me think so)!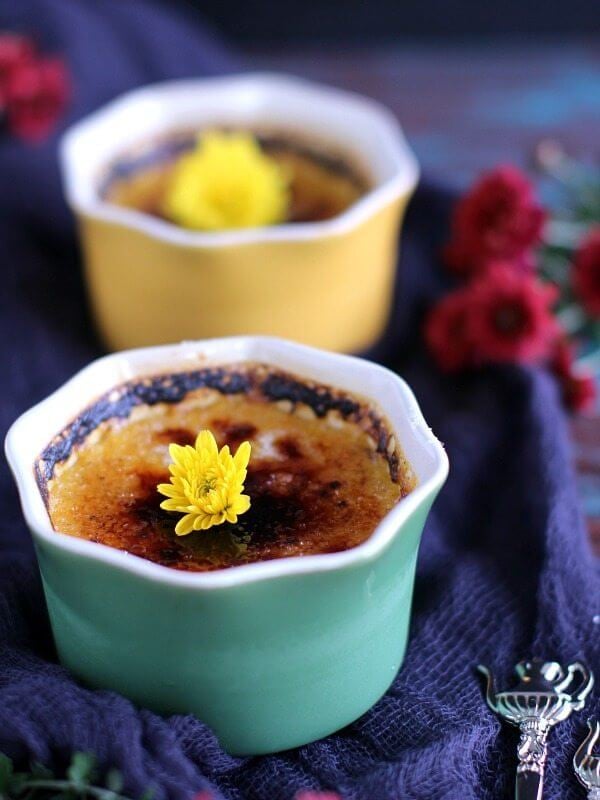 I am also in love with the vanilla flavor and pumpkin spice used in this pumpkin pie creme brulee they make this dessert so appropriate for fall festivities. This is a crustless dessert, I was debating of creating a crust to resemble more the traditional pumpkin pie, but I know how many people look for decadent desserts that don't involve rolling a crust, and if you like creamy, luxurious desserts, this pumpkin pie creme brulee is definitely one of them.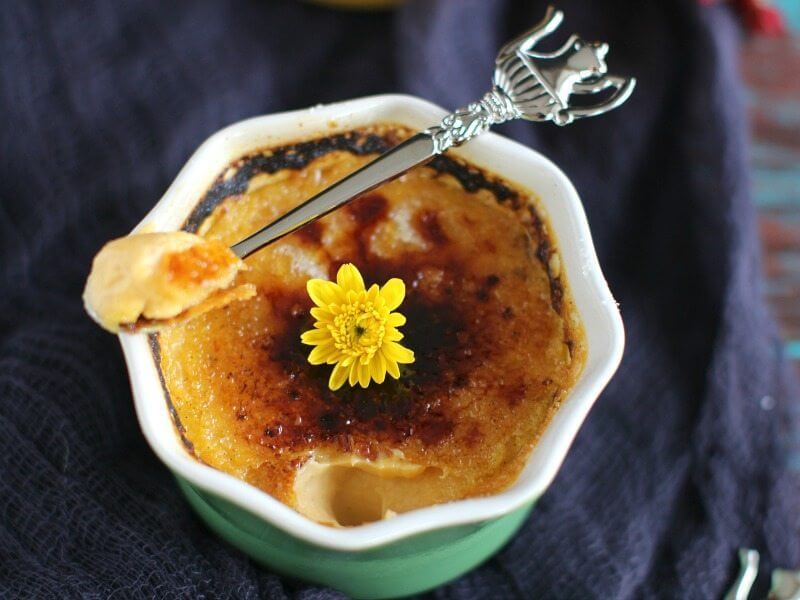 See those cute tiny spoons? I found them in a small local shop in Paris, they had so many beautiful items, that I wanted to grab a few bags and pack all of them! And those colorful ramekins, I got them from Pier 1 over the weekend.
Pumpkin Pie Creme Brulee
This pumpkin pie creme brulee is a French classic dessert transformed to sweeten your Thanksgiving table with its pumpkin flavor and crunchy top.
Author:
Katalina Kastravet
Ingredients
2 cups heavy cream
1 vanilla bean, split and scraped
1 teaspoon pumpkin spice
½ cup pumpkin puree
½ cup granulated sugar + more for garnish
4 egg yolks
hot water
Instructions
Preheat the oven to 325 degrees F.
Add the cream, vanilla bean and its seeds to a medium saucepan that is set over medium heat and bring to a boil, stirring occasionally. Once the mixture is boiling, remove the saucepan from heat, cover with a lid and allow to sit for 15 minutes. Remove the vanilla bean and discard.
In a medium bowl or in the bowl of an electric mixer fitted with the wire attachment, whisk together on medium-high speed the sugar and the egg yolks until well combined, the mixture must start to lighten in color and become fluffy. Whisk in the pumpkin spice and pumpkin puree, scrape the sides of the bowl and mix until well combined.
Whisk in the cream, adding it slowly, a little at a time, whisking and stirring continually. Stop the mixer, scrape the sides of the bowl and mix again on medium-low speed for a few seconds to make sure that the mixture is well blended.
Pour the liquid into 5-6 ramekins.
Place the ramekins into a large roasting pan and pour enough hot water into the pan to come halfway up the sides of the ramekins.
Bake just until the creme brulee is set, but still trembling in the center, about 40 to 45 minutes. Remove the ramekins from the roasting pan, let them come to room temperature after that refrigerate for at least 2 hours and up to 3 days.
The pumpkin pie creme brulee must be removed from the refrigerator 30 minutes prior to browning the sugar on top. Sprinkle the tops with 1 tablespoon of sugar and using a torch, melt the sugar and form a crispy top. Let it sit for at least 5 minutes before serving.