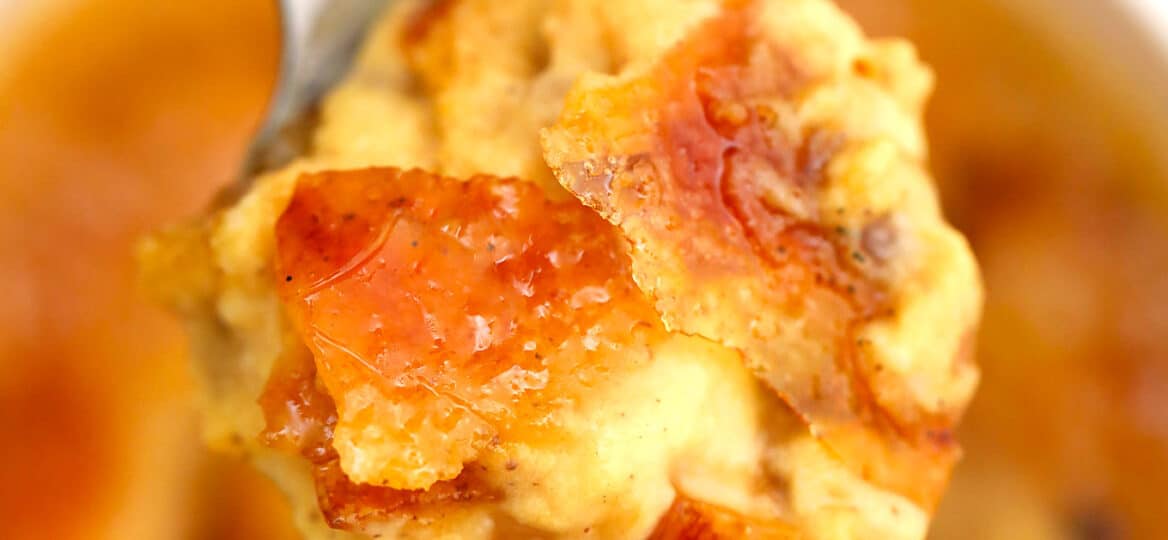 Pumpkin Pie Creme Brulee [Video]
Pumpkin Pie Creme Brulee is a French classic dessert transformed to sweeten your Thanksgiving table with its pumpkin flavor and crunchy top. Watch the recipe video tutorial below and see how easy this recipe is!
I love pumpkin flavor recipes like Pumpkin Fudge, Pumpkin Oreo Cake, and Pumpkin Madeleine.
Pumpkin Pie Creme Brulee Recipe
Pumpkin Pie Creme Brûlée is a nice change from the classic pumpkin pie. I have raved many times on this blog how I love creamy desserts, and with Thanksgiving right around the corner and grocery stores filled with literally everything pumpkin, I just can't resist incorporating it in my baking.
This weekend alone I bought one butternut squash and two acorn squashes, and a few cans of organic pumpkin puree that I actually ended up using in this Pumpkin Pie Creme Brûlée that turned out amazing.
I am all for keeping the traditions and have the pumpkin pie, but you know sometimes you just want something more exciting than pumpkin pie. Imagine when you go to a Thanksgiving party and there is no dessert that you haven't tried, nothing that really excites you!
This Pumpkin Spice Creme Brûlée is the solution, it's still festive, it still has that fall vibe, it has the pumpkin for God's sake, but its very tame, it's not overpowering, it's sweet, fragrant, with a subtle pumpkin flavor, a creamy texture, and a crunchy sweet shell.
How to make homemade pumpkin spice?
You can make pumpkin spice blend at home pretty easily, here is what you will need:
3 tablespoons ground cinnamon
2 teaspoons ground ginger
2 teaspoons ground nutmeg
1 teaspoon ground allspice
1 teaspoon ground cloves
Directions: In a small bowl, mix all the spices together. Transfer to a small jar or spice container.
How to serve pumpkin creme brulee?
Sprinkle the cold brûlée with a thin layer of sugar, you can use cinnamon sugar as well.
Caramelize it under the very hot grill or using a blowtorch.
Repeat the process several times until you have a golden crackling topping.
Leave the creme brûlée to cool and serve within 2 hours with whipped cream.
Can you eat creme brulee warm?
Creme Brûlée is better served cold, best it is to have the cold creamy cool, silky cream and topped with the hot caramelized sugar layer.
Can you put creme brulee in a pie shell?
Yes, you can, but keep in mind that it does not have the pumpkin pie consistency, it is way creamier, so don't expect perfect slices.
Can you make pumpkin creme brulee without a torch?
Yes, you can. Place the ramekins in the oven on the top rack, and turn on the broiler. Broil for 5 to 10 minutes, making sure to rotate them frequently so that they broil evenly. Watch them closely and take them out when they are golden brown and bubbling.
Can you freeze creme brulee?
You can easily freeze crème brûlée. First, you will have to wrap the baked custards individually and then freeze it. When you're ready to serve them, just remove from the freezer, let them stand a few minutes, add some sugar on top, and torch them. The heat of the torch usually thaws them enough so that they are icy cold, but not frozen.
Looking for more Pumpkin Desserts? Check these out: