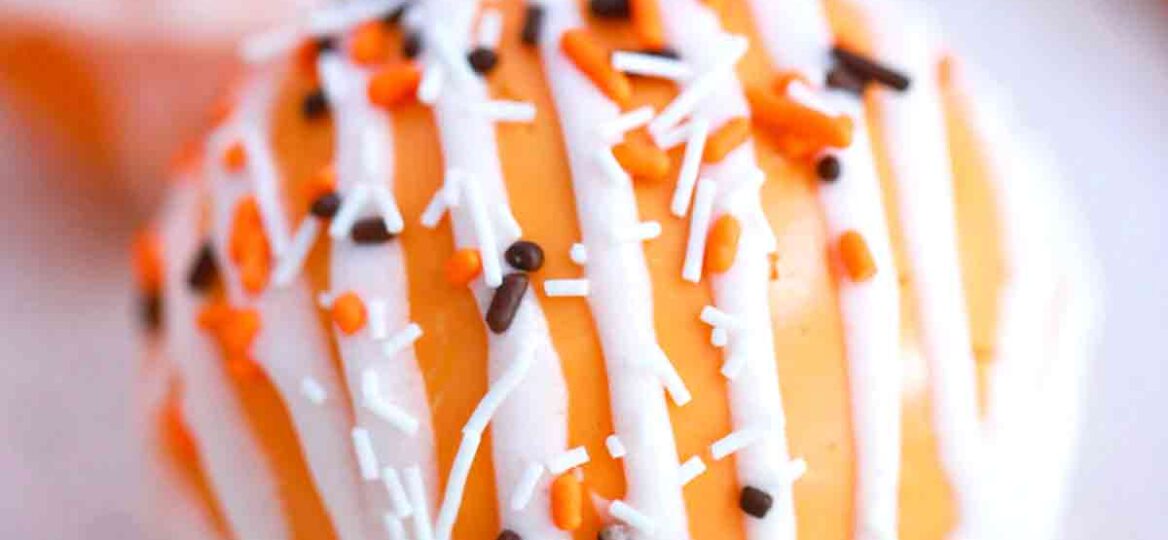 Pumpkin Spice Hot Cocoa Bombs [Video]
Pumpkin Spice Hot Cocoa Bombs are made with just 5 ingredients and are the perfect treat for the fall holidays. Add them to a hot cup of milk while sitting on the porch and watching the leaves begin to fall on a nice crisp morning.
If you like this recipe, try our creamy and festive Patriotic Hot Cocoa Bombs next year in July. While you are at it, make some of these scrumptious Red, White, and Blue Rice Crispy Treats. If you are on a keto diet, you will love these decadent Keto Lemon Coconut Cheesecake Fat Bombs any time of the year.
Hot chocolate bomb recipes have been all over social media recently and with good reason. They are easy, delicious, and the perfect way to enjoy a cool autumn night by the fire. Or surprise the kids with a warm mug of chocolatey goodness and watch them smile when the bomb explodes.
There are all sorts of variations out there but this one is perfect for staying in during freezing weather or to enjoy while you bake pumpkin spice truffle cake. The only thing you need to prepare these delicious warm chocolate drinks besides the ingredients is a large semi-sphere mold.
If you have been waiting since last year to start making pumpkin recipes, begin the season the easy way by making these delicious bombs. They are a great success with kids and adults and a fun recipe to make with the whole family.
The best part about them is that they are very customizable. You can fill them with white or dark cocoa powder, marshmallows, chocolate chips, sprinkles, toffee bits, and other delicious treats.
Ingredients needed:
Our recipe card below has the precise measurements and instructions but here are the basics:
Pumpkin spice: Store-bought or homemade.
Hot cocoa mix: Whichever you prefer.
Orange candy melts: As an option, you can use white chocolate and orange gel food coloring.
Marshmallows: Dehydrated mini marshmallows work best.

White chocolate: For decorating.
Decorations: We used sprinkles and icing.
How do you make pumpkin spice hot cocoa bombs?
Melt: First, melt the orange candy melts according to the package directions.

Fill: Next, spoon two tablespoons into each mold. Use a silicone brush to spread the mixture up the sides of the mold.
Chill: Then, place the filled mold in the fridge for 10 minutes or the freezer for five minutes.
Remove: Next, remove the pieces from the mold and fill three of them with two tablespoons of pumpkin spice and hot cocoa powder. Top that with mini marshmallows.
Seal: After, use the leftover melted candy to seal the bombs by pressing the empty half-shells into the warm chocolate and then immediately pressing it down onto the filled part of the shell.

Chill again: Then, put the sealed bombs in the freezer to chill for a few minutes.

Melt: Meanwhile, melt the white chocolate in a small bowl and put it in a piping bag.

Decorate: Last, drizzle it on top of the bombs and add sprinkles and icing right away.

Set: Finally, put them in the fridge for several minutes to set.
Recipe variations:
Change colors: Alternatively, use white candy melts to make white chocolate shells and use the orange melts for decoration.
More color: Also, you could use some milk chocolate since brown is a nice fall color.

Classic: If you are not a pumpkin lover, make classic hot cocoa bombs by omitting the spice.
Flavors of Fall: Add caramel melts and apple extract to the regular hot cocoa mix for a caramel apple bomb.
Syrup: Maple is also a seasonal favorite so go full fall mode and add a bit of syrup inside your bombs.

Spice it up: Conversely put a few red pepper flakes inside to give it a bit of spice.
How to serve:
To serve these pumpkin spice hot cocoa bombs, put one chocolate ball into a mug with about 12 ounces of hot milk. Watch the bomb explode and the cocoa and marshmallows come out. You may also like one of these serving ideas:
Since it is pumpkin spice season, serve it as a dessert after our tender and juicy pumpkin pot roast.

Toss some cranberries in the milk before adding the bomb for an added fall flavor and color.
Put one of these in a cup of pumpkin spice latte or London fog latte to get a kick of caffeine with your bomb.
Or try it in a glass of warm slow cooker apple cider with cinnamon.
Make it an adult hot chocolate recipe by dropping a bomb into a warm cup of Irish coffee.
Add candy corn and pumpkins to the top of these bombs when decorating.
Frequently asked questions
What is the best chocolate to use for hot cocoa bombs?
It is important to use high-quality chocolate, so it melts properly. You will get the best results with a product that contains cocoa butter. Belgian milk chocolate is a fantastic choice. For the hot cocoa mix to put inside the bombs, any kind will do but we like Swiss Miss.
What do you put inside hot chocolate bombs?
The main thing you need inside each bomb is the hot cocoa mix. Most people like to have vanilla mini marshmallows as well.
You can also toss in some chocolate chips and sprinkles. As long as it blends well with the chocolate and melts, you can use it. For this recipe, you also need to add pumpkin spice.
How do I make pumpkin pie spice?
The most common ingredients in pumpkin pie spice are two tablespoons of cinnamon, two teaspoons of ginger, one teaspoon of ground cloves, and ½ teaspoon ground nutmeg. Some people also like to add one teaspoon of allspice to the mix.
How to store leftovers:
Store: Before storing these yummy pumpkin spice cocoa bombs, be sure to put them in the freezer for about five to seven minutes. Then place them in an airtight container and put them in the fridge. They will stay fresh for up to three months.
Freeze: To freeze, make sure they are flash-frozen before putting them in an airtight container in the freezer. They should last up to six months.
Thaw: You do not need to thaw these. They will melt just fine in a warm cup of milk.
More Halloween Recipes:
Recipe tips:
Be sure to stir the chocolate every 30 seconds while melting in the microwave.
When you fill the molds, make sure the chocolate is even on each side.
Chocolate melting discs are easier to use than chips or bars because they melt more smoothly and do not cool as fast.
Put the bottom shell in a cupcake tin inside a cupcake wrapper to keep it still while you work on it.

Lucky Charms marshmallows work great for these.
Decorating the tops is easy with a piping bag. If you do not have a piping bag, use a plastic baggie with the corner cut off.
Make the edges of the shells even by pressing them against a warm plate after removing them.
Make sure you decorate with chocolate that is a little cooler, so it does not melt the top of the shell.

Use a little bit of parchment paper when storing your leftover bombs.
Pumpkin Spice Hot Cocoa Bombs
Ingredients
1 1/2

cups

orange candy melts

6

tablespoons

pumpkin spice hot cocoa mix

1

cup

marshmallows

1/4

cup

white chocolate

Sprinkles
Instructions
Add candy melts to a microwave-safe bowl and melt according to package directions.

Pour 2 tablespoons of melted chocolate into each mold cavity and using a silicone brush spread the chocolate around the mold.

Refrigerate for 5-10 minutes or until the chocolate is set.

Once set, remove the chocolate spheres from the mold and fill three of them with 2 tablespoons of pumpkin spice hot cocoa and miniature marshmallows.

Melt the leftover chocolate, take an empty sphere and press the edges in the chocolate, shake off excess, and press the two halves together.

Refrigerate the bombs immediately to avoid melting the pressed edged.

Melt the white chocolate in a small dish, add it to a piping bag, and once it's NOT HOT drizzle it on top of the bombs. Immediately add sprinkles.

Refrigerate the chocolate balls until ready to serve.

Heat 1 cup of milk in a large mug and drop a cocoa bomb inside, stir until well combined.
Deliciousness to your inbox
Enjoy weekly hand picked recipes and recommendations