Halloween Pumpkin Oreo Cake
Last updated on October 31st, 2022 at 03:23 pm
Pumpkin Oreo Cake is a delicious and decadent cake, with pumpkin chocolate chip layers and Oreo buttercream dressed up and garnished for Halloween.
With fall season around the corner, pumpkin is quickly becoming the theme flavor. This Pumpkin Oreo Cake is stunning and tastes delicious. Having already so many tasty pumpkin cakes, like these Instant Pot Pumpkin Cheesecake, Pumpkin Pie Creme Brûlée, and Pumpkin Poke Cake, it only made sense to add a Pumpkin Oreo Cake to the list.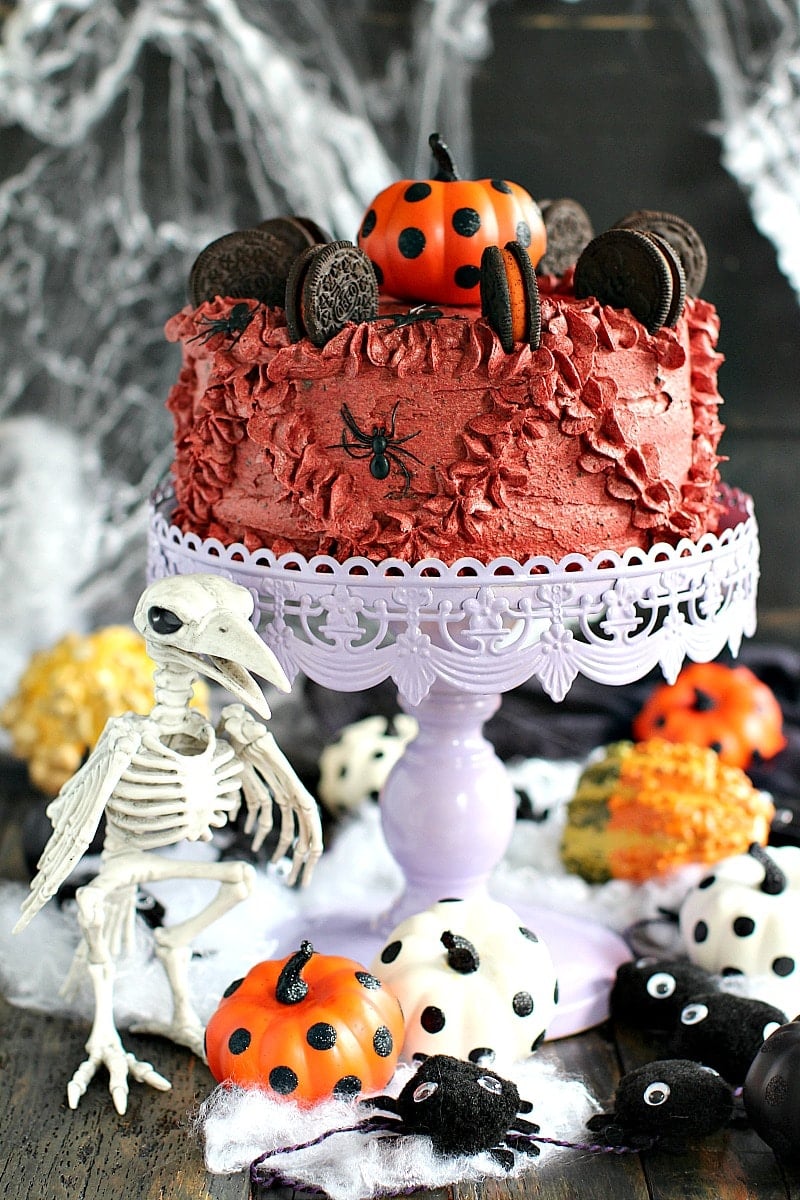 Pumpkin Oreo Cake Recipe Tips
Well, say hello to my Pumpkin Oreo Cake that I bring to you right in time for Halloween! I wanted so much to make a fun Halloween dessert, and what better excuse could I find to make another cake? And by the way, this is a pretty simple recipe, that anyone can recreate at home!
Last week I had the urge to bake an Oreo Cake as I have spotted some seasonal Pumpkin Oreos at the grocery store. I adore Oreo frosting, its one of my favorites, and it's so easy to make! Believe me, you will lick your spatula clean!
What type of Halloween would it be without pumpkin? Yes, I know! To make the best of it I made my Oreo Cake with Pumpkin Chocolate Chip layers, and I colored them a witchy teal color!
Pin This Pumpkin Oreo Cake Recipe to your Favorite Board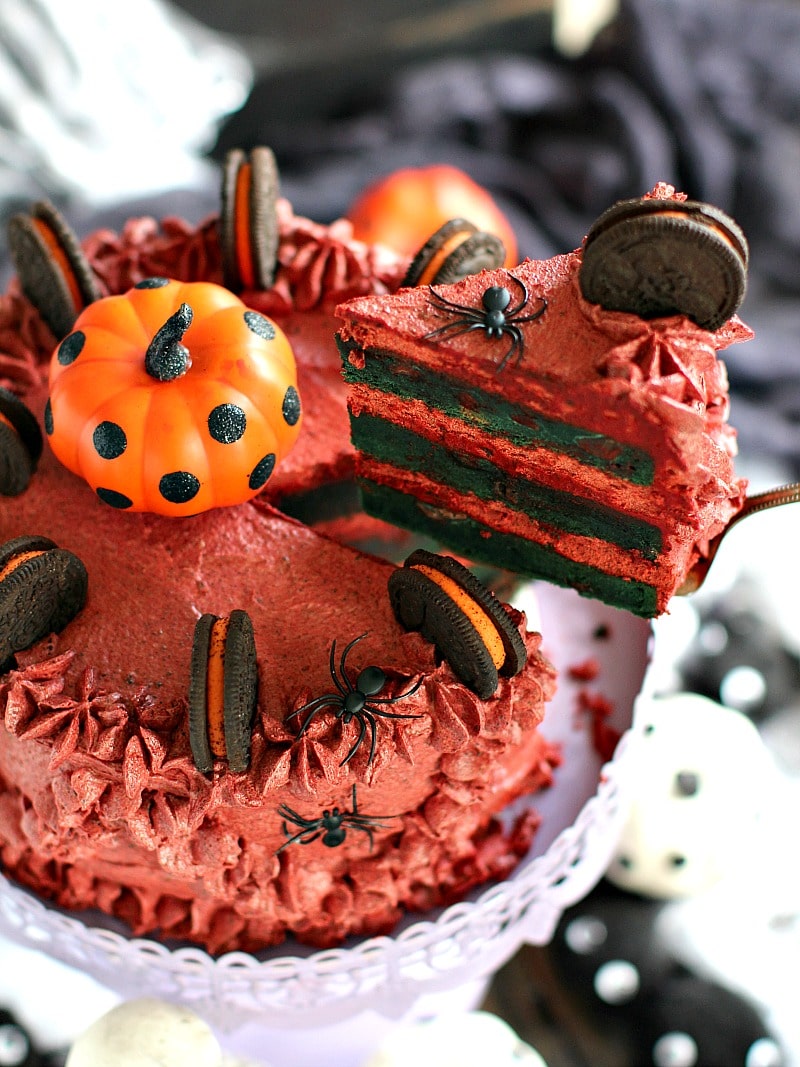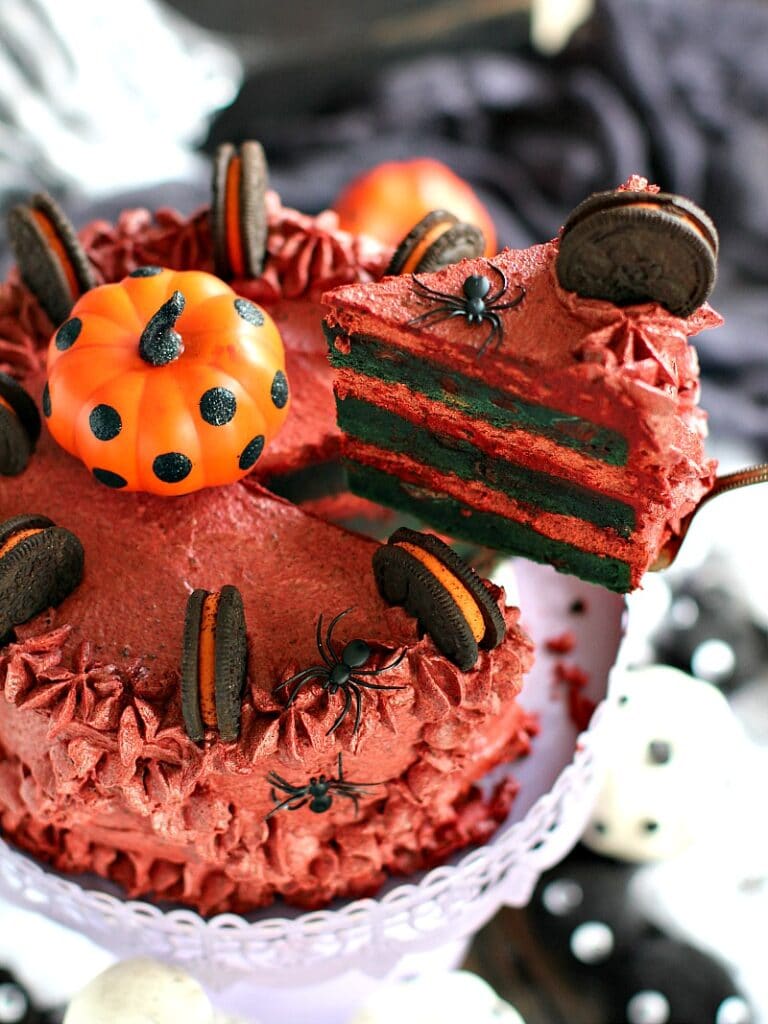 Pumpkin Chocolate Chip Recipe Guidelines:
Make sure the ingredients are at room temperature before you start baking. Also, the oven should be pre-heated.
I used Americolor Gel Food Coloring, it my all-time favorite. You can make this cake without the food coloring as well.
Make sure the cake is fully cooled before frosting it.
If the frosting is too thin, add more powdered sugar 1/4 cup at a time.
If the frosting it too thick, add a little milk, a few tablespoons at a time.
The Pumpkin Chocolate Chip layers are covered in a Pumpkin Oreo Buttercream that is loaded with 20 Pumpkin Oreo cookies. I also made it a bloody red color, for a more dramatic look.
I garnished the cake with more Pumpkin Oreos, fake spiders and a fake, tiny pumpkin! Don't let this spooky Oreo Cake fool you, it is absolutely delicious and you will find yourself looking for seconds!
Can I use fresh pumpkin instead of canned?
Yes! Making pumpkin puree from fresh pumpkin is easy, and you can definitely substitute the canned pumpkin for fresh pureed pumpkin. To Make Pumpkin Puree from scratch follow the bellow method:
Preheat oven to 325 degrees F (165 degrees C).
Cut the pumpkin in half and remove seeds and pulp. Cover each half with foil.
Bake in the preheated oven, foil side up, 1 hour, or until tender.
With a fork, scrape pumpkin meat from shell halves, and puree in a blender. Strain to remove any remaining stringy pieces. Store in the freezer in freezer-safe bags.
What is pumpkin puree vs canned pumpkin?
Canned pumpkin is just cooked pureed pumpkin. Canned pumpkin or pumpkin pie filling is flavored with spices like cinnamon, clove, allspice, and ginger, and is also sweetened.
How do you make Pumpkin Spice?
You can make pumpkin spice blend at home pretty easily, here is what you will need:
3 tablespoons ground cinnamon
2 teaspoons ground ginger
2 teaspoons ground nutmeg
1 teaspoon ground allspice
1 teaspoon ground cloves
Directions: In a small bowl, mix all the spices together. Transfer to a small jar or spice container.
HOW TO FREEZE CAKE LAYERS:
You can make the cake layers in advance and freeze them, thaw them when you are ready to decorate the cake. To freeze the unfrosted cake layers, follow these steps:
Bake the cake layer and cool each layer on a wire rack. Make sure the cake layers are fully cooled before freezing.
Wrap each cake layer in plastic wrap, preferably freezer wrap. After that wrap tightly in aluminum foil and place in a freezer ziplock bag (if it fits).
Write the date and cake type on the ziplock bag.
Lay the cake layers flat in the freezer.
Cakes can be frozen for up to 3 months.
CAN YOU FREEZE AN ALREADY FROSTED CAKE?
Yes, you can. Pumpkin cakes freeze especially well, but note, that once you start thawing the cake, sometimes you will get condensation on the cake, that happens when you are trying to speed up the thawing process.
Make sure the cake is refrigerated, so the pumpkin cream won't spread when you try to wrap the cake in plastic wrap.
Wrap the cake (if it fits in your freezer) or individual cake slices in plastic wrap, preferably freezer wrap. After that wrap tightly in aluminum foil and place in a freezer ziplock bag (if it fits).
Write the date and cake type on the ziplock bag.
Place cake in the freezer. Cakes can be frozen for up to 3 months.
HOW TO THAW A FROZEN CAKE?
Remove cake layers or cake them from the freezer the night before you want to use the cake layers or eat the cake.
Refrigerate without unwrapping for 24 hours. This way the cake will thaw slowly and without any condensation forming on the surface.
After 24 hours, take them out of the fridge and let the cake layers or cake come to room temperature while still wrapped.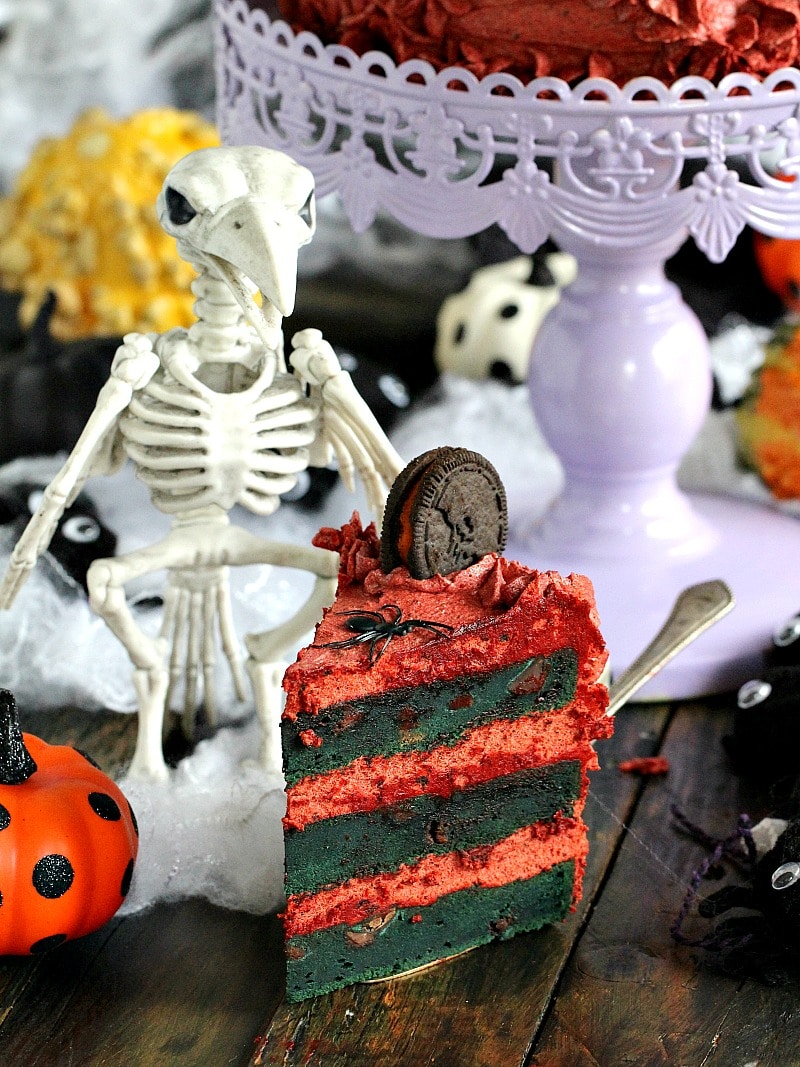 Pumpkin Oreo Cake
Delicious and decadent Pumpkin Oreo Cake with pumpkin chocolate chip layers and Oreo buttercream is dressed up and garnished for Halloween.
Save
Share
Print
Pin
Rate
Ingredients
Cake:
2

sticks unsalted butter

2

cups

packed light-brown sugar

1 1/2

teaspoon

baking soda

1

tablespoon

pumpkin spice

1/4

teaspoon

salt

4

large eggs

3

cups

all-purpose flour

1 1/2

cups

pumpkin puree

1

cup

chocolate chips

Teal Gel Color
Frosting:
4

sticks butter

(room temperature)

8

cups

powdered sugar

2

tablespoons

heavy cream or whole milk

1

tablespoon

vanilla extract

2

tablespoons

pumpkin puree

20

Pumpkin Oreos

Red Gel Color in Tulip
Garnish:
Pumpkin Oreos

Fake spiders

Fake pumpkin
Instructions
Cake:
Heat oven to 350°F.

Coat three 8 x 2 inch cake pans with non­-stick spray, line bottoms with parchment paper and spray paper with non-stick spray. Set aside.

In a medium bowl, whisk together flour, baking powder, salt and pumpkin spice. Set aside.

In the large bowl of a standing mixer fitted with the wire whisk attachment, beat butter with sugar on medium-high speed until well blended, fluffy and creamy, about 3 minutes.

On low speed, add the eggs one at a time and blend well after each addition, stopping from time to time to scrape the sides of the bowl with a spatula.

On low speed, beat in the flour mixture in 3 additions, alternating with pumpkin puree in 3 additions, mix until just blended. Mix in the food color gel, add as much as needed, until you get the color you like.

With a spatula, manually stir in chocolate chips until well incorporated into the batter.

Divide batter between prepared pans, gently leveling the top.

Bake for 30 minutes or until a wooden pick inserted into the centers of the cakes comes out clean. Remove pans from oven, let them cool on a wire rack for 10 minutes. Run a knife around the sides of cakes and invert cakes onto the rack. Remove and discard parchment paper.

Cool cakes completely before frosting.
Frosting:
In a food processor or blender, pulverize Oreo's into a powder. Set aside.

In the bowl of a stand mixer, whisk butter together with powdered sugar 1 cup at a time, until all blended.

Add vanilla and heavy cream and mix well.

Add crushed Oreo's and blend well.

Add gel food color as much as needed to achieve the color you want, mix well.
Assembling the cake:
Place a cake layer onto a cake platter and spread with ¾ cup frosting. Top with other cake layer and repeat. Add the third, top cake layer and spread with frosting. Use the remaining frosting to spread on the sides of the cake.

Add the leftover frosting to a pipping bag fitted with a large star tip and pipe some garlands on the sides of the cake and on the edges of the top and bottom layer.

Garnish with Pumpkin Oreo cookies, fake spiders, and fake pumpkin.

Refrigerate cake.

Serve and enjoy!
Nutrition
Calories:
707
kcal
|
Carbohydrates:
159
g
|
Protein:
7
g
|
Fat:
8
g
|
Saturated Fat:
2
g
|
Cholesterol:
55
mg
|
Sodium:
318
mg
|
Potassium:
372
mg
|
Fiber:
5
g
|
Sugar:
123
g
|
Vitamin A:
5295
IU
|
Vitamin C:
1.5
mg
|
Calcium:
106
mg
|
Iron:
6
mg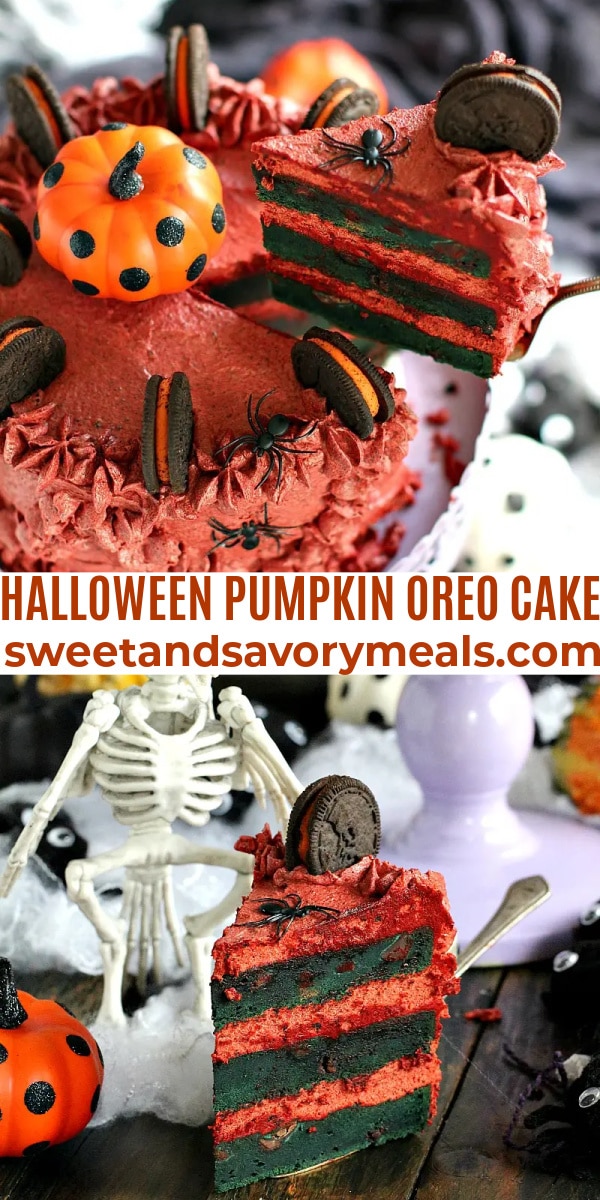 More recipes you might love