Halloween Pumpkin Oreo Cake
This post may contain affiliate links. Please read my disclosure policy.
Delicious and decadent Pumpkin Oreo Cake with pumpkin chocolate chip layers and Oreo buttercream is dressed up and garnished for Halloween.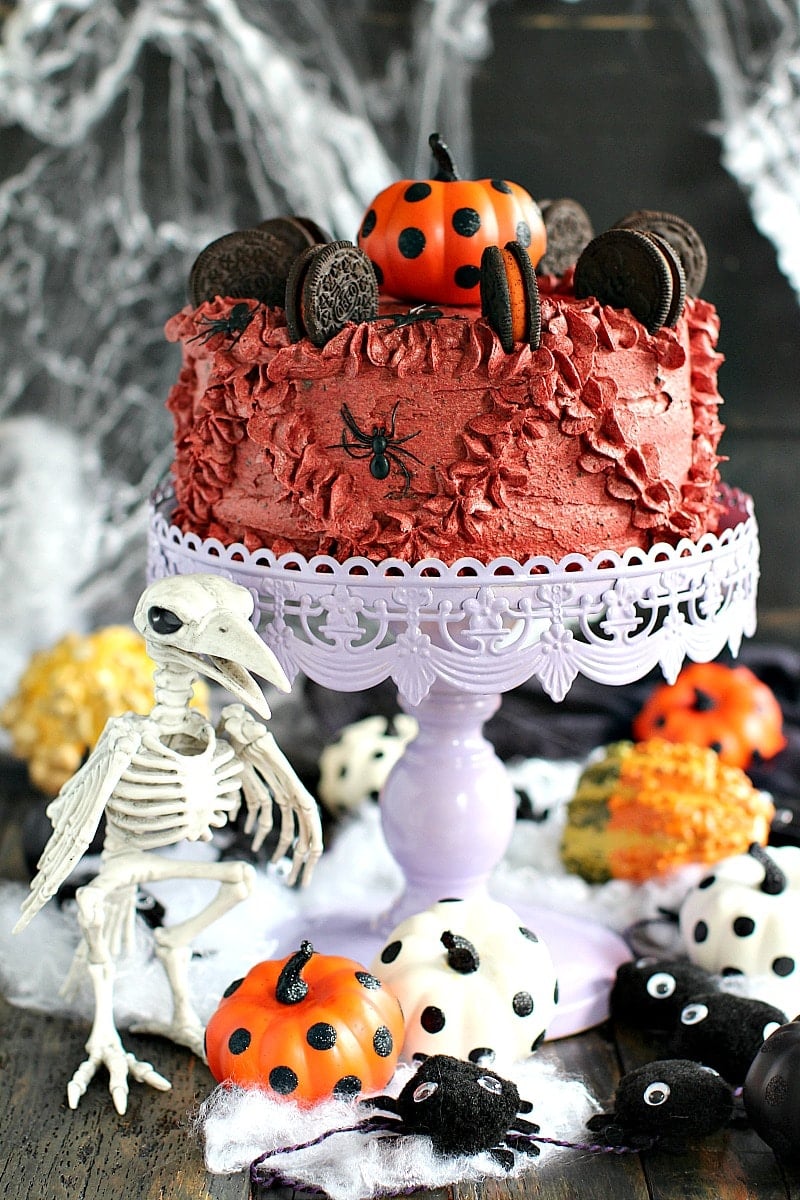 Well, say hello to my Pumpkin Oreo Cake that I bring to you right in time for Halloween! I wanted so much to make a fun Halloween dessert, and what better excuse could I find to make another cake? And by the way, this is a pretty simple recipe, that anyone can recreate at home!

Last week I had the urge to bake an Oreo Cake as I have spotted some seasonal Pumpkin Oreos at the grocery store. I adore Oreo frosting, its one of my favorites, and it's so easy to make! Believe me, you will lick your spatula clean!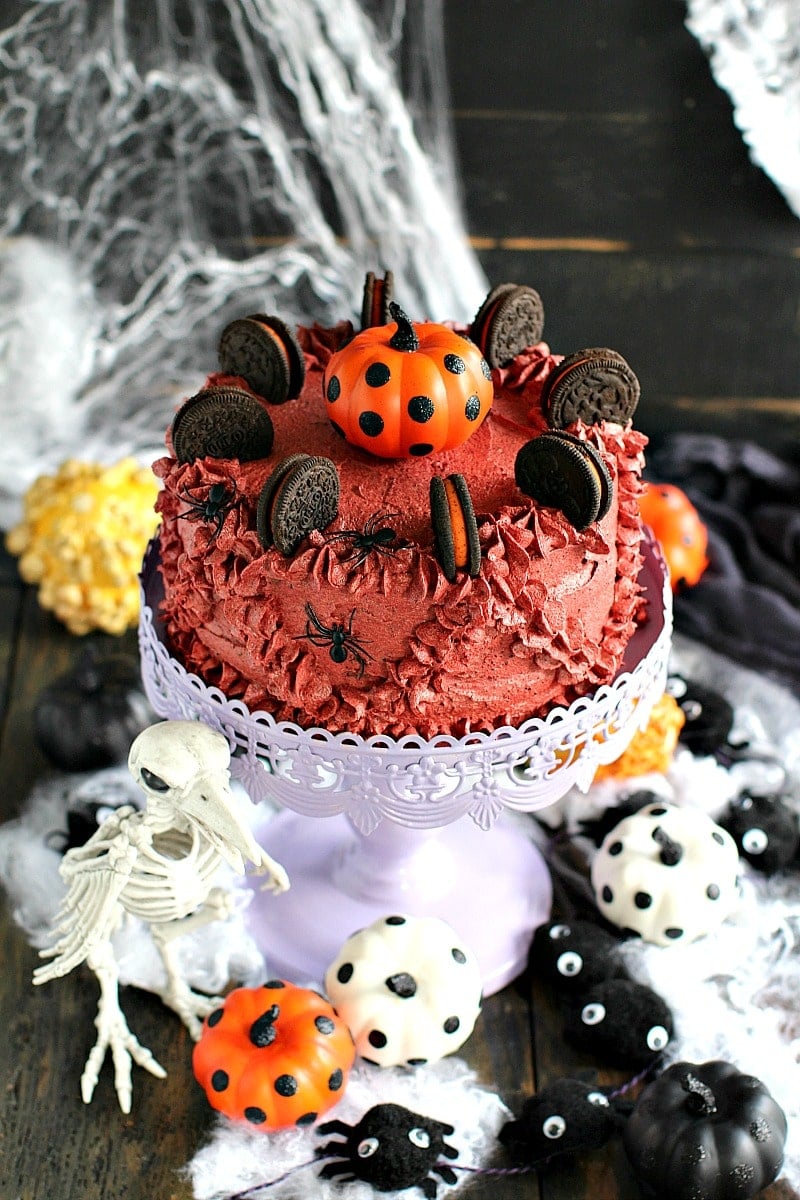 What type of Halloween would it be without pumpkin? Yes, I know! To make the best of it I made my Oreo Cake with Pumpkin Chocolate Chip layers, and I colored them a witchy teal color!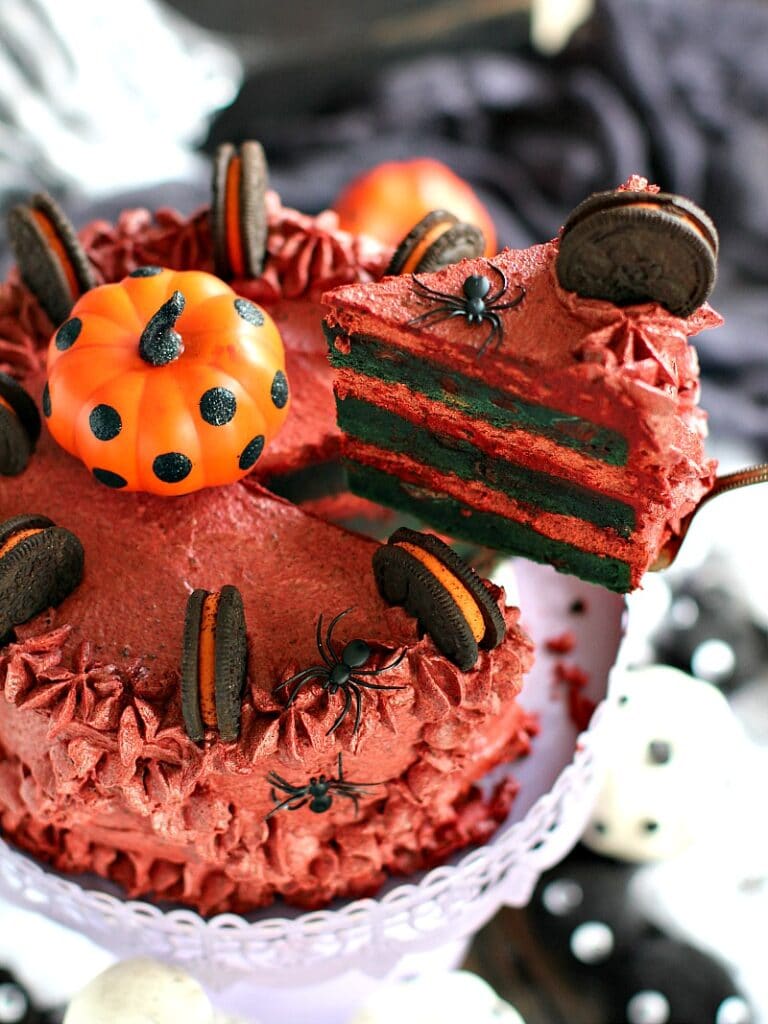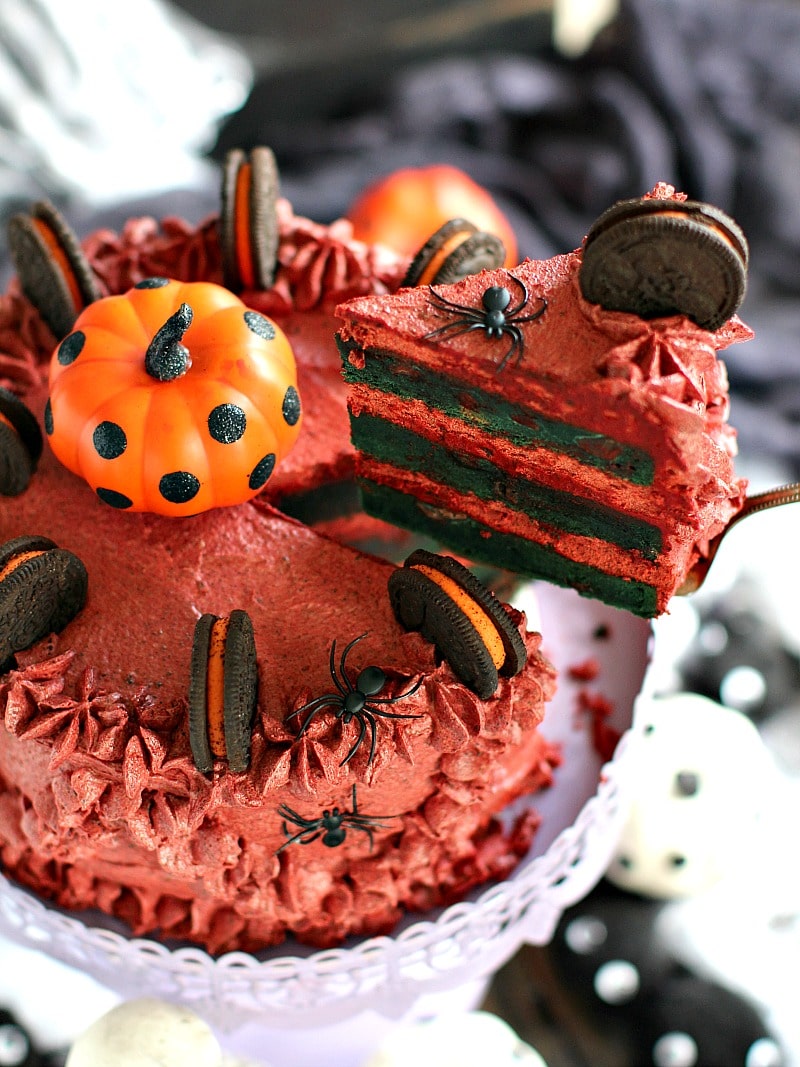 The Pumpkin Chocolate Chip layers are them covered in a Pumpkin Oreo Buttercream that is loaded with Pumpkin Oreo cookies, to be precise I used 20 cookies in this frosting! I also made it a bloody red color, for a more dramatic look.

MY LATEST VIDEOS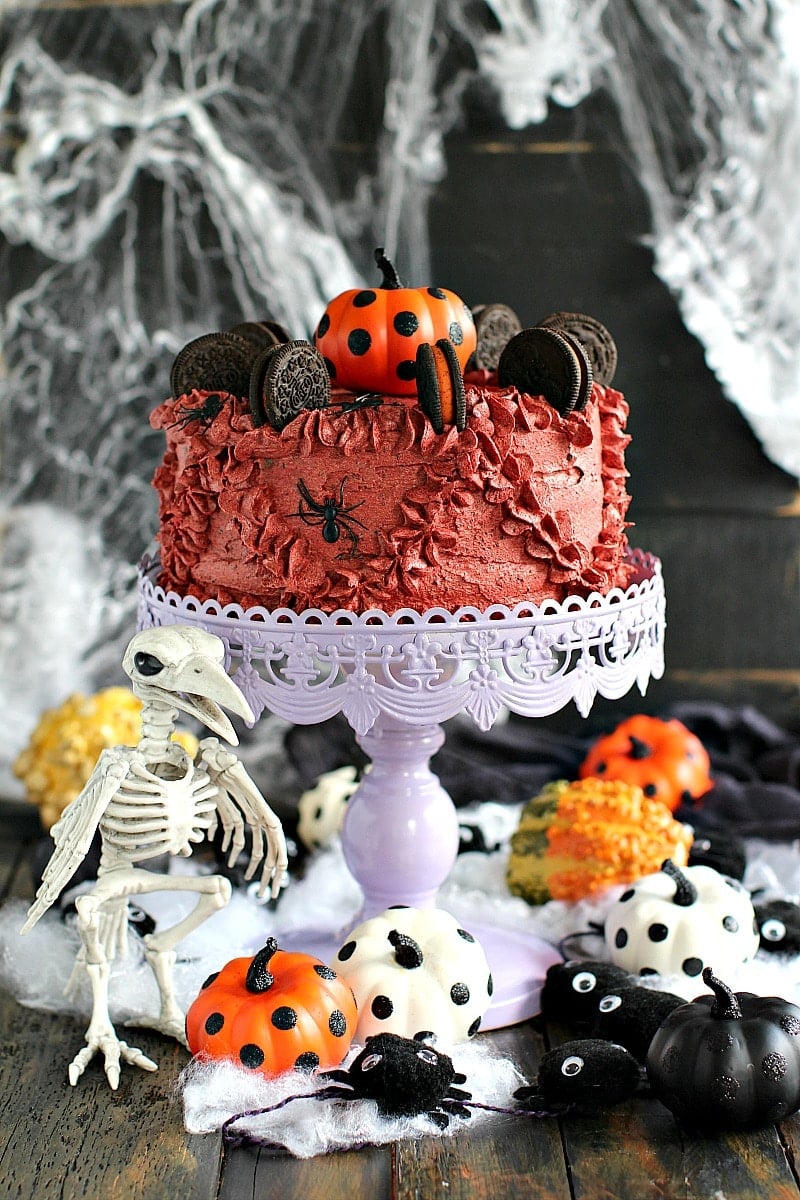 Originally I wanted to name the this Oreo Cake – The Bleeding Witch Cake, but after some consideration I assumed that some people may not be as much into bloody witches, even if its Halloween 🙂 so I kept it safe, and gave it a completely edible name.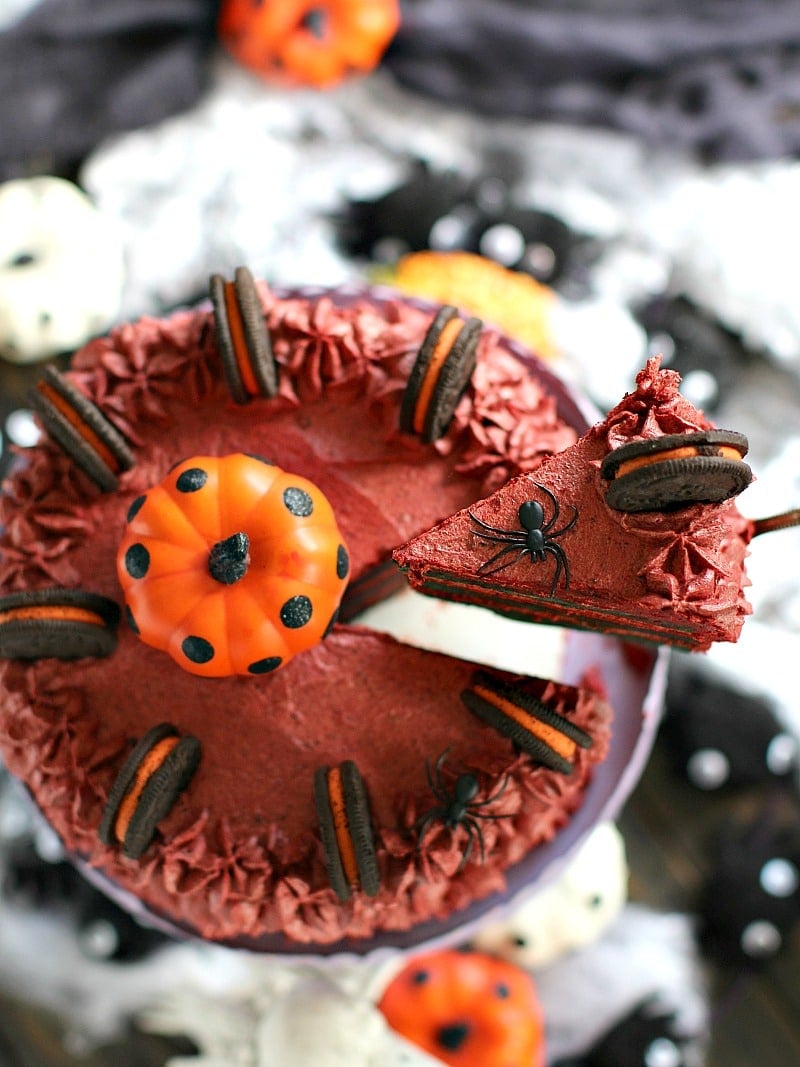 If you are wondering from where I got all those decorations, they are all from the land of everything aka the holly grail of Target! I had hubby run a quick errand and asked him to pick me some spooky stuff, that is also cute, I think he did well.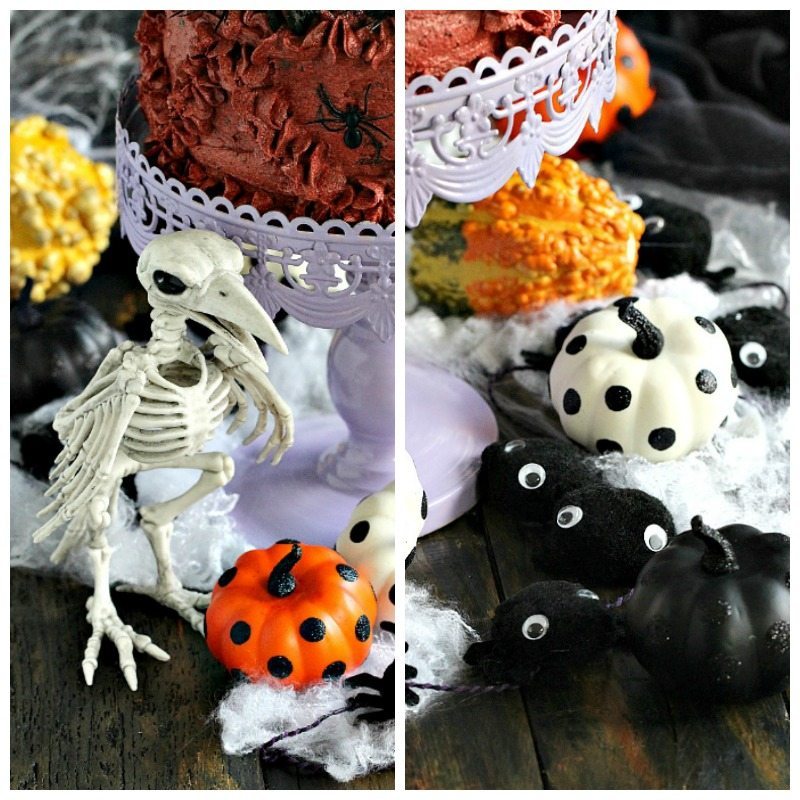 I am terrified of spiders in real life, but had so much fun decorating my cake with some fake ones!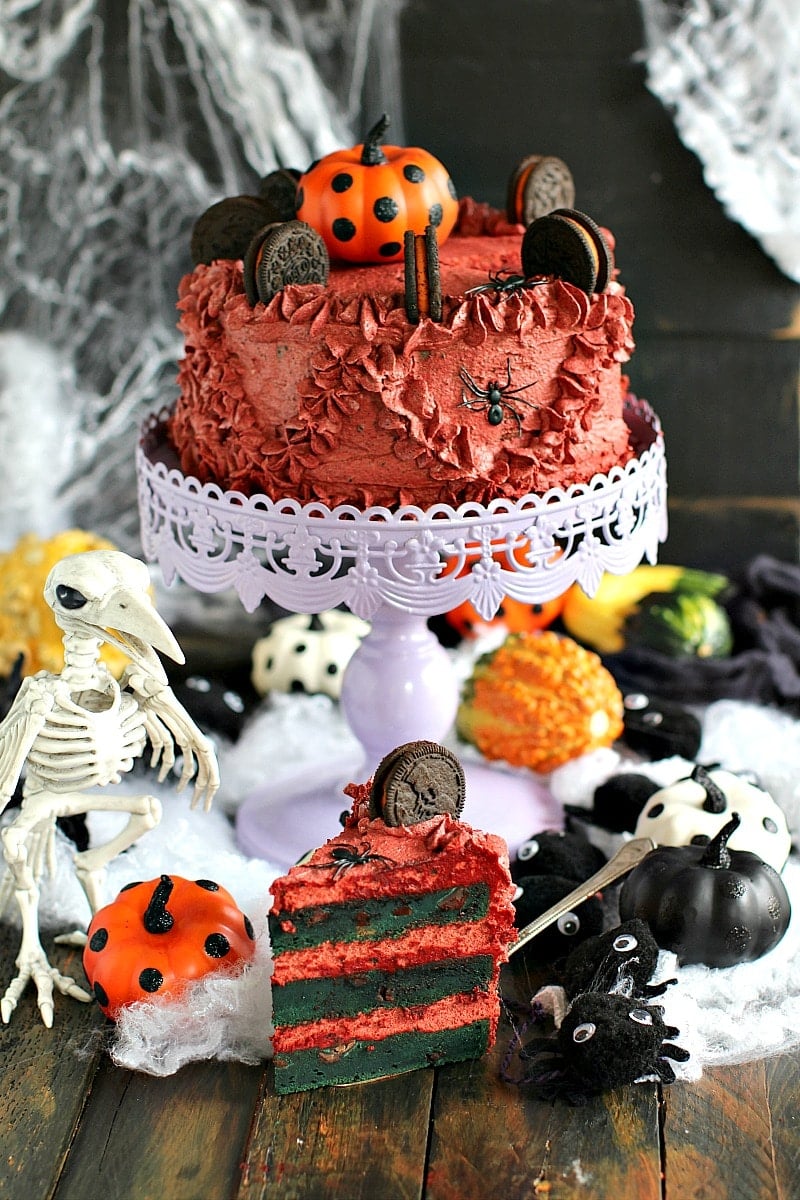 I garnished the cake with more Pumpkin Oreos, fake spiders and a fake, tiny pumpkin! Don't let this spooky Oreo Cake fool you, it is absolutely delicious and you will find yourself looking for seconds!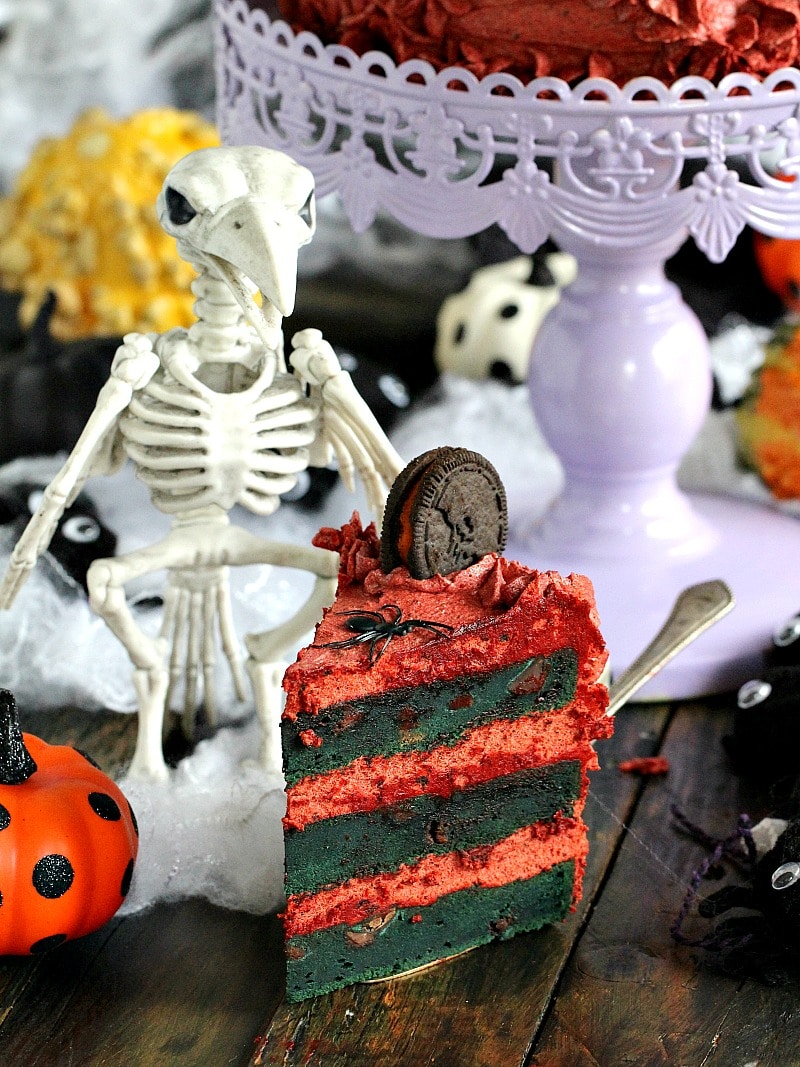 Halloween Pumpkin Oreo Cake
Delicious and decadent Pumpkin Oreo Cake with pumpkin chocolate chip layers and Oreo buttercream is dressed up and garnished for Halloween.
Author:
Katalina Kastravet
Ingredients
Cake:
2 sticks unsalted butter
2 cups packed light-brown
1½ teaspoon baking soda
1 tablespoon pumpkin spice
¼ teaspoon salt
4 large eggs
3 cups all-purpose flour
1½ cups pumpkin puree
1 cup chocolate chips
Teal Gel Color
Frosting:
4 sticks butter, room temperature
8 cups powdered sugar
2 tablespoons heavy cream or whole milk
1 tablespoon vanilla extract
2 tablespoons pumpkin puree
20 Pumpkin Oreos
Red Gel Color in Tulip
Garnish:
Pumpkin Oreos
Fake spiders
Fake pumpkin
Instructions
Cake:
Heat oven to 350°F.
Coat three 8 x 2 inch cake pans with non­-stick spray, line bottoms with parchment paper and spray paper with non-stick spray. Set aside.
In a medium bowl, whisk together flour, baking powder, salt and pumpkin spice. Set aside.
In the large bowl of a standing mixer fitted with the wire whisk attachment, beat butter with sugar on medium-high speed until well blended, fluffy and creamy, about 3 minutes.
On low speed, add the eggs one at a time and blend well after each addition, stopping from time to time to scrape the sides of the bowl with a spatula.
On low speed, beat in the flour mixture in 3 additions, alternating with pumpkin puree in 3 additions, mix until just blended. Mix in the food color gel, add as much as needed, until you get the color you like.
With a spatula, manually stir in chocolate chips until well incorporated into the batter.
Divide batter between prepared pans, gently leveling the top.
Bake for 30 minutes or until a wooden pick inserted into the centers of the cakes comes out clean. Remove pans from oven, let them cool on a wire rack for 10 minutes. Run a knife around the sides of cakes and invert cakes onto the rack. Remove and discard parchment paper.
Cool cakes completely before frosting.
Frosting:
In a food processor or blender, pulverize Oreo's into a powder. Set aside.
In the bowl of a stand mixer, whisk butter together with powdered sugar 1 cup at a time, until all blended.
Add vanilla and heavy cream and mix well.
Add crushed Oreo's and blend well.
Add gel food color as much as needed to achieve the color you want, mix well.
Assembling the cake:
Place a cake layer onto a cake platter and spread with ¾ cup frosting. Top with other cake layer and repeat. Add the third, top cake layer and spread with frosting. Use the remaining frosting to spread on the sides of the cake.
Add the leftover frosting to a pipping bag fitted with a large star tip and pipe some garlands on the sides of the cake and on the edges of the top and bottom layer.
Garnish with Pumpkin Oreo cookies, fake spiders, and fake pumpkin.
Refrigerate cake.
Serve and enjoy!

I get many questions about my stand and what gel food color I use, so here you go: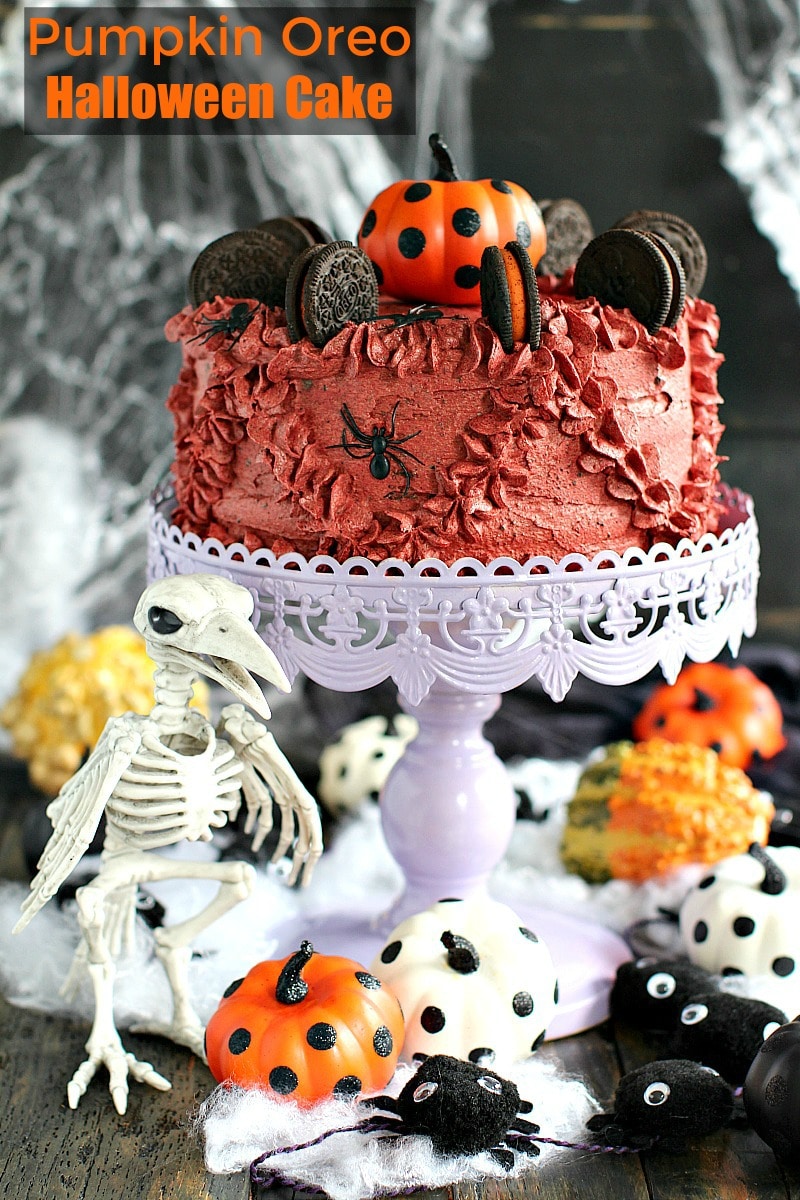 Happy Halloween Friends 🙂
*This post may contain affiliate links at no extra cost to you.
Peas and Peonies, LLC. owns the copyright on all images and text and does not allow for its original recipes and pictures to be reproduced anywhere other than at this site unless authorization is given. If you enjoyed the recipe and would like to publish it on your own site, please re-write it in your own words, and link back to my site and recipe page. Copying and/or pasting full recipes to social media or personal blogs is strictly prohibited. Sharing this recipe is very much appreciated and encouraged. Read my disclosure and privacy policy. This post may contain affiliate links.