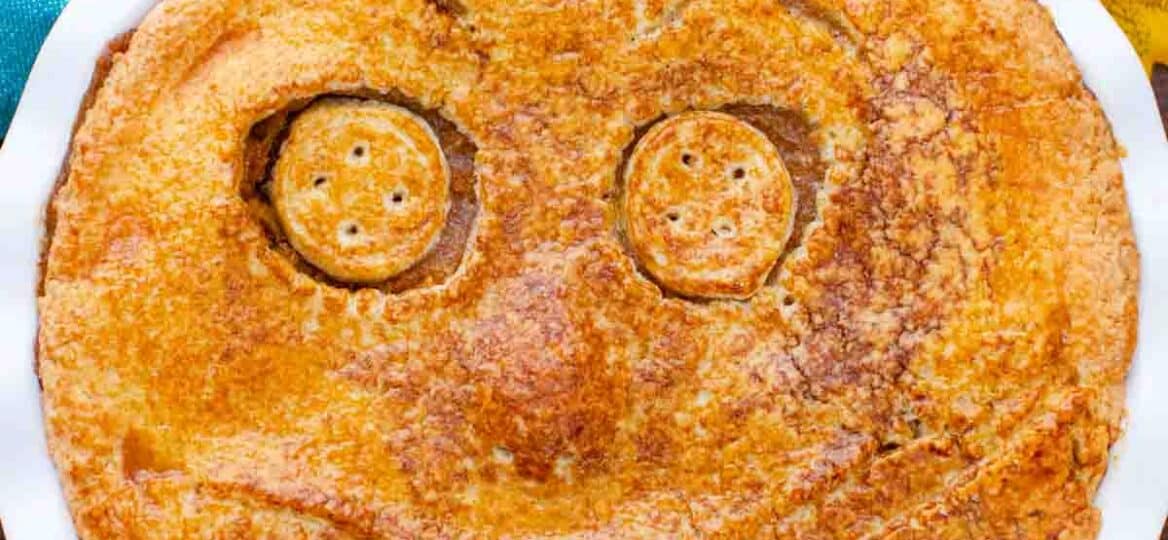 Spooky Faced Halloween Apple Pie
Halloween Apple Pie made with just two simple ingredients, and spooky-faced will be the hit of the party, and everyone will have a Happy Halloween. What's more, with tender juicy apples, and a flaky pie crust, this pie is fun to make so you can let the kids help you. My kids give it a recipe rating of 5 stars!
Also known as All Hallows Eve, Halloween is a tradition that has been going on since the early Celtics started a festival for Samhain. This is a pagan religious ceremony where they would wear scary costumes and light bonfires to ward off evil spirits and welcome the harvest. Carving pumpkins actually started in Ireland many years later when they carved turnips into scary faces to frighten ghosts away.
Since apples are high in vitamin C and other nutrients, the nutrition, calories, and fat will make you feel good about eating this pie and feeding it to your family and friends. It also has a good amount of fiber, and minimal saturated fat, and makes a good addition to your meal plan no matter what kind of diet you are on. You can always use sugar substitutes, vegan butter, and almond flour.
Ingredients needed:
Here are the simple ingredients for this Halloween pie recipe. Each one is important so take the time to find out why it is on here before removing or replacing anything.
You can just use store-bought apple pie crust and canned apple filling, to make this two-ingredient recipe. Or if you are feeling fancy, make your own crust and homemade apple pie filling.
This recipe will make 2 pie crust, one for the bottom and one for the top.
1 1/2 cups all-purpose flour: You could also use almond flour for a gluten-free crust.
1/2 cup cold butter: The butter has to be cold, so it does not melt right away. This is what gives your crust a flaky texture.
1/2 cup shortening: Shortening melts slower than butter so you get an even lighter and flakier crust if you use this too.
2 teaspoon granulated white sugar: Sugar substitute can be used for a low-carb or keto diet.
1/2 teaspoon cinnamon: One of the warm fall spices that blends well with sugar and nutmeg for a holiday flavor.
1/4 teaspoon nutmeg: You can skip this if you want but it makes your crust more flavorful.
pinch of salt
8 tablespoons ice water
Apple pie filling: You can use your own homemade (link above) or store-bought.
Egg wash ingredients:
Egg: Mixed with milk or water, this seals the crust, helps it brown, and keeps the sugar topping from falling off.
Milk: Any milk will do including almond milk.
How to make Halloween pie from scratch?
Make the pie dough: First, add flour, salt, sugar, cinnamon, and nutmeg to a food processor. Then, add the cold butter and shortening and process until the mixture resembles coarse crumbs. After, add the water and pulse until combined.
Chill pie crusts: Now, shape the dough into two balls and wrap them separately in plastic wrap. Chill for three hours or overnight.
Roll out the dough: When ready to use, place waxed paper on a flat surface and lightly dust with flour. Roll one dough ball out to fit a 9-inch pie plate. Leave the other dough ball in the fridge until you are ready to use it. Transfer the crust to the pie plate and press evenly into the bottom and sides of the pie dish.
Preheat oven: Then, preheat the oven to 375 degrees F.
Add the apple mixture: While you wait, add the apple pie filling to the prepared crust and level it out with a spatula.
Roll it out again: Then roll the remaining dough ball on a floured surface, a piece of wax paper, or parchment paper. After it is the right size, carefully place it on top of the pie.
Trim and pinch: After, trim the outer edge of the pie leaving a 1/2 inch hanging over. Fold that overhang under and pinch with your fingertips to seal.
So much fun: Now you get to make the face. You can make it any way you like, scary or silly, whatever you want. We used a cookie cutter to make the eyes and used the extra-trimmed dough to make a nose. The mouth is easy. Just use a butter knife to shape it how you like.
Make the egg mixture: Now, whisk the egg wash ingredients together in a small bowl and brush on the top and sides.
Cook until lightly browned: Last, sprinkle sugar on the top and sides and bake covered for 25 minutes. Then, remove the foil and bake for another 25 to 30 minutes. The top should be light golden brown, and the apple filling will be bubbling.
Cool and serve: Finally, let the baked pie cool completely and chill for a few hours before serving.
Recipe variations:
Sweeter dough: Add cinnamon and sugar to your crust for an extra delicious pie.
Vanilla extract: Another way to add more flavor to your pie crust is by adding a tablespoon of vanilla extract.
Other extracts: Feel free to use any extract you like. Some great ideas for this pie would be apple, maple, cinnamon, or almond.
Apple hand pies: Turn these into hand pies for the little kids or for a grab-and-go snack.
Other fruit: Not into apples? You can use any fruit you want. Try cherry, strawberry, blueberry, or blackberry instead.
No wash: It is fine to skip the egg if you do not want to use it. Your pie just will not have that shiny golden topping. Also, the sugar may not stick as well without the wash.
No holes: If you want to decorate the top of your pie with frosting instead of eyeholes, just be sure to poke it with a fork all over to let the steam escape.
How to serve:
You can turn a classic apple pie into a spooky and fun Halloween pie with just a little bit of alteration to the crust. Or you can get more creative and add other interesting decor. We have some awesome tips here, but you can share some of your own in the comments section. We love reader interactions.
Apple pie is perfect with a scoop of vanilla ice cream.
Mummy apple pie would also be awesome. Just slice the top crust into strips and arrange them on top of the apple filling to look like a mummy's wrapping.
Spoon some of our homemade whipped cream on top of the slices to make them extra yummy.
Use extra dough to make pumpkin shapes for the cheeks.
Add some red food coloring to some white frosting and use it as blood to drip from the mouth of your scary face. Try our recipe for cream cheese frosting for a delicious, sweet addition.
Sprinkle some red and orange sprinkles on top for a more festive.
Another way to give your pie a spooky face is to use strawberry sauce instead of frosting for fake blood.
Frequently asked questions
How do I make this into Halloween hand pies?
To make these into Halloween hand pies, just follow the same instructions and use the same ingredients but cut your dough into pumpkin shapes with a cookie cutter. Now, add two tablespoons of apple mixture into the middle of half of the pumpkins. Then, carefully place the rest of the pumpkins on top and decorate as you wish. Bake for 15 to 18 minutes or until golden brown.
How can I turn this into mummy apple hand pies?
Instead of cutting your dough into pumpkins, you can cut out rectangles for the hand pie bottoms. Place them on a baking sheet lined with parchment paper and spoon one to two tablespoons of filling into each one depending on the size of the pie. Next, cut the rest of the dough into strips about one inch in size. Arrange them on top to look like a mummy wrap and then crimp the edges to seal. Bake for 17 to 20 minutes or until golden brown.
Why use shortening and butter?
Because shortening has a higher melting point than butter, it does not melt as fast to give your crust a flaky texture. The butter also makes the crust taste more flavorful. A buttery crust is the signature of a classic apple pie. The combination of the two gives it the best of each ingredient for a spectacular crust.
How do I choose the best apples?
For those making their own apple filling, if you do not have a farmer's market near you, go to the produce section of your local grocery store. Try to find the best ones that are part of the fresh produce instead of those in the bag. The bagged apples tend to have bruises and are not as fresh. Then, pick the firm apples without bruises or tears. We like Granny Smith and Honeycrisp apples for this recipe.
More recipes for Halloween:
How to store leftovers:
Store: After your leftover pie has cooled to room temperature, cover it with plastic wrap and put it in an airtight container. It will stay fresh in the fridge for four to five days.
Freeze: To freeze your leftovers, chill for at least six hours. Then, wrap it with plastic wrap and aluminum foil before placing it into a freezer-safe container. It can stay frozen for three months. For individual slices, wrap each piece and put them in freezer bags.
Thaw: Place your frozen leftovers in the fridge overnight to thaw before serving.
Reheat: For one piece, you can reheat it in the microwave for 60 to 90 seconds. If you are reheating the whole thing, put it on a baking sheet and heat in the oven set at 350 degrees F for 10 to 15 minutes.
Baking tips:
Looking for other Halloween recipes? We have lots of them on our food blog.
Shorten prep time. Use a pre-made pie crust or store-bought pie crust and with your apple pie filling you can have this delicious Halloween treat in minutes.
When rolling the crust, it is important to work fast. As the butter gets softer, it will start to change the texture of the crust.
Allow your pie to cool for at least three hours before slicing to make it easier to cut without it falling apart.
If you are making your own filling, add a splash of lemon juice to your chopped apples to keep them from browning.
Also, try to chop apples into small bite-sized pieces about the same size. Diced apples should be about one inch.
We have a variety of great recipes for dessert cuisine on our food blog.
Spooky Faced Halloween Apple Pie
Ingredients
1

refrigerated pie crust

usually includes two pie disks, one for the bottom and one for the top

2

cans

apple pie filling

or use homemade
Egg wash:
1

tablespoon

milk

1

tablespoon

brown sugar
Instructions
Preheat oven to 375 degrees F.

Roll the dough onto a lightly floured surface, take one dough disk, and add it to the bottom of a 9-inch pie dish.

Press the dough up the sides of the pie dish, and pierce the bottom with a fork.

Next, add the apple pie filling and level the top with an offset spatula.

Roll the second dough disk on a flat surface, and cut the eyes, nose, and mouth, as pictured.

Place it on top of the apple pie filling, and use a fork or your fingers to pinch together the edges.

In a small bowl whisk the egg with the milk.

Using a kitchen brush, brush the pie with the egg wash mixture and sprinkle with brown sugar.

Bake the pie in the preheated oven for 40-45 mins, or until golden brown and the apple filling is bubbly.

Let the pie cool before serving.