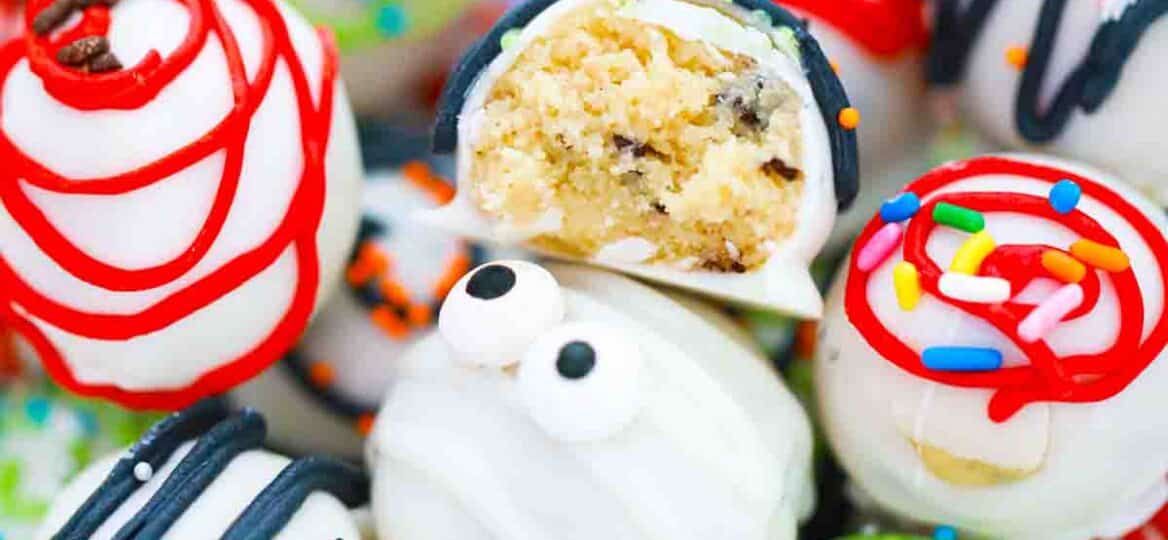 Halloween Cookie Dough Truffles Recipe [Video]
Halloween Cookie Dough Truffles are festive, sweet, and chewy with chocolate chips and pumpkin pie spice in the edible cookie dough. And then decorated with colored candy melts and sprinkles. This is the perfect treat for your next Halloween party or get-together. If you love cookie dough, you will really enjoy these truffles.
If you are looking for other truffles recipes, try our Watermelon Truffles for the perfect summer treat. They are easily made with a white cake mix, watermelon, and mini chocolate chips. These Sugar Cookie Truffles are also delicious and can be used for any season.
The Halloween holiday is actually called All Hallows Eve and began over 2,000 years ago with the ancient Celts during the festival of Samhain. Some countries still celebrate it the traditional way with bonfires and costumes to scare away the monsters of Samhain. American Halloween was not observed until the 1800s and was celebrated by dressing up and visiting neighbors to ask for food.
Remember when you were a kid and you used to love to eat chocolate chip cookie dough? Some of us found out the hard way that eating raw cookie dough is not a good idea because of the uncooked flour and raw eggs. That is why these truffles are so delicious. Because you can eat the cookie dough without worrying about getting sick!
If you are looking for some other Halloween recipes, try our Halloween cake balls made from cake mix, white chocolate, and orange sprinkles. This elaborate Halloween pumpkin Oreo cake is also a great addition to any party, garnished with fake spiders, pumpkins, and pumpkin Oreos.
Follow us on Pinterest for more delicious recipes!
Ingredients needed:
To make these delicious Halloween truffles, you will need to gather the following ingredients. Then, scroll down to the bottom of the page when you are ready to begin. Our recipe card has all of the instructions and measurements, and you can print it out for future use.
Cookie dough balls:
Mini chocolate chips
Sweetened condensed milk
All-purpose flour: Heat for five minutes at 350 degrees F on a cookie sheet.
Unsalted butter: Softened.
Dark or light brown sugar: Packed.
Pumpkin pie spice mix
Vanilla extract
White sugar
Coating and decorations:
Sprinkles
Colored candy melts: We used black, green, orange, and purple.
White chocolate almond bark
How to make Halloween cookie dough truffles from scratch?
Make the cookie dough: First, cream the sugars and butter in a large bowl until fluffy, and then mix in the pumpkin spice and vanilla extract. Gradually add flour, alternating with the milk before stirring in the mini chips. Then, transfer the dough to a smaller bowl and chill for one hour.
Shape the dough: After the dough is chilled, form it into balls about the size of a ping pong ball with a spoon or cookie scoop. Place them on a baking sheet lined with parchment or wax paper. Freeze for at least 30 minutes.
Melt the almond bark: In the meantime, melt almond bark in the microwave in a small microwave-safe bowl for one minute. Stir and continue heating for 30 seconds until it is almost completely melted. Stir until it is smooth.
Dip the dough balls: Next, taking three or four from the freezer at a time, dip balls into the melted chocolate with a fork. Shake off excess chocolate and place each cookie dough ball onto another baking sheet lined with parchment paper. Continue until all the remaining balls are dipped.
Decorate: Finally, the fun part! After melting the candy melts in separate bowls in the microwave, transfer each to a different squeeze bottle. Then, drizzle each one on top of the truffles before adding sprinkles.
Touch-ups: Lastly, let them cool completely. About 15 minutes or so after dipping, the chocolate coating should be hardened enough to remove any extra hanging off the bottom. Then you can serve them or refrigerate them in an airtight container.
Recipe variations:
Dark chocolate: This recipe would also be great with dark chocolate almond bark. Just use white candy melts instead of black. You could also use milk chocolate.
Keto truffles: For low-carb keto Halloween truffles, use an artificial sweetener instead of sugar and sugar-free chocolate chips and white almond bark.
Different time of year: If you are not celebrating Halloween, you can use different colors of chocolate bark and melts for birthdays, baby showers, and other celebrations and holidays like Valentine's Day or St. Patrick's Day.
Peanut butter: Add 1/4 cup of peanut butter to the dough to make peanut butter chocolate chip Halloween truffles.
Double chocolate: You could also add 1/2 cup of cocoa powder to your dough to make double chocolate chip cookie dough truffles.
Pumpkin truffles: Instead, use 1/2 cup of pumpkin puree and caramel chips instead of chocolate chips to make pumpkin truffles. Then dye the almond bark orange and use the decorations to make little pumpkin faces.
Scary spider truffles: Similarly, coat the balls in dark chocolate and add two eyeballs. Use black string licorice to make legs for spider truffles.
How to serve:
These delicious Halloween cookie dough truffles can be served as a dessert after dinner or a snack anytime. You can set out a large bowl of them at a Halloween celebration or make them for the perfect afterschool snack. Try some of our favorite serving suggestions or share some of your own in the comments below.
Are you having a Halloween party? Let the guests do the decorating. Just leave the truffles plain white and let each guest decorate their own. Make it a contest to see who can make the scariest or silliest design.
Serve these dough balls with other Halloween treats like caramel or candy apples, ghost cookies, or whatever else you like. Try our deliciously scary monster cookies with multiple candy eyeballs.
You can also add chopped nuts such as pecans, walnuts, or peanuts when decorating.
Make a whole pumpkin-themed meal with these cookies and our perfect pumpkin mac and cheese and savory pumpkin pot roast.
Make Halloween mummy cookies. Just use the white chocolate almond bark to coat and then drizzle white melted chocolate on top to look like wraps. Add two dots for eyes and you have tasty little mummy truffles.
Drop one of these pumpkin spice hot cocoa bombs into a cup of hot milk to make the perfect drink to go with these scrumptious chocolate chip cookie dough truffles.
Another way to decorate these delicious truffles is to cover them in purple melted chocolate and use large candy eyeballs to make monster eyeballs. Add some chocolate or purple sprinkles for the hair.
Frequently asked questions
Why is it safe to eat this raw cookie dough?
All recipes for regular cookie dough have eggs, making it dangerous to consume raw. Also, in this recipe, we cook the flour on its own so you are not eating raw flour, which is also not safe to eat. Both eggs and flour can have bacteria so if you do not cook them first, you can get very sick from salmonella, E. coli, or some other bacteria.
What is the difference between a cake ball and a truffle?
Truffles are typically made from just a few ingredients to make a doughy consistency instead of a baked cake texture. For example, these cookie dough balls are made with a cookie dough mixture. Others are often made with just cake mix and butter or with a little bit of milk or cream. Then, truffles are dipped in chocolate melts for a thick chocolate coating. Cake balls are usually covered with frosting.
How do you make sure your flour is safe to use?
In this recipe, you simply bake it at 350 degrees F for five minutes. Be sure to spread it out into a thin layer on a parchment paper-lined baking sheet. To be absolutely sure it is safe, use an instant-read thermometer to check it. As long as it is at least 160 degrees F, it is safe.
What are the nutrition facts in this recipe?
Each of these Halloween truffles has about 150 calories and 6 grams of fat with 5 grams of saturated fat, 1 gram of polyunsaturated fat, and 1 gram of monounsaturated fat. They also have 20 carbs, 15 grams of sugar, 10 milligrams of cholesterol, and 15 milligrams of sodium.
On the positive side, you also get 2 grams of protein, 1 milligram of iron, and 30 milligrams of calcium as well as 100 units of vitamin A, 1 gram of fiber, 2 milligrams of vitamin C, and 45 milligrams of potassium.
How to store leftover:
Store: Safely store your Halloween truffles in an airtight container and keep them refrigerated and eat them within six or seven days.
Freeze: It is also safe to freeze your Halloween cookie dough truffles for up to three months.
Thaw: Remember to put them in the fridge to thaw overnight before serving.
More no-bake recipes:
Recipe tips for Halloween cookie dough truffles:
Some people do not celebrate Halloween. In that case, you can decorate your cookie dough truffles any way you want to.
Add a 1/2 teaspoon of coconut oil to the chocolate chips after melting to make them smoother.
It is easier to use a plastic squeeze bottle for each color of melted chocolate, but you can also use a small spoon or icing bag.
To keep the bottles warm while you work, keep them in a bowl of hot water.
This is a fun recipe to do with the kids or grandkids. Let them do the decorating.
Fall is the best time to stock up on baking items like sugar and flour. They typically go on sale around the holidays so go ahead and buy a few bags of flour. You can store it in the freezer for months.
Be sure to let the flour cool completely before using it. Make sure you stir it after baking it to remove any lumps.
Also, your butter should be melted to room temperature for the best results.
Halloween Cookie Dough Truffles
Ingredients
Cookie dough truffles:
1/2

cup

unsalted butter

softened

1/2

cup

brown sugar

packed

1/4

cup

white sugar

1

teaspoon

vanilla extract

1

teaspoon

pumpkin pie spice mix

2

cups

all-purpose flour

before using heat it in the oven on a baking tray for 5 minutes at 350 degrees F

14

oz

can sweetened condensed milk

1/2

cup

mini chocolate chips
Coating:
1

lb

white chocolate almond bark

Colored candy melts

Sprinkles

Candy eyes
Instructions
Make the dough:
In a large bowl, cream together the butter and sugars until light and fluffy.

Beat in the vanilla extract and pumpkin spice.

Gradually whisk in the flour and milk, start with the flour, alternating with the milk, and finish with the flour.

Stir in the chocolate chips. Chill the dough for about 1 hour.
Shape the dough:
Remove the dough from the refrigerator, and using a 1 or two tablespoons cookie scoop, form it into balls.

Arrange them on a baking sheet lined with parchment paper.

Freeze for 30 minutes, or longer.
Coating:
Place chopped almond bark into a medium microwave-safe bowl and heat for 1 minute.

Stir and continue heating for 30 seconds or until the chocolate is almost completely melted. Stir until smooth and shiny.

Remove 3-4 balls from the freezer and using a fork dip one by one in the melted chocolate bark.

Let the excess chocolate drip into the bowl and place the coated dough ball onto another baking sheet lined with parchment paper.

Repeat for all the remaining balls.
Decorate:
Melt the colored candy melts in different microwave-safe bowls using the same heating method as above.

Transfer melted colored chocolate to plastic squeeze bottles or use a fork to drizzle it.

Drizzle the cookie dough balls with the colored chocolate and immediately add sprinkles or candy eyes.
Chill:
Chill the Halloween cookie dough balls for about 15 minutes.

Gently break off any extra chocolate from the bottom and serve.

Store them in an airtight container in the refrigerator.