No Bake Chocolate Cheesecake
Last updated on November 21st, 2021 at 05:22 pm
No Bake Chocolate Cheesecake made with cream cheese, cocoa powder, whipped cream and lots of melted chocolate is the ultimate indulgent dessert. Finished with a dark chocolate ganache, chocolate whipped cream, and sprinkles.
No-Bake Cheesecakes are perfect during summer times or when you want to achieve a perfect cake without stressing about the baking process. Try our No-Bake Peach Cheesecake, Strawberry, and Tiramisu.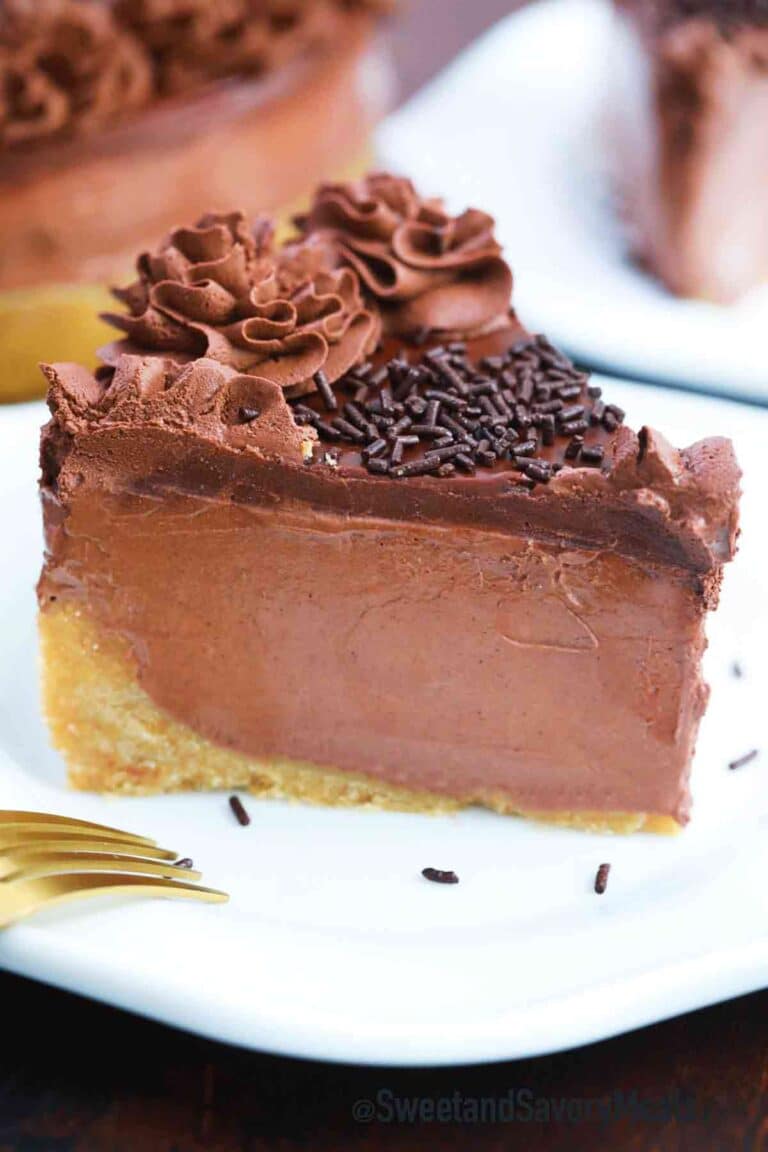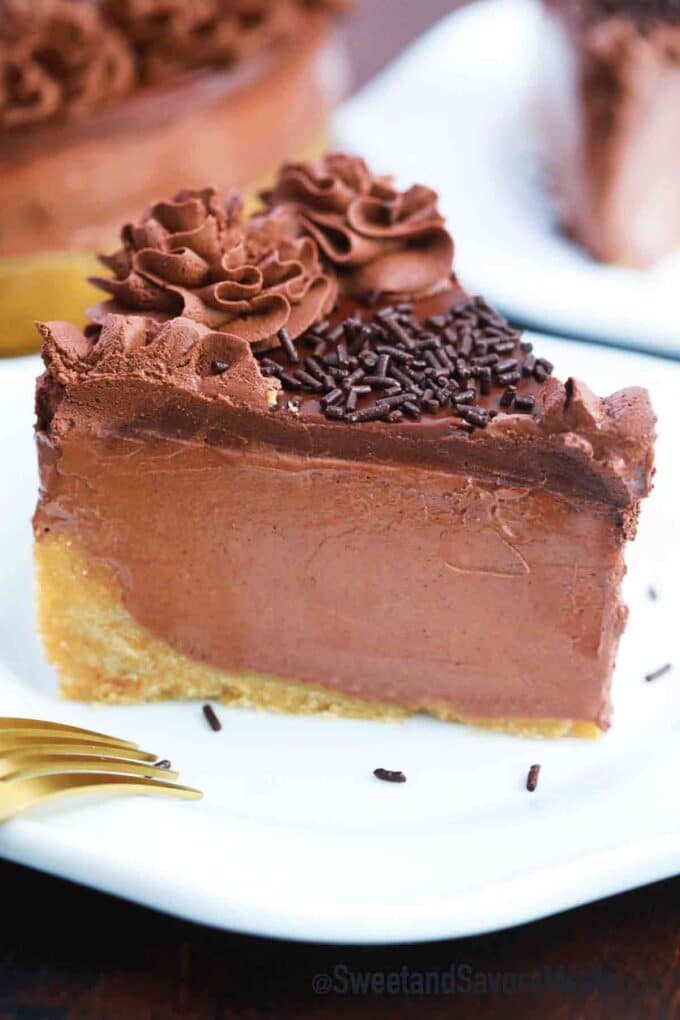 Chocolate Cheesecake Recipe
Making the perfect cheesecake sometimes can be intimidating, as there are so many important details to follow in order for it not to sink in the middle or to avoid cracks. In reality, those are actually easy to follow with practice.
I like that making a no-bake version because it avoids all those issues. In addition, you can have a perfectly creamy and delicious homemade dessert with less effort and stress.
For example, this recipe is incredibly easy to make, but the end result is such a creamy and rich cheesecake, all without making your house hot from turning on the oven!
We start with a sweet graham crackers crust, that we kept neutral, to make the chocolate flavor shine. After that, we have a luxurious no-bake chocolate cheesecake filling, totally without eggs, so it's safe to eat. Finally, the dessert is topped with extra chocolate ganache and whipped cream.
This is a chocoholic dream come true!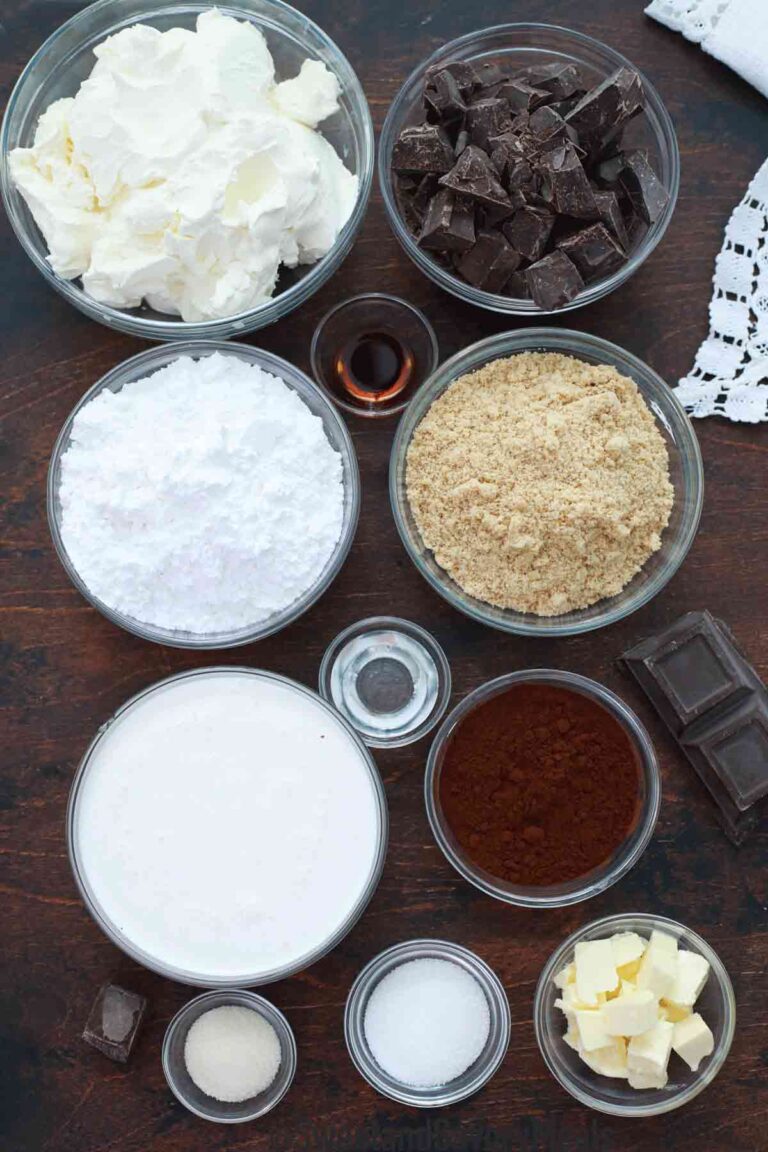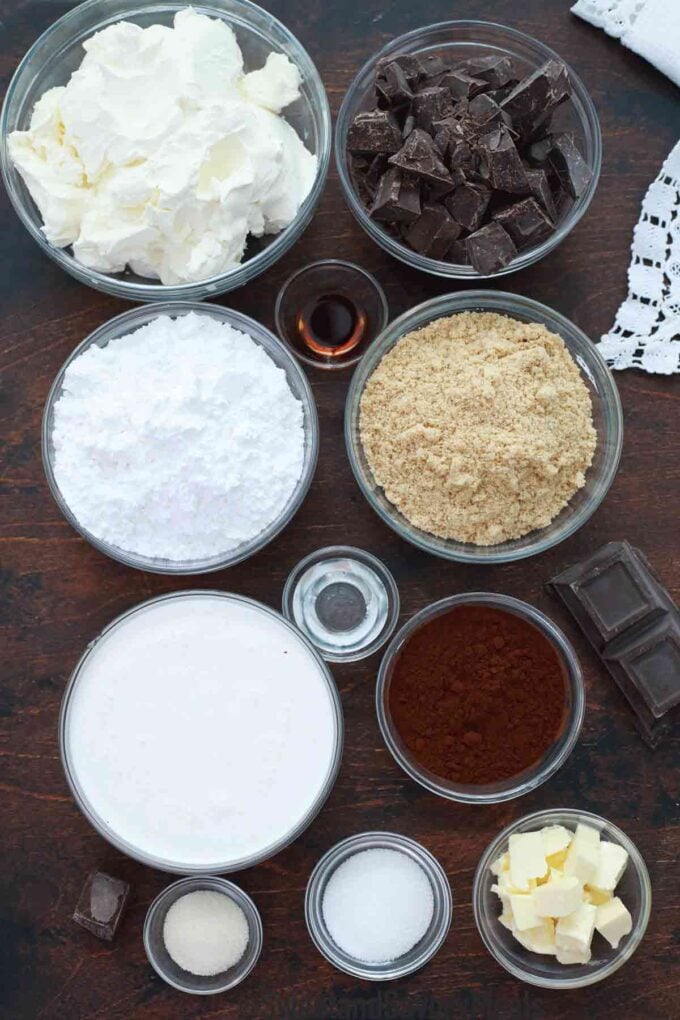 Ingredients You Need:
For the crust:
The ingredients are simple:
Graham crackers
White sugar
Melted butter
Filling:
Creamy: for the rich texture we use cream cheese and whipped cream.
Gelatin and water: for the perfect texture, that doesn't melt, but holds its shape.
Chocolate: we use a mix of cocoa powder and lots of melted chocolate.
Powdered sugar: since this is a no-bake recipe, we use powdered sugar instead of white, it melts much better.
Vanilla extract: a little goes a long way and it's used here in contrast with the chocolate flavor.
Ganache:
Chocolate
Light corn syrup – for that shiny, beautiful finish.
Heavy whipping cream
Finally, the cake is finished with homemade chocolate whipped cream and a good amount of sprinkles!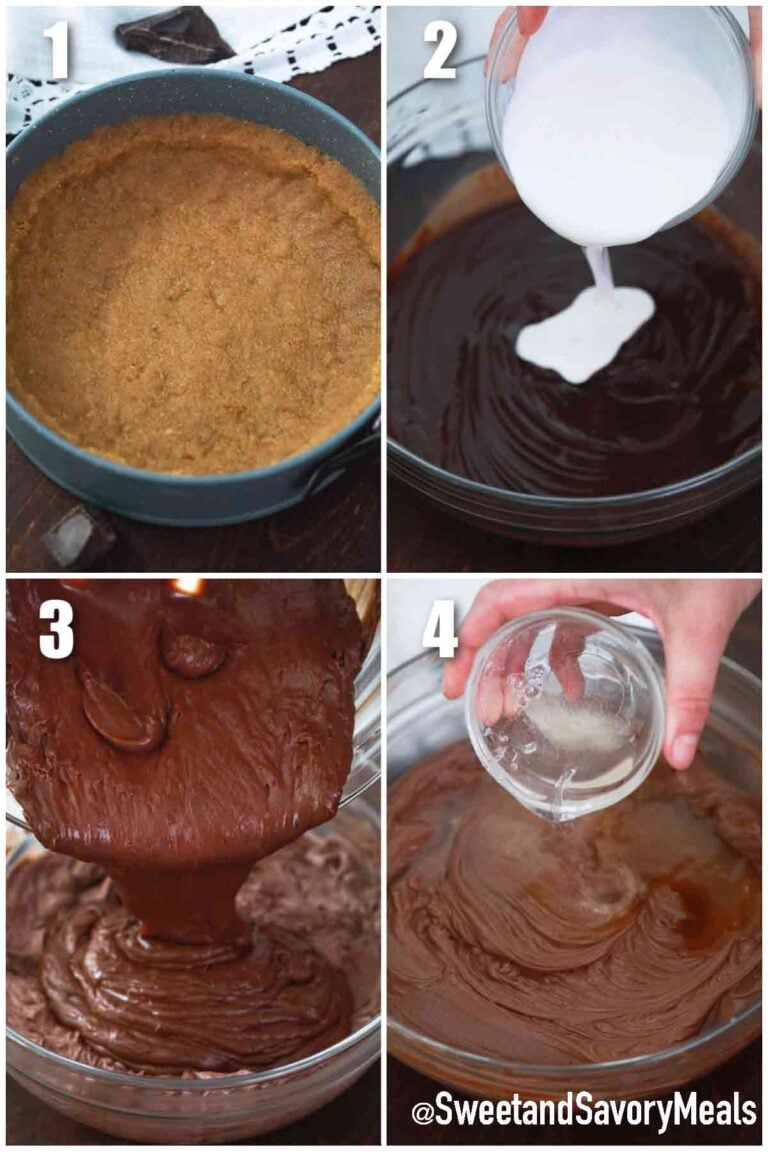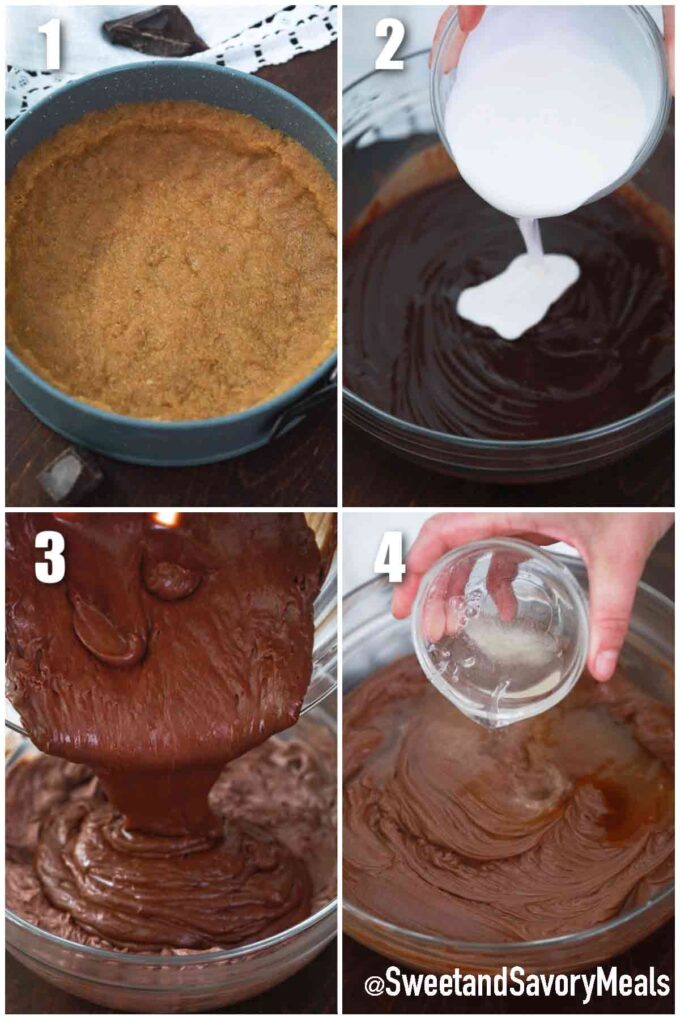 How do you make No Bake Chocolate Cheesecake from scratch?
Crust: First start by mixing the crust ingredients into a bowl and after that pressing the mixture into a springform pan. Once done, refrigerate it.
Gelatin Mixture: In order for this dessert to keep its shape and not melt immediately once at room temperature, we like to add a gelatin mixture. For that, mix the gelatin with the water and let it bloom. Now keep in mind that this is a very important step and if the gelatin didn't bloom, discard and repeat.
Filling: Beat the cream cheese with the sugar and add the cocoa powder. Next, beat the heavy cream in a cold bowl. In the meantime, also melt the chocolate. Once all ready, fold the whipped cream into the cream cheese mixture, followed by the vanilla and gelatin mixture. Finally, beat in the chocolate mixture.
Chill: Next, add the filling into the prepared crust, level the top with a spatula, and refrigerate the dessert for at least 6-8 hours or better overnight.
Ganache: First, chop the chocolate and add it to a bowl also with the light corn syrup. After that, heat the cream and pour it on top. Stir the mixture until smooth, and not hot. Finally, pour the mixture on top of the cake.
Garnish: As the final step, pipe chocolate whipped cream roses and garnish with sprinkles. Chill the cake for one hour before slicing and serving.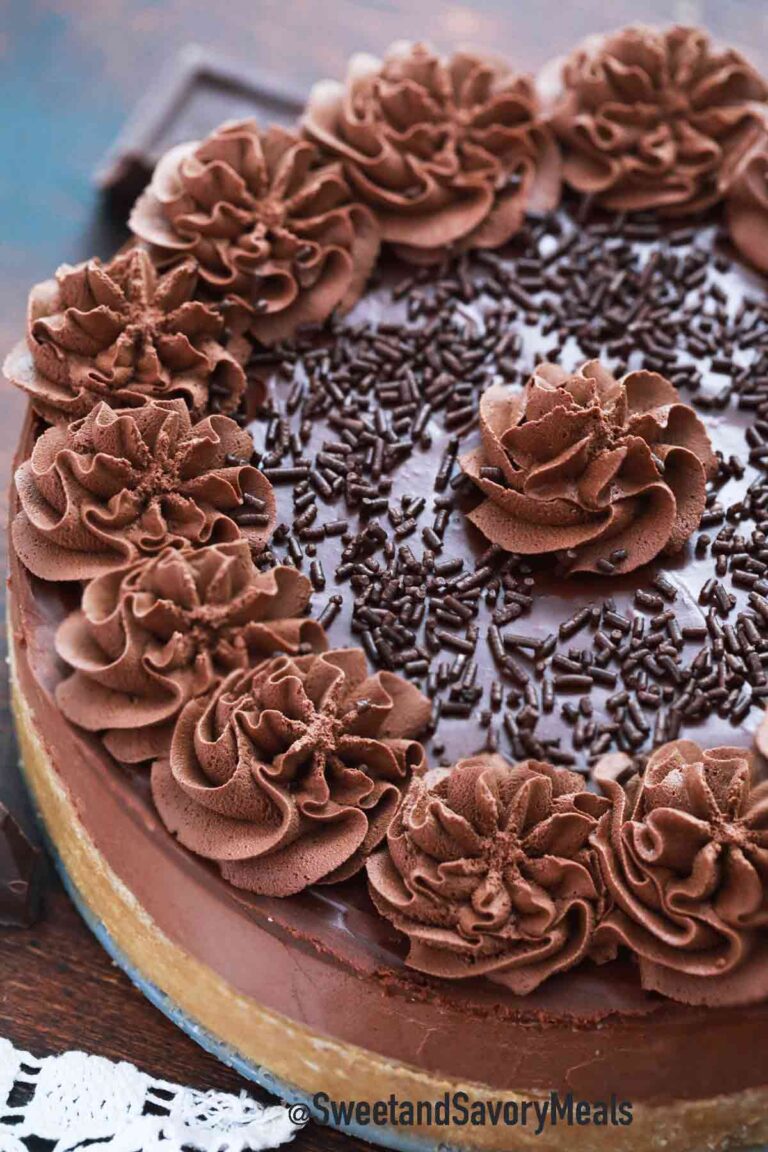 Recipe Variations:
Crust: We have kept the crust simple and classic, so there is some contrast to the chocolate flavor. But, keep in mind that you can make an oreo crust or add a few tablespoons of cocoa powder to it.
Chocolate: This dessert is very flexible, use milk or dark chocolate, also, skip the cocoa powder and make it with white chocolate! Another great idea is to mix in some mini baking chips if you are looking for some chocolaty crunch in every single bite.
Ganache: Make it with your favorite chocolate, dark or white, or you can skip it altogether.
Nuts: Garnish the cake with some nuts, chopped macadamia, or peanuts, even slivered almonds work great.
Cherries: Add some maraschino cherries into the filling and on top, the flavor combo is outstanding!
Peanut butter: Another great flavor combo is to melt one cup of peanut butter and stir it into the filling for a marble effect.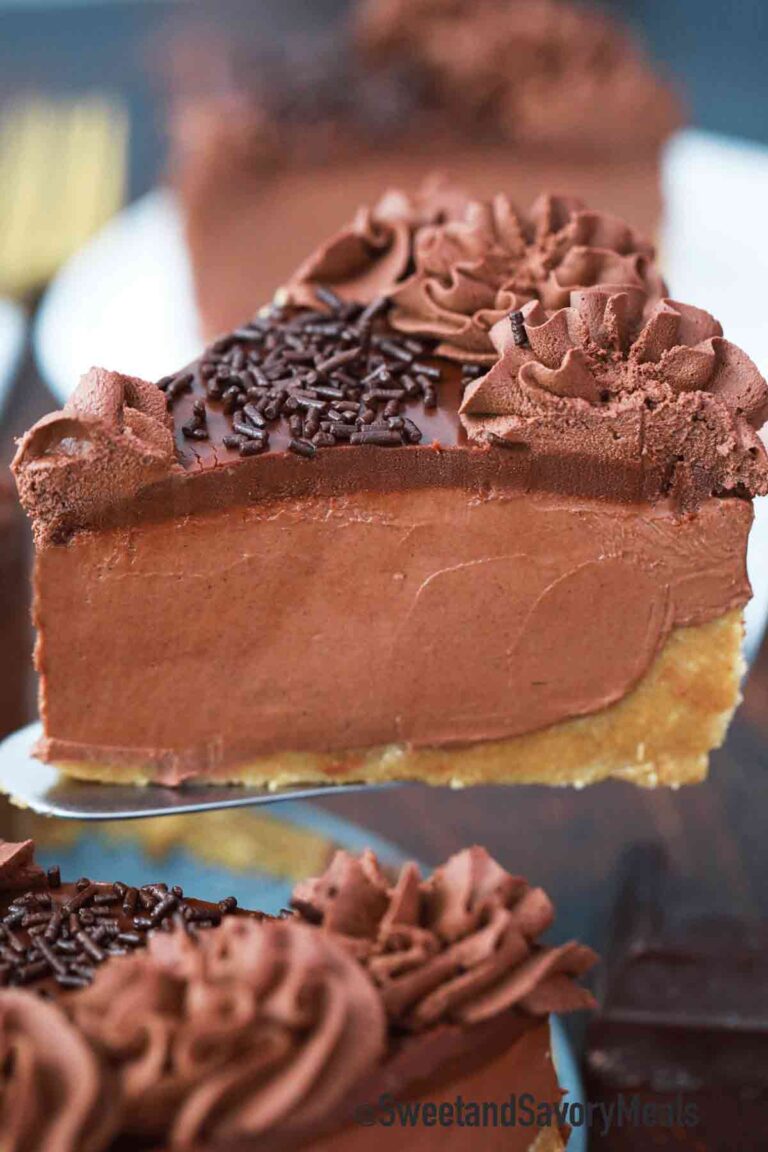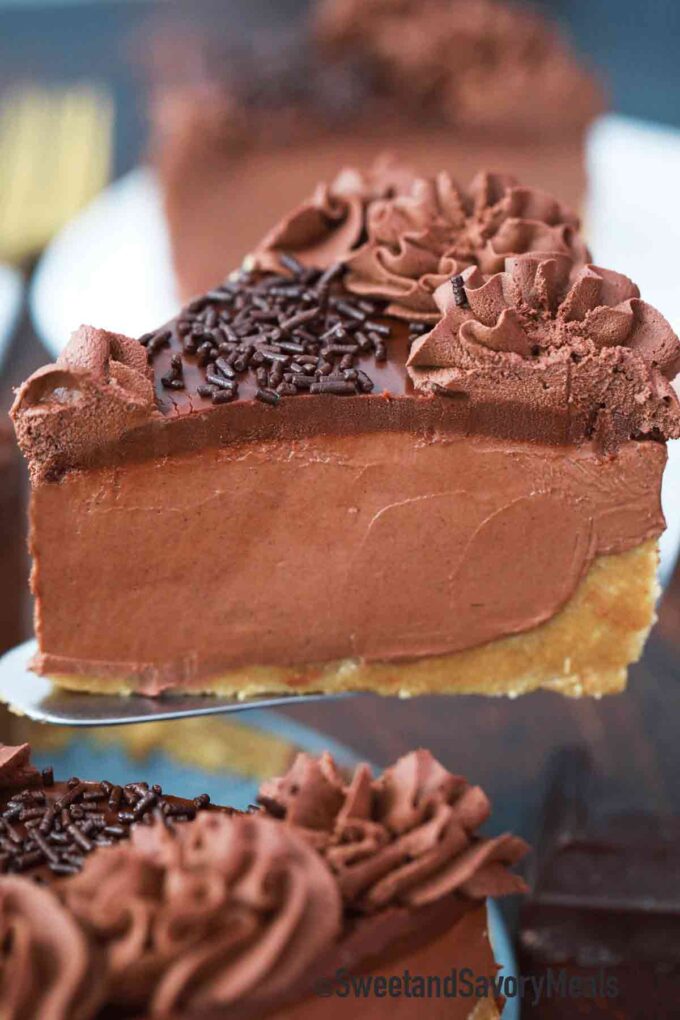 Frequently Asked Questions:
What is the difference between baked and no bake cheesecake?
The main difference is that the baked version has eggs in the mixture and it is baked into an oven usually in a water bath. While, the no-bake version, does not contain eggs and usually has a binder like gelatin or agar agar.
Also, the no-bake version does not need to be baked, instead, it is refrigerated.
Texture-wise, the baked version usually is denser, while the no-bake version is very creamy and lighter.
Why is my No Bake Cheesecake not firm?
First, it needs to be properly chilled, at least 6 to 8 hours for the ingredients to settle.
Second, the culprit may be the ingredients or the ingredient rations you have used to make the filling. Here are some common mistakes:
You used only fat-free ingredients.
The ratio of cream cheese to sugar is too low, which means that NOT enough sugar was added to the batter.
The filling was too runny.
You skipped adding a binder like gelatin and agar agar.
You overbeat the ingredients.
Can you substitute agar agar for gelatin?
Yes, but it's not a 1:1 substitution. Keep in mind, that the recommendation is to use 1/2 the amount of agar as a recipe with gelatin would call for or about 1 teaspoon agar per 3 cups of liquid.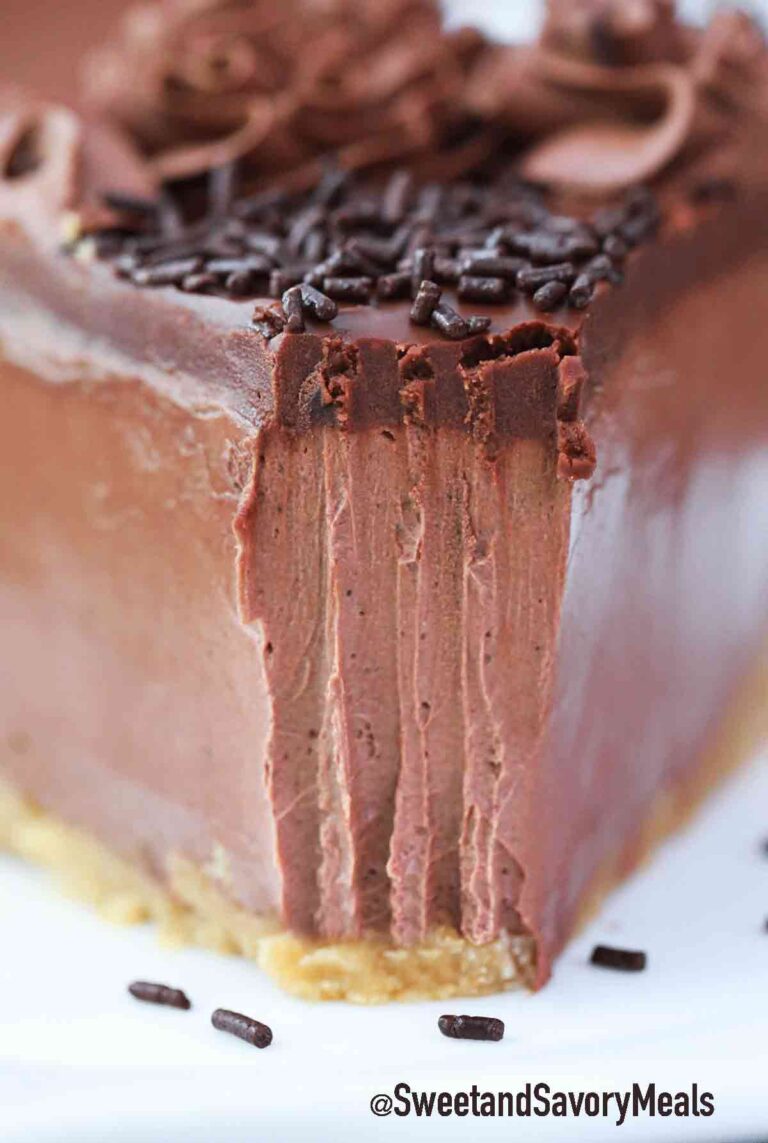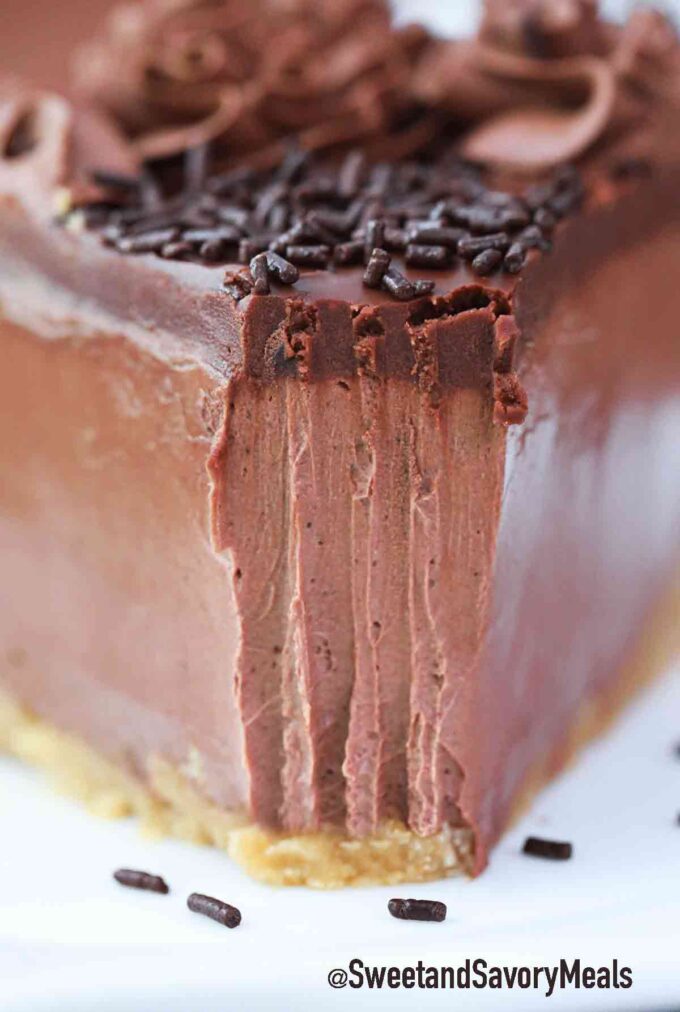 How to store and freeze No Bake Chocolate Cheesecake:
First, this dessert always needs to be refrigerated. Slice it and serve it and immediately chill, do NOT keep the cake at room temperature.
You can freeze it, but we usually don't recommend that, as the texture will be different when defrosted since this hasn't been baked.
To freeze, wrap individual slices in plastic wrap and after that in foil and add to freezer-safe Ziploc bags. Next, freeze for 1-3 months and when ready to serve, defrost in the fridge overnight.
More Easy Desserts:
Recipe Tips:
We recommend using full-fat cream cheese in this recipe and also if you use sour cream or whipped cream, should be full-fat.
Use powdered sugar, as the regular granular sugar may not dissolve well and create a grainy texture.
In addition, use VERY high-quality chocolate as it is front and center here.
Do not skip the binder, use gelatin or agar agar, it does make a difference.
Refrigerate the dessert properly, if you try to remove it from the springform pan too soon you may ruin it.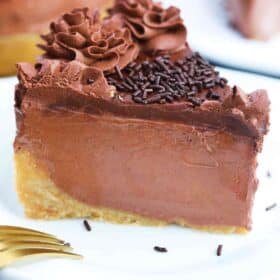 No Bake Chocolate Cheesecake
No Bake Chocolate Cheesecake made with cream cheese, cocoa powder, whipped cream and lots of melted chocolate is the ultimate indulgent dessert.
Save
Share
Print
Pin
Rate
Ingredients
Crust:
2

cups

graham cracker crumbs

2

tablespoons

white granulated sugar

6

tablespoons

unsalted butter

(melted)
Cheesecake:
1

package

unflavored gelatin

(4 envelopes/7 grams per envelope)

2/3

cup

water

(cold)

4

packages

original cream cheese

(8oz per pack)

2

cups

powdered sugar

1

cup

cocoa powder

(unsweetened)

1

tablespoon

vanilla extract

2 1/2

cups

heavy whipping cream

(very cold)

20

ounces

dark chocolate

(melted - or milk chocolate)
Chocolate Ganache:
2

cups

semi-sweet chocolate

(finely chopped)

1

tablespoon

light corn syrup

1

cup

heavy whipping cream

(hot)
Garnish:
Chocolate whipped cream

Chocolate sprinkles
Instructions
Crust:
Add the ingredients to a medium bowl and mix until fully combined.

Press the mixture onto the bottom and sides of a 9 or 10 inch springform pan. Use a measuring cup to press the mixture, it makes the process very easy. Refrigerate for 20-30 minutes.
Gelatin Mixture:
In the meantime, add 2/3 cup of cold water to a small bowl, sprinkle the gelatin on top. Let it bloom for 1-2 minutes. Whisk to combine, microwave for 30 seconds and whisk until fully combine and a gelatin mixture is formed. Set aside.
Cheesecake Filling:
Add the 20 ounces of chopped chocolate to a medium bowl, heat 1/2 cup of heavy whipping cream until hot and pour over the chocolate. Let it stand for 1 minute, stir to combine. If needed microwave for 30 seconds and stir until the chocolate is fully melted. The mixture should be smooth and shiny. Set aside to cool.

In a large bowl, using an electric hand mixer or stand mixer, beat cream cheese, add sugar on medium-low speed until combined. Stop a few times to scrape the sides and bottom of the bowl.

Add cocoa powder and mix until combined.

In a chilled mixing bowl, add the remaining 2 cups of cold heavy whipping cream. Whip on high speed until stiff peaks form.

Manually, using a spatula, fold the whipped cream into the cream cheese mixture. Make sure it's all combined, beat on low speed for 1-2 minutes.

Add in the vanilla extract and gelatin mixture to the bowl, mix on low-medium speed to combine.

Add the melted chocolate to the batter, mix on low-medium speed to combine. Using a spatula scrape the sides and bottom of the bowl.

Spread the cheesecake filling onto the prepared pan. Level the top with a spatula.

Set the cheesecake in the refrigerator to chill and firm, 6-8 hours or better, overnight.
Chocolate Ganache:
Add chocolate and corn syrup to a medium bowl.

Heat heavy cream in the microwave for 1 minute, until hot.

Pour hot heavy cream over the chocolate, let stand for 1 minute and using a spatula stir well until all the chocolate melts and the mixture is shiny and smooth. If needed, microwave for 20-30 seconds to melt any remaining small lumps.

Let cool to room temperature, but not to harden.

Pour chocolate ganache over the cheesecake and distribute evenly using a spatula.

Garnish with chocolate whipped cream roses and chocolate sprinkles.

Chill for one more hour and serve.

Always serve chilled and store in the fridge.

Store in the fridge for up to 4 days.
Nutrition
Calories:
659
kcal
|
Carbohydrates:
79
g
|
Protein:
10
g
|
Fat:
40
g
|
Saturated Fat:
23
g
|
Polyunsaturated Fat:
1
g
|
Monounsaturated Fat:
12
g
|
Trans Fat:
1
g
|
Cholesterol:
22
mg
|
Sodium:
190
mg
|
Potassium:
745
mg
|
Fiber:
10
g
|
Sugar:
52
g
|
Vitamin A:
347
IU
|
Calcium:
162
mg
|
Iron:
9
mg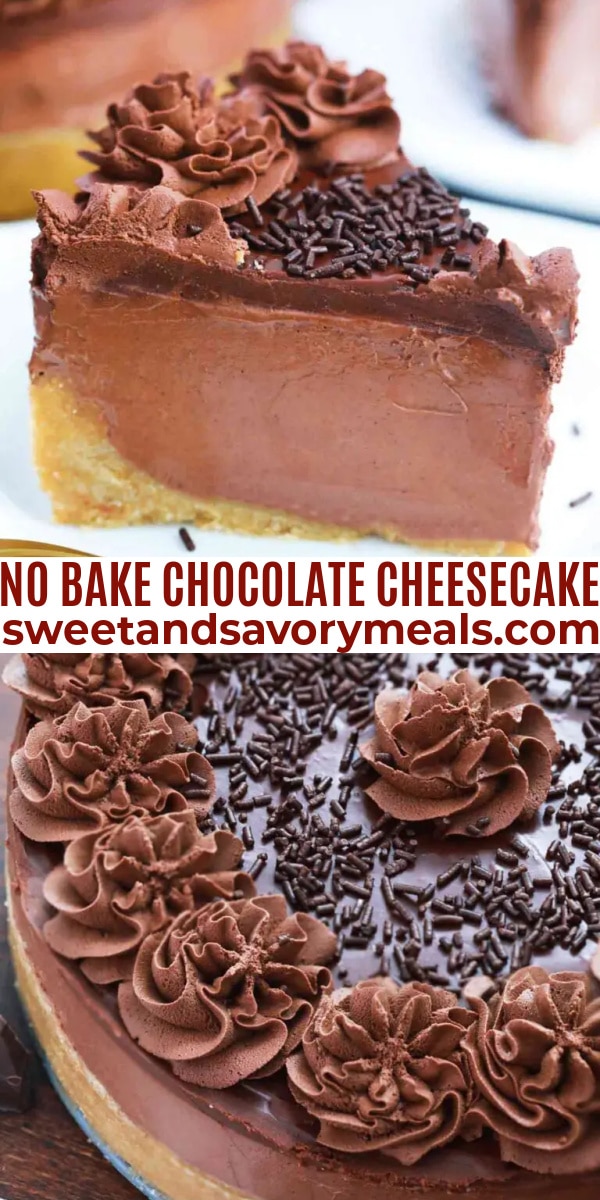 More recipes you might love