No Bake Tiramisu Cheesecake [Video]
No Bake Tiramisu Cheesecakei is a fool-proof recipe for your favorite Italian dessert. Incredibly creamy, rich, and delicious, I guarantee it will become your favorite Cheesecake for years to come!
I can't stop making Cheesecakes, and if you are a Cheesecake lover like me, try my other favorite recipes like Crêpe stuffed New York cheesecake, Meyer Lemon Blueberry Cheesecake, and Cheesecake Factory Original Cheesecake.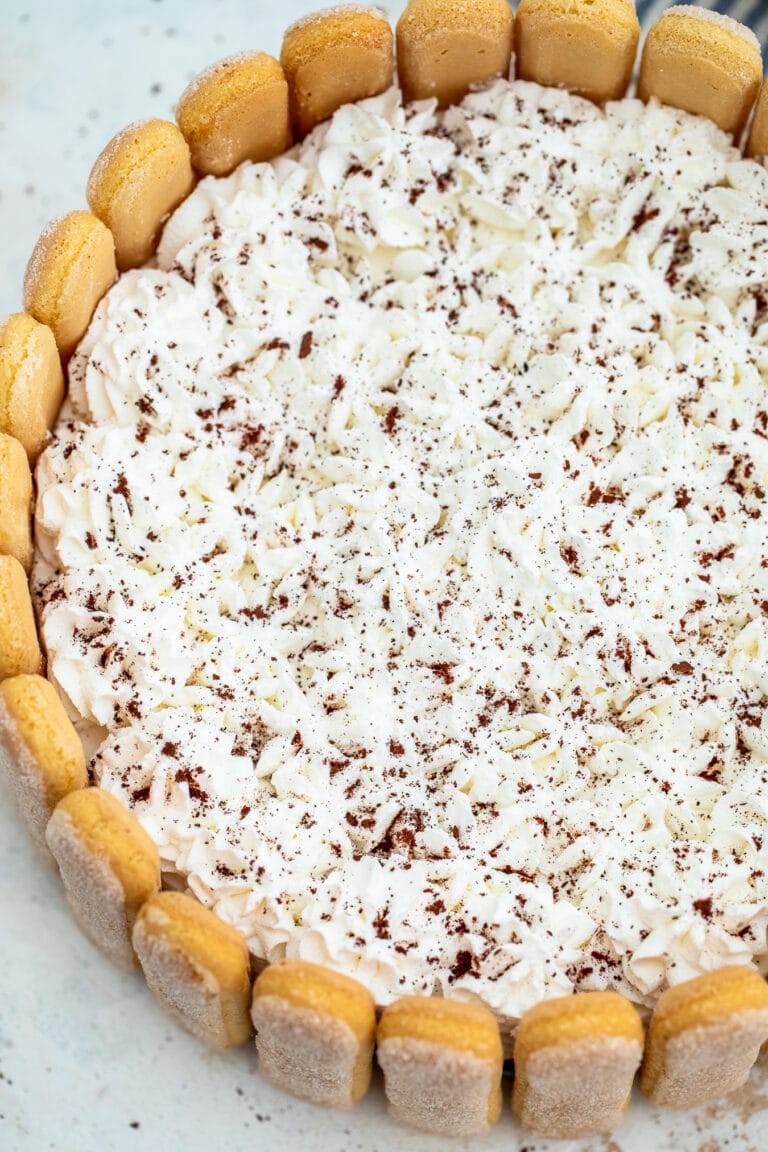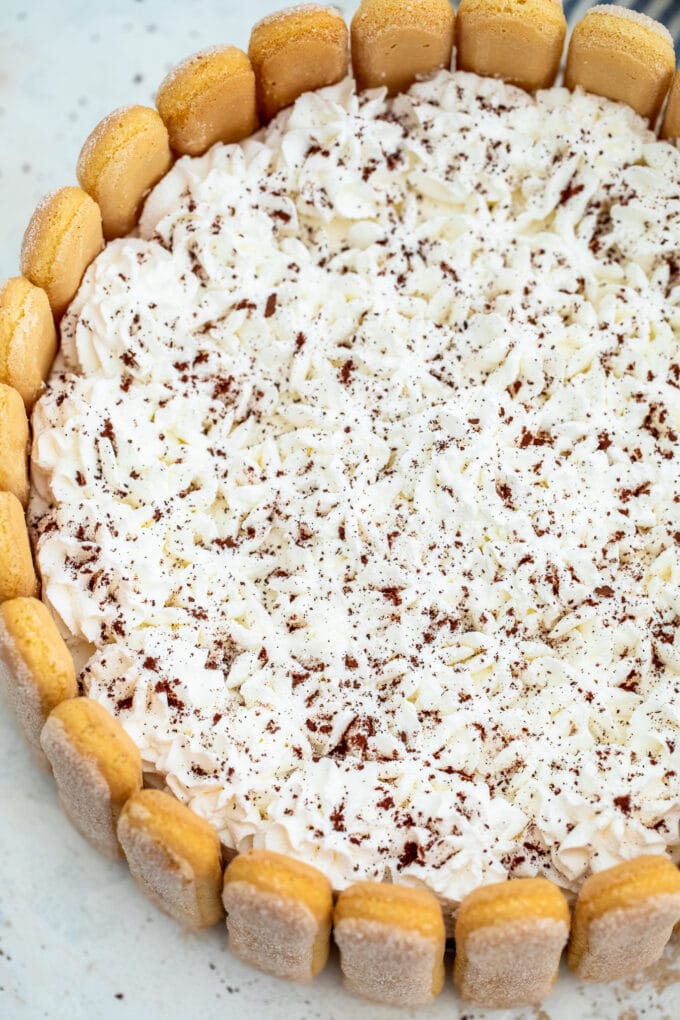 No-Bake Tiramisu Cheesecake
No-Bake Tiramisu Cheesecake is one stunning, yet easy to make dessert, that will wow your taste buds and friends. It is very creamy and rich, made with a mix of mascarpone, whipped cream, and cream cheese. Finished with more whipped cream and a dust of cocoa and espresso powder, this dessert is very flavorful and fabulously satisfying.
The best part is that you don't have to turn on your oven and no need to worry about crackly cheesecake top, this one will always turn smooth and delicious.
What exactly is tiramisu?
It is an Italian coffee-flavored dessert, made of ladyfingers dipped in coffee, layered with a whipped mixture of eggs, sugar, and mascarpone cheese. Cocoa powder is dusted on top of the cake.
Why You'll Love This Recipe?
It is fool-proof and easy to follow, no oven or water bath is involved.
Produces a creamy and rich cheesecake that will be a hit with everyone.
It can be easily made and served as a trifle.
Can be made 1 or 2 days in advance so you don't have to worry about dessert.
The ingredients are simple and easy to find.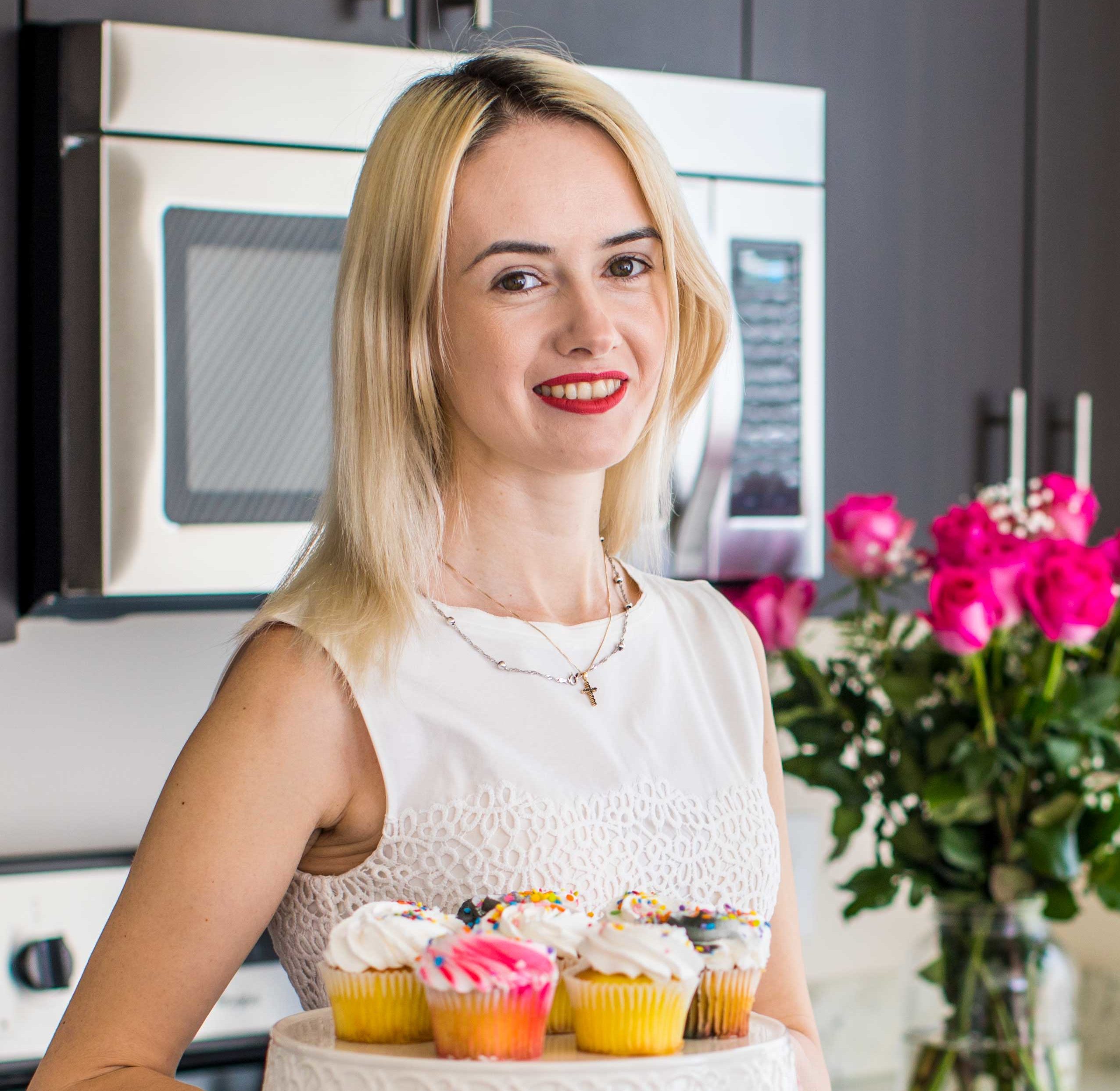 Follow us on Pinterest for more delicious recipes!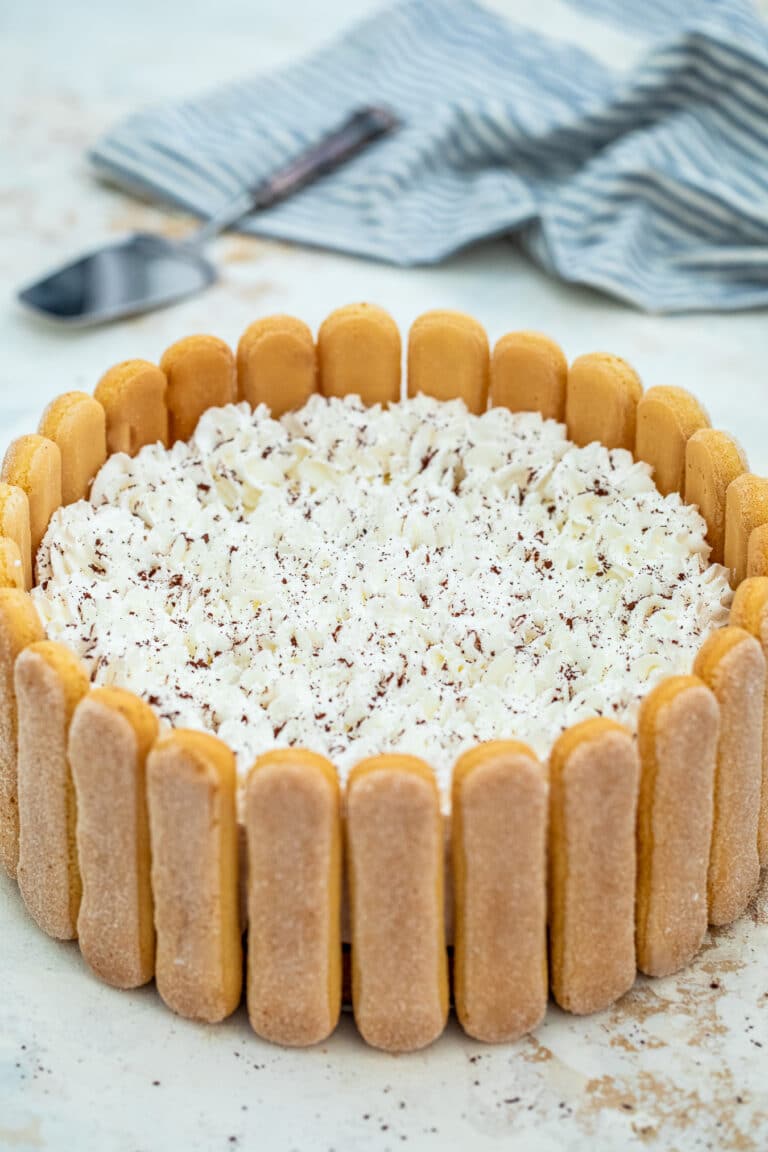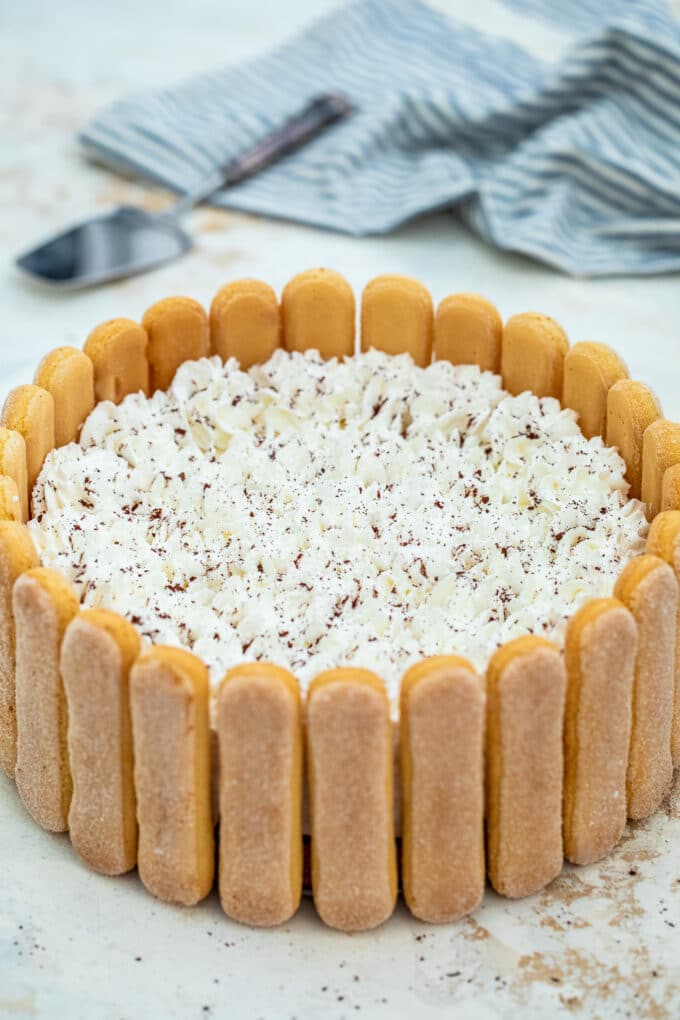 What do you need to make a Tiramisu Cheesecake?
Springform pan
Hand mixer or stand mixer
Vanilla Wafers or graham cracker crumbs
Cream cheese, lots of cream cheese
Mascarpone
White granulated sugar
Unsalted butter
Sour cream
Heavy whipping cream
Ladyfingers
Espresso powder
Vanilla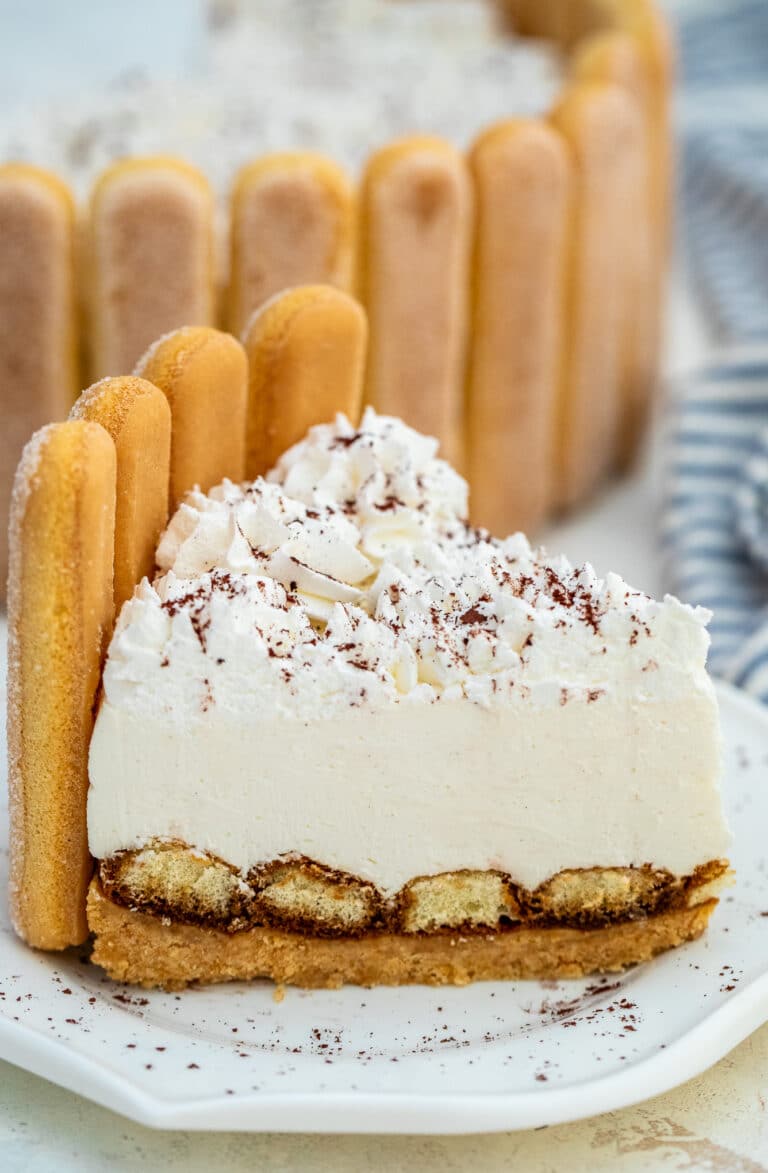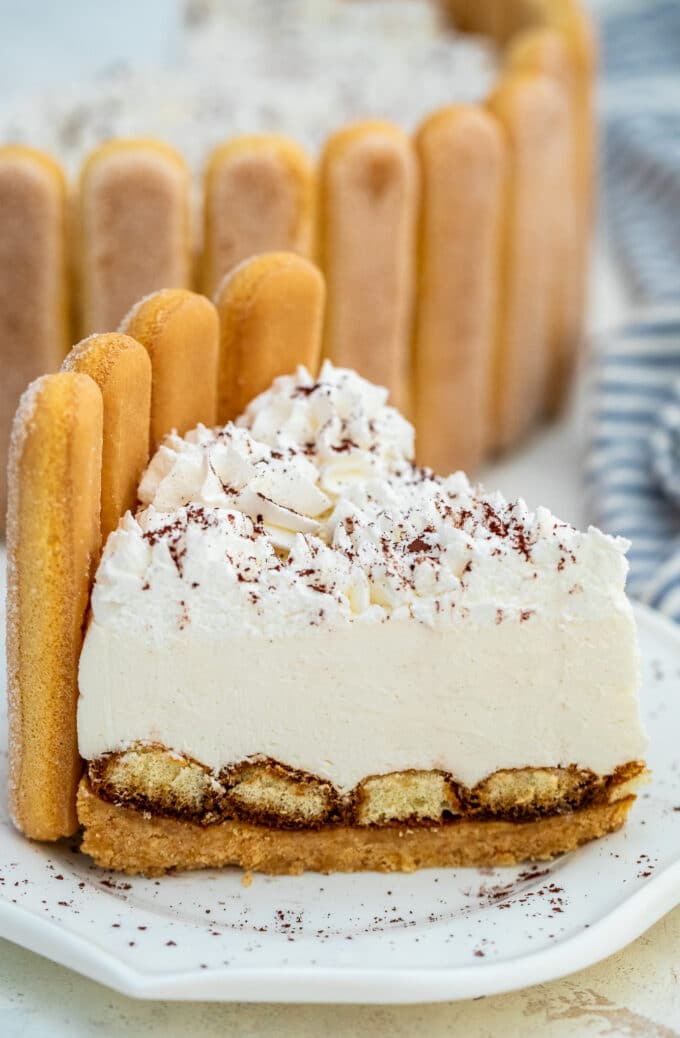 No-Bake Tiramisu Cheesecake Recipe Tips:
The mascarpone and cream cheese should be at room temperature.
Don't replace the mascarpone with cream cheese. Because the mascarpone has a richer and creamier texture, and that's what is originally used in Tiramisu cakes. Also, it will make a huge difference in this case, so we strongly suggest using it.
Don't over mix or whisk the cheeses at high speed. The mascarpone tends to separate if over mixed, so best to mix on medium speed.
I used vanilla wafer cookies for the bottom layer of the cheesecake. However, you can use graham cracker crumbs as well. Don't skip the bottom layer. You need it to lay the ladyfingers on, otherwise, they will be too soggy and create a mess.
Also, you can make the cheesecake and serve it/layer it with coffee dipped ladyfingers in parfait glasses as individual desserts.
Covering the sides of the springform pan with parchment paper will prevent the cheesecake from sticking to the sides of the pan and preserve its form better upon removal.
Chilling the cheesecake enough is very important if you want to get perfect slices. I recommend chilling for at least 6 hours or better, overnight.
The heavy whipping cream should be very cold, straight from the fridge. In addition, it would be good to chill the mixing bowl for 10 minutes, before whipping the cream.
The ladyfingers on the sides of the cake are optional, you can add them to the springform pan before adding in the cheesecake mixture.
How to slice a cheesecake?
Run a sharp thin-bladed slicing knife under hot tap water or dip it into a glass of hot water prior to slicing the cheesecake. Wipe the knife clean and run it under hot water before making another cut.
An easy, mess-free way to cut even slices is to use cheese wire or unflavored dental floss. Clean the bits that stuck to the wire/floss before every cut.
How to freeze a Cheesecake?
You can freeze the cheesecake BEFORE you top it with whipped cream or any other sauces or chocolate ganache.
Make sure the cheesecake was refrigerated for at least 6 hours. Wrap cheesecake tightly with aluminum foil or plastic freezer wrap, or place in a heavy-duty freezer bag. Properly stored, it will maintain the best quality for about 2 to 3 months.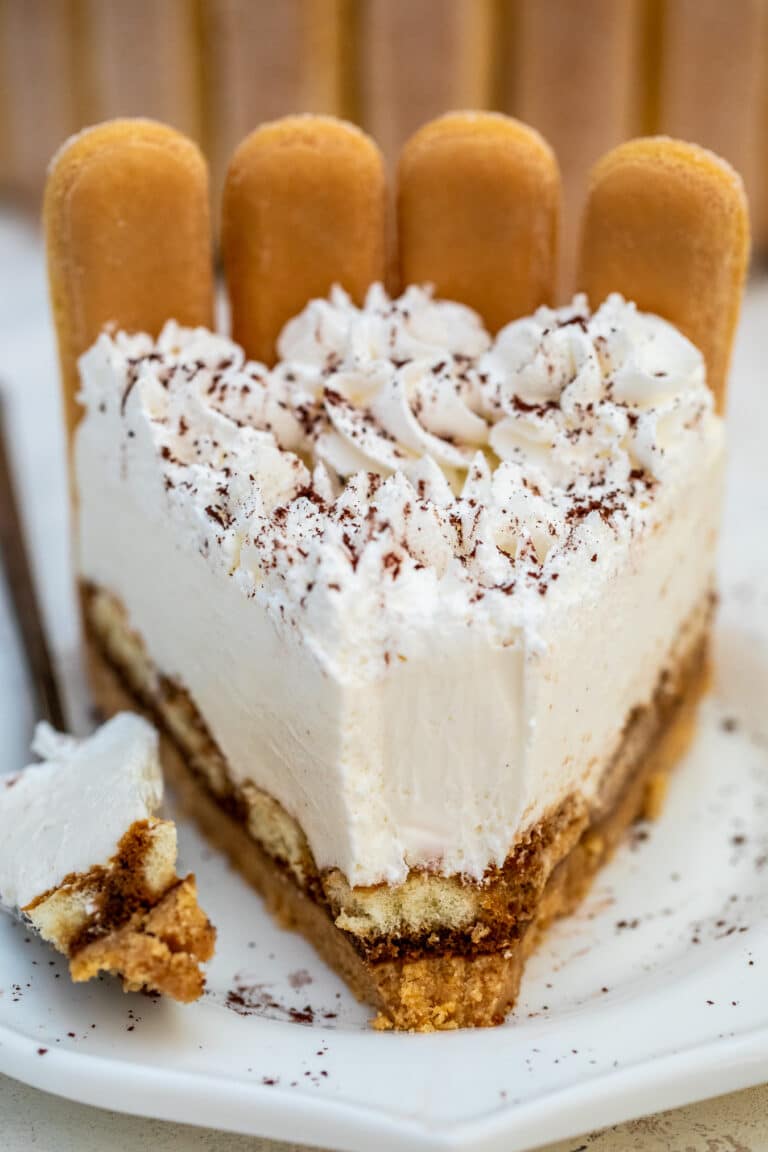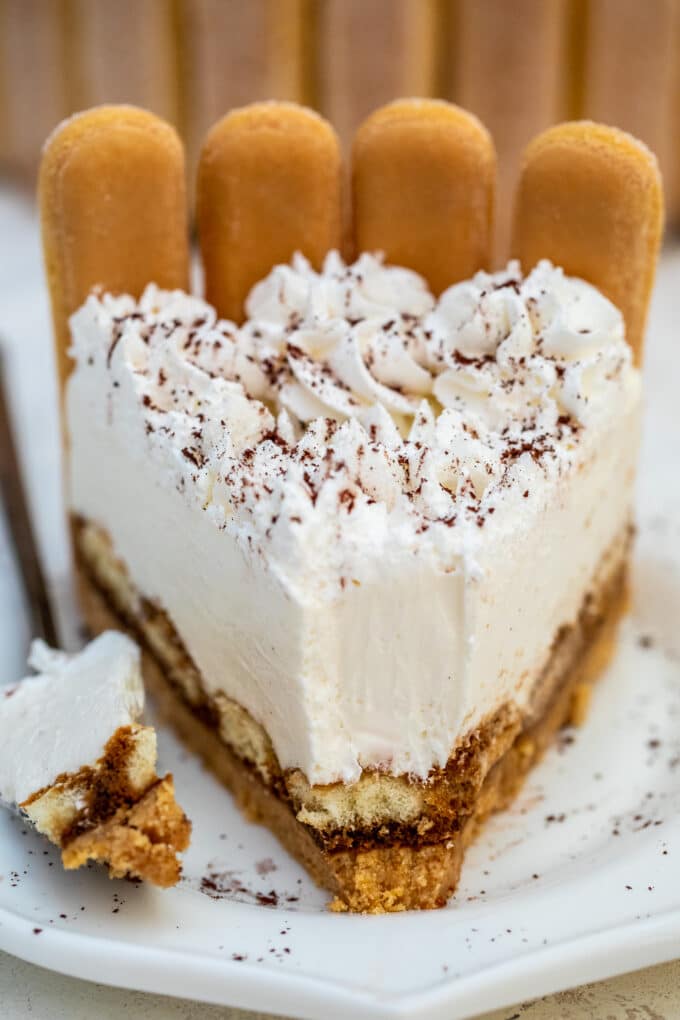 How to prevent cracks in a cheesecake?
Since we are making a No-Bake Tiramisu Cheesecake, your cake won't have any cracks. The texture will be smooth and perfect. However, if you are making a baked cheesecake, here are some tips on how to avoid cracks:
Making sure that all the ingredients are at room temperature and well combined after mixed.
Adding flour or/and cornstarch to the batter.
Also, avoid opening the door oven while baking the cheesecake.
Watch the cheesecake closely to avoid overtaking it. When the sides are puffed and the center of the cheesecake is just slightly wobbly, the cheesecake is done.
Cooling the cheesecake in the oven, with the door slightly cracked is also very important and the sudden change in temperature can cause cracks.
Lastly, bake the cheesecake in a water bath, its one of the most successful techniques to avoid cracks on your cheesecake.
Save Recipe
No Bake Tiramisu Cheesecake
No Bake Tiramisu Cheesecake is a fool-proof recipe of your favorite Italian dessert. Incredibly creamy, rich and delicious, and I guarantee it will become your favorite Cheesecake.
Author: Catalina Castravet
Serves: 14 Servings
Prep time:

30

minutes
Total time:

30

mins
Ingredients
Crust:
Cheesecake Filling:
Coffee Mixture:
Whipped Cream:
Instructions
Coffee Mixture:
Cheesecake Filling:
Whipped Cream:
Nutrition information
Calories: 774 Carbohydrates: 65 Protein: 9 Fat: 53 Saturated Fat: 29 Cholesterol: 161 Sodium: 400 Potassium: 209 Fiber: 0 Sugar: 35 Vitamin A: 1695 Vitamin C: 0.2 Calcium: 134 Iron: 0.7
Save Recipe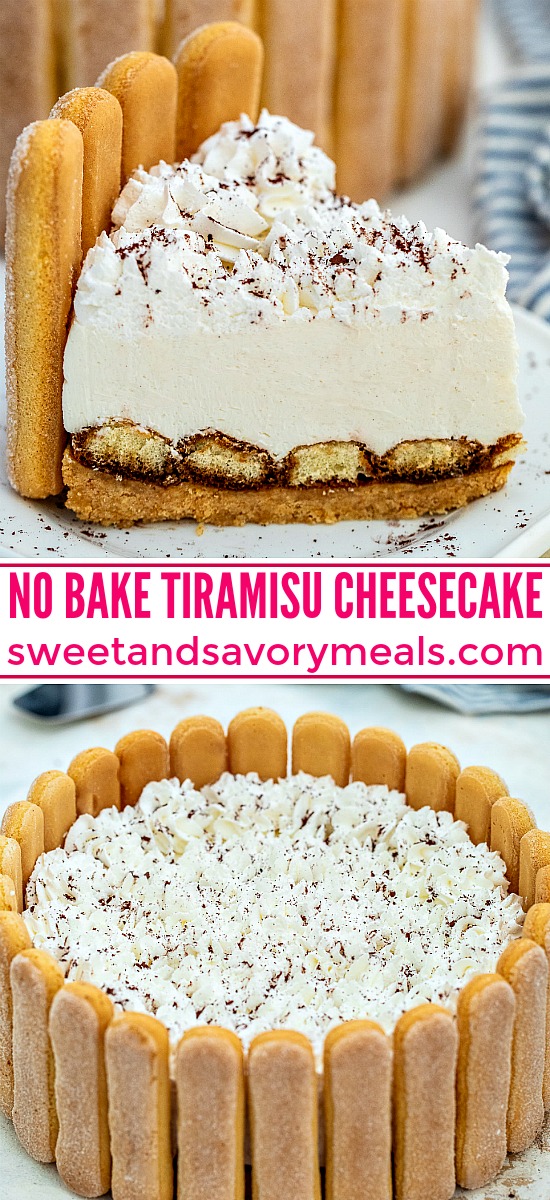 More recipes you might love
Categories: