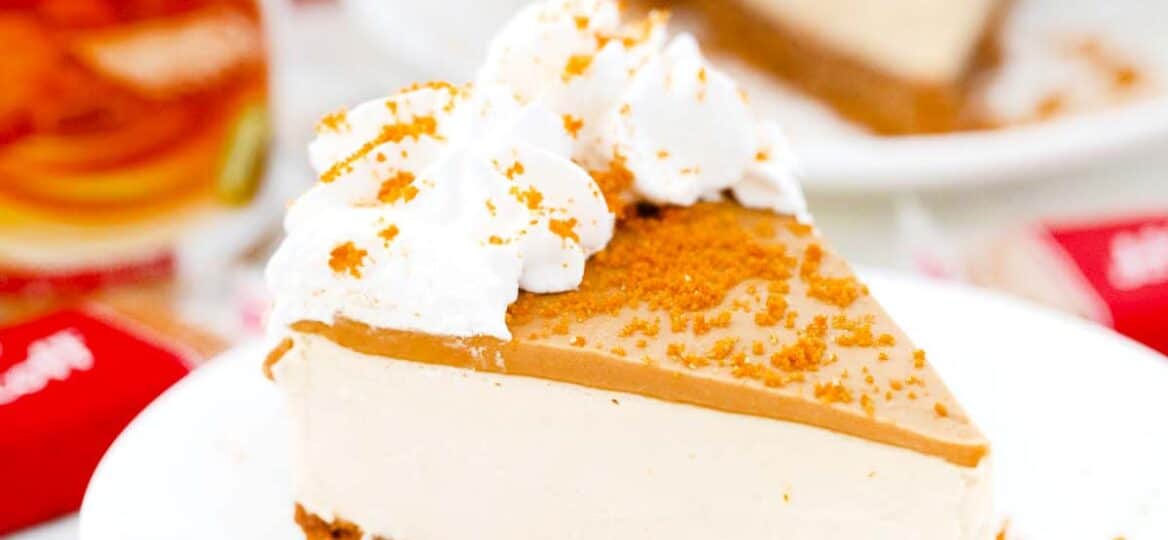 No Bake Biscoff Cheesecake Recipe
Biscoff Cheesecake is made from a Biscoff cookie crust mixture, creamy, no-bake Biscoff cheesecake filling, and melted Biscoff cookie butter spread on top. The sweet spread is blended with caramel for an incredibly rich topping. I think this is the best no-bake Biscoff cheesecake recipe and my family gives it a rating of 5 stars so it must be good and should be added to our mouthwatering cheesecake recipe collection. This Cheesecake Factory Original Cheesecake is a MUST try if you are looking to make a perfect baked cheesecake!
This no-bake cheesecake is easy and creates a delicious cheesecake you can serve for the holidays, a celebration, or just for the family. The cookie butter flavor makes this cheesecake unique and special for the most delicious cheesecake ever. And all you need are cream cheese, Biscoff cookies and spread, whipped cream, vanilla extract, lemon juice, and some toppings.
Ingredients needed:
Crust:
Unsalted butter: You can use salted butter if that is all you have.

Biscoff cookie crumbs: Made from Lotus Biscoff biscuits ground into fine crumbs.
Cheesecake mixture filling:
Smooth Biscoff spread: Also known as Biscoff cookie butter, the only brand I know and love is Lotus Biscoff spread, which is why I like to call it Lotus Biscoff cheesecake.
Whipped cream: Do not just use heavy whipping cream. It has to be whipped. Use a stand mixer with a whisk for best results.

Full-fat cream cheese: Softened cream cheese is best. Just let it come to room temperature before using it.

Vanilla extract: For the best flavor, use 100% pure vanilla extract.

Lemon juice: Fresh lemon juice is best, but you can use store-bought.
Cheesecake topping:
Smooth Biscoff spread: To melt and blend with the other toppings.
Caramel sauce: This gives your Biscoff cheesecake a richer flavor.
Biscoff cookies: Crumbled cookies for extra texture and taste.
Whipped cream: You can use store-bought whipped cream or make your own homemade whipped cream.
How to make Biscoff cheesecake from scratch?
Make the Biscoff crust:
Line the pan: First, line your 8-inch springform pan with baking paper or parchment paper.

Smash the biscuits: Then, grind Biscoff biscuits in a food processor until it turns to fine crumbs. Or just put them in a baggie and smash them.

Make melted cookie butter: Now, melt the butter by cutting it into cubes and microwaving it for 60 to 90 seconds.

Mix it up: After, pour the melted butter into the food processor with the biscuit crumbs and mix until it looks like fine crumbs.

Press it down: Then, scoop the buttery crumb mixture into your prepared pan and press it down to form the base.

Chill overnight: Finally, chill your crust for at least an hour or overnight for better results.
To make the cheesecake filling:
Make the cream cheese mixture: First, beat room temperature cream cheese, vanilla, and lemon juice in a small bowl with an electric mixer. Then melt the Biscoff cheesecake filling in the microwave for 30 to 60 seconds or until it is pourable. Add the melted Biscoff spread to the cream cheese mixture and beat well.

Mix cheesecake batter: Next, in a different bowl, whip the cream until soft peaks form. Add the cream and Biscoff together and fold until smooth and combined.
Chill your cheesecake: Last, pour batter over the chilled cheesecake base and smooth it down with an offset spatula. Chill in the fridge for at least four hours or preferably overnight.
To decorate the cheesecake:
Remove the cake: Now, remove the chilled cheesecake from the pan and smooth down the sides with a spatula or knife.
Melt and pour: Then, melt the Biscoff spread in the microwave for 30 to 60 seconds until it is smooth and pourable. Pour onto the top of the cheesecake and spread with an offset spatula quickly before it sets.
Decorate: Lastly, to decorate the sides, pour some of the heated spread into a piping bag and drip it around the sides. You can also sprinkle extra crushed Biscoff cookies around the edges, make roses, and decorate with more cookies.
Frequently asked questions
What are Biscoff Biscuits?
Made from all-natural ingredients, these delicious cookies are vegan, made with certified palm oil, and taste similar to gingerbread cookies. They have no added flavors or colors, no preservatives, and can be used in many kinds of recipes from sweet to savory. What's more, the Lotus Biscoff spread is also vegan so you can use it in place of peanut butter for all sorts of other delicious treats.
Why do baked cheesecakes crack?
The most common reason for a cheesecake crack is being overbaked. You could have the oven too high, or it could have been cooked too long. It may have also been cooled too fast. Try cooling it in steps instead by leaving it in the oven with the door open for an hour after you shut it off. Luckily, you do not have to cook this Biscoff cheesecake.
What if I cannot find Biscoff cookies?
You should be able to find these cookies in the cookie aisle at any major grocery store. If not, try looking around the crackers. You could also order them online. However, there are many different kinds of cookies you can use instead of Biscoff. Try shortbread cookies, vanilla wafers, golden Oreos, or whatever you like.
How to store leftovers:
Store: You can store your leftover Biscoff cheesecake in an airtight container but wrap it in plastic wrap first. It will stay fresh in the refrigerator for three to four days.
Freeze: Freezing is not recommended.
More No-Bake Cheesecake recipes to try:
Recipe variations:
Granulated sugar: If you want a sweeter crust, add 1/4 cup of granulated sugar or icing sugar to the Biscoff crumbs.
Add ice cream: Serve a slice of Biscoff cheesecake with a scoop of vanilla ice cream for a decadent dessert everyone will love.

Graham cracker crust: Instead of crushed Biscoff cookies, you can use a graham cracker crust or some other cookie you like such as Oreos.
Double cream: Add a 1/2 cup of sour cream or Greek yogurt to your cheesecake filling for extra creaminess.
Less fat: If you use low-fat cream cheese, it will not be as creamy, but it will still be one of the most delicious desserts you have ever had.

Make it vegan: If you want to make Biscoff cheesecake vegan, use high-quality vegan butter, heavy cream, and cream cheese. Using the block is the best because it has fewer fillers and no added liquids.
No dairy: You can also use vegan cream, butter, and cream cheese for a dairy-free cheesecake.
No Bake Biscoff Cheesecake
Ingredients
Crust:
2 1/2

cups

Biscoff cookie crumbs

1

stick unsalted butter

melted
Cheesecake filling:
24

oz

full-fat cream cheese

3 packages - at room temperature

1/2

tablespoon

lemon juice

1 1/2

cup

smooth Biscoff spread

1

teaspoon

vanilla extract

1

cup

whipped cream

cold
Cheesecake topping:
1/2

cup

smooth Biscoff spread

or more

Whipped cream

Caramel sauce

optional

Biscoff cookies
Instructions
Crust:
Line the bottom and sides of an 8-inch spring-form pan with baking paper.

Break up the biscuits and add them to a food processor, pulse to make them into crumbs. Transfer to a bowl.

Pour the melted butter into the crumbs and mix until it resembles fine sand.

Transfer the mixture into the prepared pan and press evenly on the bottom to form the base and about 1 inch up the sides. Chill in the fridge for at least one hour or up to overnight.
Cheesecake filling:
Place the Biscoff spread into a microwave-safe bowl and melt in the microwave for about thirty seconds to one minute, until smooth and pourable. Let cook for 1 minute.

In a large bowl, beat the cream cheese with the lemon juice until creamy. Add the melted Biscoff spread and vanilla, and beat until fully combined.

In a separate bowl whip the cream until soft peaks form. Using a rubber spatula, fold the whipped cream into the cream cheese filling until combined and no white peaks can be seen.

Transfer the mixture on top of the chilled crust and smooth the top with an offset spatula.

Chill in the fridge for at least four to six hours, preferably overnight.
Cheesecake topping:
Remove the cheesecake from the pan and smooth the sides with a knife or spatula.

Melt the Biscoff spread in a microwave-safe bowl for about thirty seconds to one minute or until pourable.

Let the spread cool a bit and pour it on top of the cheesecake. Quickly spread it out with an offset spatula up to the edges.

For a pretty drip around the side, add some microwaved Biscoff spread into a piping bag and pipe it around the side.

If you want, make some whipped cream roses around the side of the cheesecake. Also, sprinkle a little Biscoff crumbs around the top edge of the cake, and place two cookies in the center of the cake.
Recipe tips:
If you do not have a springform pan, you can use a regular cake pan. However, line it with parchment paper to make removing your cheesecake easier.

Other Biscoff recipes call for extra sugar in your crust mixture, but it does not need any. The cookies are sweet enough and the cookie butter spread makes it even sweeter.
Some people do not like as much Biscoff spread in the actual cheesecake filling. It is fine to leave it out. Just add more cream cheese or replace it with Greek yogurt.
Instead of a stand mixer, you can use an electric mixer or whisk it by hand.
For extra buttery flavor, pour some melted Biscoff butter over the top made with the Biscoff spread and butter.
You can use a blender if you do not have a food processor. Or you can put them into a plastic baggie, cover it with a tea towel, and gently hit it with a rolling pin.
Are you looking for more cheesecake recipes? We have lots of delicious recipes on our food blog.