No Bake Peach Cheesecake [Video]
No Bake Peach Cheesecake is a sweet and summer delight that is one of the easiest desserts to make! This delicacy is sure to make anyone drooling for more!
Cheesecakes are a classic favorite that pleases all age groups. If you are looking for some of the most delicious yet easy to make recipes, check out the following: Strawberry Cheesecake, Low Carb Keto Cheesecake, and Marshmallow Chocolate Caramel Cheesecake.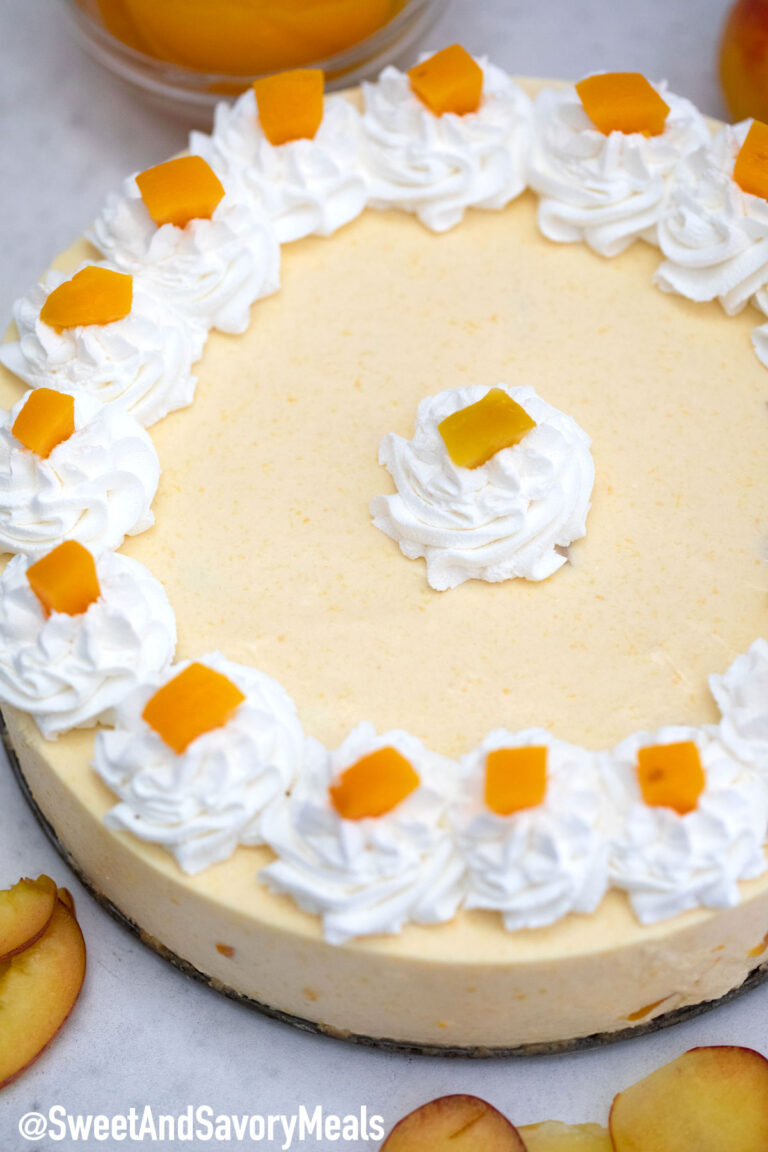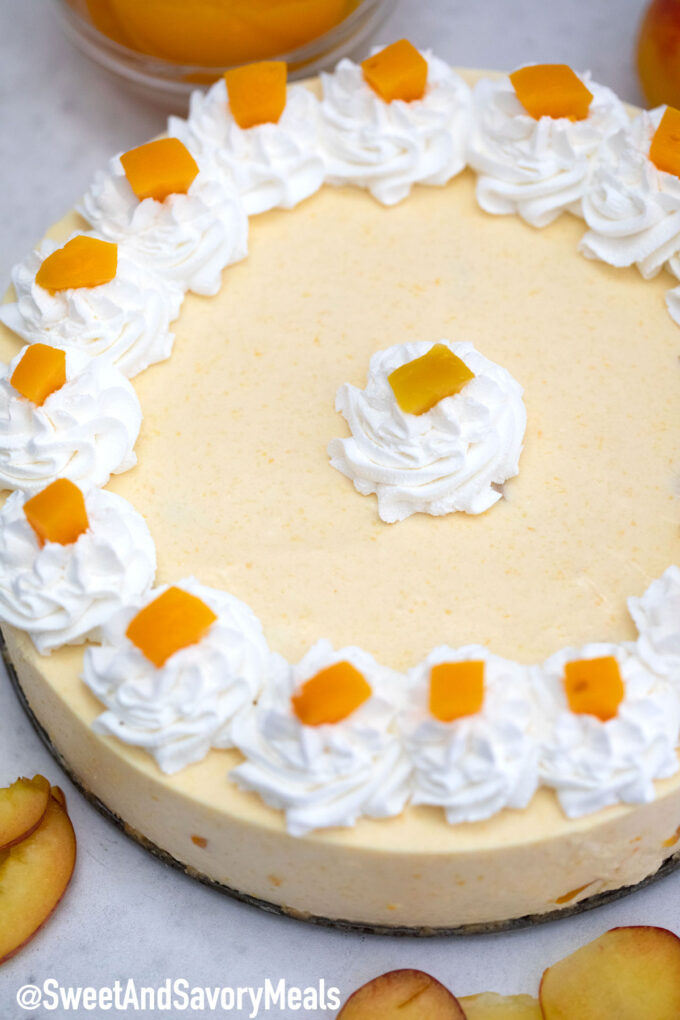 No Bake Peach Cheesecake
No Bake Peach Cheesecake is an incredibly rich and delicious dessert that you can never go wrong with. It is one of my favorite cake variants particularly because it hits right the balance between sweet and creamy.
I can never emphasize how ecstatic I am to be sharing this recipe with you. Most people find the no-bake method very intimidating which is what I can truly disprove by giving out this recipe.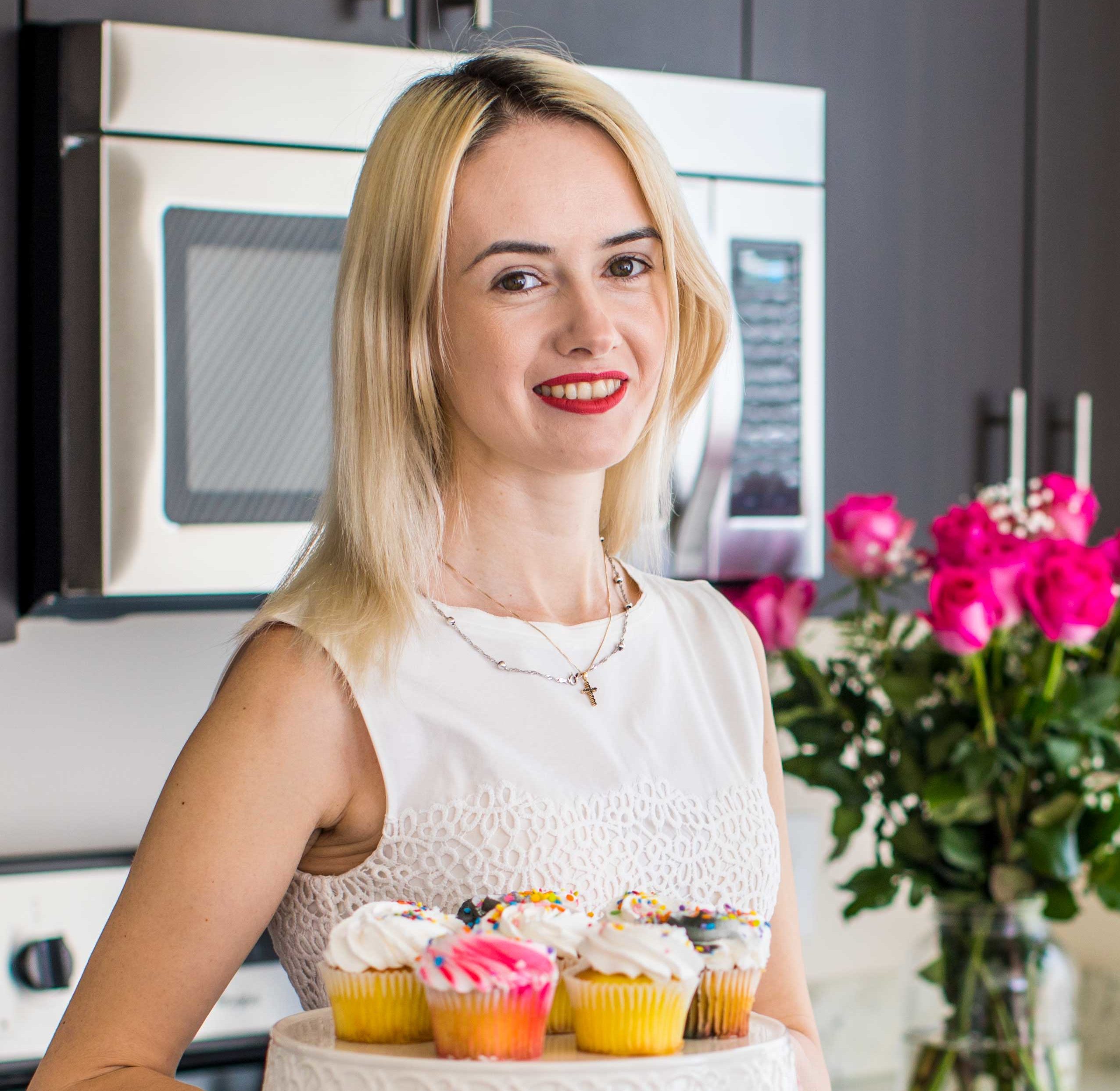 Follow us on Pinterest for more delicious recipes!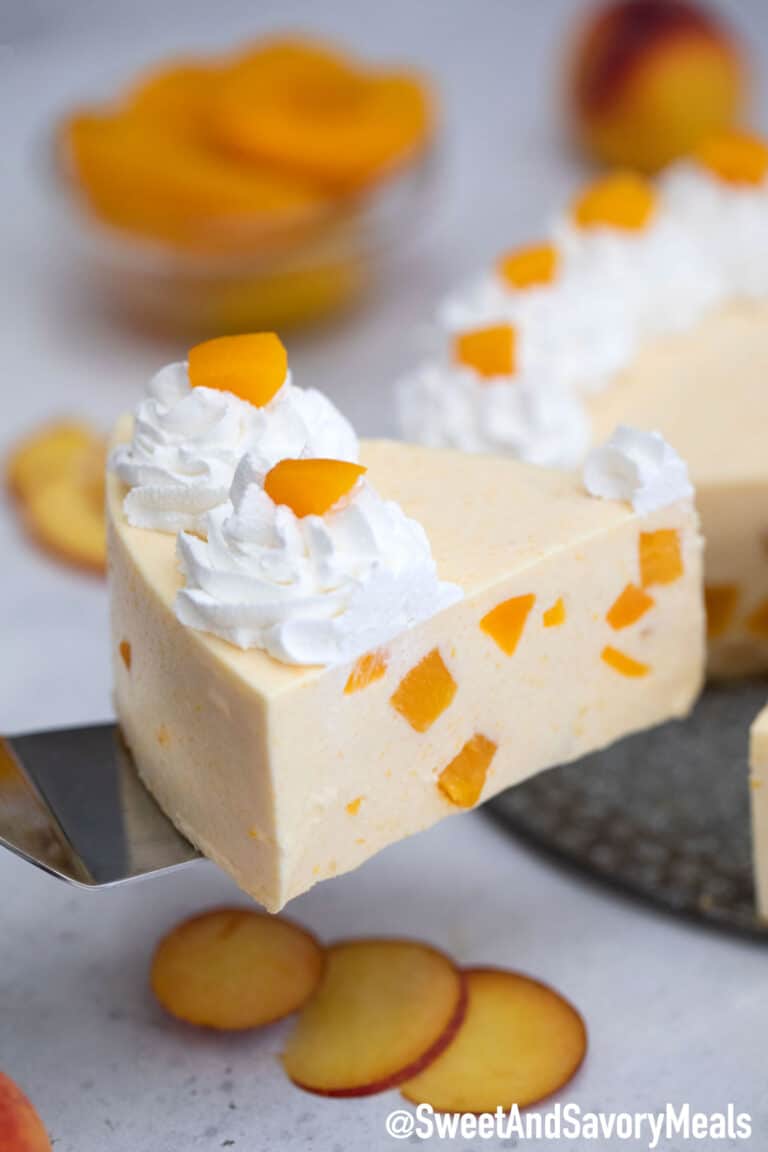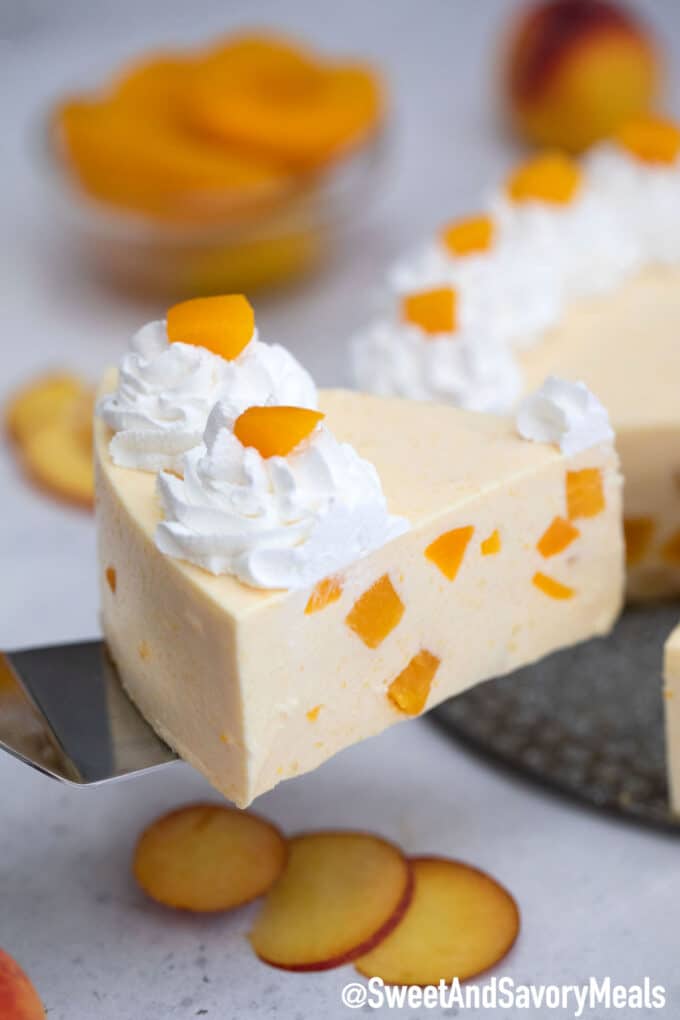 It is quite obvious that peaches have become a staple in my dessert recipes. This one, in particular, makes for great use in parties, small gatherings, and even on a chill lazy afternoon.
No-bake recipes are extremely underrated. I usually use it to encourage kids and adults to venture into baking and surely, they always love the hassle-free process.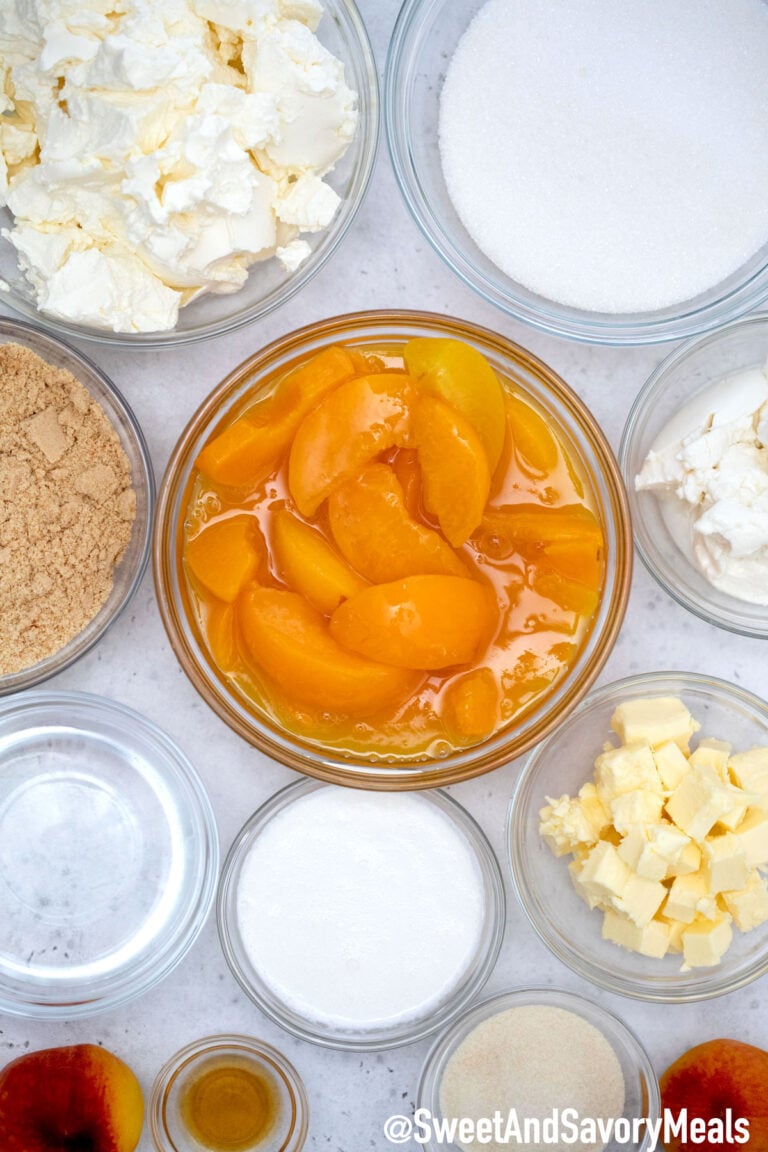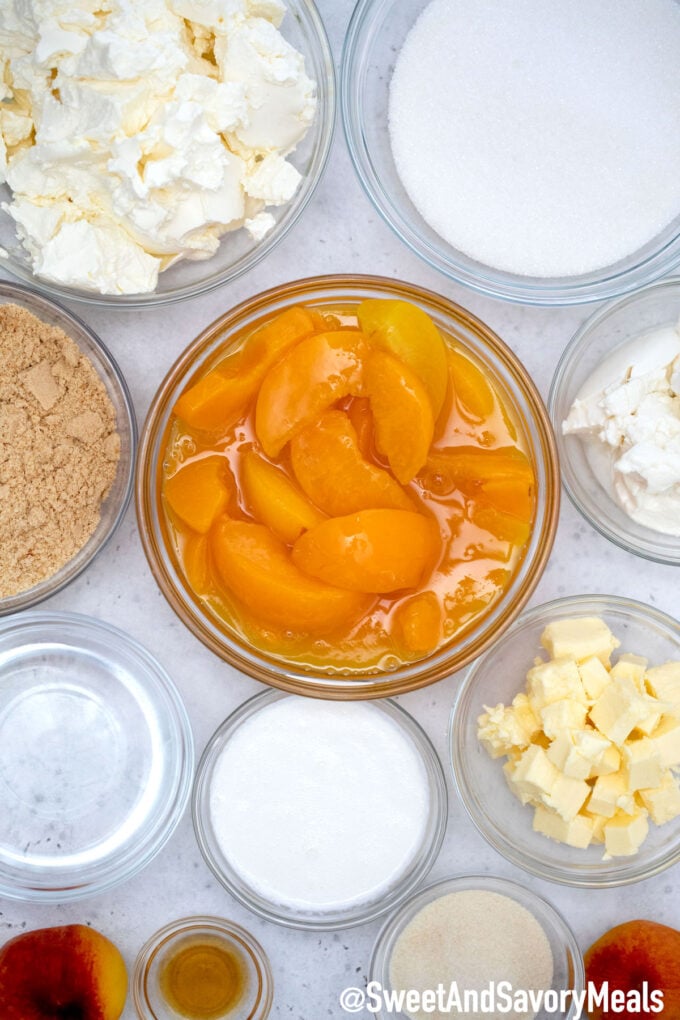 Is baked cheesecake better than no baked peach cheesecake?
I always believe that taste always comes down to preference. With these two, the major difference is in the texture.
I cannot attest which one is ultimately better, but if you prefer a lighter and airy dessert, then the no-bake one is the best option. On the other hand, if you want something dense, then you should go for the baked option.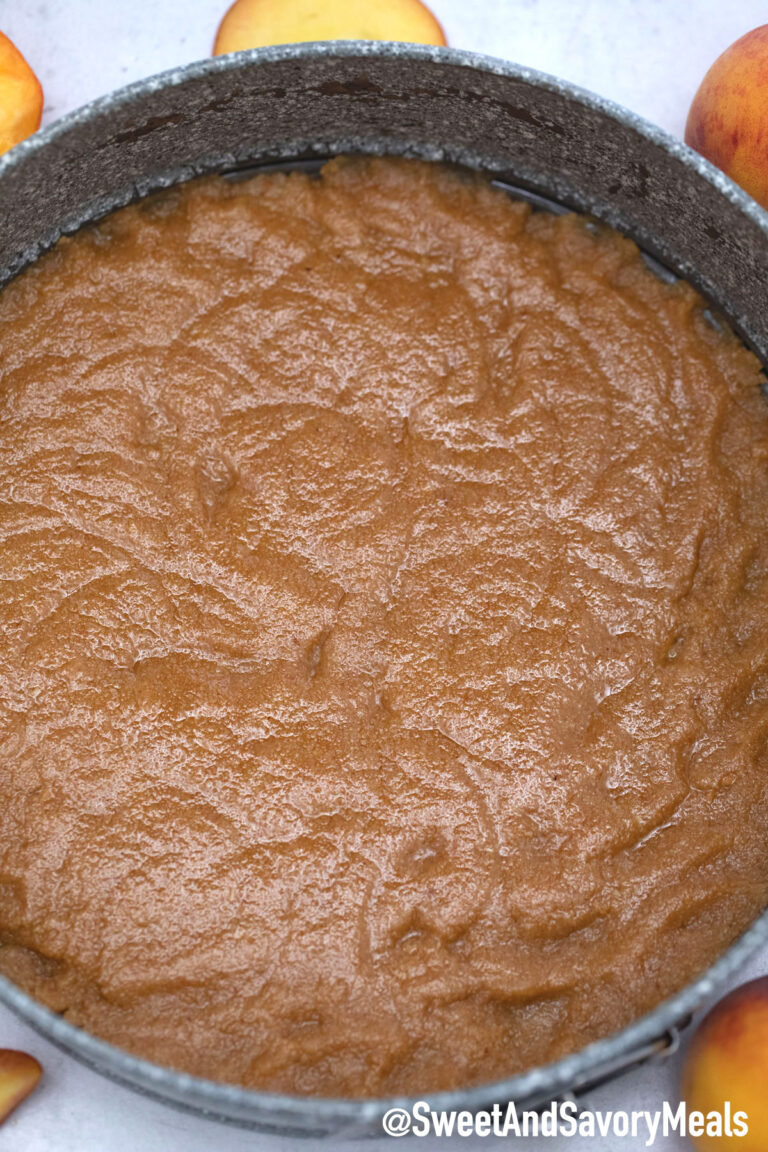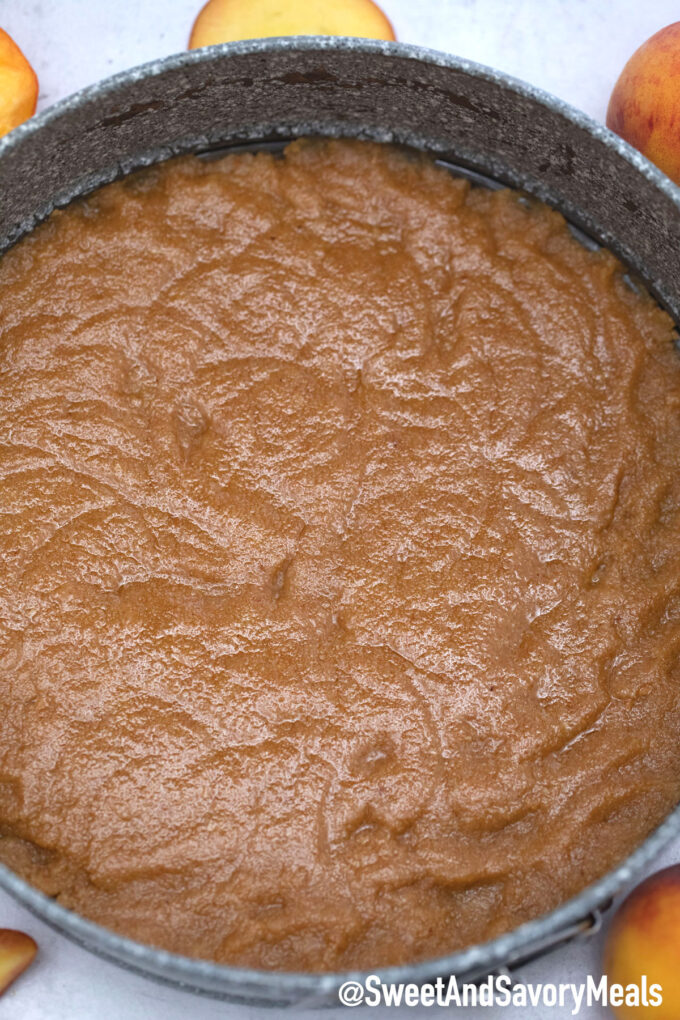 How do you make No Bake Peach Cheesecake?
Making the crust. Mix the graham, sugar, and butter until solid. Place the mixture all along the bottom and sides of the pan
Prep the gelatin. Get a cup of cold water and sprinkle the gelatin packaging. After 2 minutes, whisk and microwave for 30 seconds. Continue whisking until the gel mixture is formed. Set aside
Prep the peaches. Smoothen the fruit by using a food processor. Set aside.
Make the filling. Mix the cheese and sugar well. On another bowl, add the remaining ingredients and whip them until stiff peaks form. Mix all three mixtures together.

Let it chill. Place the mixture evenly onto the pan with graham crumbs. Refrigerate it for 5 to 6 hours.
Serve. Add whipping cream or fruit chunks on top as desired. Make sure that it is chilled, then serve.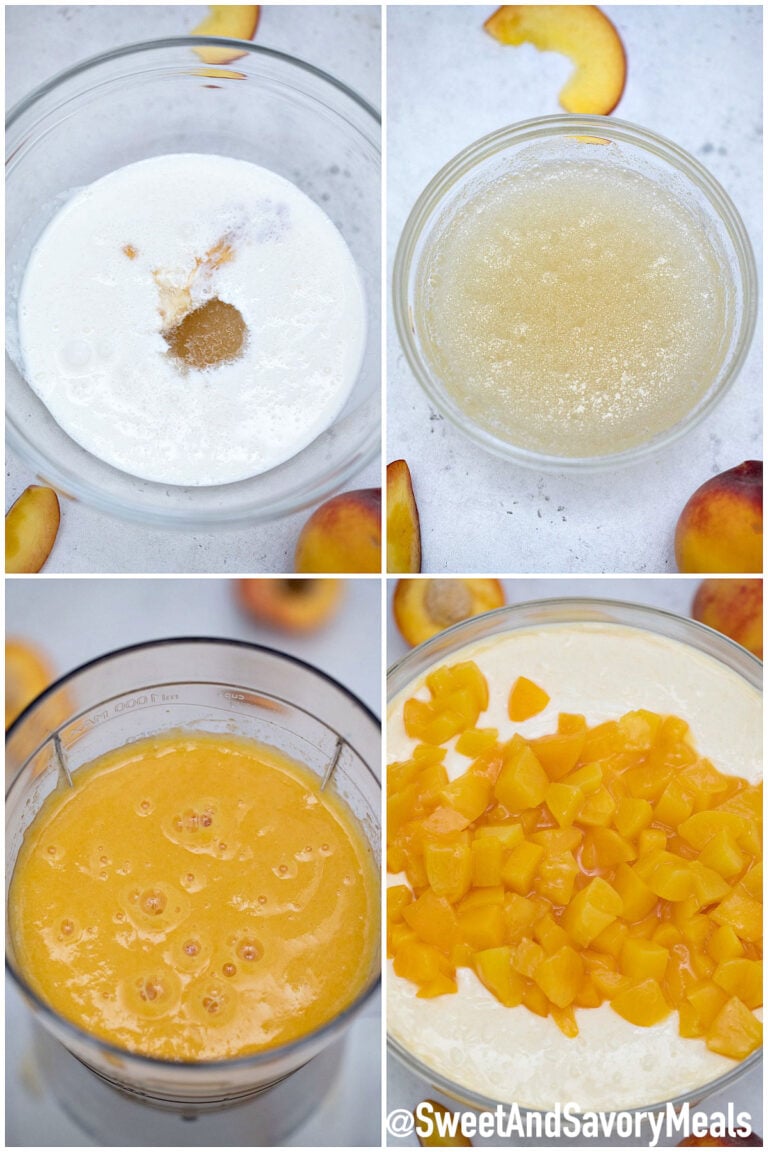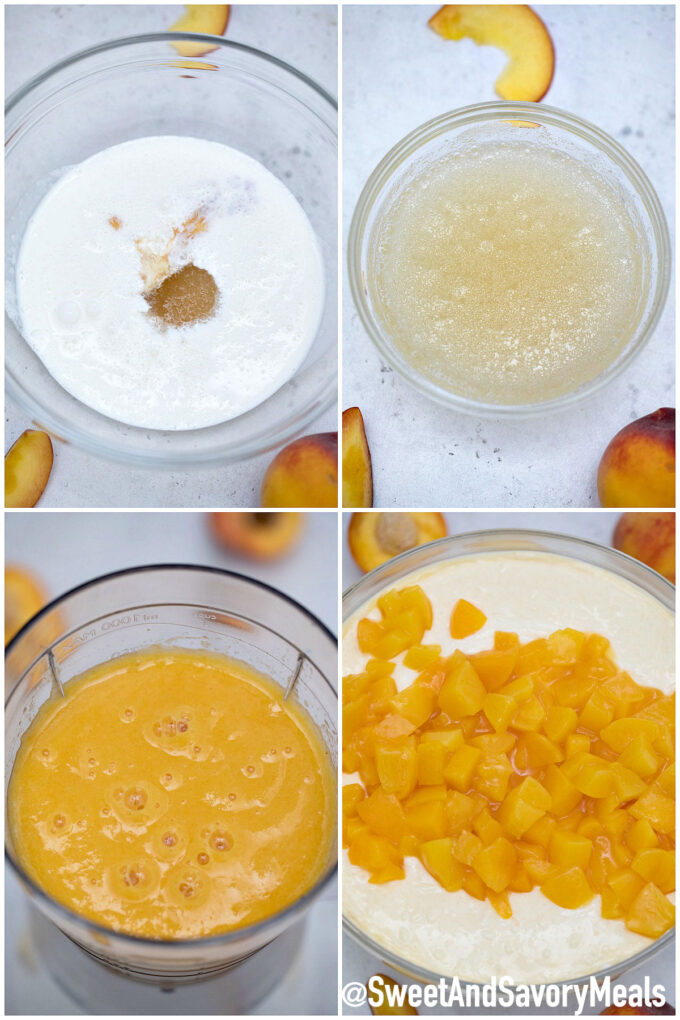 How to Store:
Keeping this recipe fresh is pretty easy. If you plan to consume it within the week, you can cover the top of the pan with a plastic wrap and refrigerate.
On the other hand, you can let it last for two weeks or so by placing it in the freezer. You can just thaw it afterward when ready to eat.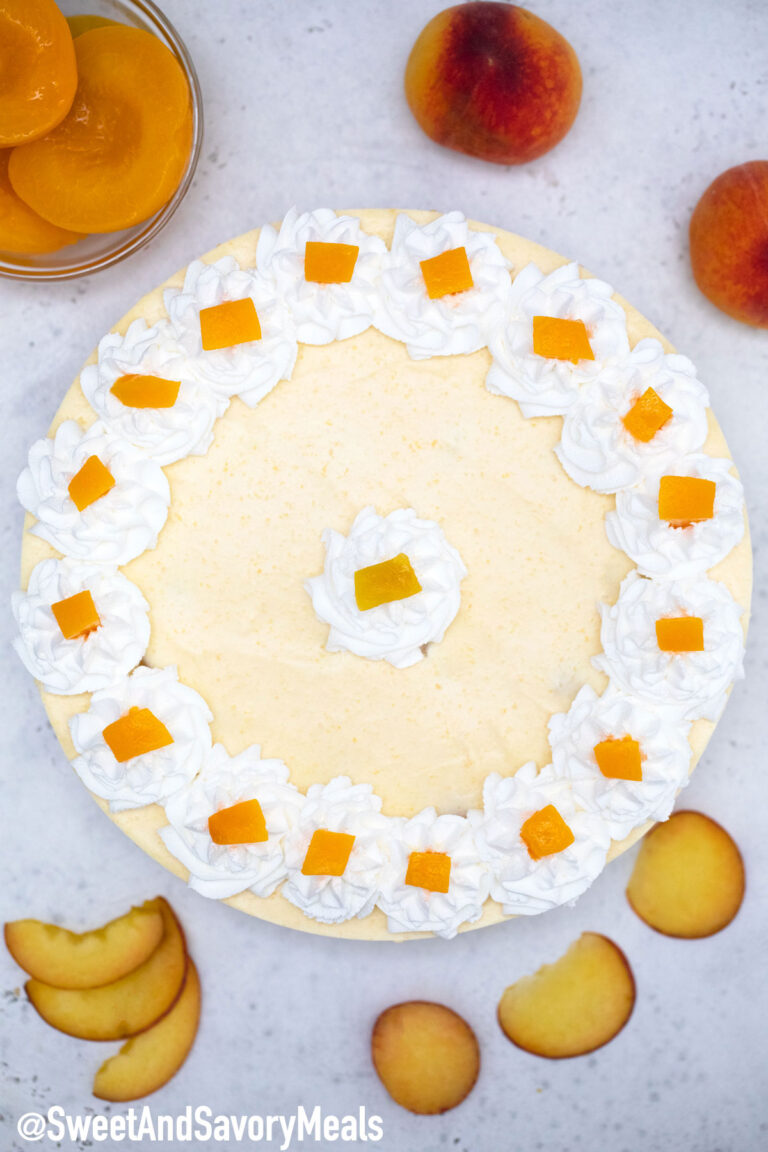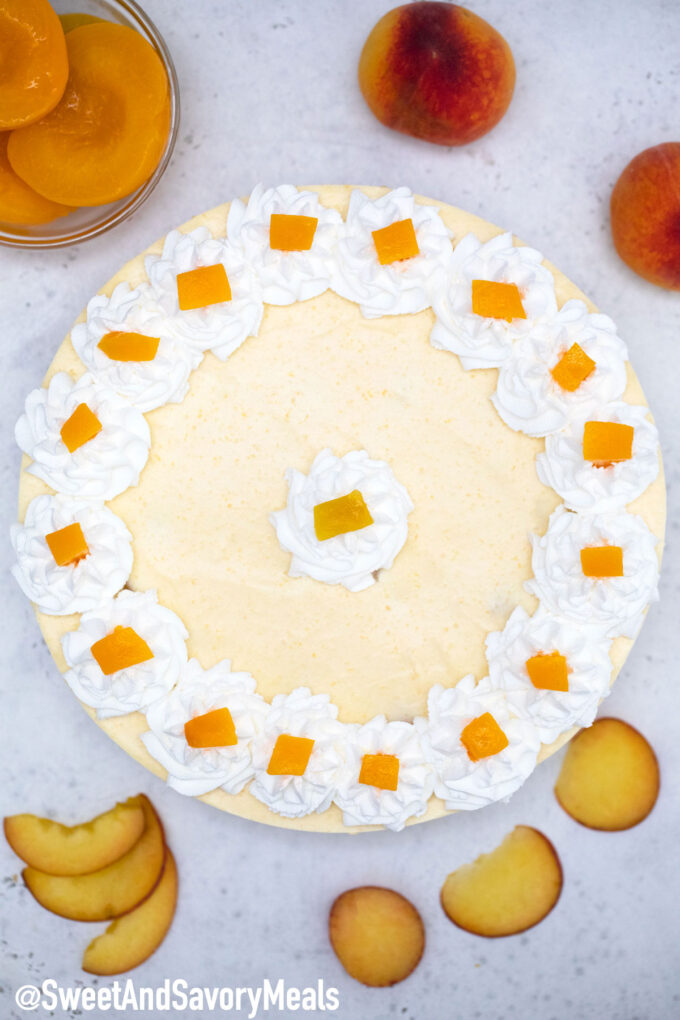 Recipe variations:
Finding no-bake recipes is always a happy moment for me. If you also like this hassle-free method, check out some of my best and easiest desserts to make: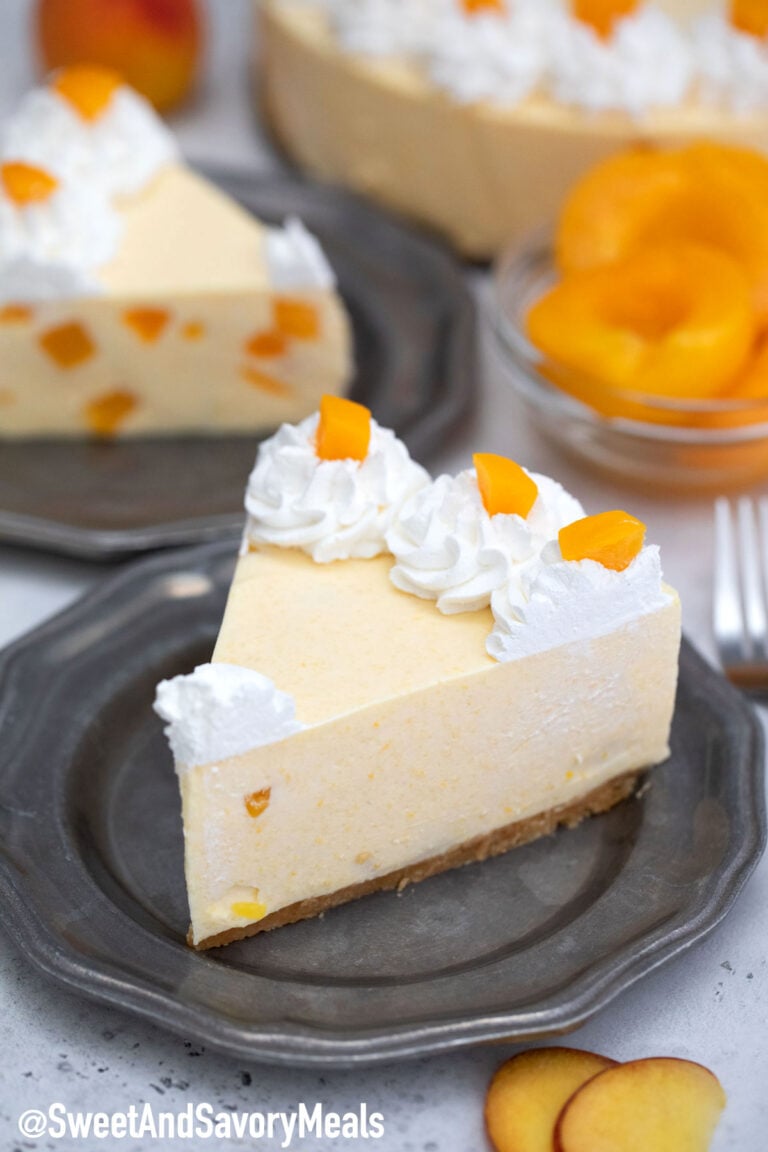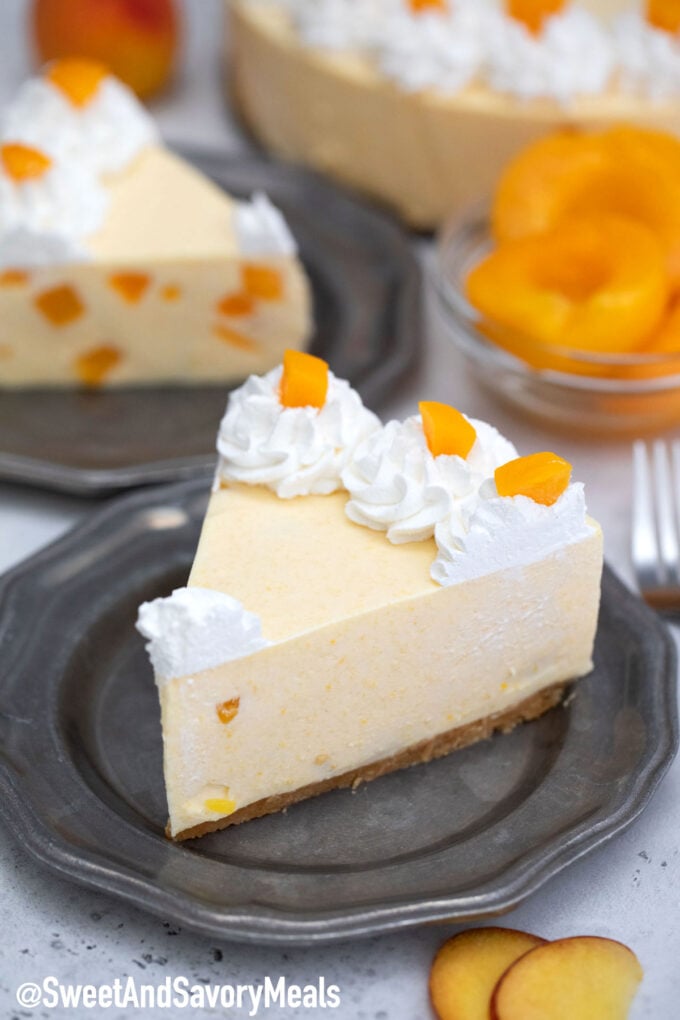 In addition, if want to see how to have other uses for peaches, here are my suggested recipes: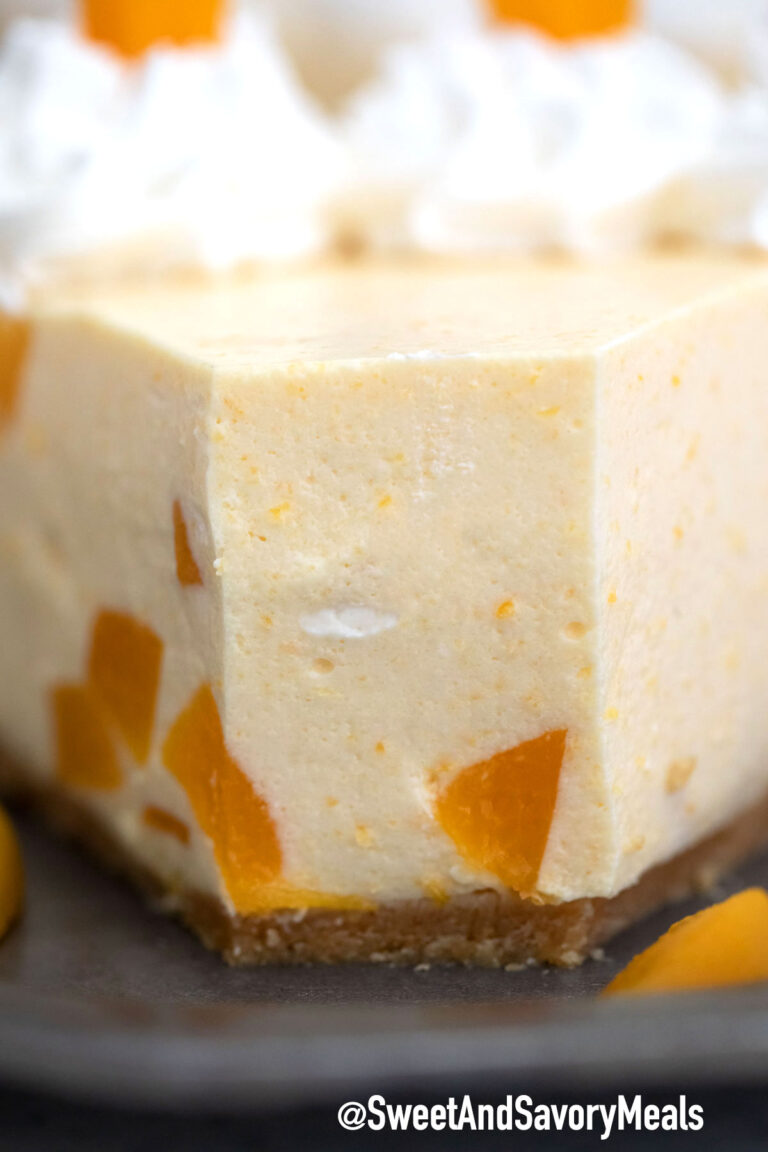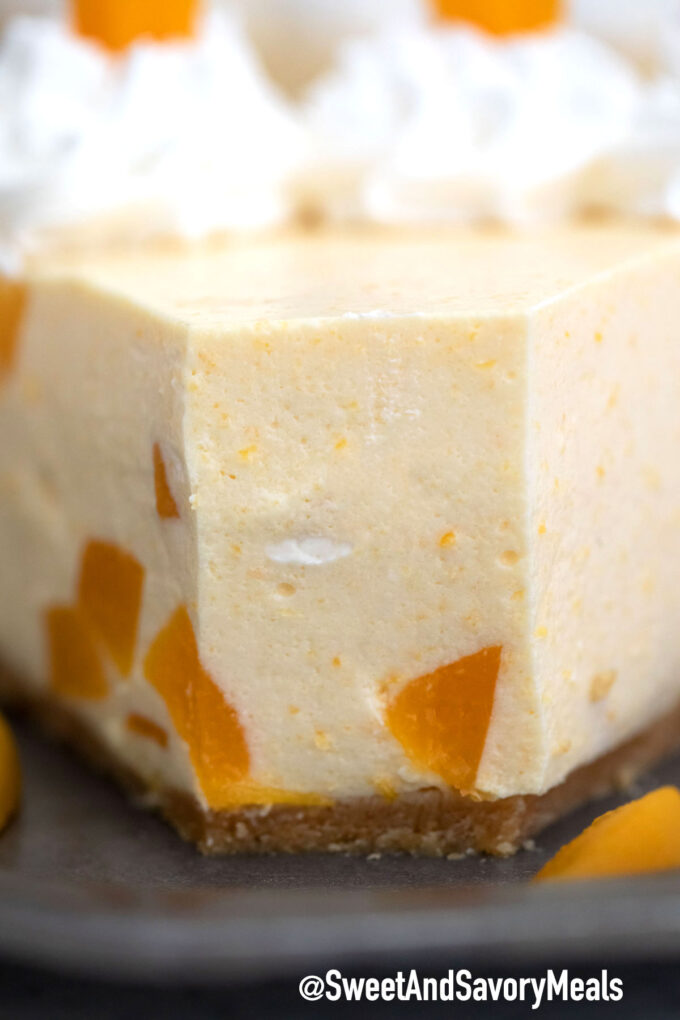 Recipe tips:
To make sure that the batter thickens, my little trick is to fold the whipped cream into the batter slowly. These lessen the deflation of the air keeping the thickness consistent.
While letting the dessert sit for five to six hours is enough, I still recommend leaving it overnight to achieve the perfect texture.

Always check whether your crust is cracking. It holds the entire mixture so try to keep a keen eye that it remains solidified.
While granulated sugar is a basic ingredient in making this dessert, you can also use confectioner's sugar if you want a lighter taste.
Save Recipe
Author: Catalina Castravet
Serves: 10 slices
Cook time:

1

hour
Total time:

7

hrs
Ingredients
Crust:
2 cups graham cracker crumbs
2 tablespoons white granulated sugar
1 stick unsalted butter (melted)
Cheesecake Filling:
1 package unflavored gelatin (4 envelopes 7 grams each one)
2/3 cup water (cold)
4 cups peach chunks (canned or fresh)
24 oz cream cheese (room temperature)
8 oz mascarpone cheese (room temperature)
1 ½ cups white granulated sugar
1/2 cup heavy whipping cream (cold)
1 teaspoon vanilla extract
Whipped Cream:
1 cup heavy whipping cream (cold)
3 tablespoons white granulated sugar
Instructions
Crust:
Add Graham crumbs and sugar to a medium bowl and mix with melted butter until fully combined.
Press the mixture onto the bottom and sides of a springform pan or a 9x13 inches cake pan. Use a measuring cup to press the mixture, it makes the process very easy. Refrigerate for 20-30 minutes.
Gelatin Mixture:
Add 1 cup of cold water to a small bowl, sprinkle the gelatin on top. Let it bloom for 1-2 minutes. Whisk to combine, microwave for 30 seconds and whisk until fully combined and a gelatin mixture is formed. Set aside.
Cheesecake Filling:
Add 2 cups of peach chunks to a food processor and process until smooth. Set aside.
In a large bowl, using an electric hand mixer or stand mixer, mix together cream cheese, mascarpone cheese and 1 cup of sugar on medium-low speed until combined. Stop once to scrape the sides and bottom of the bowl. Do not mix on high speed or overmix, as the mascarpone cheese can begin to separate.
In a chilled mixing bowl, add the cold heavy whipping cream, remaining two tablespoons of sugar and vanilla extract. Whip on high speed until stiff peaks form. Manually, using a spatula, fold the whipped cream into the mascarpone cream cheese mixture.
Add the peach mixture to the gelatin mixture, mix.
Add the peach gelatin mixture to the cheesecake batter and mix to combine.
Fold in with a spatula the remaining 2 cups of peach chunks.
Spread the cheesecake filling evenly on top of the crust.
Set the cheesecake in the refrigerator to chill and firm, 5-6 hours or better, overnight.
Whipped Cream:
Add the cold heavy whipping cream and sugar to a large mixing bowl. Whip on high speed until stiff peaks form. Add whipped cream to a piping bag fitted with a large star tip and pipe cream on top of the cheesecake.
When ready to serve, carefully remove the cheesecake from the springform pan.
Decorate with peach chunks. Always serve chilled.
Slice and serve!
Store in the fridge for up to 4 days.
Calories: 490 Carbohydrates: 62 Protein: 10 Fat: 23 Saturated Fat: 13 Cholesterol: 61 Sodium: 460 Potassium: 368 Fiber: 1 Sugar: 51 Vitamin A: 963 Vitamin C: 4 Calcium: 194 Iron: 1
Save Recipe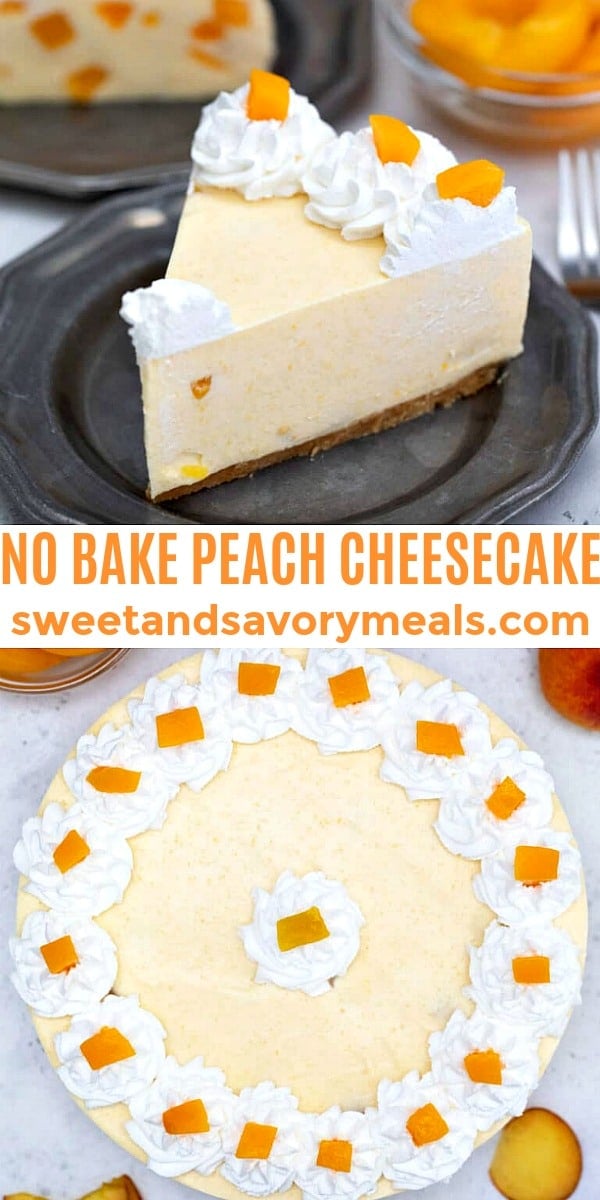 More recipes you might love