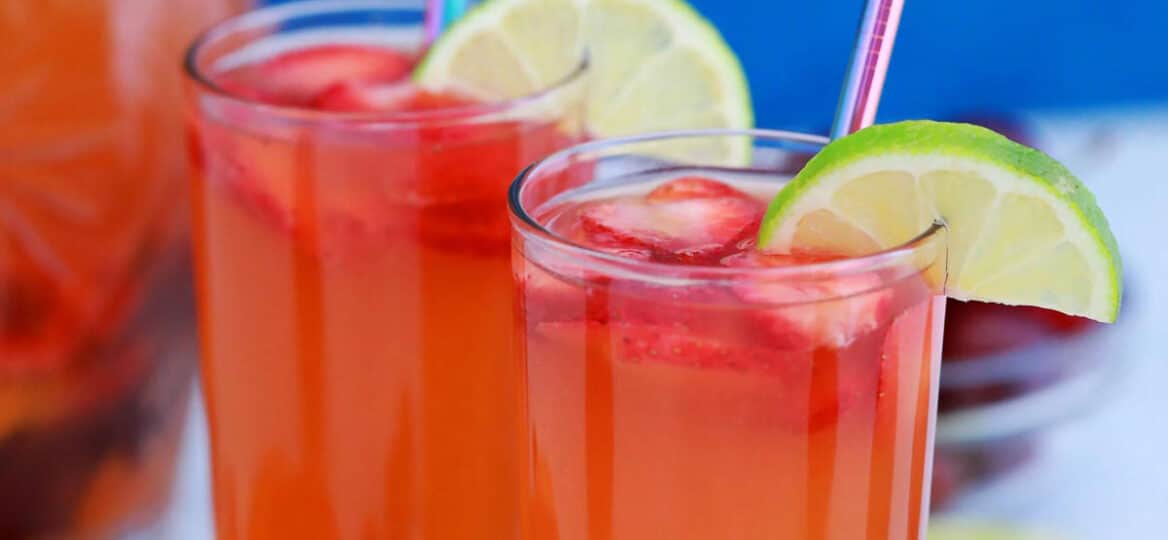 Best Peach Sangria Recipe [Video]
Peach Sangria is a top-notch celebratory drink for summer events! Loaded with cherries, strawberries, and peaches this refreshing recipe is one that can never go wrong to beat the heat!
The summer heat can sometimes be too unforgiving. So, here are some of my best summer drink recipes to quench your thirst with a tasty twist: Lemonade Vodka Club Soda, Boozy Apple Iced Tea, and Candy Cane Chocolate Martini.
Peach Sangria Recipe
Peach Sangria has always been the drink of the summer that I always turn to whenever I want to relax. I also usually use it over dinner with my friends when we want to chitchat.
This recipe makes it very easy to throw everything right into a pitcher. You only technically need six ingredients to make this one which is why it is the ultimate go-to mix.
The fruity twist combined with the deep wine flavor of your choice is absolutely refreshing. In addition, peach is such a sweet and juicy fruit that I promise is absolutely the best choice for a sangria drink.
I am very excited to share this recipe with you so that you can make it in the comfort of your own home. I have saved quite an amount by making this one myself.
What is Sangria?
Sangria is a traditional drink originally from Portugal and Spain. It is a common drink used during festivities.
What do you need to make Peach Sangria?
One of the things that make Peach Sangria a beloved drink is the fact that you really don't need much to make it. Here are the basic ingredients to follow this recipe:
Wine. A chilled bottle of Pinot Gris or Moscato
Juice. Peach juice and peach-flavored liqueur
Fruit Slices. Peach, cherries, and strawberries
How do you make Peach Sangria from scratch?
Chill the wine. Make sure that you have placed the wine in the fridge before starting to make the recipe.
Prep the fruit slices. Slice the strawberries and peaches. Pit the cherries

.

Assemble. In a pitcher, place all the ingredients and stir.
Serve. You can let the punch chill for another hour if you want it cold. Otherwise, serve.
What wine is best for Peach Sangria?
In all circumstances, any kind of wine will work well for this drink. I realize that the trick usually is to find that sweet balance between the strong fruity flavor and the strong taste of wine.
Red wines are a classic favorite and are in fact the original type of wine used before. However, lighter wines such as Pinot Gris, Moscato, Sauvignon Blanc, and Vinho Verde is slowly becoming a house favorite.
What food goes with Peach Sangria?
Sangria works well with a variety of foods. So, you can easily prepare the drink for afternoon snacks, lunch, and dinner.
However, I recommend pairing the drink over dinner with the following meals:
On the other hand, you can also check out these dessert recipes to pair with this punch for a late afternoon snack:
How to Store:
I find that this recipe really does not spoil quite fast. They can last for a couple of days even when simply placed inside the fridge.
However, I suggest keeping the punch inside mason jars or other containers with a tight lock before placing them inside the fridge. This way, you can readily drink a chilled punch on the go.
Recipe Tips:
You can actually add limes and lemon to make the punch fruitier. However, try to keep a balance between strong and fruity taste.

Adding brandy makes the sangria effortlessly finer.

I have also discovered that dropping a dash of vanilla not only makes the punch smell more fragrant, but its sweetness also blends well with the citrus and wine.