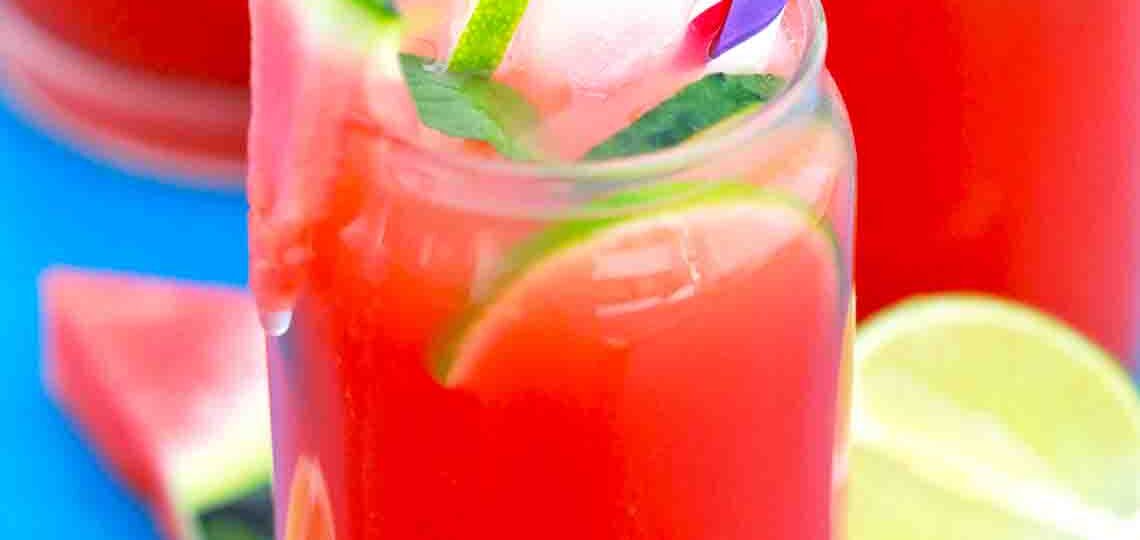 Boozy Watermelon Lemonade Recipe [Video]
Boozy Watermelon Lemonade is satisfyingly sweet and refreshing, made with the perfect blend of fresh lime juice, puréed watermelon, cucumber, and fresh mint leaves. With hardly any prep time, you can have this delicious summer cocktail ready in minutes.
Are you looking for other cocktail recipes to try? Our Coconut Mojitos made with brown sugar, club soda, and rum is the perfect tropical cocktail. Or try this Shamrock Sour recipe with Irish whiskey and lime juice. It's not just for St. Patrick's Day!
This boozy watermelon lemonade recipe is the perfect refreshing drink for a summer cocktail or any time you are craving something sweet and sour. Whether you fill glasses or mason jars with this summer mix, everyone will agree that it is a refreshing cocktail.
Also, if you add some ice cubes and purée again, you will have a thick and cool lemonade cocktail you can eat with a spoon. You can even make this cocktail during the winter months. Just use bottled juices from the grocery store.
Believe it or not, this boozy cocktail is good for you. According to the nutritional information, you can get about 15% of your daily value of vitamin A and 25% of your daily value of vitamin C. Serve with extra water and ice, and the calories can be less than 100 per serving.
Of course, you can always rely on a traditional glass of Homemade Lemonade on ice to make a hot day seem cooler. Check out some of our other healthy drink recipes on our beverages page.
Ingredients needed:
The ingredients are simple and easy for this boozy watermelon lemonade recipe. You do not need much to mix up a batch of summer drinks for the pool party, barbecue, or any day. Take a look at our handy printable recipe card below for the step-by-step directions and precise ingredients.
Fresh watermelon flesh: Seeded and cubed.
Cucumber: Cut into cubes.
Fresh lemon juice. or Fresh lime juice
Pineapple juice: Store-bought or fresh pineapple juice.

Packed mint leaves
White rum, vodka, or water
Agave syrup or simple syrup
Lemon wedge: For garnish.
Fresh mint: For garnish.
How to make Boozy watermelon lemonade recipe?
Blend the fruit: First, put the fresh watermelon cubes, cucumber, fresh lemon juice, lime juice, and mint in a blender and purée until it is smooth.

Strain the juice: Next, use a fine-mesh sieve to strain the leaves and pulp from the watermelon lemon juice.

Add the alcohol: After it is all strained, combine the alcohol and pineapple juice into the mix and stir in the syrup. You can add as much or as little syrup as you like to desired sweetness.

Garnish your boozy watermelon lemonade: Lastly, add cucumber and lemon slices and garnish with a sprig of mint and a lemon wedge to serve.
Recipe variations:
Add ice: For a slushy spiked watermelon lemonade, add ice cubes, water, and a bit of sugar. Purée well in the blender until it is smooth.

Fresh herbs: Feel free to use other herbs in this cool drink such as fresh rosemary or a rosemary sprig.

More lemon juice: You can also add more or less lemon juice depending on how much lemon flavor you like.

Vodka or rum substitute: If you do not have (or like) vodka or rum, try tequila or gin.

Sugar-free: For those who are diabetic or cannot have sugar for some other reason, use a sugar substitute such as honey instead of agave or simple syrup.
Sugar: This recipe also works fine with granulated sugar instead of syrup. Or you can make your own simple syrup from sugar and water with the recipe below.
Other fruits: If you are not a watermelon fan or just cannot find any watermelons at the store, you can use another fruit juice such as orange, peach, or strawberry.
Rosemary: Try adding rosemary extract to your lemonade for a unique taste. Don't forget the rosemary sprig.

Tropical watermelon lemonade: You can make this cocktail tropical by adding coconut extract to the recipe.
Other extracts: In fact, you can use any kind of extract you like in this watermelon lemonade recipe such as vanilla, almond, orange, or banana.
How to serve:
If you like lemons, you are going to love this watermelon lemon drink. Whether you use vodka, rum, or water, this is a summer cocktail everyone loves. Try one of these serving ideas or one of your own:
Use this drink to make our lemonade vodka club soda recipe.
Add summer berries like strawberries, raspberries, or blueberries just before serving.

This lemonade goes great with vodka or rum but you can also use gin or some other type of alcohol that you prefer.
Any kind of lemonade recipe makes refreshing summer drinks but adds even more flavor to this with flavored vodka like grapefruit or botanical.
Add more sweet flavor with a scoop of ice cream on top, whatever flavor you like.
A pitcher of this boozy watermelon lemonade is perfect for drinking with the girls at a bachelorette party.

Sprinkle a bit of this delicious summer cocktail over your favorite fruit salad or cold soup. Just a splash will do.
For sparkling vodka lemonade, add a bit of club soda to your glass.
Frequently asked questions
How many cups does this boozy watermelon lemonade recipe make?
According to the Watermelon Board, each pound of watermelon has almost one cup of juice. So, this recipe has 2.5 cups of watermelon, one cup of lemon, one cup of lime, and one cup of pineapple juice.
The fruits and juice are mixed with 2.5 cups of alcohol or water and a half-cup of syrup. In total, adding in the cucumber and mint would make about 8 to 10 cups.
What is the difference between agave and simple syrup?
Although agave syrup and simple syrup are both sweeteners, they are made differently. Agave syrup (also known as agave nectar) is made by boiling down the sap from the agave plant. Simple syrup is made by boiling white granulated sugar with water.
Can I make my own simple syrup at home?
Yes, you can make simple syrup easily at home with no special equipment. All you need is white granulated sugar and water. Combine one-half cup of granulated sugar with 1/2 cup of water in a small saucepan over high heat.
Stir the mixture while it cooks until it boils and then turns it down to simmer. Let it simmer, stirring frequently until the sugar is completely dissolved. Let the mixture cool completely before pouring it into a clean glass jar.
What food goes best with this vodka lemonade cocktail?
Almost anything goes great with this lemonade drink but a citrus-based recipe would be sublime. For example, try it with this cranberry orange chicken or slow cooker brown sugar orange ham.
Of course, it also pairs well with a juicy steak or burger. Combine this cocktail with other cocktails and recipes for a tropical boost.
How to store leftovers:
Store: You can store your lemonade in the fridge for about five days. It would be best in a covered pitcher or another airtight container. Be sure to remove the fruit slices before storing them.

Freeze: Make boozy watermelon lemonade popsicles by pouring these into popsicle molds. Or you can even pour it into ice cube trays if you prefer. It is a great way to beat the heat on a hot day or to add to other cocktails.
More summer cocktail recipes:
Recipe tips:
If you do not have a blender, you can use a food processor or even a chopper or grinder to blend your cubed watermelon and cucumber. If you do not have any of those, you can always mash the fresh watermelon cubes and cucumber by hand with a mortar and pestle or meat tenderizer.

This recipe can be doubled or tripled if you are having a party and need more refreshing cocktails.

If you cannot find any fresh watermelon at the grocery store, you can use bottled watermelon juice in a pinch. It will not taste as fresh, but it will still be a delicious drink.

Beat the heat by pouring this delicious drink into ice cube trays and freezing for several hours. Then you can add them to glasses before you pour in the cocktails.

When having a family picnic or party where there will be kids and those that do not drink, make half boozy and the other half without the alcohol.

If lemons are not in season, you can always use lime wedges for your garnish.
Nutritional information varies depending on the ingredients and amounts you use in your recipe.

You may not get enough water from your watermelon during the off-season because the watermelons are much dryer heading into the winter months.
Boozy Watermelon Lemonade
Ingredients
2 1/2

pounds

watermelon flesh

seeds removed and cut into chunks

1/4

English cucumber

cut into chunks

1/4

cup

packed mint leaves

1

cup

fresh lime juice

or lemon juice

1

cup

pineapple juice

2 1/2

cups

white rum

coconut rum, vodka, or water for non-alcoholic

1/2

cup

simple syrup

or agave syrup for low calorie
Garnish:
Mint leaves

Sliced cucumber

Lime slices

or lemon slices
Instructions
Add watermelon chunks, cucumber, lime juice, and mint to a blender, and puree until the mixture is smooth.

Strain the mixture into a pitcher to remove any pulp and small pieces of leaves.

Mix in the alcohol or water, and pineapple juice.

After that, stir in the syrup a little at a time, to get to your desired sweetness level. Stir well to combine.

For best results, refrigerate for at least one hour before serving, so the drink is chilled.

Before serving, add the lime, cucumber slices, and some ice.

Pour into glasses and garnish with a sprig of mint. Serve.
Deliciousness to your inbox
Enjoy weekly hand picked recipes and recommendations