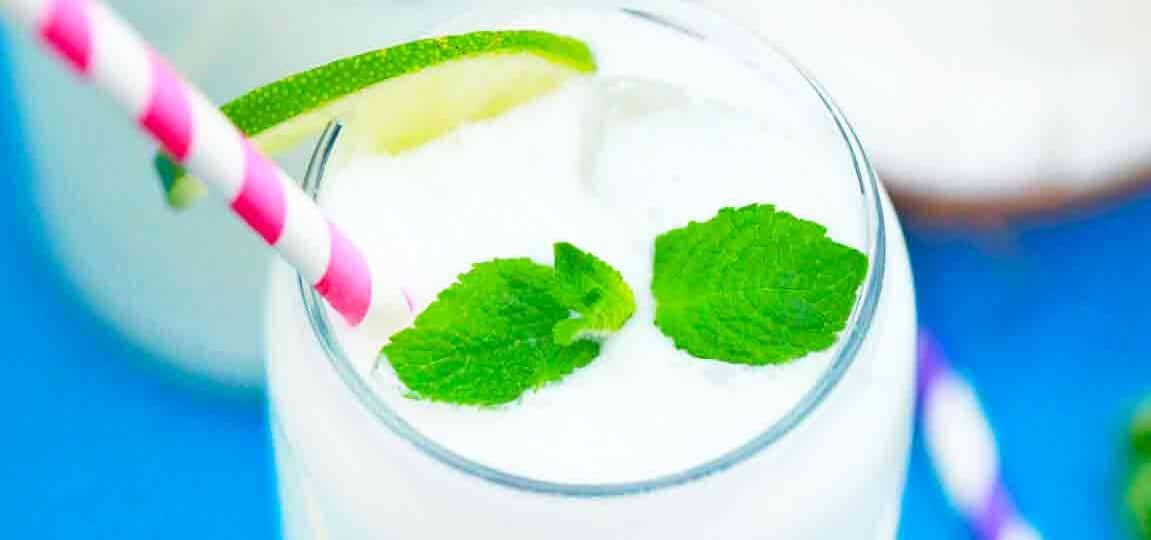 Coconut mojitos are a refreshing tropical drink made with fresh mint, lime juice, coconut cream, and two different kinds of rum. This coconut mojito recipe is easy to make in just minutes and if you add lime zest and simple syrup, you have an amazing beverage.
Looking for more summer cocktails? Our White Russian Cocktail is made with vodka, Kahlua, and heavy cream and is perfect for a hot day. If you want easy recipes for non-alcoholic drinks, try our Tropical Smoothie recipe with coconut milk, pineapple juice, and banana.
A sip from a tall glass of coconut mojito with a lime wheel and mint sprigs is the perfect drink for any day. With a little carbonation for the bubbles, white or silver rum, and coconut rum blended with the coconut cream.
The cocktail is finished with a lime wedge, and fresh mint leaves. This drink is an easy recipe with little to no prep time.
If you are not into coconut, try our refreshing blackberry mojito made with blackberry ice and spicy jalapeno or this delicious ginger pomegranate mojito made with fresh ginger, fresh mint, pomegranate syrup, and white rum. For a variety, we have a recipe with four different kinds of fruit mojitos.
This creamy peach smoothie is also a delightful drink made with vanilla Greek yogurt, peach nectar, and coconut water or milk. When it is hot outside, any drink chilled with ice is perfect but with these recipes, you have a variety of delicious choices.
Another great tropical drink to beat the heat is this Mango Lemonade made with lemon juice, fresh mint, and vanilla extract.
Ingredients needed:
For this delicious coconut mojito recipe, these are the simple ingredients you will need. Scroll down to our handy recipe card for the complete directions and exact measurements.
Seltzer water or club soda: To top off the drink.
Cream of coconut: The top favorites include Coco Lopez, Doya, and Coco Real.

Coconut rum: Malibu is the most popular.
White rum: Bacardi, Captain Morgan, and Havana Club are some of the most popular.

Vanilla extract: 100% pure vanilla extract for best results. This ingredient is optional, but it adds a nice subtle flavor.
Mint leaves: With extra for garnishing.
Lime: Cut into wedges with extra for garnishing.

Lime juice: Just a splash.
Light brown sugar: You could use dark brown sugar if that is all you have.

Ice: Use as much ice as you like.
How to make coconut mojitos:
Mix: First, put the light brown sugar, lime wedges, and mint leaves into a cocktail shaker. Use a muddler to mix and mash the ingredients together.

Add both the rums and coconut: Then, add rum and the cream of coconut.

Fill and shake: After, fill the shaker up the rest of the way with ice. Seal and shake vigorously until it is cold and mixed thoroughly.

Strain and fill: Finally, strain your coconut mojito into a glass full of ice and add club soda or seltzer water. Garnish with fresh mint and lime wedges before serving.
Recipe variations:
Make lime simple syrup: To make your own sweet simple syrup, boil a quarter-cup sugar with a quarter cup of water. After it boils, let it cool completely before stirring in the lime zest from one lime. Pour into the cocktail shaker with lime, fresh mint leaves, and light brown sugar and shake it.
Fresh lime juice: Make your own lime juice by squeezing the lime before you zest it. Fresh lime juice always tastes better than store-bought.

Lime flavor: For more lime flavor, add lime extract.

Coconut flavor: Similarly, if you want more coconut flavor, add some coconut extract.

Mocktail Mojito: Alternatively, this drink can be made with club soda and coconut water, cream of coconut, and coconut milk for a non-alcoholic mocktail cocktail mojito.
Another citrus: Add some orange or lemon extract for a more citrusy flavor mojito.
Other alcohol: You can also use vodka or tequila for your mojito.

Extra fruit: Drop some fruits into the glass for more flavor such as raspberries, strawberries, or orange wedges.
Garnish the glass rim: Another option is to toast some coconut, dip the glass rim into lime juice, and after that into the toasted coconut.
How to serve:
No matter what time of day it is, drinking a coconut mojito will make you feel like you are on a tropical island. Add a mint sprig and close your eyes and this tropical drink will take you to your favorite island. Try one of these serving suggestions:
Top this refreshing mojito cocktail with a spoonful of toasted or sweetened coconut.

Serve a tall glass of this coconut mojito with our decadent instant pot key lime cheesecake.

Adding simple syrup to this drink gives it a spectacular lime and mint flavor that blends nicely with the rum and coconut cocktail.

If you want less alcohol, just use more club soda and ice.
Serve with this creamy fruit salad with honey-lime dressing.

Extra mint leaves will give this cocktail an even more refreshing flavor.
You can use other kinds of rum if you like, such as silver, gold, or dark rum.
Frequently asked questions
What is the difference between cream of coconut, coconut milk, and coconut cream?
Cream of coconut is a sweet and thick syrup made for cocktails. It is made with condensed, sweetened pureed coconut. They are usually sold in squeeze bottles to make it easier to pour. It is delicious and is also dairy-free.
Coconut milk is made like they make almond milk and is often used in the same manner for those who are lactose intolerant. They make it by blending water with coconut flesh and then straining it. Just a bit thicker than cow's milk, coconut milk is often sold in a refrigerated carton.
Coconut cream is not sweetened and is typically sold in a can. It is very thick and has a strong coconut flavor without the sweetness. It is made by taking the cream off the top of the coconut milk. In fact, you can make it yourself by separating the cream that rises to the top of full-fat coconut milk.
What is the best rum to use in a coconut mojito?
A coconut mojito is made with a mixture of coconut rum and white rum. The coconut rum adds an intense coconut flavor to the cream of coconut. The most popular coconut rum is Malibu, which is often used to make Pina Coladas too.
What is a muddler?
Similar to a mortar and pestle, a muddler is a tool to mash certain ingredients like spices, herbs, and fruits for drinks. They are usually made of stainless steel or wood and are about eight to ten inches long to reach the bottom of a glass or cocktail shaker.
If you do not have a muddler, you can use a wooden spoon, a mortar, and pestle, a tamper, a meat mallet, or even a dowel. A French rolling pin would also work for muddling your mojito ingredients.
Can diabetics drink coconut mojito?
These cool cocktails can be made so that anyone can drink them. If you cannot have sugar, use Splenda or another sugar substitute and use coconut cream instead of the sugary cream of coconut. For those who do not drink alcohol, leave out the rum and add more seltzer.
How to store leftovers:
Store: You can store your leftover coconut mojitos in an airtight container like a mason jar in the refrigerator for up to three days.
Freeze: It is also safe to freeze your Coconut mojitos for up to three months.
Thaw: Remember to put your frozen leftovers in the fridge to thaw overnight before serving.
More drink recipes:
Recipe tips:
If you use canned coconut milk instead of cream of coconut, you will need to add some sugar or sweetened condensed milk. Canned coconut milk does not have enough sugar to sweeten your coconut mojitos.

Cut your prep time by using ground mint and prepared lime zest as well as the bottled simple syrup.
Alternatively, you can grow your own mint at home. It is so easy to grow that it is actually considered to be invasive.

If you do not have club soda or seltzer, you can also use lemon-lime soda.
Eight-ounce serving size has 350 calories, 46 grams of carbs, and 14 milligrams of vitamin C.