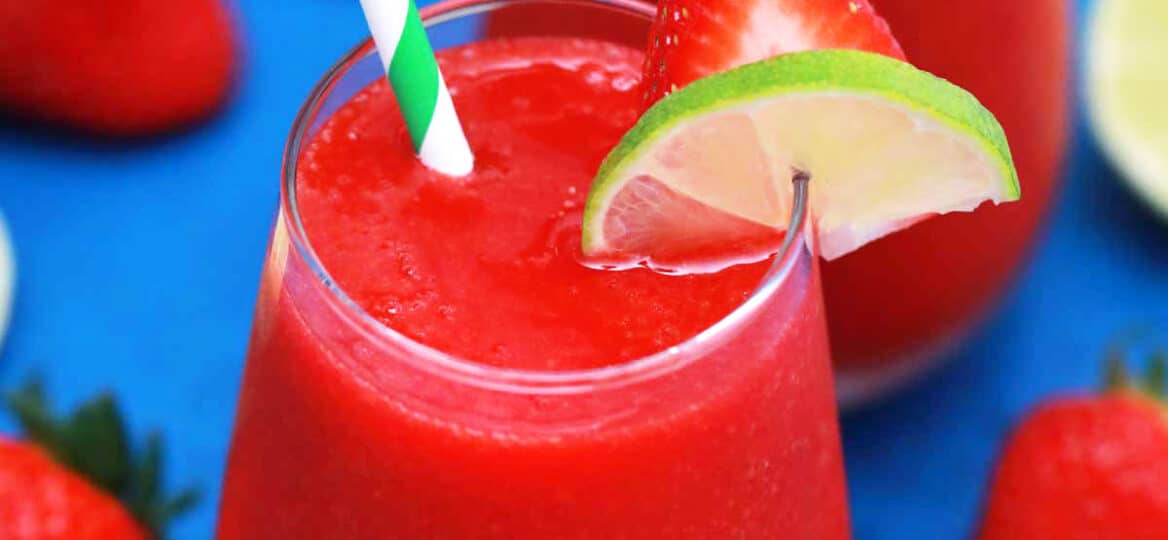 Frozen Strawberry Daiquiri [Video]
Frozen Strawberry Daiquiri tastes exquisitely beautiful during summer! Experience this cool thirst-quencher right at home with this easy recipe!
It is sweet and fruity with the right amount of booze for you to enjoy under the heat of the sun! I love homemade cocktails like this as well as my White Russian, Moscow Mule, and Mimosa!
Homemade Frozen Strawberry Daiquiri
This Frozen Strawberry Daiquiri recipe is a go-to at my house whenever summer hits and my girlfriends come over for a bonding session by the pool.
We love how the balance of the natural sweetness and sourness of the fruits plays well with the rum. The hint of citrus and additional syrup also gives this a nice overall balance of flavors.
And it is so yummy that it is sometimes easy to forget that it has alcohol in it. But since you can control whatever goes into this homemade cocktail, then, you can add or lessen as much run as you can!
Overall, it is a lot cheaper to have this made at home than go somewhere else and order. And you are sure to have only the freshest and most delicious ripened fruits for it.
The last time that I served this for a bachelorette's party of a friend, this was a hit! So, gather the ingredients and take out your blender now. Prepare this recipe now!
What is daiquiri?
It is a mixed drink made with rum, sugar, and lime. It is said to have started during the early 1900s. But during that time, people used to drink it in a tall glass filled with ice and poured with sugar, lime juice, and rum.
It has evolved and became even more popular in the 1940s when rum was more abundant than other alcoholic drinks. Up to now, we still enjoy this drink for its refreshing and thirst-quenching qualities!
What is Strawberry Daiquiri made of?
This cocktail is made with strawberries, white rum, sugar, and lime juice. In this recipe, we are using frozen fruits so that there is no need to add ice.
How to make Strawberry Daiquiri
Blend: In a blender or food processor, put all the ingredients in and process until smooth. This will take around 5 minutes.
Serve: Pour in a cocktail glass. Add some fresh fruits and lime slices, then serve.
How to make a virgin Strawberry Daiquiri
To make a virgin version or something without alcohol, replace the rum with a non-alcoholic drink. You can substitute it with either lemon-lime soda or fruit juice preferably an apple, pineapple, or grape juice.
You will still be able to enjoy the freshness of the summer fruit and drink as much as you can with this mocktail version!
Can I substitute the alcohol?
Yes! Aside from making a non-alcoholic version, you can replace the rum with vodka or gin!
How long will Frozen Strawberry Daiquiri last?
The alcohol in the mixture prevents the whole thing from freezing solid. So, you can keep this in the freezer for up to a month. Just give a quick stir again when serving.
Recipe Tips:
In this recipe, instead of granulated sugar, you can use syrup. Just dissolve sugar in water in equal parts.
You can blend in fresh strawberries so that it becomes more fluid for you to sip more easily.
When serving, you can add whipped cream on top!
You can always blend in shaved ice to make it cooler.
Add more sugar or honey if you find that the fruits are more on the sour side. But when it is strawberry season, the fruits are sweeter, and you can add more lime juice to make it tangier.
Replace lime juice with lemon juice and it will still taste good. Go ahead and experiment!