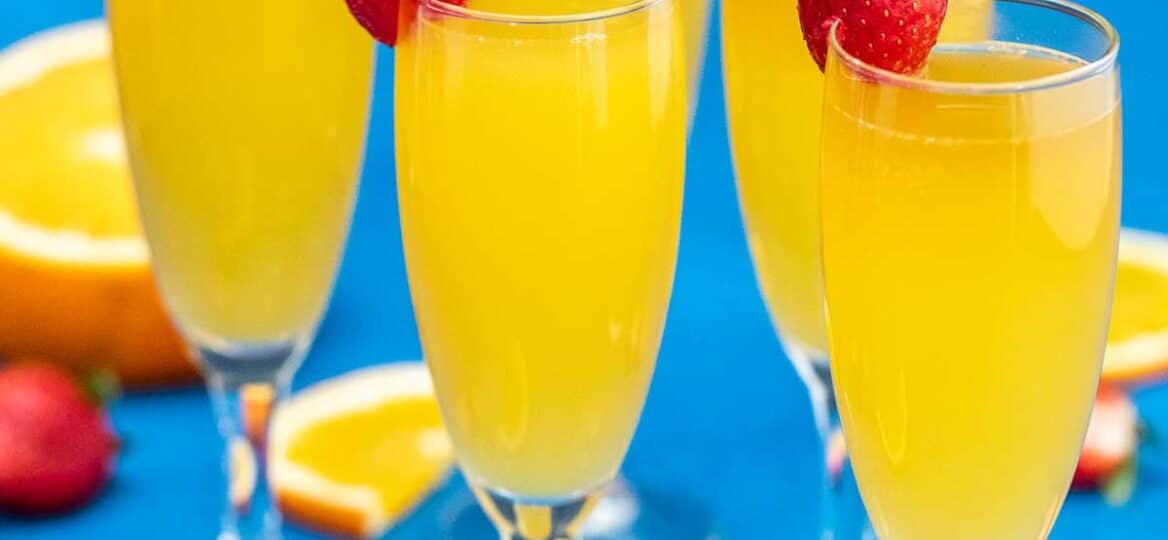 Mimosa Recipe [Video]
Mimosa brightens up every Sunday brunch or any meal on any day for that matter! This recipe uses only three ingredients at most! Watch the short video tutorial and see how easy it is to make it at home now!
We have many recipes for drinks that are equally refreshing and easy-to-prepare. Check out the recipes for White Russian, Moscow Mule, and Irish Coffee!
Easy Mimosa Recipe
Mimosa tastes as brightly as it looks! This drink, when placed in stylish champagne flutes, could very well decorate your brunch buffet table. That orange juice in it makes it so lively and vibrant. Aside from the bright color, the orange juice benefits that add value to this beverage. The vitamin C in it alone helps improve the immune system. It also has other nutrients and antioxidants that help lower blood pressure and prevent chronic diseases.
But, of course, the health benefits will be the last thing that you will think of when gulping down this cocktail. It is fizzy and fun to drink with a rich citrus flavor!
What is a Mimosa?
It is a mixture of champagne and orange juice. An optional addition is a liqueur. It is possibly named after a tree with flowers of the same color. It is easy to prepare, refreshing, and pairs well with a lot of dishes, specifically those that fall under the brunch category. Said to be invented by Frank Meier in 1925 in Paris, its recipe did not appear until several years later in his book. And in that book, it was not indicated that he invented it.
In America, it started to get popularity in the 1960s and is still popular today. That is proof of how well-received this cocktail is.
So, what makes this drink so special that it is best served during brunch? History has it that the royal family even loved this drink but as an afternoon drink, not brunch. Turns out that it was popularized by celebrities! Since then, it has been known to be a brunch cocktail along with bloody Mary.
What kind of champagne is best for Mimosa?
Save your champagne for a fancier occasion. Since you will be putting OJ in it, a cava or a prosecco will do. Find ones that have a hint of citrus that will blend well with the OJ. Even the most affordable sparkling wines will do!
What juices can you use in Mimosa?
The most basic and classic version calls for orange juice. But now, people are keen to add other kinds like mango, pineapple, watermelon, or whatnot. These are all wonderful add-ins that you can serve to add variety.
How to make a Mimosa Cocktail?
Squeeze
The best OJ is the freshly squeezed one. So, you will have to prepare this ahead before moving onto the next step.
Chill
You will need to chill all your ingredients as it is best chilled, not with ice.
Pour
Get your champagne flutes and fill one half with the dry sparkling wine. Then, top each one with the OJ.
Serve
Add a tablespoon of Grand Marnier in each one before serving. This is optional.
How to make Mimosa pitcher for a crowd?
Simply follow the ratio of bubbly to juice in this recipe. Pour one whole 750-mL bottle of the sparkling wine, then, add in the citrus that will take about 3 cups.
Do you need to stir the drinks?
No, you do not. Just put the sparkling wine first before the OJ to instantly mix the two ingredients. Stirring will release the bubbles.
Best Mimosa recipe tips
For parties, add a nice touch by having a spread of various juices to mix and match with various choices of bubbly. Your guests will appreciate that they can customize their drinks.
Garnish the top with fruits, say a berry or pomegranate seeds, or herbs like mint or basil.
Pour the wine with the champagne flute tilted at an angle to slow down the release of bubbles.