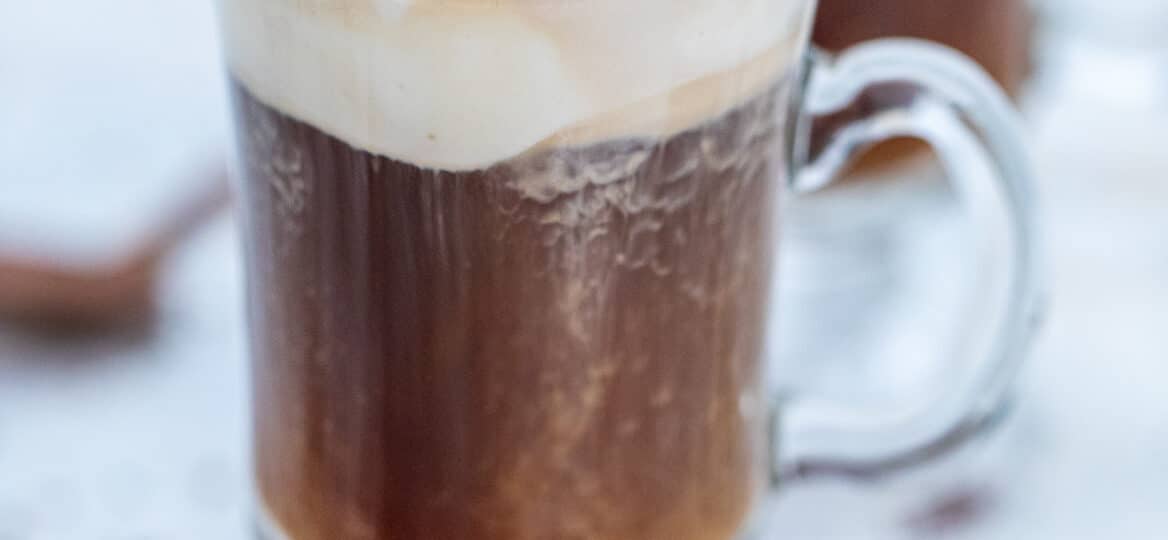 Irish Coffee Recipe [Video]
Irish Coffee Recipe is made with freshly brewed coffee, sugar, whiskey, and whipped cream. The perfect cocktail to celebrate St. Patrick's Day.
This is a festive and classic drink with a long history attached to it. You can enjoy it for Christmas, St. Paddy's Day, or any other occasion. Pair it with Mint Chocolate Chip Truffles, Baileys Cheesecake, or Mint Fudge.
Classic Irish Coffee Recipe
The Original Irish Coffee drink dates back to almost 100 years ago. It has a long history, and is a well-known drink for a good reason! It is simple, refreshing, and flavorful. The coffee is consumed warm through the cream mixed some whiskey. Yummy!!!
As you can tell, it cannot get more Irish than this! Although this cocktail is highly associated with St. Patrick's Day, it is actually quite popular during the Christmas holidays as well. Also, it is best to enjoy it during cold, winter days. As a mug of it is guaranteed to quickly warm you up!
What we also love about this recipe, is that it has a wonderful slightly bitter flavor, with a kick from the whiskey, balanced with a sweet tone, and topped with a freshly made whipped cream!
Feel free adjust the sweetness per your taste. Also, feel free to substitute sugar, with brown sugar, or even maple syrup. In this post, we will show you how to make the BEST Irish Coffee and some variations of it!
What goes into it?
The classic version has only four ingredients.
Brewed coffee
Sugar or maple syrup
Irish whiskey
What is the best whiskey for Irish coffee?
Generally, we love using Jameson here. However, you can use any brand you like. Some alternatives would be Bushmills, Teeling, Redbreast, Green Spot, and Connemara whiskey. Also, feel free to use rum or Baileys. All work pretty nicely in this cocktail.
How to make Irish Coffee?
For a quick video tutorial, watch the short recipe video attached. But the general steps are as follows:
Prepare the whipped cream: Lightly whip the cream just so it's very slightly thickened, then set aside. We love making it fresh at home. Also, if you want to make it chocolate whipped cream, check out the recipe attached below. If for some reason you do not wish to make it at home, go with the store-bought version.
Brew the coffee: We recommend brewing a high-quality version. Once brewed, simply pour the hot coffee into a mug or regular cup. Fill about 3/4 of the mug. Then, add the whiskey and sugar. Properly stir to dissolve the sugar.
Add the cream: Then, add the cream gently over the top. Enjoy it warm!
How to make Baileys Irish Coffee?
This recipe can easily be modified. The Baileys version of it is equally popular and delicious. Simply, replace the whiskey with Baileys. Also, you can combine Baileys and whiskey. Just make sure you do not overdo it!
Other popular St. Patrick's recipes:
Recipe Tips:
This drink is usually served warm, especially during colder winter days. However, you can serve it on ice as well. Especially during the summer, sunny days.
Also, go with the type of coffee you like the most. We usually go with a medium to dark roast, as it has the most aromas. But, you could also go with a lighter version or even decaf. Just use whatever you like the best.
Similarly, if you do not have time to make the whipped, you can go with a store-bought version.
Feel free to add some shaved chocolate on top or even some melted caramel. Also, other spices can be added as well. For example, cinnamon, or molasses are great alternatives.
Tools Used:
Clear Glass Mugs– We love using glass mugs, as they are more festive. These are our favorite type.
Deliciousness to your inbox
Enjoy weekly hand picked recipes and recommendations