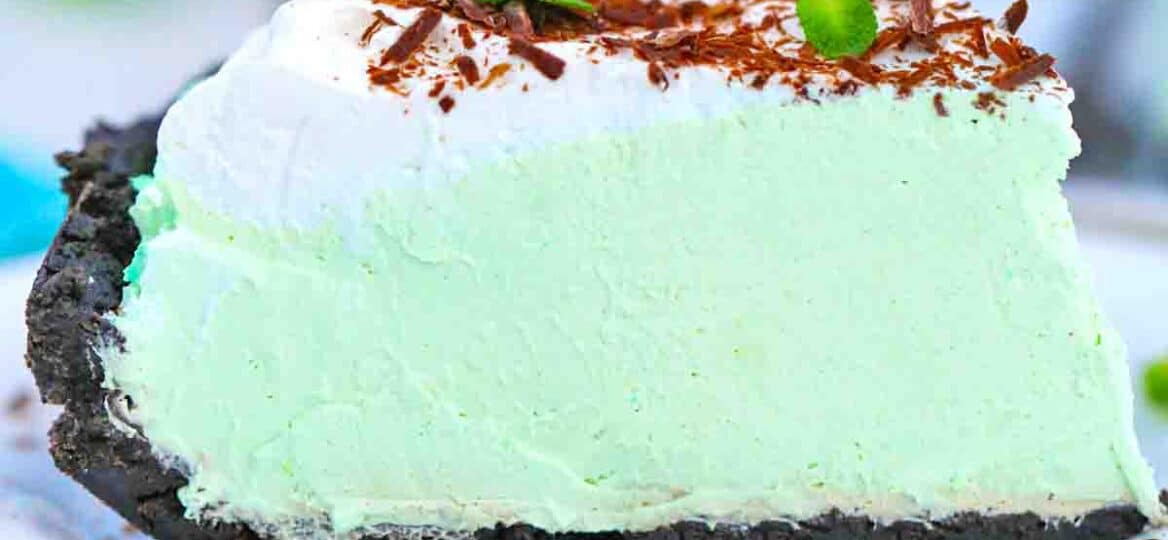 Easiest Grasshopper Pie Recipe [Video]
Grasshopper Pie is a light and creamy no-bake pie with minty mousse filling, an Oreo cookie crust, and cool whipped cream topping with chocolate curls. Although the original recipe calls for alcohol such as crème de cacao or peppermint schnapps, we wanted to make this pie alcohol-free so everyone could enjoy it because it is one of our favorite pies.
For another easy pie, you can make without baking, try our No-Bake Oreo Pie. All you need are a handful of ingredients such as cool whip, cream cheese, cookies, chocolate syrup, and vanilla extract. Also, these Irish Mint Brownies are the perfect accompaniment to any St. Patty's Day celebration. They are so fudgy and delicious, you can serve these as a snack or dessert any time.
According to the experts, the pie was invented by the Ancient Egyptians long before 2000 BC. There is evidence for recipes made from oats, wheat, and honey on a stone tablet along with a chicken pie recipe. The New York Times mentioned that a grasshopper pie was made in the Philippines back in 1904, but it was made with real grasshoppers! It wasn't until the 1950s that this version became popular when chiffon pies came out.
For this yummy grasshopper pie recipe, all you need are a few ingredients including Oreo cookies, vanilla pudding mix, mint extract, whipped topping, and vanilla extract. Add some more whipped topping and chocolate shavings for a fancy and delicious dessert for any occasion.
Check out some of our other great mint recipes like these easy mint chocolate chip truffles. They are so easy to make with white cake mix, peppermint extract, chocolate chips, and white chocolate coating. For fudge lovers, you may enjoy our mint chocolate chip fudge. These are made with a layer of fudgy brownies from dark chocolate, cocoa powder, and espresso powder and a layer of fudge made from white chocolate, mint, and chocolate chips.
Ingredients needed:
To make this minty grasshopper pie recipe, all you need are the ingredients listed below. Scroll down to our handy printable recipe card for complete instructions and exact measurements when you are ready to begin.
Crust:
Oreos: The 14.3-ounce package.
Melted butter: Unsalted.
Filling:
Instant vanilla pudding mix: Small 3.4 or 3.9-ounce boxes, not the large 5.1 or 5.9-ounce boxes.
Mint extract
Cool whip: Thawed out.
Heavy whipping cream
Green food coloring
Topping:
Pure vanilla extract
Heavy whipping cream
Powdered sugar: Or confectioners' sugar.
Hershey's chocolate bar: For chocolate curls.
How to make grasshopper pie from scratch?
Oreo cookie crust:
Blend the cookies: First, pulse the Oreo cookies in a food processor or blender until they are thoroughly mixed.
Mix with butter: Then, add the blended cookie mixture with the melted butter in a medium bowl.
Fill and chill: After it is completely combined, press the cookie crumbs into a nine or 10-inch pie pan to make the chocolate crust. Use your fingers or the bottom of a measuring cup to pack it down before putting it in your refrigerator to chill.
Filling:
Beat the pudding: To make the filling, add the heavy cream and pudding mix in your stand mixer or in a large bowl with an electric mixer.
Add the remaining ingredients: After, using low speed, mix in a few drops green food coloring, cool whip, and mint extract until it is mixed well.
Spread and chill some more: Lastly, spread the mint pie filling onto the crust, cover it with plastic wrap or aluminum foil, and let it chill for four to eight hours in the fridge.
Topping:
Prep your equipment: About 30 minutes before you plan to serve your pie, you need to make the topping. First, put your beaters and mixing bowl in the freezer for 15 minutes.
Beat for stiff peaks: After removing the bowl and beaters, add in the vanilla extract, powdered sugar, and heavy cream. Mix for four to five minutes or until stiff peaks form. It should hold its shape when you scoop it up with a spoon.
Top and serve: Finally, carefully spoon the whipped topping onto the pie and add chocolate shavings before serving.
Recipe variations:
Cream cheese mixture: You can use cream cheese instead of heavy whipping cream for the filling.
Marshmallow creme: Another substitute for heavy cream is a cooled marshmallow mixture made with melted marshmallows you make over low heat. Add creme de menthe and creme de cacao instead of mint flavor along with the heavy cream and green food color if you are not worried about making the non-alcoholic version.
Marshmallow fluff: Or you could just use marshmallow fluff for the creamy filling.
Sweetened milk: You could also use sweetened condensed milk instead of heavy cream.
Irish cream pie: Make an Irish cream pie by using crème de menthe liqueur (creme de menthe liqueur) or mixing creme de cacao and Irish cream liquor instead of the mint extract.
Different flavors: Try other flavors of Oreo cookies like chocolate and mint Oreos.

Different extracts: Add a fruity flavor to your grasshopper pie by adding a teaspoon of cherry, orange, or lemon extract.

Other chocolate: Alternatively, this pie would also be delicious with dark or white chocolate shavings on top.
How to serve:
This is a great way to celebrate Saint Patrick's day! But you can enjoy this delicious pie any time really. You could also try one of these great serving ideas. Or share some of your own ideas in the comments section at the bottom of the page.
If you are serving this pie for St. Pat's Day, you could also add rainbow sprinkles and candy shamrocks on top.

For a nice St. Patrick's day beverage, try our recipe for this shamrock shake made with vanilla ice cream, whipped cream, and mint extract.
Other optional ingredients you may like on your pie are mini-M&Ms, chocolate chips, or a drizzle of chocolate syrup.

For a boozy Irish beverage, make our Irish coffee. It only has four ingredients including sugar, coffee, and whiskey.
Sprinkle on some chopped nuts for a crunchy topping. Try toasted pecans, chopped walnuts, or cashews.
This dessert goes great with this slow cooker corned beef and cabbage recipe.
You could also serve this delicious mint chocolate pie with a scoop of vanilla ice cream on the side.

Another way to decorate your pie is to place a few mint leaves on top.
Frequently asked questions
How do I make chocolate curls and shavings?
Using a potato peeler is the easiest way to make chocolate curls from a chocolate bar. First, heat the candy in the microwave for five seconds and then peel the chocolate from the sides to make curls. If the candy bar keeps breaking, heat it a little more in the microwave. If you just want chocolate shavings, it is easier to use a grater and a thick piece of chocolate.
What is grasshopper pie?
Grasshopper pie is a mint chocolate dessert made from light and fluffy pudding whipped to perfection and then flavored with mint extract. It is also colored with a few drops of green food coloring and chilled in a chocolate cookie crust. The original is made with alcohol like creme de menthe and creme de cacao but our recipe is made without alcohol.
Where did grasshopper pie get its name?
The name comes from the pie's green color, which is usually made with creme de menthe liqueur. But the non-alcohol version is made green by adding green food coloring. Some say it also got its name from the cocktail with the same name. It was invented in 1919 by Philip Guichet with white creme de cacao, dark creme de cacao, green creme de menthe, white creme de menthe, brandy, and whipped cream.
What is the nutrition information in this recipe?
Each yummy serving of this pie has 450 calories, 244 mg sodium, and 34 grams fat with 20 grams saturated fat. It also has 39 grams carbohydrates, 98 mg cholesterol, and 27 grams sugar. On the other hand, you also get 3 mg iron, 65 mg calcium, 3 mg vitamin C, 1,201 units vitamin A, 2 grams fiber, 122 mg potassium, and 4 grams protein.
How to store leftovers:
Store: You can store your leftover grasshopper pie in an airtight container in the refrigerator for up to five days.

Freeze: This is also a great frozen dessert. It will stay fresh in the freezer in an airtight container for three months.

Thaw: You do not have to thaw this pie overnight. It tastes delicious frozen. But if you want to soften it, move it from the freezer to the fridge several hours before serving.
More st. Patrick's Day recipes:
Recipe tips:
To save grasshopper pie prep time, you can use a store-bought prepared crust instead of making a homemade crust.
You can also save some time and work by using pudding that is already made. Just add the mint and green food coloring.
If you have a stand mixer, this is a good time to use it because this pudding mixture is very thick.
When cutting slices, use a sharp, thin knife and wipe it clean after each slice.
Be sure to use the small 3.4 or 3.9-ounce boxes, not the large 5.1 or 5.9-ounce boxes.
Also, make sure you use instant pudding mix and not the kind you have to cook.
Don't have a blender or food processor? Feel free to put your sandwich cookies baggie and mash them with something heavy. It is actually kind of fun!
Let the melted butter cool completely before using it.
The nutrition facts are just an estimate of how much each food serving contributes to a daily diet. Two thousand calories a day is used for general nutrition advice.
Grasshopper Pie
Ingredients
Crust:
14.3

oz

package Oreos

6

tablespoons

unsalted butter

melted
Filling:
2

boxes instant vanilla pudding mix 3.94 oz per box boxes

(you can also use cheesecake flavored pudding)

3 1/3

cups

heavy whipping cream

8

oz

container cool whip

thawed (or homemade whipped cream)

1/2

teaspoon

mint extract

mint green food coloring

preferably gel food coloring
Topping:
1

cup

heavy whipping cream

very cold

1/3

cup

powdered sugar

1

teaspoon

vanilla extract

1

dark chocolate bar

fresh mint leaves
Instructions
Crust:
Add the Oreo cookies to a blender or food processor and pulse to make cookie crumbs.

Next, add the cookie crumbs to a large bowl, and add the melted butter.

Press this mixture into the bottom and sides of a 9 or 10-inch pie pan, leaving about 1 inch from the top. Use the bottom of a measuring cup to press the crust down. Chill until ready to fill.
Filling:
Disregard the pudding instructions from the box, you will NOT prepare it as directed on the box.

In a large mixing bowl, combine the pudding with the 3 cups of heavy cream and beat with an electric mixer until well combined and very thick.

After that, add the cool whip and blend it in.

Also, add the mint extract and a few drops of green food coloring, and mix on low until combined. If needed add one or a few more drops of gel food coloring, until you achieve the right hue of green.

Spread this filling over the crust. Cover the pie pan with plastic wrap and chill in the fridge for 4-8 hours.
Topping:
Place a mixing bowl in the freezer for 15 minutes to 20 minutes.

Remove the bowl from the freezer. Add the cold heavy cream, powdered sugar, and vanilla extract and beat with an electric mixer for 4-5 minutes, or until stiff peaks form. The whipped cream should hold its shape well.

You can use a vegetable peeler on the side of a chocolate bar to make chocolate curls. But first, heat the chocolate bar in the microwave for 5-7 seconds.

Spoon on top of the pie and top with chocolate shavings and fresh mint leaves.
Deliciousness to your inbox
Enjoy weekly hand picked recipes and recommendations