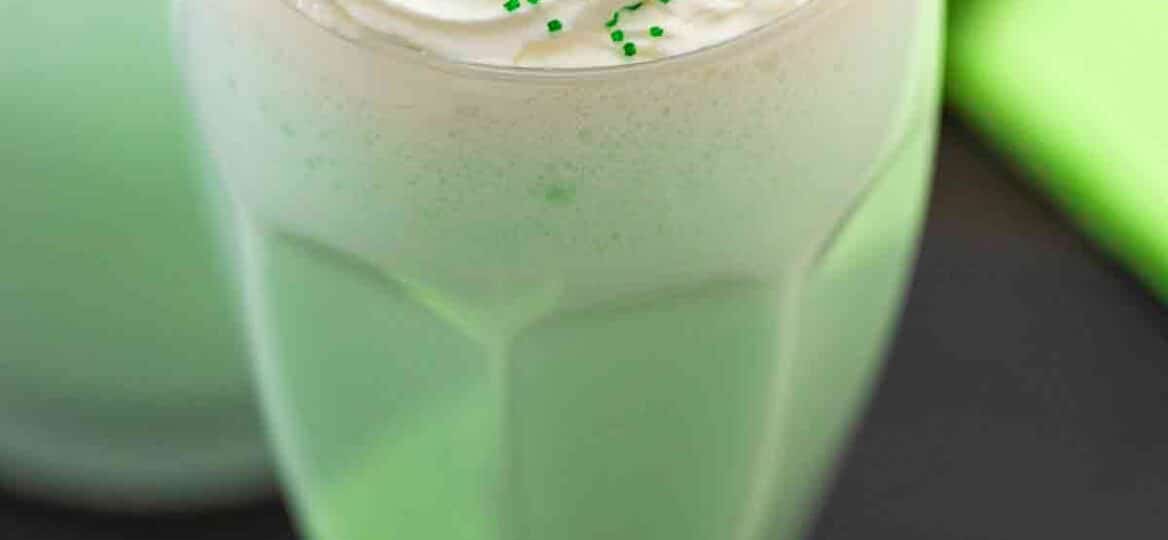 Shamrock Shake Recipe [Video]
Shamrock Shake is a delicious blend of vanilla ice cream, milk, and mint for the creamiest, most refreshing frozen drink. The green food color gives it that essential St. Patrick's Day vibe!
This drink is a classic St. Paddy's Day treat! As for us, St. Patrick's Day means enjoying a lot of mint and chocolate-flavored desserts. You'll love these Cheesecake Mint Brownies with Chocolate Ganache, Pudding Mint Chocolate Chip Cookies, and THE BEST Mint Chocolate Chip Cake!
Shamrock Shake Copycat
Shamrock Shake is my homemade hack of this Mcdonald's favorite! We're crazy about this green, mint-flavored milkshake, but who can wait a whole year before enjoying it again? Not us, and after you try this, you won't have to!
It's a super simple milkshake recipe, but it's so beautiful with that vibrant green color, a crown of fluffy whipped cream, plus green sprinkles, and juicy cherry on top. It's absolutely perfect for your St. Patrick's Day celebration.
But I have to be honest with you— we make this all year long, too. And after one sip, I'm pretty sure you'll be craving this often as well. We're sure you'll enjoy this one!
What is Shamrock Shake?
It's a seasonal item at fast-food chain McDonald's that was first offered in the 1970s. This mint milkshake with a bright green color is the chain's way to celebrate St. Patrick's Day, an Irish holiday with green as its go-to color!
The name of the milkshake refers to Ireland's national emblem, a clover-like plant called the shamrock. This item became really popular over time. Not only is it pretty and delicious, but because it's rarely on the menu, it feels like having the luck o' the Irish on your side if you manage to order one!
Shamrock Shakes Ingredients:
Ice cream: Get a good-quality vanilla flavor.
Milk: Helps loosen up the shake and makes it creamier.
Half and half: This gives the drink a luscious texture and extra creaminess!
Mint extract: To get that authentic taste, we're going with mint, not peppermint.

Green food color: It won't be a Shamrock Shake without it!
Garnishes: Whipped cream (make your own or use canned), green sanding or sparkling sugar, and maraschino cherries.
How to make Shamrock Shakes?
Blend. Add all ingredients except the garnishes to your blender, and mix until smooth.
Garnish. Top with a swirl of whipped cream, sprinkle some green sanding or sparkling sugar on that and gently place one cherry on top to finish. Enjoy immediately.
Recipe Variations and substitutions:
Oreo: Stir crushed Oreo cookies into the milkshake.
Chocolate chip: Use dark or milk chocolate ice cream and blend in some chocolate chips as well.

Dairy-free: Use dairy-free vanilla ice cream and milk. You can also use some coconut milk in place of the half and half.
Vegan: Use plant-based milk like oat, soy, and almond. Replace the cream with coconut milk, and use vegan ice cream.
Double Mint: Use mint chocolate chip ice cream for a stronger flavor!
More homemade desserts to try:
What does McDonald's Shamrock Shake taste like?
Like mint ice cream! The vanilla ice cream, milk, plus half and half create a super creamy, silky base that lets the cool mint flavor shine.
How long do Shamrock Shakes last?
If you mean, how long they're available at your local McDonalds, not very long! As a St. Patrick's Day offering, it's usually just offered before and a little after the holiday.
As for the drink itself, finish it as soon as you can, before the ice cream melts completely. It's still going to taste good, but it's best enjoyed cold.
Recipe tips:
You may have to do this in batches if your blender isn't big or powerful enough for a big batch. Simply blend enough for one serving at a time.

Make sure you're using MINT, not peppermint extract. It's the trademark flavor of this shake.
For the food dye, we use about 10 to 15 drops for the entire recipe. But of course, you can color yours as bright or light as you like.

Other garnishes we love include mint leaves, white chocolate drizzle, and mint chocolate chips!
Deliciousness to your inbox
Enjoy weekly hand picked recipes and recommendations