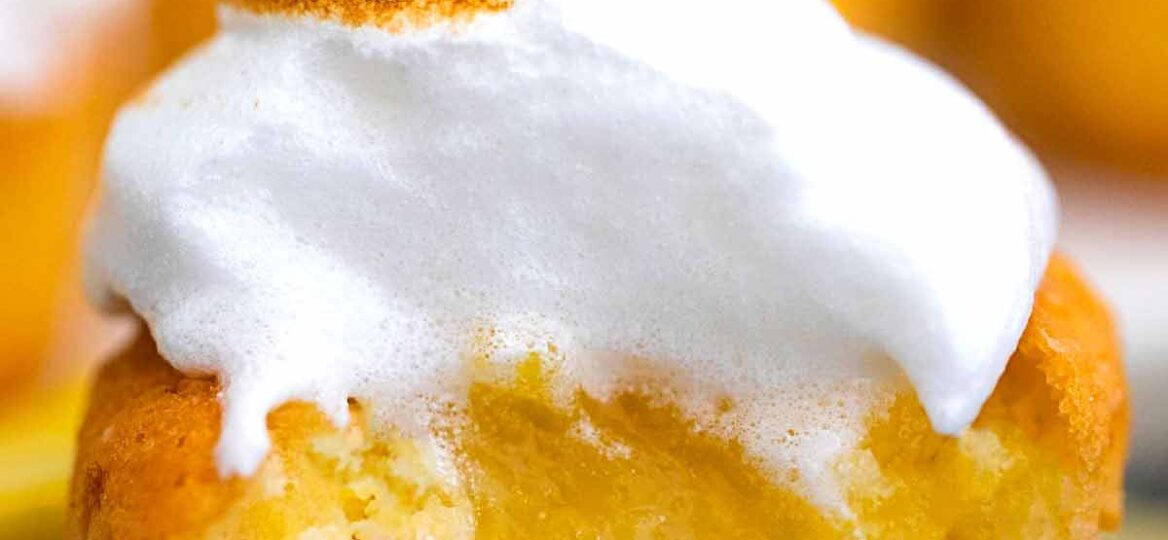 Lemon Meringue Cupcakes are the perfect combination of sweet and tart in a citrusy dessert! If spring with summer were a food, it would surely be this delicious treat!
Looking for other simple and satisfying desserts? Make sure to check out my recipes for a healthy Keto Pancakes, an indulgent Chocolate Mousse Brownie, or a classic Crème Brulee.
Lemon Cupcakes Recipe
Lemon Meringue Cupcakes simply make any event much sweeter and flavorful. These plump yellow delights resemble sunshine and a bite of them takes anyone back to their summer as a child.
I love bringing this to pool parties and backyard BBQ sessions. Kids and adults can't seem to get enough of them, and I love the compliments that come after.
Making them is also very easy and I recommend making some with your family for a bonding session. Having a bite out of the zesty goodness just puts anyone in a great mood.
Satisfy your sweet tooth with this refreshing citric delight. Even with amateur baking experience, you can easily enjoy the process and not to mention, have a delightful treat afterward.
What is meringue?
Meringue, often classified as a dessert or a candy, is a fluffy and light frosting that comes with beating egg whites and sugar. They are usually placed on top of desserts in a swirly and dollop-like fashion.
How to make Lemon Meringue Cupcakes
Make the filling. Heat a saucepan over low heat. Combine the yolk, sugar, flour, salt, lemon juice, zest, water, and melted butter. Gradually increase to medium heat and stir until the mixture becomes smooth and thick. Set aside afterward.

Make the batter. Beat butter and sugar until fluffy before adding in the eggs, lemon juice, baking powder, salt, and flour. Make sure they are well combined to form the batter. Then, preheat an oven to 375 degrees.
Bake. Using a muffin pan, divide the batter accordingly with the liner and bake it for 15 minutes. Let it cool for 5 minutes without turning off the oven.

Make the meringue. While the batter is baking, beat some egg whites with salt. Constantly beat it until they begin to stiffen. Afterward, add in sugar until it forms peaks. Stop immediately when the peaks surfaces, you don't want to overmix.
Fill in the filling. Using a kitchen corer, remove the center leaving just the right amount of layer underneath. Fill up the hole with the filling.

Bake again. In a swirly motion, lay the meringue on top. Bake them again for 5 minutes or when the frosting becomes golden. You can also use a torch, it's much easier.
Serve. Cool the dessert for at least 10 minutes before putting in the fridge for an hour or more. Then, serve.
Lemon Meringue Cupcakes recipe variations:
Loved this recipe? Then you should check these treats that are easy to make:
Can I make Meringue Cupcakes ahead of time?
Yes, in fact, I would recommend making it in advance as you need to let it cool and refrigerate at least an hour before serving.
For storing more than an hour, just place the dessert in a tight lid container to avoid contact with water droplets before refrigerating.
More delicious Lemon desserts:
Can't seem to get enough of the zesty flavor? Give yourself a treat by making these citric and sweet recipes:
Recipe tips:
If you don't have a kitchen corer for filling, you can simply use a sharp knife to make its way in the center.
Piping bags are also very convenient to place the filling inside.

Wondering what to do with the dough taken out from the center? Store it in a resealable bag and place it in the fridge for snacks at a later time.
Also, if you are a huge lemon lover, then check out our best lemon desserts.