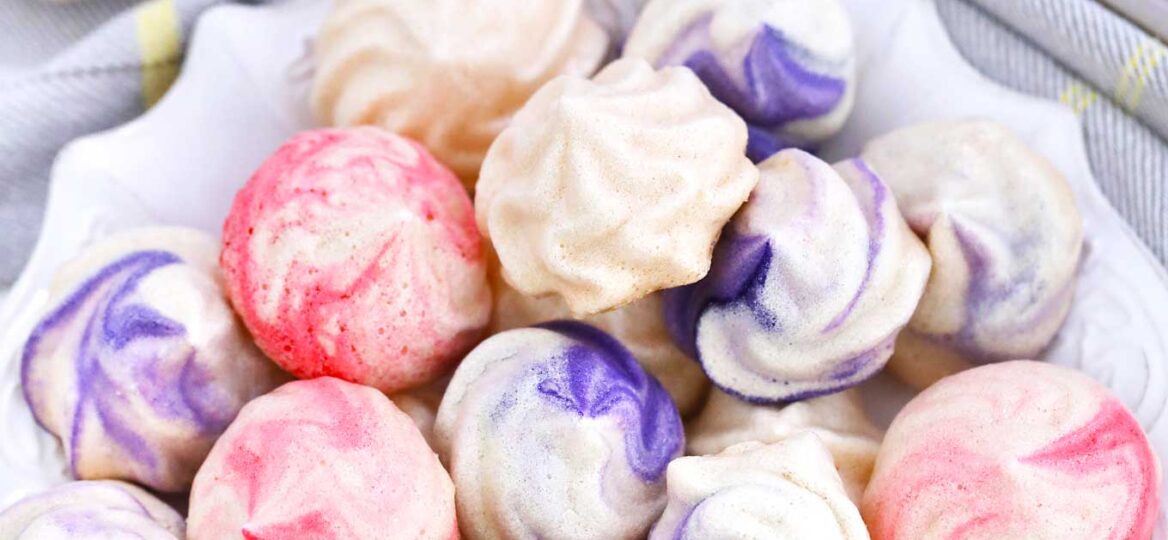 Easy Meringue Cookies Recipe
Meringue Cookies are crispy and light all the way through. These melt in your mouth bites are good with coffee, tea, or just on their own!
These simple and yet delicious treats are fast becoming one of our favorites because of their simplicity of preparation and easy to find ingredients. You may also want to try our other recipes like Best Coconut Macaroons, Mini Pavlovas with Lemon Curd, and Easter Greek Cookies that are great for any occasion!
The Best Meringue Cookies
Meringue Cookies are easy to do even with just a handheld mixer. By using fresh eggs, you would ensure that your cookie mixture will be whipped to perfection. Adding acid like cream of tartar, vinegar, or lemon juice, will make for a stable whipped egg white.
Whip the egg white until stiff peaks, and pipe it onto baking sheets. Bake these treats slowly and at a low temperature. This ensures that the meringue is baked all the way into the middle.
We love the lightness of the cookies and it literally melts in your mouth! They are fluffy, delicious, and great for any occasion. Also, they are fun to make, and perfect to take to a potluck, or birthday party!
HOW TO MAKE MERINGUE COOKIES?
First, crack the eggs and separate the egg whites. Chilled eggs are easier to separate. Place it in a bowl and let it sit until it reaches room temperature, for about 10 to 15 minutes. Then, place it in a clean bowl with a bit of salt and acid.
Next, whip over medium speed until soft peaks form. Increase speed to high and add sugar gradually. Beat until it reaches stiff peaks but still shiny, and then bake them. Leave the cookies inside the oven until they are totally cooled.
HOW LONG TO BAKE MERINGUE COOKIES?
Meringue Cookies are baked in the oven at a low temperature, about 225 degrees F for a whole hour. After baking, turn off the oven, open the door and let the cookies cool completely. This gives you plenty of time to do other things!
HOW TO MAKE CRISPY MERINGUE COOKIES?
To ensure the crispness of these cookies:
Use fresh eggs. Old eggs are runny and have too much moisture.
Beat the egg whites until stiff so it won't pool moisture at the bottom of the mixing bowl.
Cool the finished cookies in the oven to make sure that it is dry.
Store in airtight containers and place in a cool dry place.
HOW TO MAKE LEMON MERINGUE COOKIES?
It's just as simple as substituting one ingredient, change the extract from vanilla to lemon!
WHAT IS CREAM OF TARTAR?
The cream of tartar is also known as potassium bitartrate. Interestingly enough, there are two sources for this. They can be found from plants and they are also formed as sediments in winemaking.
WHAT CAN YOU REPLACE CREAM OF TARTAR WITH?
If you don't like the hint of bitterness that cream of tartar gives off, you can replace it with lemon juice, vinegar, buttermilk or yogurt. Use the same amount of juice or vinegar to replace the cream of tartar.
HOW MANY CALORIES are IN MERINGUE COOKIES?
There are about 110 calories per 1 serving or about 75 calories in a medium-sized cookie.
WHAT DO MERINGUE COOKIES TASTE LIKE?
They are light and airy but on the sweet side. What's so amazing about them is that they melt in your mouth once it's inside your mouth!
HOW TO MAKE CHOCOLATE MERINGUE COOKIES?
It is so easy to change these recipes into chocolate flavor! Simply add a tablespoon of unsweetened cocoa powder and half a cup of chocolate chips. Follow the same recipe below, until you reach stiff peaks.
Then, fold in the cocoa powder and chocolate chips gently into the meringue. Baking time is a bit different. Also, bake at about 300F for about 25 – 30 minutes.
HOW TO STORE them?
You can store them at room temperature or in the freezer. But you have to cool it down first and place it in airtight containers. Place parchment papers in between layers.
HOW LONG DO MERINGUE COOKIES LAST?
The most surprising thing about these cookies is that they can sit out for a whole three weeks! In addition, you can easily freeze them. They will last in the freezer for up to 3 months. You have to let them thaw out first for a couple of hours before serving it again!
RECIPE TIPS:
It is very important to start off with fresh eggs.
Also, when separating the eggs, ensure that the egg yolks do not break. Egg yolks are fat and will inhibit the foaming of the egg whites.
Use clean bowls, make sure that they are clean and void of grease. Egg whites will not foam properly if you are using greasy utensils and bowls.
In addition, ensure the bowls for the mixture do not have any moisture, as it will ruin them.
Add the sugar gradually, and mix properly while adding more.
Best to store them in airtight containers.
Deliciousness to your inbox
Enjoy weekly hand picked recipes and recommendations