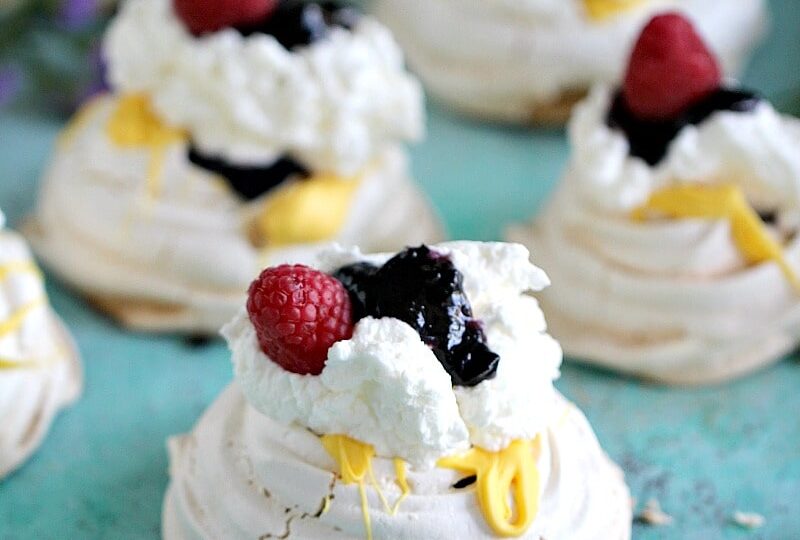 Mini Pavlovas with Lemon Curd
Mini Pavlovas are gluten-free, crunchy on the outside with a softer, chewy inside. They are topped with lemon curd, whipped cream and berries.
Mini Pavlovas with Lemon Curd Recipe
Super cute Mini Pavlovas that taste even better than they look! I used to be scared of making meringue. However, after I made my Ombre Meringue Cake I was blown away at how easy it actually is.
Mini Pavlovas look so chic, they are the perfect easy fancy dessert anyone can do. You need only 2 ingredients and a very powerful mixer to make the mini pavlovas. After that, you just have to decide on what toppings you will use. If you are feeling fancy you can make your own sweet sauce or lemon curd, if you are out of time, store bough will work just fine!
The Mini Pavlovas with lemon curd are that type of dessert that you have to put it in the oven and forget about it, isn't that nice? These bites of heaven turned out perfect, crispy on the outside with a slightly soft and chewy middle. This is one of the most delicious gluten-free desserts you can serve to your friends. If you want to take them to a party, just like I did, just carefully lay them. Set in a large enough aluminum pan that has a lid. Then, pack your desired toppings, and all you have to do is whip some cream, garnish and serve.
Why you will love this mini pavlovas with Lemon Curd?
First, the pavlovas desserts are perfectly baked, crunchy on the outside, with the perfect middle.
Also, the whipped cream by itself is addicting, and adds a lot of texture to them.
In addition, the cookies have lots of raspberries, which just give them pop of color.
Lastly, the cookies are absolutely gorgeous, and a showstopper dessert.
The Mini Pavlovas with Lemon Curd may look adorable, but don't be afraid to make a mess. Once you grabbed one crush it in your plate so all the flavors and textures mix together, creating the most amazing combo!
If you like the combination of sweet&sour, you should definitely try cranberry pistachio oatmeal cookies recipe!
Deliciousness to your inbox
Enjoy weekly hand picked recipes and recommendations