Mexican Bunuelos Recipe [Video]
Last updated on January 7th, 2022 at 01:41 pm
Mexican Bunuelos is made of a simple dough that's fried until crispy and beautifully golden, then rolled in sweet cinnamon sugar. You only need 7 ingredients to make this traditional Mexican dessert!
Why not go all the way and make it a complete, Mexican-inspired meal? These Chicken Fajitas, Air Fryer Churros, and Chipotle Chicken Burrito Bowls are so tasty and don't take long at all!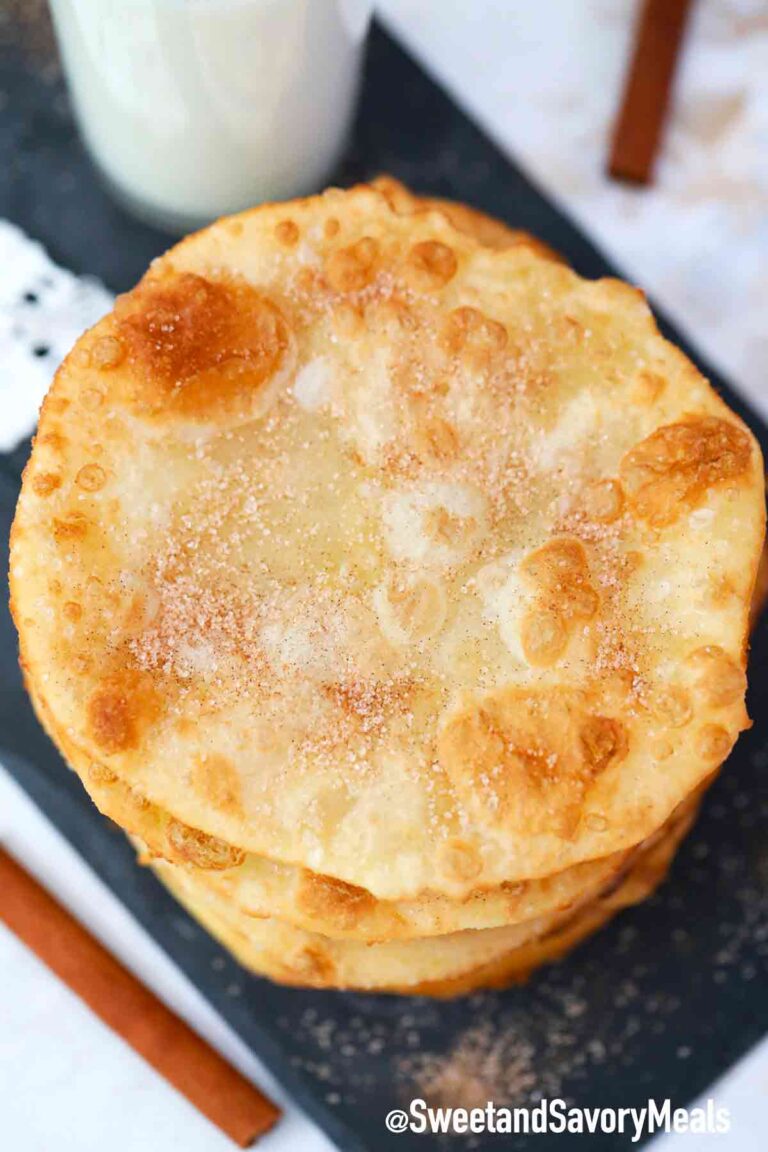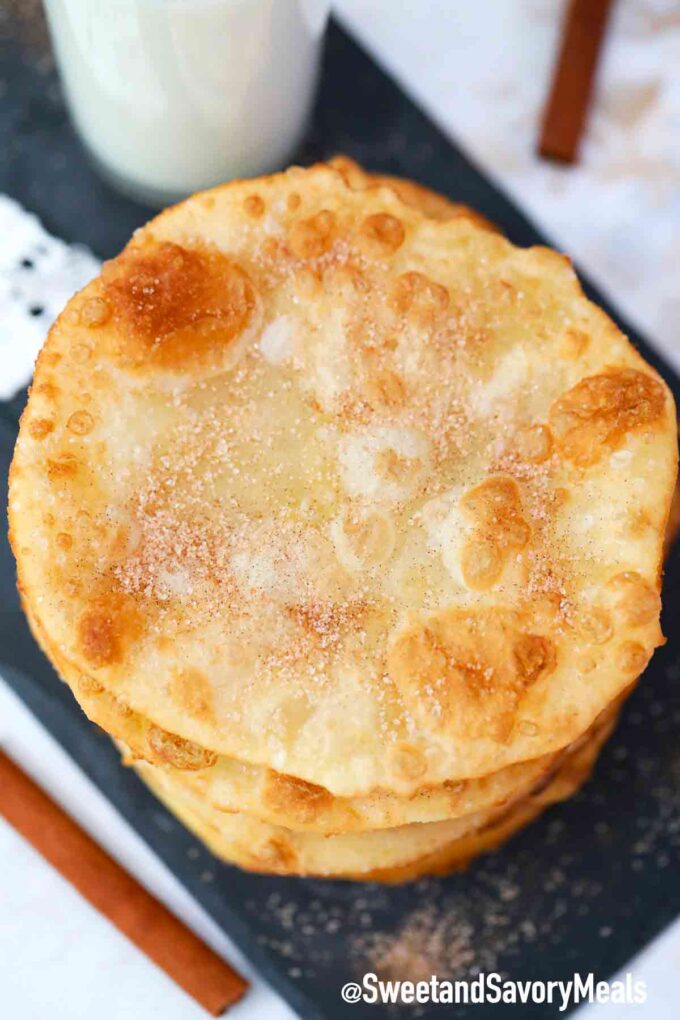 Classic Mexican Bunuelos
Mexican Bunuelos are the real deal! These crispy-crunchy fritters doused in cinnamon sugar are a Mexican dessert staple during the holidays. With this easy recipe, however, you don't have to wait for Christmas or the New Year to enjoy them! You can make them anytime at home using regular pantry ingredients you probably have already.
These bunuelos are incredibly simple to make, but they taste so good! They have a crispy exterior that puffs up a little while getting deep-fried, so you get these crunchy pockets that are so fun to bite into. While piping hot, they're smothered in cinnamon sugar which melts slightly into the fritters. Sweet, effortless, and with a wonderful texture, we can't wait for you to enjoy these treats!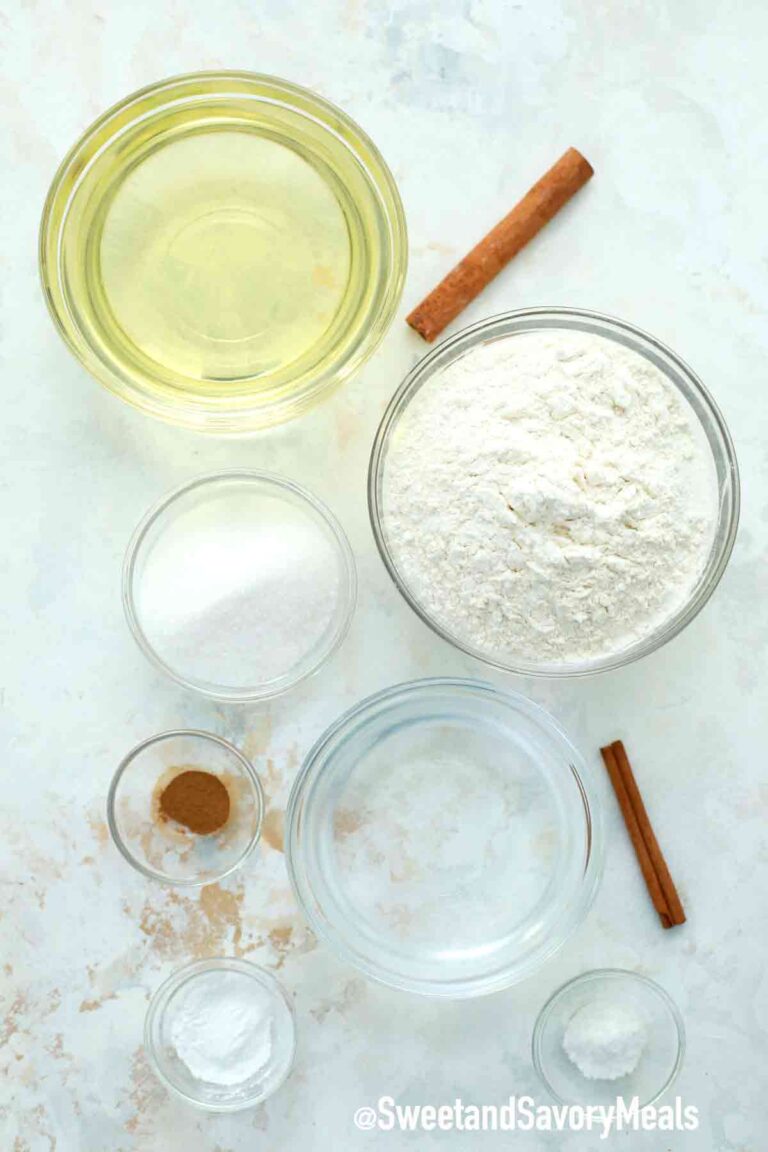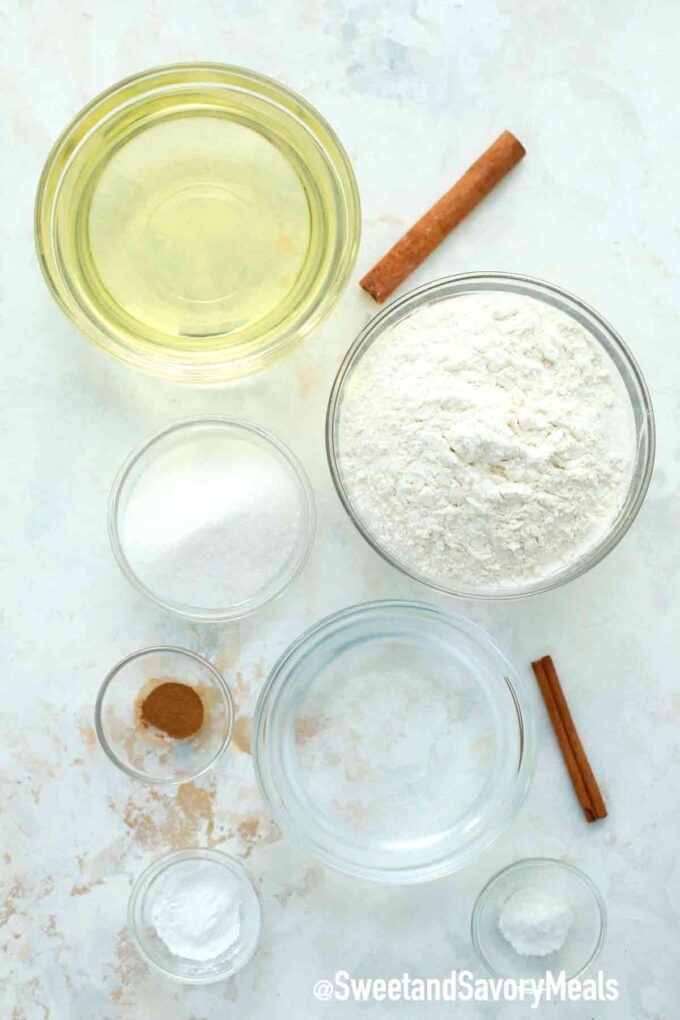 What are bunuelos?
This is an old-fashioned dessert that's popular during New Year and Christmas in Mexico. It's made of plain dough that's rolled flat then deep-fried until it becomes golden and crispy. While it's still hot, the discs are showered in cinnamon sugar.
Mexican bunuelos ingredients
Dry: To regular flour, we're adding salt plus baking powder to make the insides fluffy.
Wet: Warm water and a little oil will help the dough come together.
Topping: Mix a little cinnamon with sugar for the perfect bunuelos topping!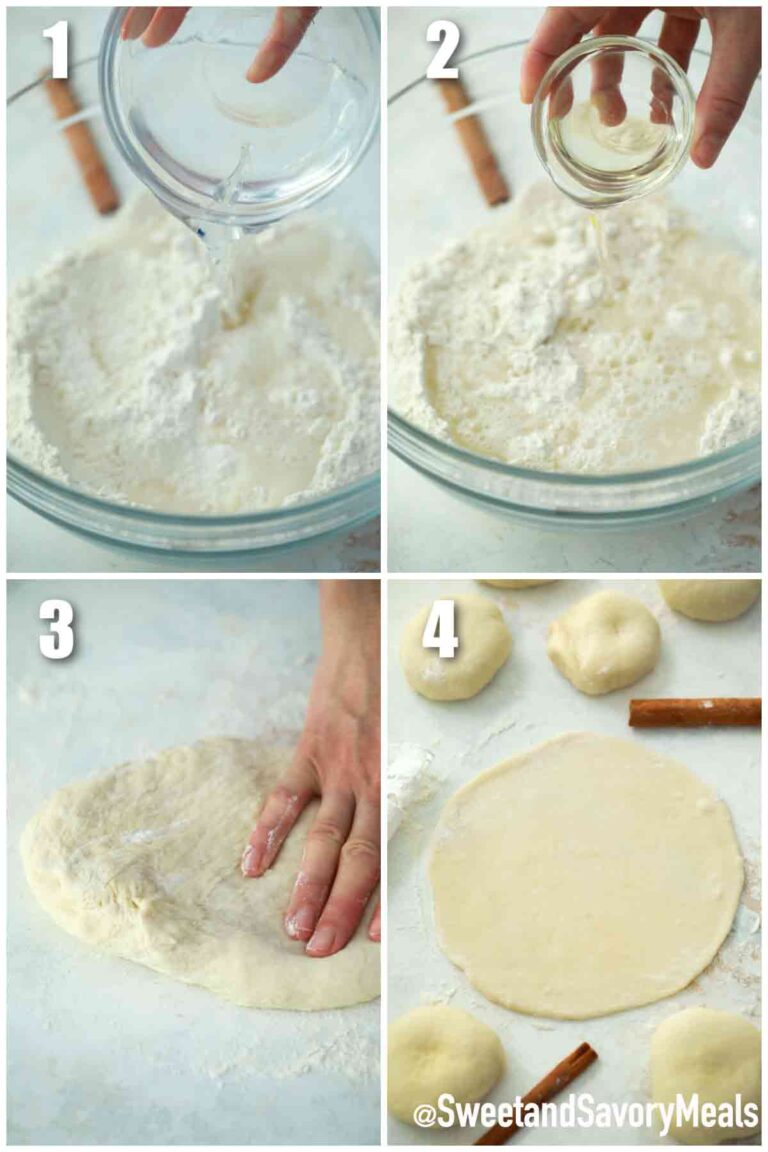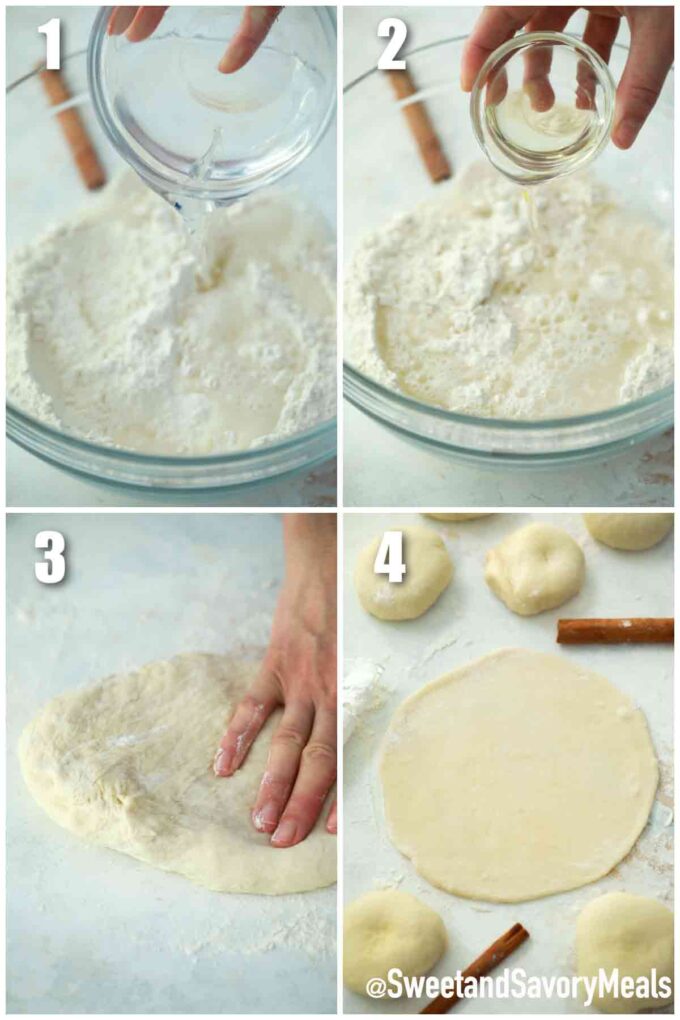 How to make homemade Mexican bunuelos from scratch
Make the dough. Combine all the dry first, then finish the dough by adding the wet and mixing them until they come together. Afterward, knead for about 10 mins. until you achieve an elastic and smooth texture. Rest this for 30 mins. in a covered bowl.
Shape. After resting, divide into 8 balls. Flatten each one out into a flat circle.

Fry. Drop the discs into 350F oil and deep-fry until brown and golden.
Sprinkle. Sprinkle the hot fritters with a lot of cinnamon sugar.
Serve. Enjoy hot!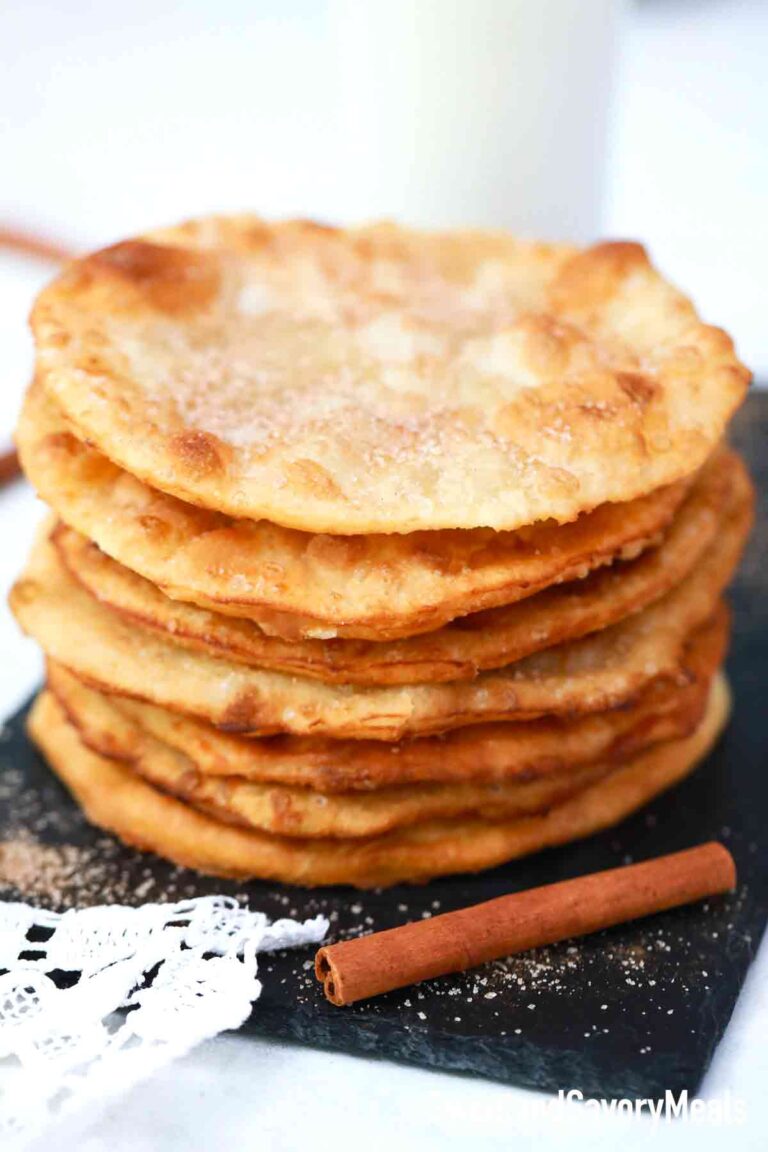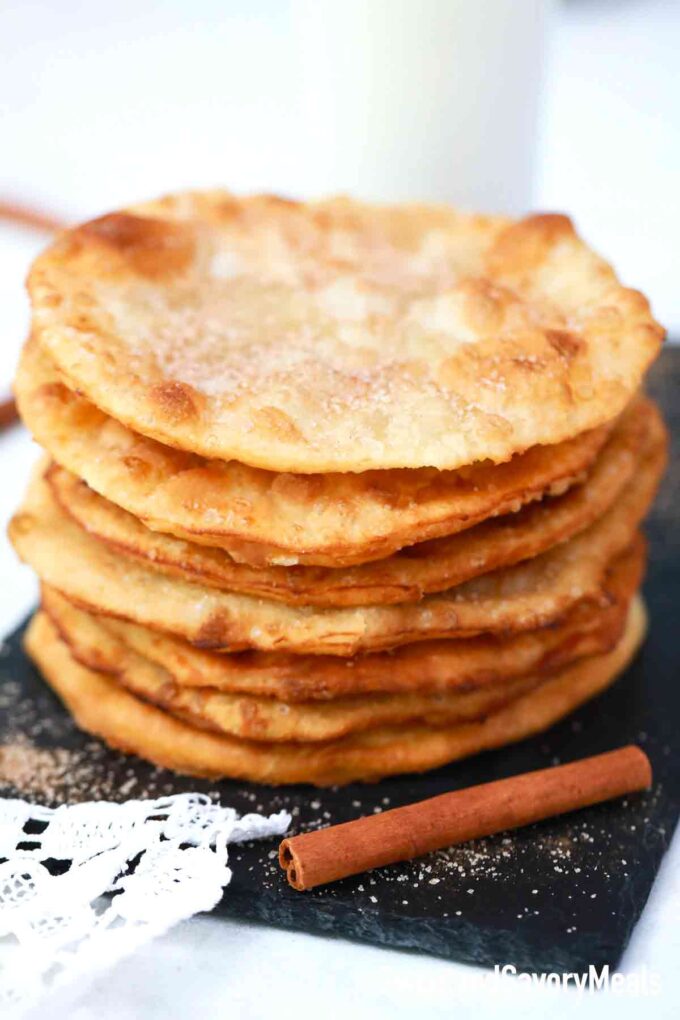 Frequently Asked Questions
What's different between sopapillas versus Bunuelos?
They differ in both shape and texture. Specifically, sopapillas puff up more due to the greater amount of baking powder. They also resemble soft pillows rather than crispy fritters, because they're fried more quickly.
How do you eat a Bunuelo?
You can eat these bunuelos the usual way sprinkled heavily with cinnamon sugar, or with a sweet caramel drizzle or piloncillo syrup (a sweetener made of raw cane sugar). Of course, don't forget the tea or coffee on the side!
More Mexican desserts to try:
How to store them?
Unlike other pastries, these fare better outside of a container. We recommend placing them on the counter, stacked, and covered loosely with a paper towel for up to 3 days. This way, they don't lose that crispy and crunchy texture!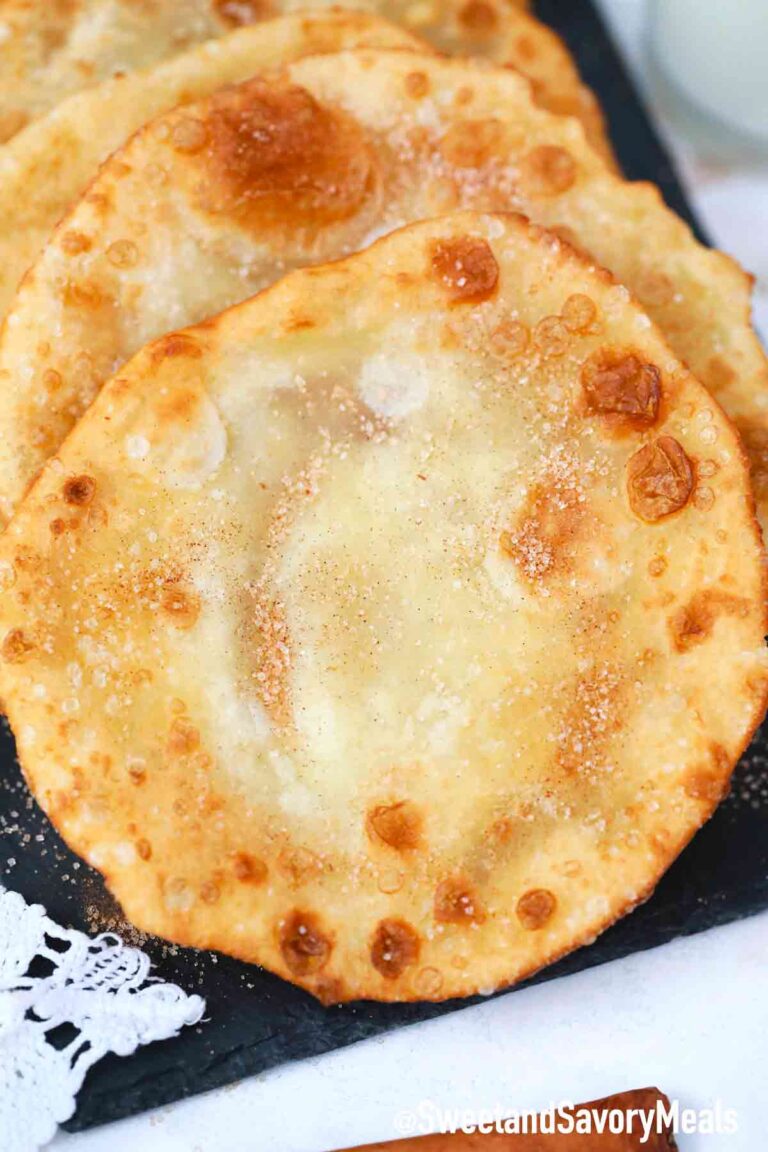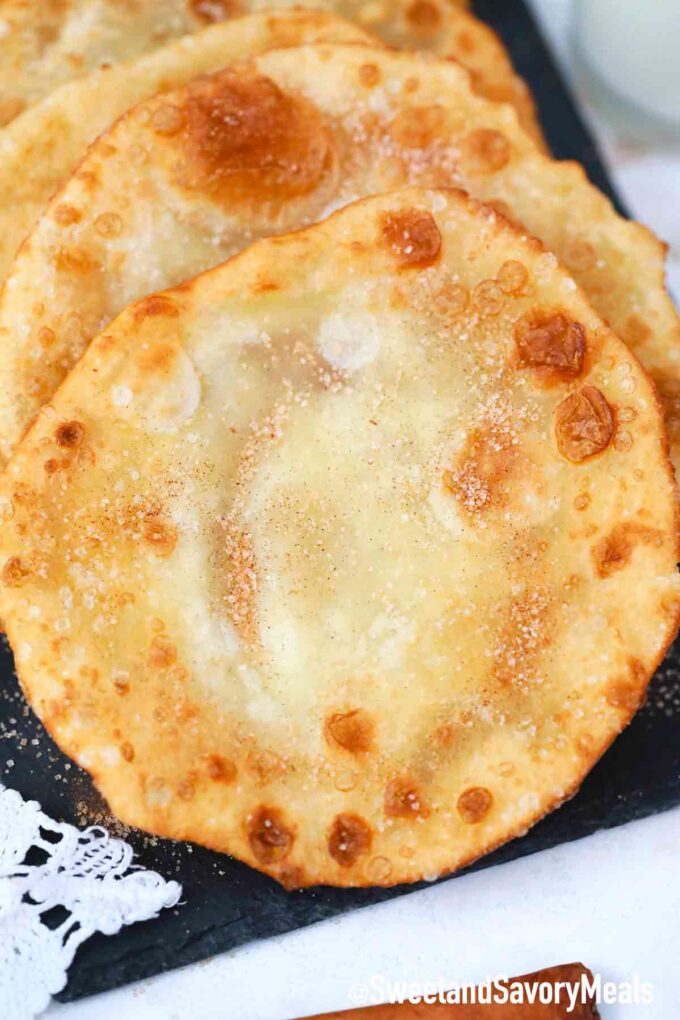 Can you make them in advance?
Sure! You can make the dough, divide, then freeze. When ready to cook, simply defrost and let come to room temperature before flattening and frying.
Since these will stay fresh at room temp for up to 3 days, you can also fry them up and place them in a cool area on the counter. We suggest cooling them down on a rack to get rid of any excess oil before stacking.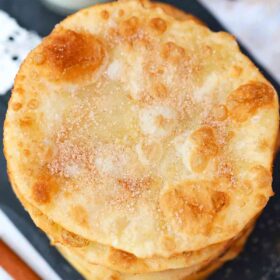 Mexican Bunuelos Recipe
Mexican Bunuelos is made of a simple dough that's fried until crispy and beautifully golden, then rolled in sweet cinnamon sugar.
Save
Share
Print
Pin
Rate
Ingredients
Bunuelos:
2

cups

all-purpose flour

2

teaspoon

baking powder

1/2

teaspoon

salt

3/4

cup

warm water

4

tablespoons

oil

2 1/2

cups

for frying
Cinnamon sugar topping:
2/3

cup

granulated sugar

2

tablespoons

ground cinnamon
Instructions
Cinnamon sugar topping:
Combine the ungredients in a small bowl and set aside.
Bunuelos:
Add all-purpose flour, baking powder, and salt to a large bowl and stir to combine.

Add the warm water and the 4 tablespoons of oil, and mix with a wooden spoon or using the hook attachment on a mixer, until the dough comes together.

Transfer the dough onto a clean flat surface and knead the dough for 10 minutes, or until the dough is smooth.

Roll in into a ball and place back in the bowl,cover with a kitchen towel and let it rest for 30 minutes.

Divide the dough into 8 separate small balls and roll each one on a lightly floured surface, use a rolling pin into an 8 to 10-inch circle.

Arrange the dough circles onto a large kitchen towel in ONE single layer.

Place a large and deep pan on the stove and add the 2 1/2 cups of oil and heat the oil to 350°F.

Fry each dough circle for about 1 minute, turning once, it shoulbe be nicely golden brown on both sides.

Transfer to cooling rack placed onto a baking sheet for the excess oil to drain.

While still warm, sprinkle with cinnamon sugar.
Notes
Make sure to turn the discs at least once while frying so that each side cooks evenly.
Check the oil temp— it should be at 350F BEFORE you start frying, or the dough will soak up oil instead of crisping up right away.
Sprinkle with the topping immediately after frying, so the cinnamon sugar sticks better to the fritters.
Press the discs down while you're deep frying them, so they don't puff up too much.
If you want it sweeter, you can also add sugar to the raw dough.
Don't want spice in your bunuelos? Feel free to skip the cinnamon!
If you love spice, on the other hand, you can double the cinnamon or add nutmeg and allspice for a warmer, more intense spice taste.
Nutrition
Calories:
236
kcal
|
Carbohydrates:
40
g
|
Protein:
3
g
|
Fat:
8
g
|
Saturated Fat:
1
g
|
Trans Fat:
1
g
|
Sodium:
149
mg
|
Potassium:
185
mg
|
Fiber:
3
g
|
Sugar:
17
g
|
Vitamin A:
67
IU
|
Vitamin C:
1
mg
|
Calcium:
103
mg
|
Iron:
2
mg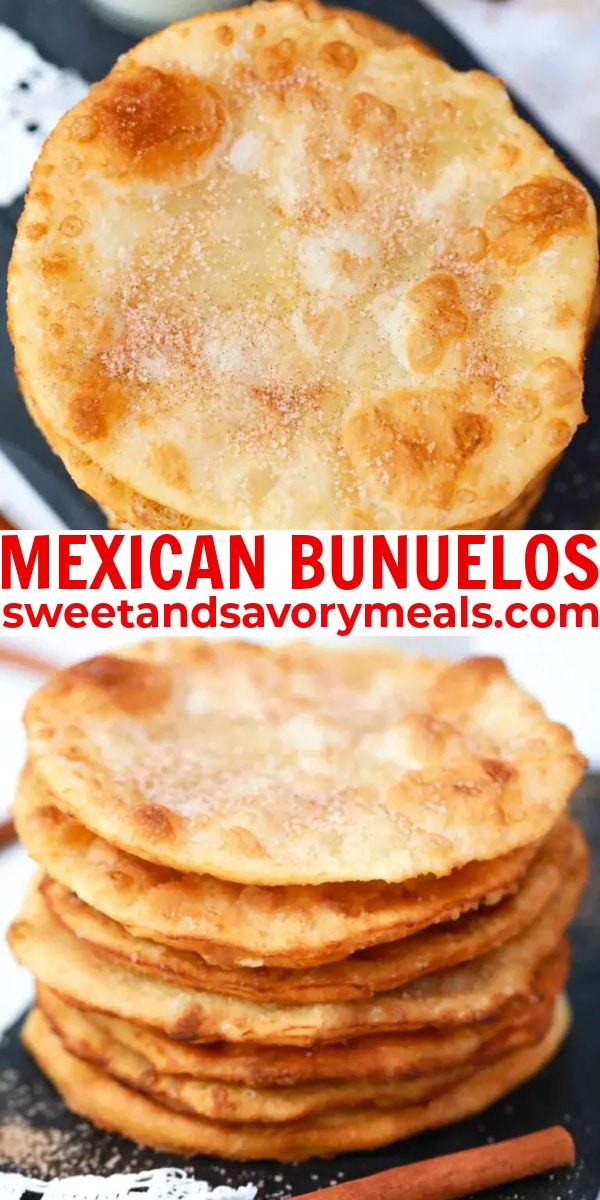 More recipes you might love