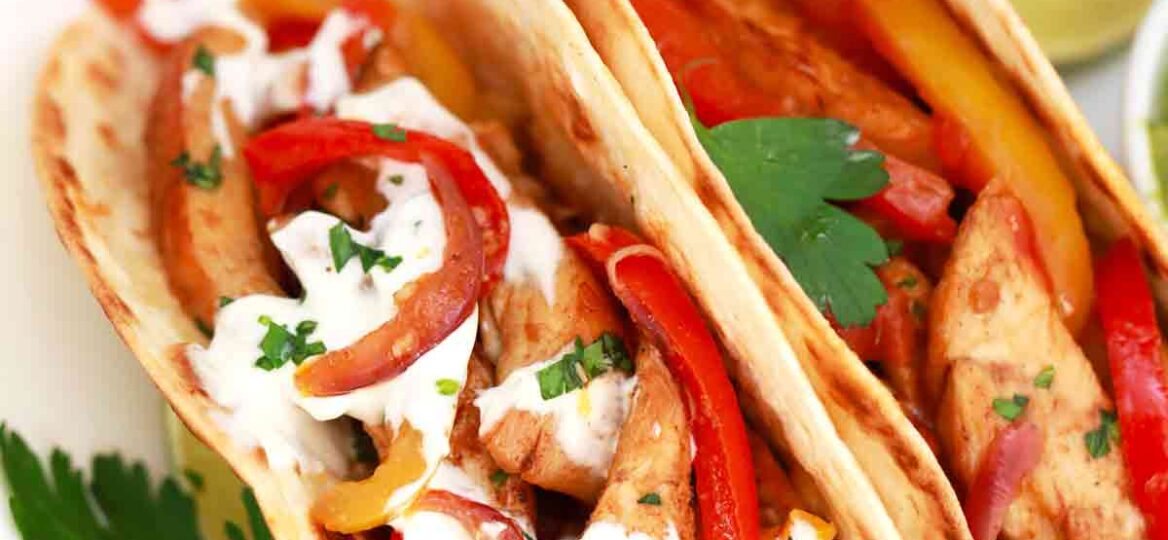 Chicken Fajitas Recipe [Video]
Chicken Fajitas are a fiesta of succulent meat, zesty and bold seasonings, plus assorted veggies and delicious toppings. A restaurant-quality meal that's a breeze to make at home!
There's nothing that makes me happier than copying my favorite restaurant dishes! It's delicious, often healthier, and so much cheaper than eating out. Try my Panda Express Beijing Beef, PF Chang's Crispy Honey Shrimp Copycat, and Panera Bread Broccoli Cheddar Soup Copycat the next time you're craving take-out!
Easy Chicken Fajitas
This Flavorful Chicken Fajitas taste as only a chef can make them. There are so many things going on with this classic dish. Starting with the marinated meat, tons of spices, veggies, and several garnishes, plus that smoky grilled taste.
Before I tried making this myself, I used to spend a fortune in Mexican restaurants. But now? I can make it right in my kitchen, anytime I want! The secret to terrific fajitas is the seasoning mix.
That magical blend of spices can boost any meat into Tex-Mex perfection. This recipe includes instructions on how to make your own blend, so you always have some on hand. Because trust me, this is going to be your new favorite weeknight meal!
What are Chicken Fajitas?
This is a Tex-Mex dish that traditionally uses beef, in particular, the skirt part. It's sliced really thinly, then marinated and seasoned. The stripes are grilled along with veggies, then served with cheese and garnishes over tortillas.
While I love the beef version, I use chicken in this one for a lighter protein. Breasts are also easier to find than a skirt cut, so it's more convenient.
Are Chicken Fajitas healthy?
Yes! There's barely any oil in here, and it's loaded with nutrients and protein from the meat and veggies.
Also, you can use a few substitutes to make it even healthier, like subbing low-carb tortillas, using Greek yogurt instead of sour cream, or doubling the veggies.
What is fajita seasoning?
It's a blend of typical Tex-Mex spices. We'll be mixing chili powder with pepper flakes, some ground cumin, a pinch of salt, both onion powder and garlic powder, plus a bit of smoked paprika.
Together, they create a smoky, slightly herby flavor profile that's the hallmark of this dish.
How do you make chicken fajitas?
Cook the seasoned meat. First, blend your seasonings, then take half and rub them all over the meat. Then brown them really in a hot skillet using a little olive oil. Go all out here— each side should be a nice deep brown. Remove, set aside, and cut into long strips.
Cook the veggies. Next, sauté the strips of vegetables in olive oil until crisp but still tender. Sprinkle with minced garlic and the remaining seasoning, and sear a little more. Add the strips of meat back, splash with a squeeze of lime, and toss together.
Serve. Serve with warm tortillas on the side along with garnishes like Pico de Gallo, guacamole, and sour cream plus fresh cilantro.
Recipe variations:
Use other proteins: Try this with pork strips, thin slices of steak, or even tofu!
Go with other veggies: Load up on the vegetables by adding slices of asparagus, cauliflower, Brussels sprouts, and other veggies.
Instant Pot: If you want to try making it in the pressure cooker, then try my Instant Pot Fajita Pasta.
Enjoy it low-carb: Use lettuce cups to scoop and eat the meat and veggies.
Enjoy it gluten-free: Eat with corn tortillas instead of flour tortillas.
Make it a rice bowl: Try this as a topping over a bowl of Chipotle Lime Rice!
What is the difference between taco and fajita seasoning?
Not much. But taco seasoning usually omits the garlic and onion powders, and also includes ground coriander.
What is the difference between fajitas and tacos?
Aside from the seasonings and cuts of meat used, tacos are usually served already assembled in hard-shell or soft tortillas. The meat is chopped into small pieces, as are the veggies, which are typically served raw on top of the meat. Think diced onions, raw diced tomatoes, lettuce, and other fresh garnishes.
For fajitas, the tortillas are usually served on the side, and you assemble them yourself. Both the protein and the vegetables are cooked in long strips, sometimes served on a sizzling platter.
What meat is best to use?
If you want to go the traditional route, you should absolutely use skirt steak. It's loaded with flavor and remains tender under high-heat cooking like grilling.
However, you can actually use any meat you prefer as long as it cooks quickly. Aside from breasts, you can also use thighs or pork for this dish cut into strips.
How to serve Chicken Fajitas?
My favorite way is to just lay the meat and veggies on a serving plate, pile some warm, soft tortillas on the side, and arrange bowls of garnishes around it. That way, everyone can make their own version!
If I'm in the mood for a Tex-Mex themed meal, I make a whole fiesta out of it with sides like Mexican Street Corn, Tortilla Soup, and of course, some fresh Horchata plus Mexican Wedding Cookies for dessert!
What toppings go on fajitas?
Aside from sour cream and fresh chopped cilantro, Homemade Salsa, Guacamole, and spicy Pico de Gallo are a must.
Also, I like boosting the protein and textures with some black beans and avocado slices too. If you're a fan of heat, don't skip the jalapenos! Finally, some queso fresco or cheddar cheese taste fantastic melted onto the fillings.
More Tex-Mex Recipes:
Recipe Tips:
You can also use strips of skinless thighs if you prefer dark meat.
Using different colored bell peppers makes this a more visually-appetizing dish.
Make sure to brown the meat really well. This sears the seasoning into the meat.