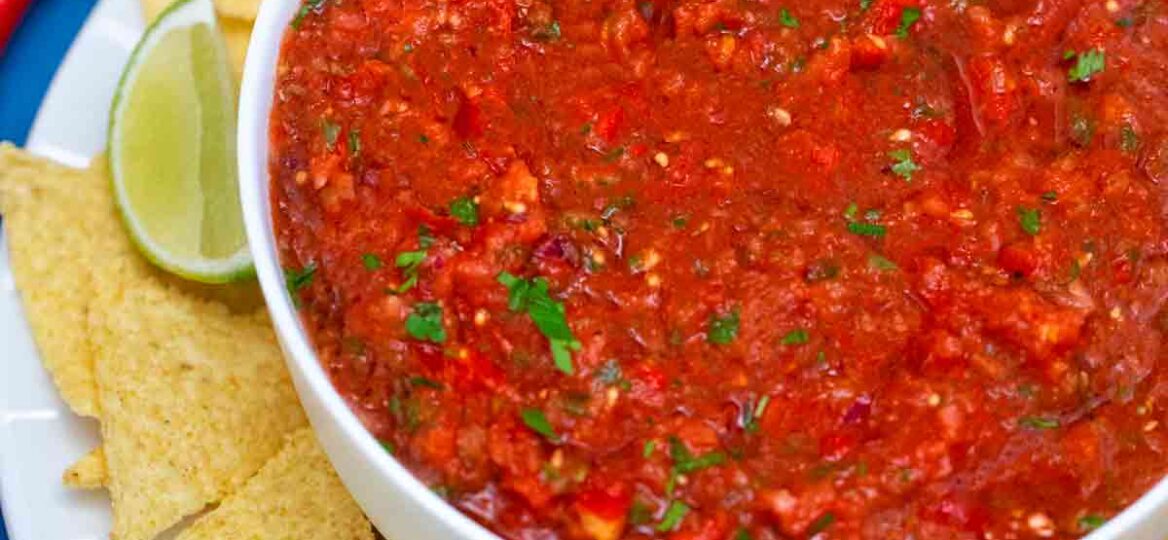 Homemade Salsa Recipe [Video]
This Easy Homemade Salsa Recipe is made with fresh cherry tomatoes, jalapenos, cilantro, garlic, lime, and seasoning. It is a healthy and authentic Mexican dish with the right balance of spiciness and chunkiness to it.
I love to serve it with fresh tortilla chips or as a topping over shrimp tacos, Mexican breakfast burrito, or enchiladas.
Fresh Homemade Tomato Salsa
When it comes to authentic Mexican flavors, this Easy Salsa recipe delivers just that. It uses fresh ingredients, which gives this dish a nice depth of flavors. The texture is also chunky, just perfect to dip into!
I have made many variations of it over the years, and I can firmly say that is the best one. The store-bought version does not even come close to it. The main secret here is to use fresh ingredients, especially when it comes to tomatoes and cilantro.
Because tomatoes are the central ingredient here, I like using cherry tomatoes or San Marzano tomatoes. However, the San Marzano type is harder to find sometimes. Therefore, I usually stick to cherry.
They are super flavorful and very aromatic. But if you cannot find them, you can substitute them with Roma tomatoes. Just try to pick the ripe ones.
Fresh Salsa Ingredients:
Fresh cherry tomatoes – they are my favorite to use in this recipe. Just try using ripe ones, with a bright red color, and avoid anything soft.
Jalapeno – another central ingredient here that adds a nice heat to it. If you do not like it spicy, simply skip this ingredient altogether. Also, you could replace jalapeno with half a cup of chopped bell pepper.
Fresh cilantro – cilantro adds key flavor, don't skip it!
Minced Garlic – for the best flavor, try using fresh garlic.
Green onion – it works best here. However, you can also replace it with red or yellow onion.
Lime – it gives it a nice citrusy taste, and it really brightens up the salsa.
Olive oil – you can use any type.
Seasonings – dried oregano, salt, and black pepper is what I go with.
How To Make the Best Homemade Salsa?
First, wash and paper dry the ingredients. Then, using a sharp knife, finely chop the veggies, and cilantro, and transfer to a bowl. You can also use a food processor, and chop the veggies to your desired texture.
Next, add some lime juice and some zest, along with the seasonings. Mix the ingredients together.
Transfer the mixture to a bowl, and refrigerate for about 30 minutes. Resting it for 30 minutes allows all the flavors and ingredients to mingle. Making it so much tastier!
Enjoy!
Recipe Variations
Add some smoke: For some smokiness, feel free to add 1 to 2 tablespoons of chopped canned chipotles in adobo.
Use canned tomatoes: Instead of fresh tomatoes, you could use canned ones. Also, roasted canned tomatoes can be used here.
Use other spices: Replace the jalapeno with red pepper flakes, chile peppers, or chili powder.
Add mango: For a tropical twist, add some freshly chopped mango.
Use various spices: Also, for extra flavorful salsa, add a few pinches of cumin.
What tomatoes are best to use for salsa?
Fresh and ripe tomatoes are the best ones to use. Try going with cherry, San Marzano, Roma, or plum type. This is the key ingredient here, so it is important to use the best and freshest tomatoes. Also, for a deeper flavor, do not peel the fresh tomatoes.
What is the difference between salsa and pico de Gallo?
While both of these dishes are similar and use pretty much the same ingredients, the difference lies in their texture. Pico de Gallo tends to be chunkier while red salsa is mode liquid due to blending the tomatoes up.
Is This Salsa Recipe Spicy?
This recipe is more on a spicier side. It all depends on the number of jalapenos used. I usually use about 2 jalapenos, but you can easily adjust that. For a milder version, simply use 1 or even half a jalapeno.
Similarly, if you like it even spicier, throwing in habanero or serrano chiles! Adjust the spice level per your taste.
For mild salsa, use just one jalapeno pepper and also remove the seeds.
For a medium version, go with two peppers and remove most of the seeds.
To make hot salsa, use two peppers and leave the seeds intact.
Ways to serve fresh salsa:
This dish can be served pretty much with anything and on anything. Also, it can be used as an appetizer if you are hosting a party or a game day. Some of my favorite ways to enjoy it is with:
How Long Will Homemade Salsa Last?
It will last for about 7-10 days if properly stored. Use an airtight container or mason jar to refrigerate it. Ensure to store it right away and do not let it sit for too long at room temperature.
Recipe Tips:
For the best results, it is essential to use fresh ingredients.
Fresh tomatoes work best here. However, you can also use canned fire-roasted type.
If you are not a garlic fan, simply omit it from the ingredient list.
You can also add chopped basil to it.
Instead of chopping the ingredients with a knife, you could use a food processor. Just be careful not to blend the salsa past your preferred consistency.
In addition, avoid pureeing the salsa, some texture is a good thing here.
I highly recommended chilling it first for about 30 minutes. Believe me, it will taste much better!
For an authentic Mexican look, serve it on a granite bowl.