California Chicken Breakfast Burrito [Video]
California Chicken Breakfast Burrito makes for a nutritious meal, filled with chicken, eggs, cheese, and avocado, its the perfect way to start your day right!
This is a take on the classic Mexican favorite that we all love! If you love Mexican dishes, then check out my recipes for Mexican Wedding Cookies, Grilled Chicken Fajita Salad, and Southwest Salad!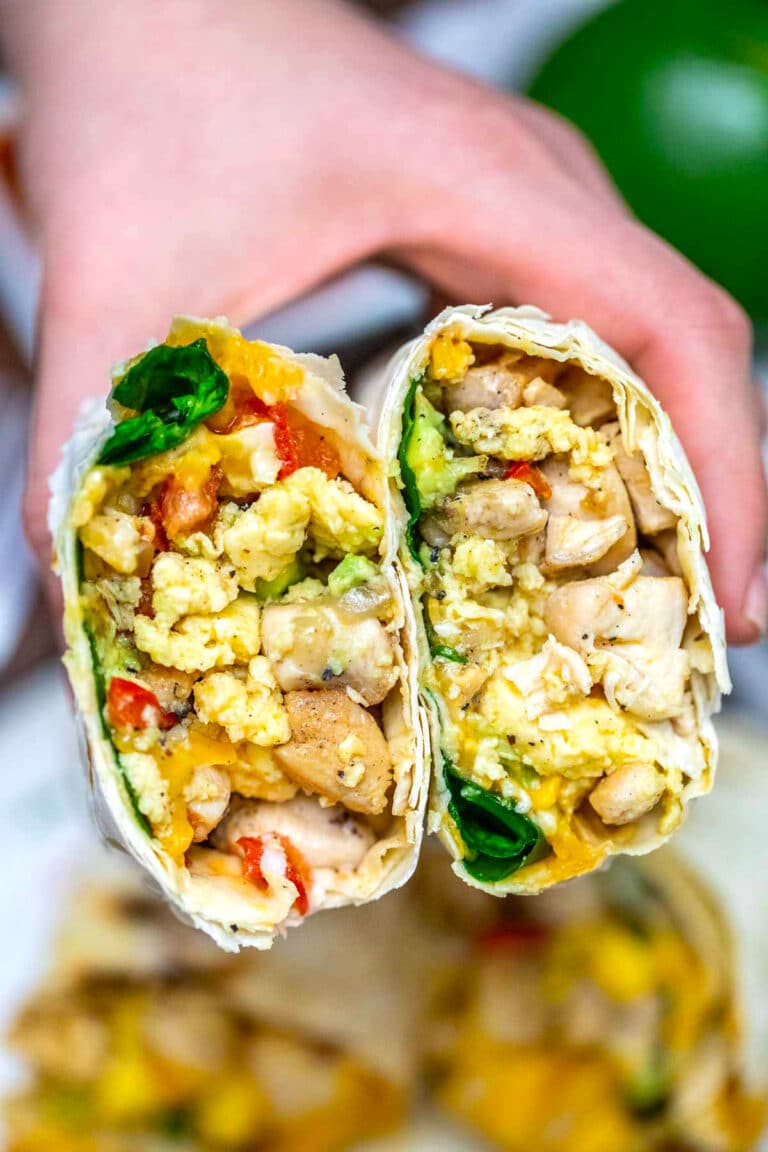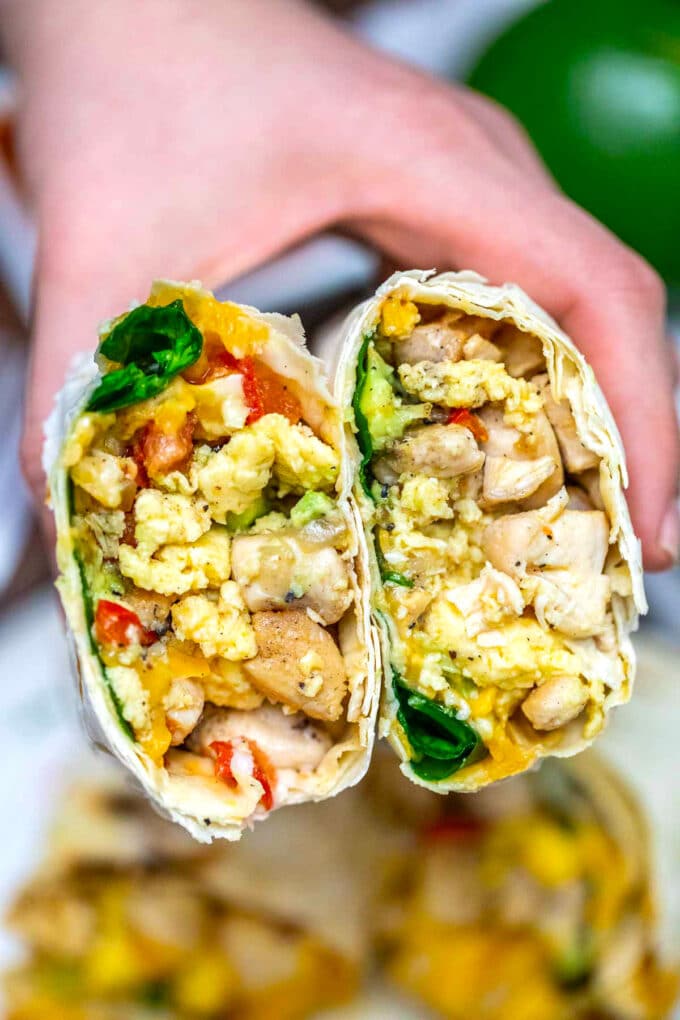 Easy Breakfast Burrito Recipe
California Chicken Breakfast Burrito is a nice meal complete with carbs, protein, and fiber. It has everything you need to give you energy until your next meal! And that makes this an ideal dish to kick off an amazing day!
The flavors are great individually but are even more amazing when combined. And each bite is so satisfying that I can eat this all day!
You will only take roughly 30 minutes to prepare as each element is so easy to cook. It is also a great freezer meal, so you won't have to make it fresh every time you want it. And that is good news when cravings kick in!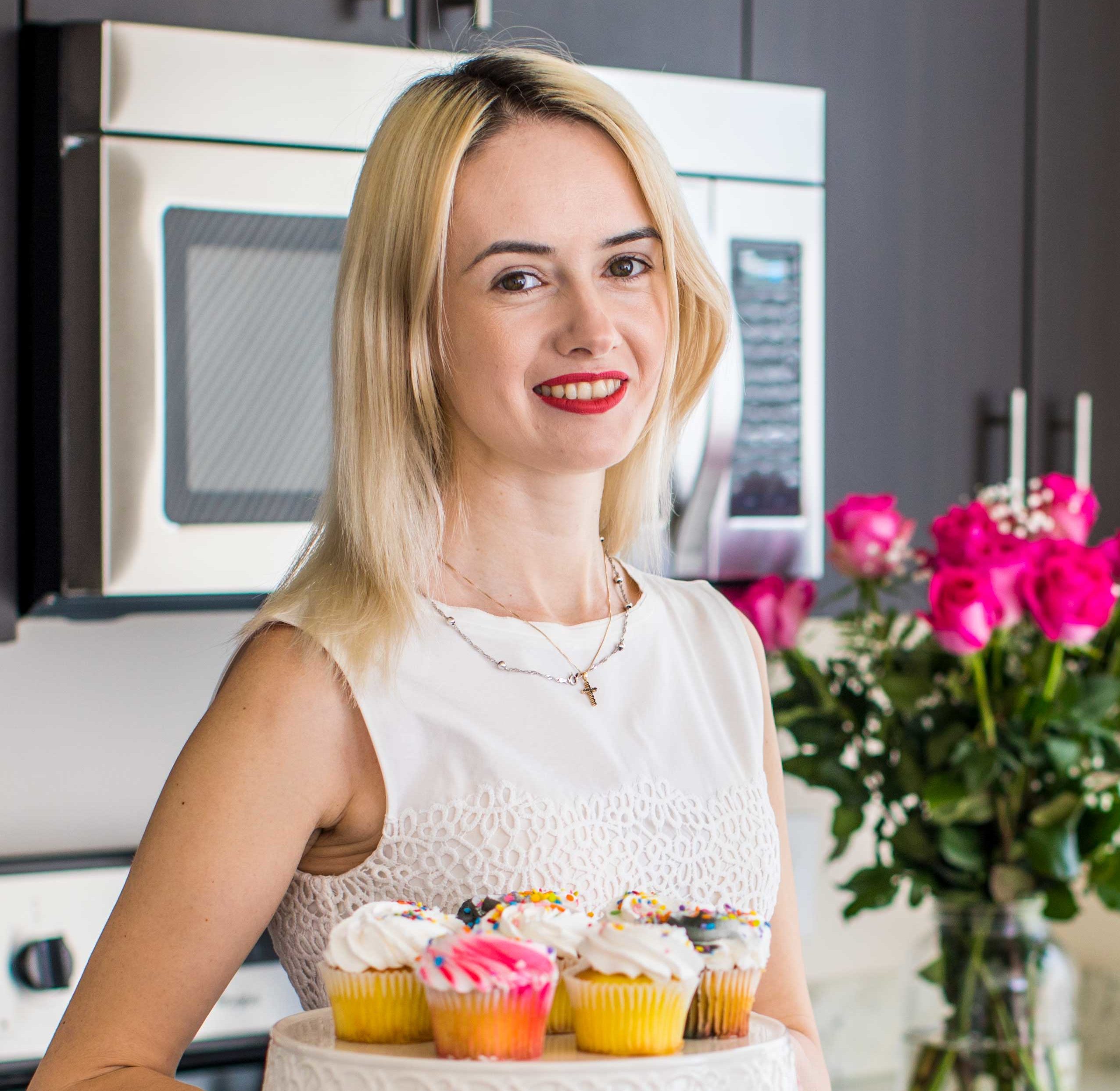 Follow us on Pinterest for more delicious recipes!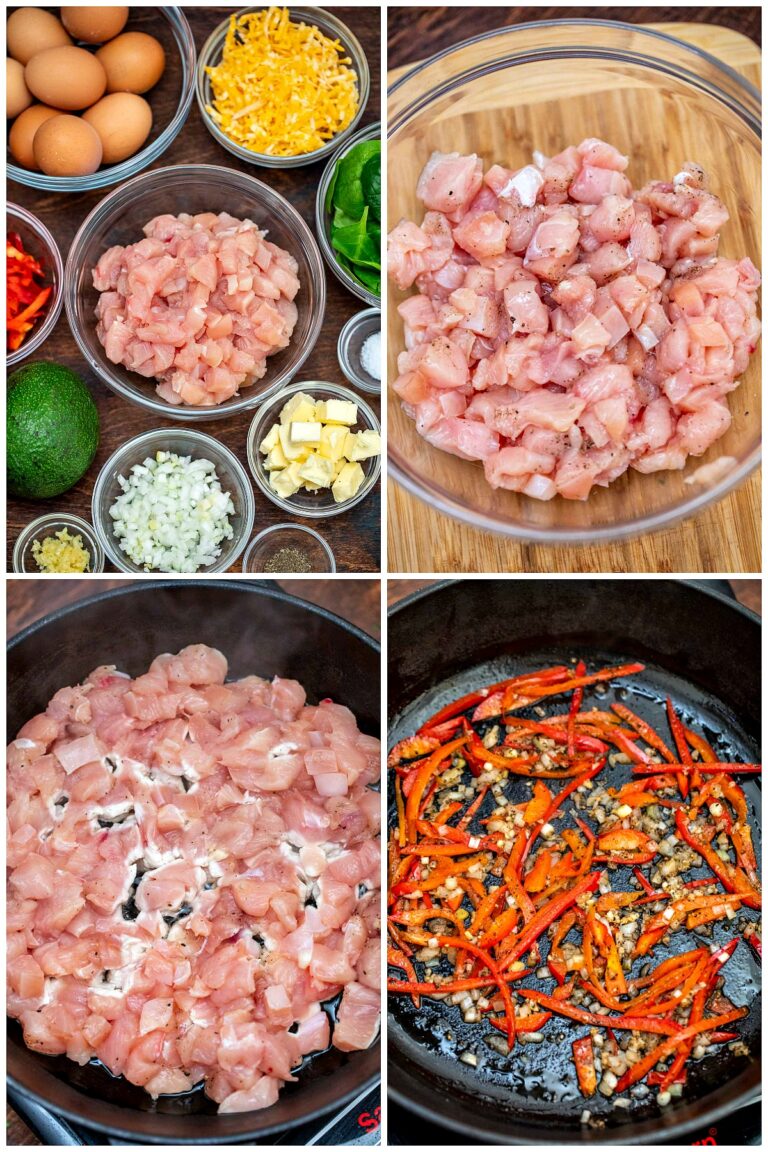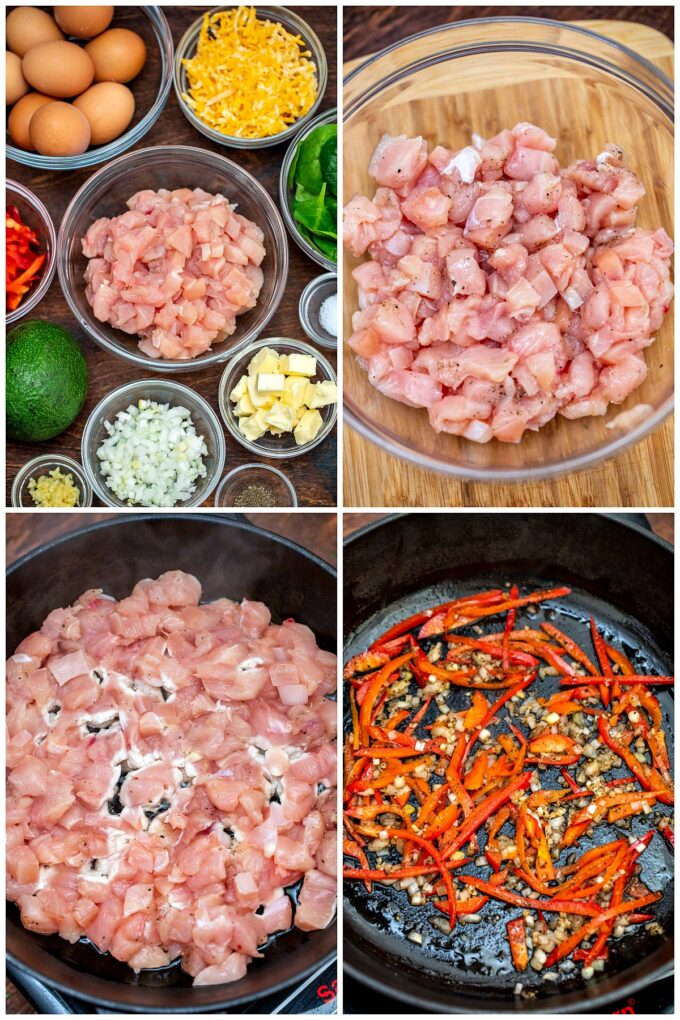 How to make California Chicken Breakfast Burrito
Cook the meat: Season the cubes with salt and pepper. Then, brown all sides on a skillet with heated oil. Set aside.
Prepare the veggies: Add in the aromatics and bell peppers. Season with salt and pepper.
Cook the eggs: In a bowl, whisk together the eggs and half and half. Wipe the skillet and put the butter to melt. Cook the eggs and stir occasionally with a spatula. Season with salt and pepper to taste.
Assemble: Place the meat filling at the center of the tortilla. Layer in the veggies, scrambled eggs, cheeses, and the rest of the fresh ingredients. Then, roll it tightly.
Serve: Serve alongside the hot sauce.
How to wrap a burrito?
Place the flour tortilla wrap on a flat surface.
Put the filling at the center.
Fold in the left and right sides.
Fold in the tortilla over the center, then roll it up.
Place and wrap with foil if necessary.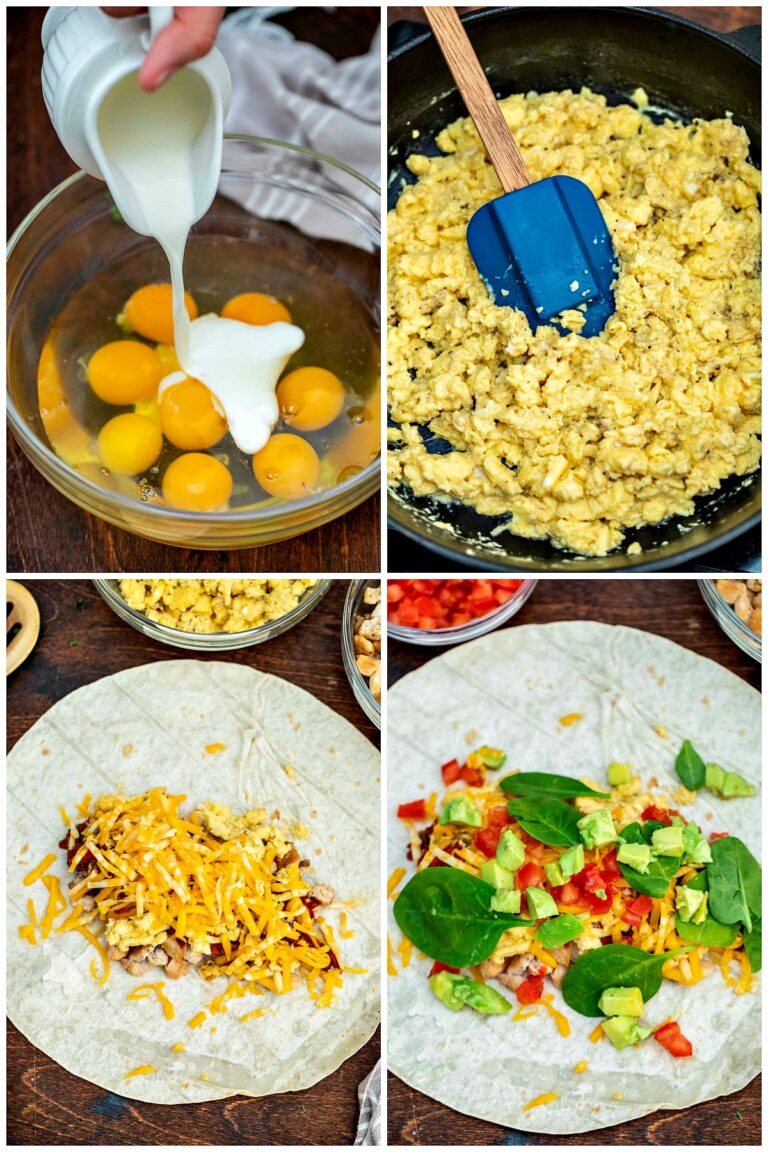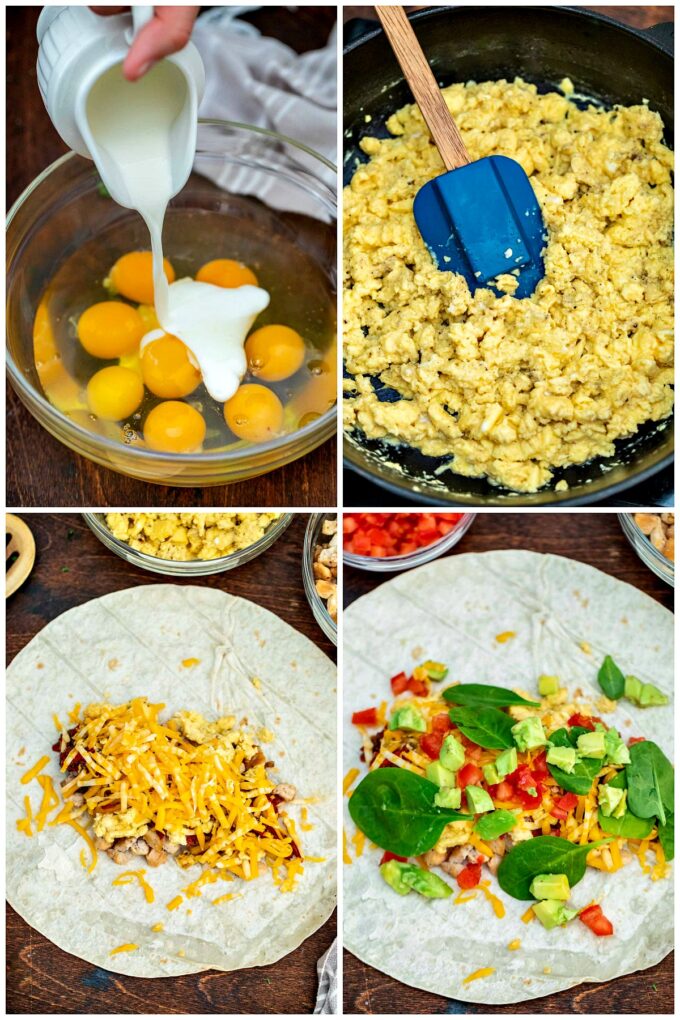 What kind of tortilla is best to use for a burrito?
The best kind is still flour tortilla. It is more pliable than a corn tortilla.
You must also consider the size. A large one will be able to contain more filling securely. And generally, corn tortillas are not made large enough to make a sizeable burrito.
What else can I add to a chicken breakfast burrito?
Here are some more suggested ingredients to incorporate into this dish:
What goes with California Chicken Breakfast Burrito?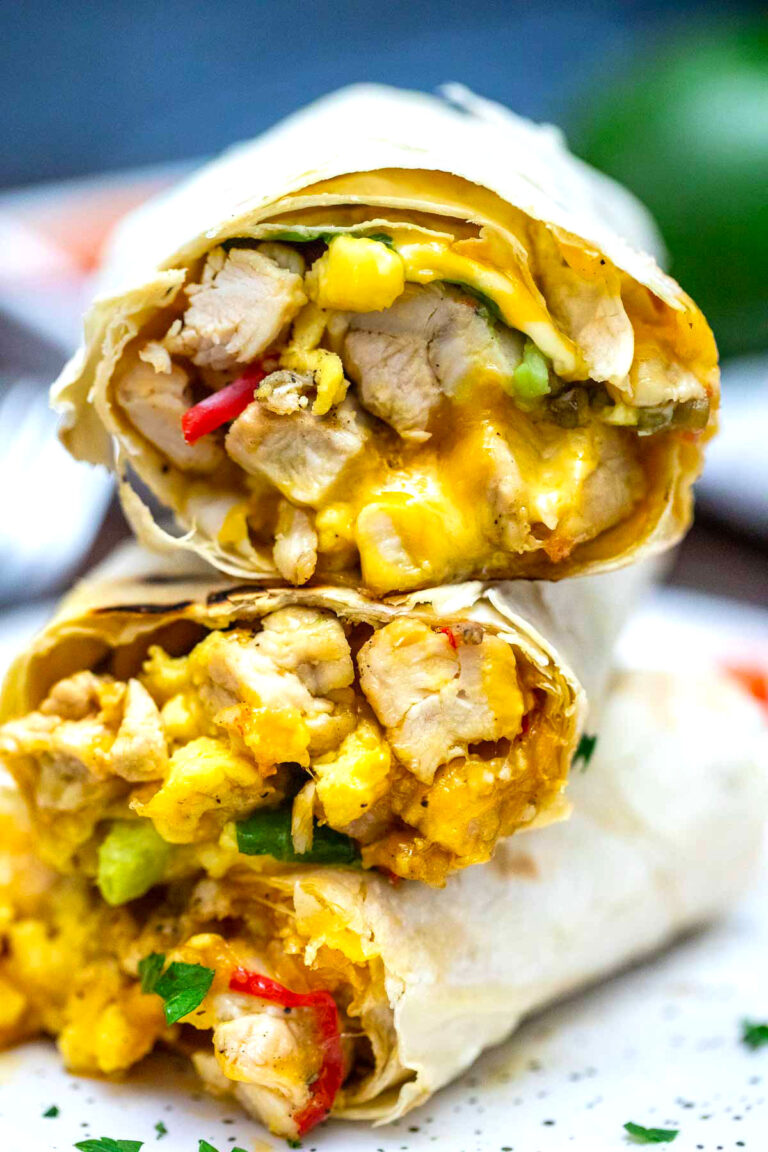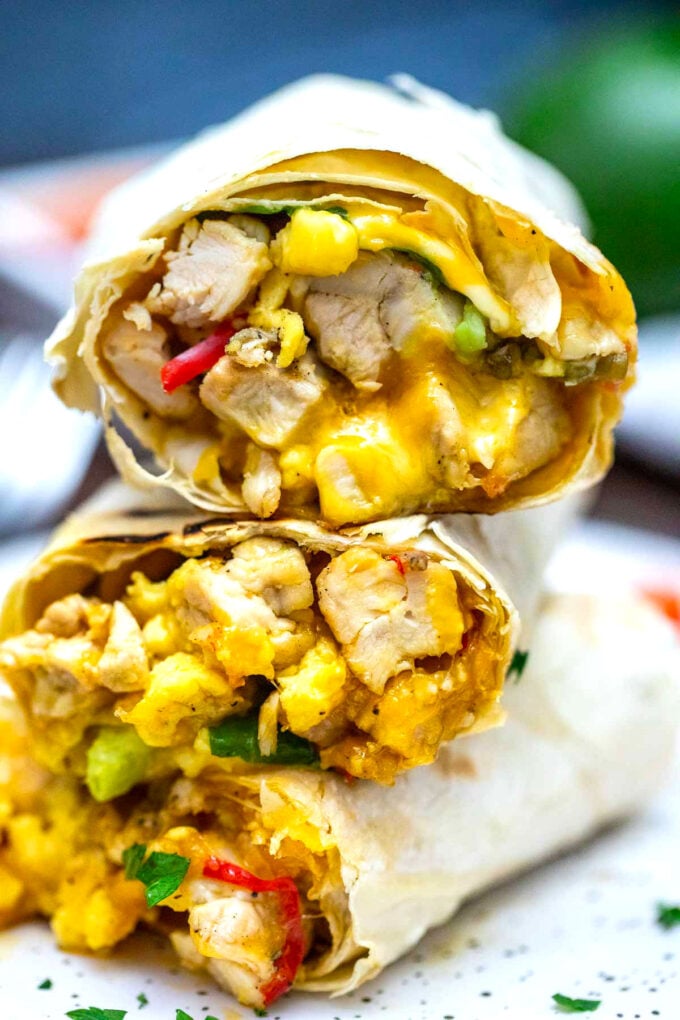 How to store:
Follow these steps on how you can freeze them for later:
Let the filling cool to room temperature so it will not get soggy.
Wrap each one in aluminum foil.
Arrange them in a single layer on a dish and freeze for a few minutes.
Stack them inside a freezer bag.
Keep for up to 3 months. Reheat in the oven at 425 degrees Fahrenheit. You can even directly put it in the oven without thawing although it will take longer than when thawed.
Or, simply refrigerate them and consume within 3 days.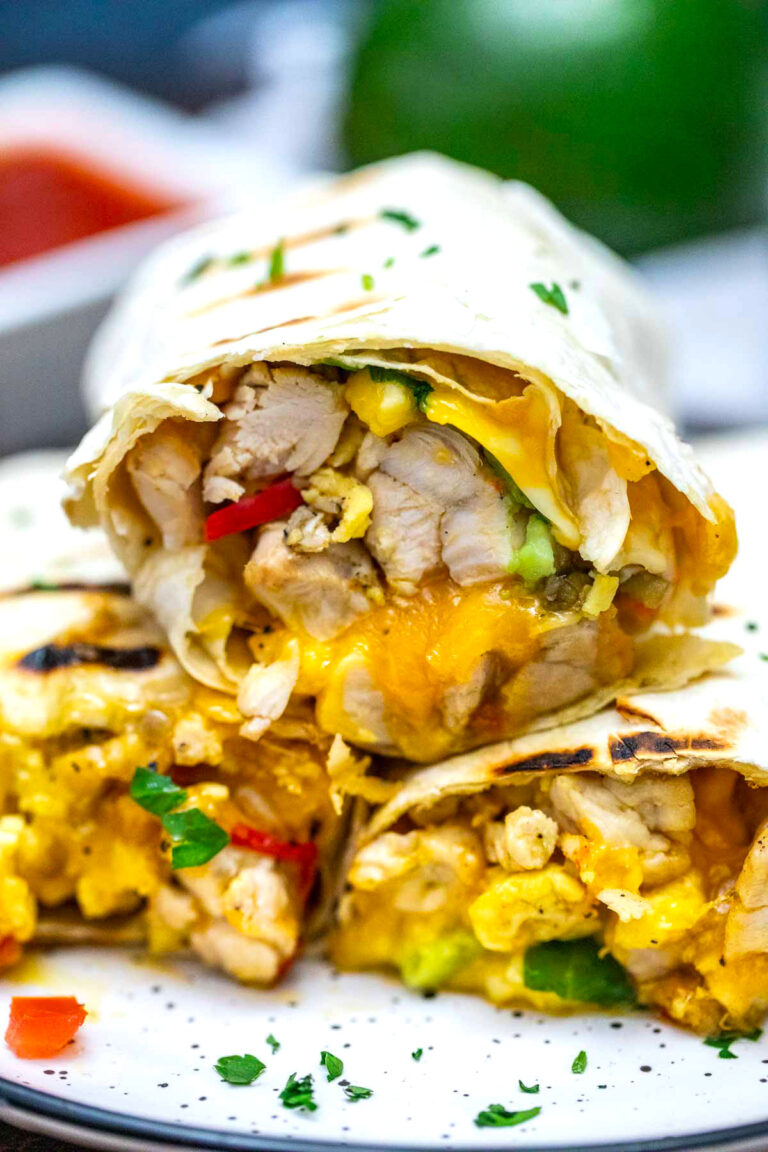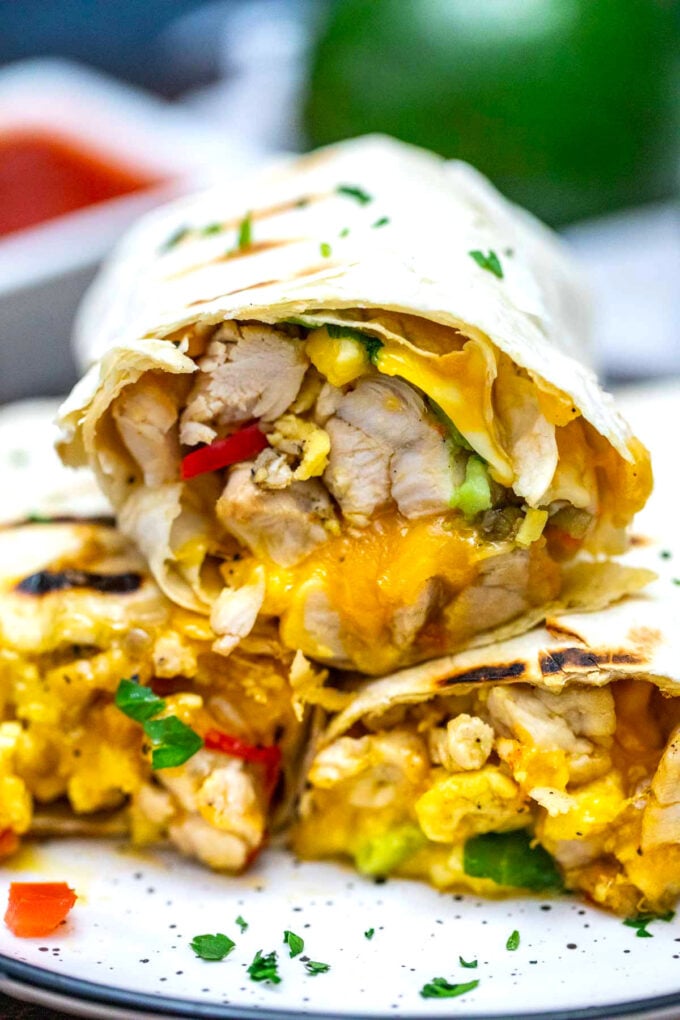 Recipe Tips:
You may use leftover chicken in this dish. Shred the meat then repurpose it in this recipe.
Feel free to substitute the meat with carne asada or grilled steak.
If you store your flour tortilla in the freezer, you need to warm it up to at least room temperature to make it more pliable to roll.
Be careful in putting too much of the filling so you will not have a hard time securing it in the tortilla. This recipe is good for 4 burritos.
Save Recipe
California Chicken Breakfast Burrito
Author: Catalina Castravet
Serves: 4 burritos
Prep time:

20

minutes
Cook time:

20

minutes
Total time:

20

mins
Ingredients
1 lb chicken breasts (cut into small cubes)
1 tablespoon olive oil
1 onion (diced)
4 cloves garlic (minced)
1 red bell pepper (seeds removed, deveined and sliced)
8 large eggs (room temperature)
1/3 cup half and half
4 tablespoons. butter
Kosher salt (to taste)
Freshly ground black pepper (to taste)
4 large flour tortillas
1 cup shredded cheddar cheese
1 cup shredded Monterey Jack cheese
1 large tomato (diced)
1 avocado (diced)
1 cup fresh spinach
Hot sauce (for serving)
Instructions
Place a large skillet over medium heat and add 1 tablespoon of oil.
Once hot, season the cubed chicken with salt and pepper and cook until golden brown, remove from the pan and set aside.
Add onion, garlic, bell pepper, salt, pepper, and cook until tender.
In a medium bowl, whisk together the eggs and half and half.
Wipeout the same skillet and place it over medium heat. Add butter and melt it. When butter is just starting to foam, reduce heat to medium-low, and add beaten eggs.
Using a rubber spatula, occasionally until soft curds form. Season with salt and pepper to taste.
Assemble:
In the center of each tortilla, spread ¼ of the chicken, layer ¼ of the veggies, ¼ of the scrambled eggs, ¼ cup of each cheese, add tomato pieces, spinach, and avocado.
Fold in the two sides and roll up tightly. Serve with hot sauce.
Carbohydrates: 28 Protein: 54 Fat: 58 Saturated Fat: 21 Cholesterol: 462 Sodium: 950 Potassium: 1125 Fiber: 6 Sugar: 6 Vitamin A: 3574 Vitamin C: 53 Calcium: 550 Iron: 4 Calories: 745
Save Recipe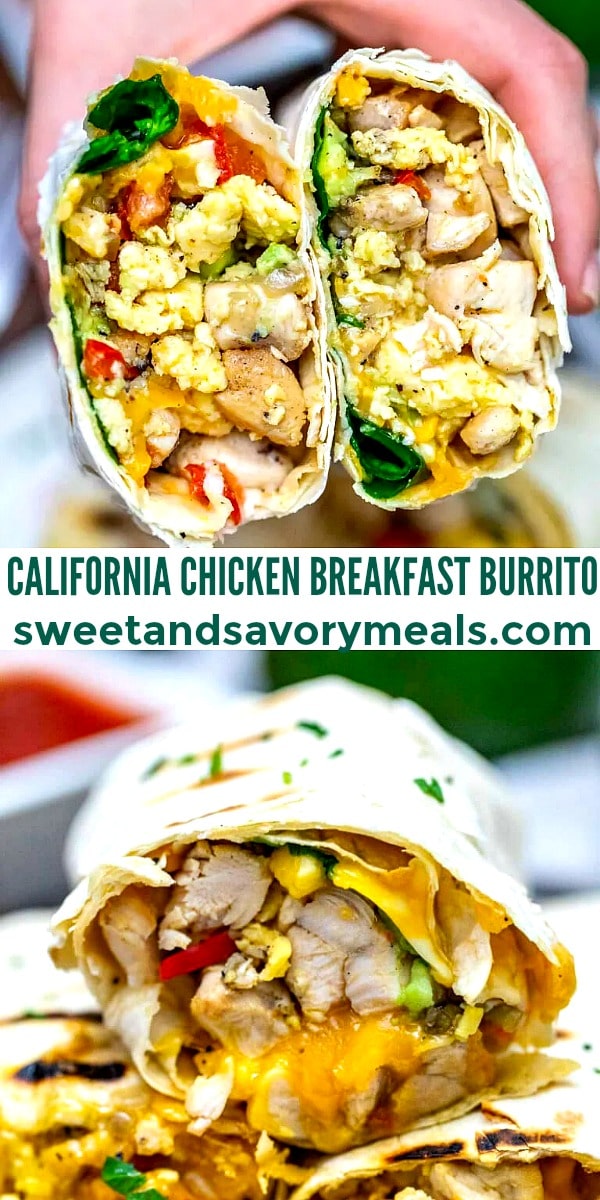 More recipes you might love