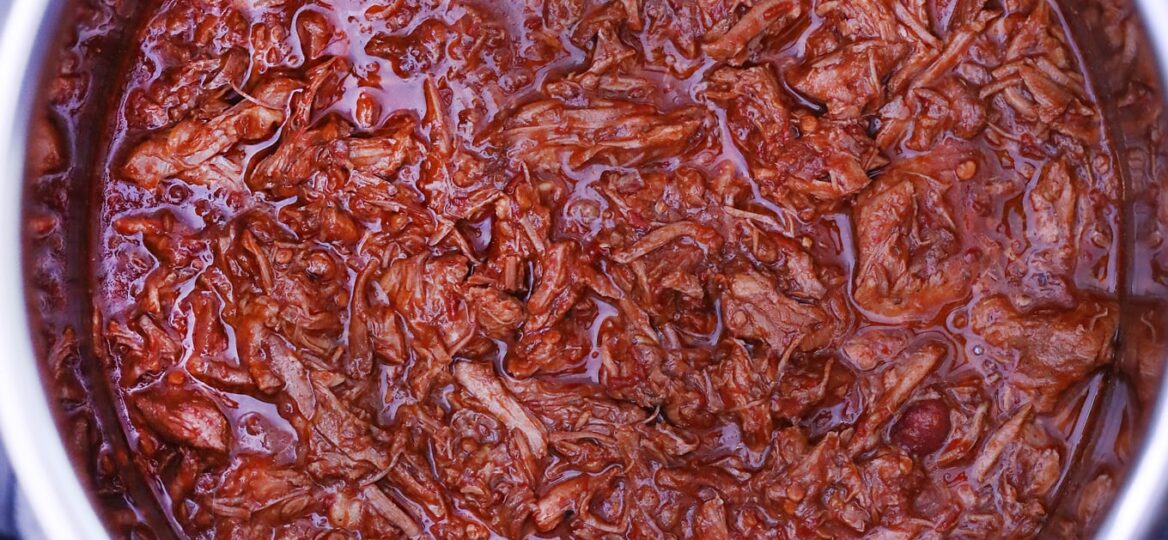 Instant Pot Barbacoa Beef Recipe
Instant Pot Barbacoa Beef is made with succulent beef chuck roast soaked in spicy adobo juices and shredded with a fork to use in tacos, burrito bowls, or just eaten plain over rice. This version comes from an old Mexican recipe that was originally made in an underground oven for hours until it is tender.
If you have the time, try this barbacoa beef slow cooker recipe in the Slow Cooker made with beef brisket, broth, garlic, and apple cider vinegar for eight hours. Make your own Homemade Beef Brisket for this recipe with our recipe made with brown sugar and soy sauce.
Instant Pot Tacos Barbacoa Beef
This instant pot barbacoa beef recipe is a delicious dish to make for any meal but is perfect for a Mexican food meal with tortillas, rice, beans, and your family's favorite toppings. It is easy to make in the instant pot with beef chuck roast or brisket and special herbs and spices.
It is cooked in peppery chipotle adobo sauce with hints of lime and vinegar. The combination of beef, garlic, and other spices makes it smell so delicious and mouthwatering.
The flavors you taste are from letting the shredded beef soak in the beef broth, chipotle peppers, adobo sauce, and lime juice while cooking under pressure. Then it is soaked in the cooking liquid for another 30 minutes to become extra flavorful.
Perfect to make for Mexican-themed dinners at home, I like serving it in tortilla wraps, but it also goes well with rice or nachos. This is an easy and rich meal that is also great to incorporate into your Cinco de Mayo menu.
The key to making a perfect Barbacoa Beef is not really a secret. Just use a pressure cooker and the dish will be ready in an hour. The meat definitely becomes incredibly tender, it can easily be shredded using a fork. Feel free to check this recipe in the Slow Cooker as well.
Try these Air Fryer Beef Empanadas with your instant pot barbacoa beef for a hearty meal.
Ingredients needed:
These are the simple ingredients for this instant pot barbacoa beef recipe. Scroll down to our recipe card for complete instructions and exact measurements.
Beef brisket: Or chuck roast, with fat removed and cut into chunks.

Beef broth
Medium chipotle chiles in adobo sauce

Garlic cloves: Minced garlic cloves.
Herbs and spices: Onion powder, red pepper flakes, black pepper, sea salt, cumin, smoked paprika, and dried Mexican oregano.

Fresh lime juice: The juice of one lime or you can use store-bought lime juice.

Apple cider vinegar
Whole bay leaf
How to make Instant pot barbacoa beef recipe?
Pureé: Pour the beef broth, chilis, garlic, herbs, lime juice, and vinegar into a blender or food processor and purée until it is smooth.

Sauté: Put the chuck roast chunks into the instant pot and sauté them for a few minutes.

Pour: Then, pour the pureed sauce into the pot on top of the chuck roast. Give it a little stir and add the bay leaf.

Cook: Next, lock the lid and set the valve to seal before cooking for 40 minutes on high pressure.

Release: After, allow it to do a natural release for 15 minutes before doing a quick release to allow the rest of the steam out.

Shred: Next, remove the bay leaves and shred the chuck roast with two forks. It should be tender and easy to shred. If not, cook for another 10 to 15 minutes.

Serve: Finally, let the barbacoa beef absorb the juice for about 30 minutes before serving with a slotted spoon or tongs.
How to make instant pot barbacoa beef in the oven:
Preheat: To begin, preheat the oven to 350 degrees F and spray a baking dish with non-stick cooking spray.
Vegetable oil: For extra flavor, sear the chuck roast in vegetable oil before adding it to the sauce.
Pureé: Meanwhile, put the beef broth, chilis, garlic, herbs, lime juice, and vinegar into a blender or food processor and purée until it is smooth.

Pour: Then, pour the sauce into your serving dish with the chuck roast chunks and add the bay leaves on top.

Cook and shred: After, put the dish in the oven and back for 30 minutes or until the beef is fork tender. Then, remove the bay leaves and shred the beef with two forks.

Serve: Lastly, let the barbacoa beef absorb the juice for about 30 minutes before serving with a slotted spoon or tongs.
Recipe variations:
Beer: Why not add some Mexican beer to your sauce for a richer flavor?
Taco seasoning: Sprinkle some homemade taco seasoning in with the rest of the spices for extra flavor.

No chuck roast: Instead of chuck roast, you can try using pork or chicken for a different flavor.
Traditional: The traditional lamb meat is also a delicious recipe choice.
Lime juice: Add more lime juice or lime zest for extra citrus flavor. You could even try lemon juice or zest.

Slow cooker: Making this as a slow cooker recipe is easy and delicious too. Just dump it all into your crockpot and let it cook for eight hours. The slow cooker version of this recipe can be accessed by following this crockpot barbacoa beef recipe.
No adobo sauce: For a milder instant pot beef barbacoa recipe, leave out the adobo sauce and use mild green chiles. You can also leave out the red pepper flakes. Adobo sauce is very spicy on its own.
No beef broth: Instead of beef broth, you can use chicken or vegetable broth.
Onion: Add chopped onions to the tender beef for even more flavor.
How to serve:
You can serve barbacoa beef by itself or on top of a bed of rice or pasta. The spicy shredded beef is scrumptious on bread as a beef barbacoa sandwich too with some homemade guacamole. Here are some other ideas you can try:
This instant pot barbacoa beef recipe is absolutely delicious with cilantro lime rice or other Mexican food.

Toss some cheddar, mozzarella, or Mexican blend cheese on top for a cheesy instant pot barbacoa beef meal.
Add some instant pot barbacoa beef to your Mexican taco breakfast burritos.

You could also try sprinkling some cotija cheese in before you serve barbacoa beef. Cotija cheese is a Mexican cheese that comes from the small town of Cotija.

The shredded beef is also absolutely delicious to use as stew meat for this instant pot beef stew.
Make this instant pot barbacoa beef recipe tonight to serve with tacos, tostadas, or whatever else you like.

Use your leftover meat to add to this savory instant pot rice and beans.

Add some tender beef to your next taco salads for a pleasant change.
Frequently asked questions
What is Barbacoa Beef?
Traditionally, it is beef cooked over a slow open fire with the goal of making it soft and tender. The flavor comes from a special mix of chipotle adobo sauce, beef broth, lime juice, garlic, and other spices.
Using a pressure cooker, all the flavors and tenderness of the dish can be easily achieved in no time.
What cut of meat is barbacoa?
Barbacoa is more a cooking method, not a cut of meat. However, most people use beef roast brisket or chuck roast. The traditional version was made with goat meat but that is not done as much in the states. Other meats can be used too like chicken, pork, or lamb.
What are the traditional seasonings in barbacoa beef?
Although the herbs and spices may differ depending on the recipe, most use a specific blend from the original recipe. These include cloves, Mexican oregano, allspice, chipotle, and cinnamon as well as garlic, black pepper, sea salt, onion, and guajillo.
Why is it called barbacoa?
The name comes from the Arawak word barbaca, which means barbecue, because it was traditionally cooked outside underground. It started with the Taino people in the Caribbean. Modern tradition is to make barbacoa beef on an open fire or in a pressure cooker.
How long do you cook Barbacoa Beef in the pressure cooker?
After sauteeing the meats, pour the prepared sauce and let the pressure cooker work for 40-50 minutes. Wait for the pressure to release naturally.
What is the difference between a pressure cooker and an instant pot?
The pressure cooker can reach a higher pressure (15 PSI) while the instant pot can only reach 12 PSI. The first pressure cooker was invented in 1939 by Denis Papin but had to be used on the stovetop. It also had some dangers over the years from hot steam or even explosions.
After the safety valve was invented (also by Papin), it was safer to pressure cook as they became safer but were still a bit dangerous. Today, the modern pressure cooker is electric, so you do not have to use it on the stovetop, and it is much safer.
An instant pot is typically used for more than just pressure cooking as it has many different settings while the pressure cooker just does one thing. Instant pot recipes have become numerous and today, it is possible to make rice, yogurt, and even cake in your instant pot.
What is Natural Pressure Release?
It is when you allow the instant pot machine to cool naturally. The user does not need to do anything when the cooking time ends.
Use Natural Pressure Release when you want the meat to be very tender. Leave the machine in a Sealed position and just wait for the float valve to drop on its own.
How to store leftovers:
Store: You can store your leftover barbacoa beef in an airtight container in the fridge which will last for about seven days.

Freeze: If you are making a large batch, go ahead and freeze some in several freezer bags to use as needed. You can keep them in the freezer for up to three months. Be sure to put some leftover liquid together with the meat before freezing it.
Thaw: Put your frozen barbacoa beef in the fridge to thaw overnight before serving.
Reheat: To reheat, put thawed barbacoa beef in a microwave-safe dish and heat in the microwave for one or two minutes, depending on how much you are heating. Add a little beef broth if needed.
More Instant Pot Mexican recipes:
Cooking tips:
It is much easier to mix the ingredients into pureed sauce in a food processor or blender rather than doing it by hand.

You control the spiciness of your instant pot barbacoa beef by how many chiles and red pepper flakes you add to the sauce.

Prepare the sauce a day in advance and keep it chilled until you are ready to add to the chuck roast for the instant pot barbacoa beef recipe.
For more spice add more adobo sauce or chipotle peppers to your beef barbacoa recipe.
You can use shredded beef for just about anything from soups and salads to casseroles and pasta dishes.
Instant Pot Barbacoa Beef
Ingredients
3

pounds

beef brisket

or chuck roast - trimmed of extra fat and cut into 2-inch chunks

1

cup

beef broth

2

medium Chipotle chiles in adobo sauce

add more if preferred

4

cloves

garlic minced

1

tablespoon

onion powder

1

tablespoon

apple cider vinegar

1

lime

juiced

1

tablespoon

dried oregano

1

teaspoon

smoked paprika

1

tablespoon

cumin

1

teaspoon

sea salt

1

teaspoon

black pepper

1/4

teaspoon

red pepper flakes

2

whole bay leaf
Instructions
Add all the ingredients, except beef and bay, leaves to a blender and puree until the mixture is smooth.

Add the beef chunks to the Instant Pot, If you have time, for extra flavor, you can saute them for a few minutes.

Pour the pureed mixture on top of the beef and add the bay leaves.

Lock the lid and point the valve to a sealed position.

Cook for about 40 minutes on HIGH PRESSURE, followed by a 15 minutes Natural Pressure Release. The beef should be very tender and fall apart when shredded with a fork. If needed cook for 10-15 minutes more.

When done, carefully open the Instant Pot remove the bay leaves, and discard them.

Shred the meat using two forks into the cooking juices. Let the beef absorb some of the juices for about 30 more minutes before serving.

Use a slotted spoon or tongs to serve.
Deliciousness to your inbox
Enjoy weekly hand picked recipes and recommendations