Instant Pot Barbacoa Beef Recipe
Instant Pot Barbacoa Beef is super tender and extra flavorful that can be done in no time at all. This dish is perfect for tacos, burritos, salads, quesadillas, and much more!
Other Instant Pot beef recipes we recommend are Beef Stroganoff, Mongolian Beef, and Beef Stew.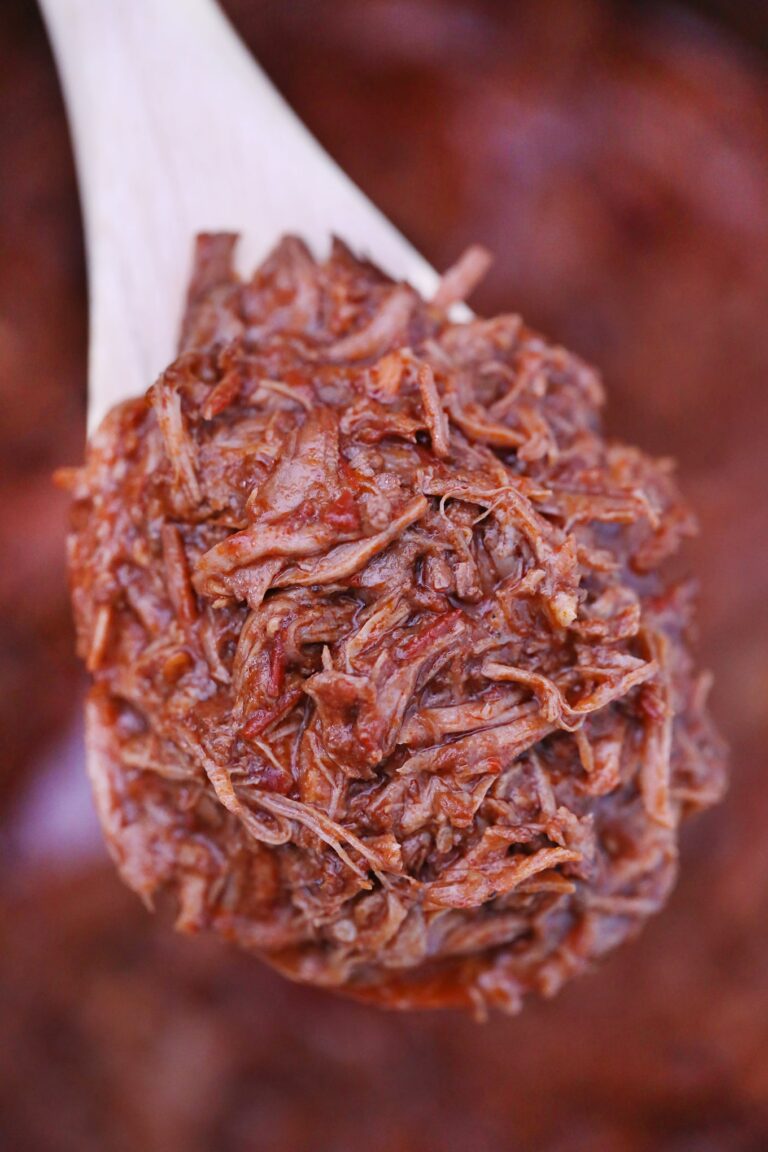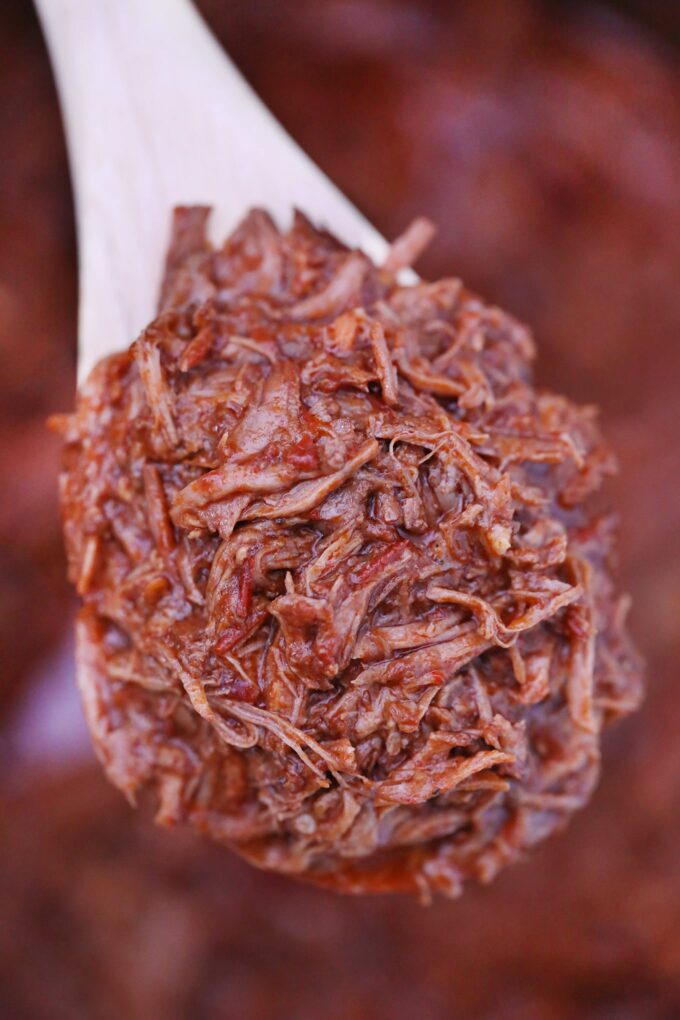 Instant Pot Tacos Barbacoa Beef
Instant Pot Barbacoa Beef is perfect to make for Mexican-themed dinners at home. I like serving it in tortilla wraps, but it also goes well with rice or nachos. This is an easy and rich meal that is also great to incorporate with your Cinco de Mayo menu.
It is cooked in peppery chipotle adobo sauce with hints of lime and vinegar. The combination of beef, garlic, and other spices makes it smell so delicious and mouthwatering. I sometimes eat it on its own!
The key to making a perfect Barbacoa Beef is not really a secret. Just use a pressure cooker and the dish will be ready in an hour. The meat definitely becomes tender, it can easily be shredded using a fork. Feel free to check this recipe in the Slow Cooker as well.
What is Barbacoa Beef?
Traditionally, it is beef cooked over a slow open fire with the goal of making it soft and tender. The flavor comes from a special mix of chipotle adobo sauce, beef broth, lime juice, garlic, and other spices.
Using a pressure cooker, all the flavors and tenderness of the dish can be easily achieved in no time.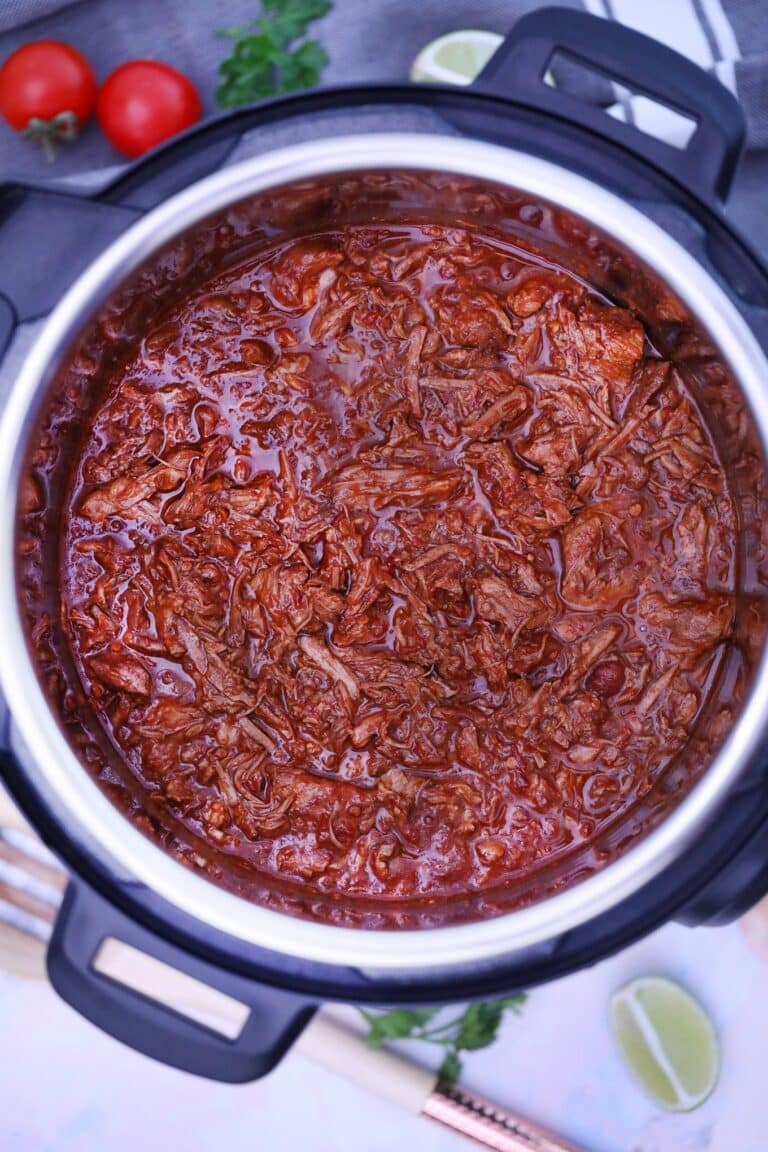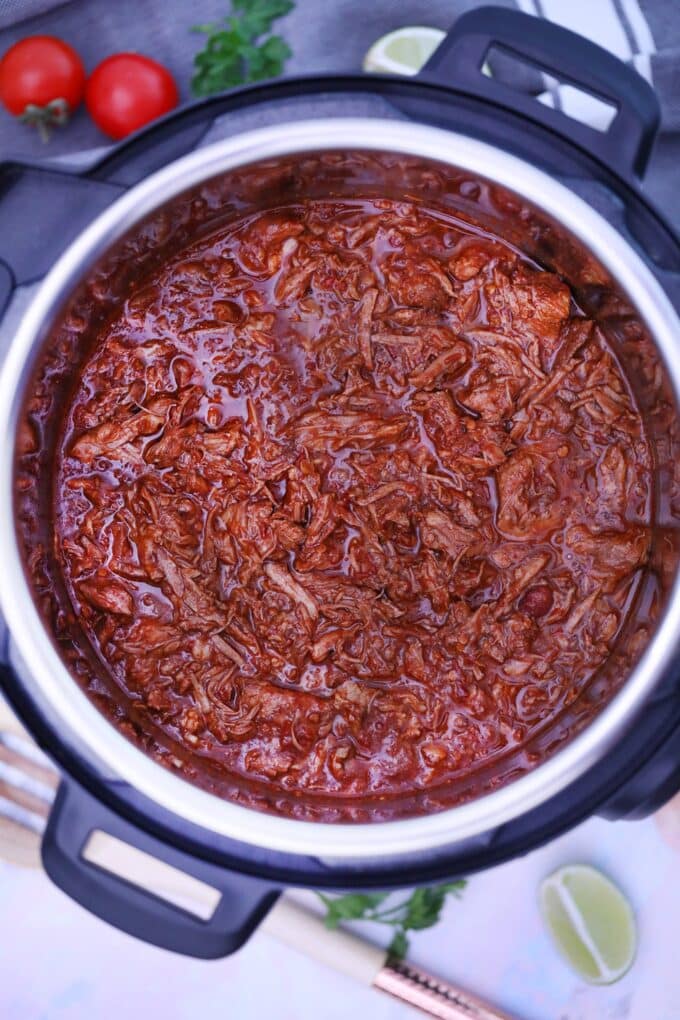 Is Barbacoa Beef healthy?
Beef is a good source of protein. Moreover, in this recipe, we are using briskets that contain high levels of oleic acid. This may actually help increase the level of good cholesterol in your body.
However, it is still best to eat this dish in moderation.
To make barbacoa beef, you will need the following ingredients:
A chuck roast or brisket: You could use any parts, but we love using these two specifically. Both parts are great as they have a bit of fat and when cooked under pressure it is very tender and flavorful.
Chipotles in adobo sauce: It makes this dish more authentic with a Mexican twist to it, as it ads some smoky flavor. Also, feel free to use more or less of it based on your preference.
Diced green chiles: They add a nice hint of spiciness to it. However, feel free to skip this part.
Onion: Use any type you like.
Freshly squeezed lime or lemon juice and apple cider vinegar: It adds some citrusy flavor and freshness to it.
Bay leaves, oregano, salt, pepper, and cloves: This is the mix of species we use, but you can substitute with others. For example, you could use thyme or rosemary as well.
Broth or beer: It is totally ok to use water. However, for enhanced flavor, we strongly recommend using beer or broth. It will make a difference in taste and flavor.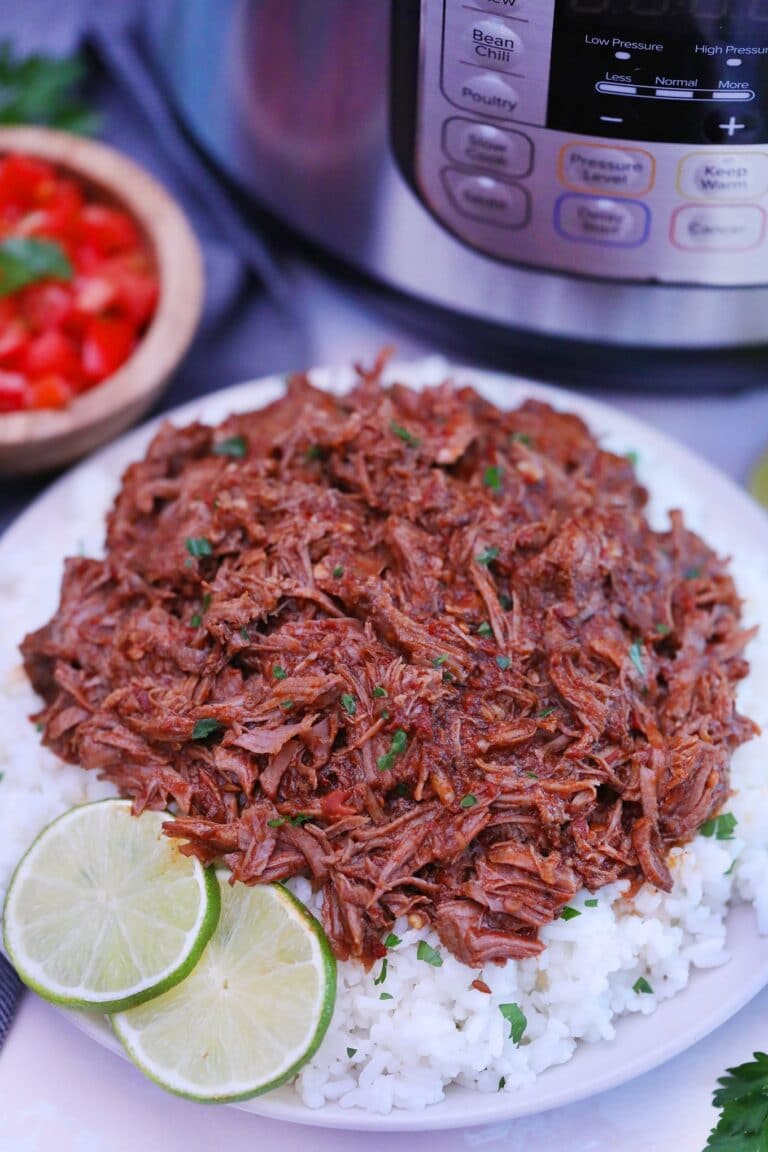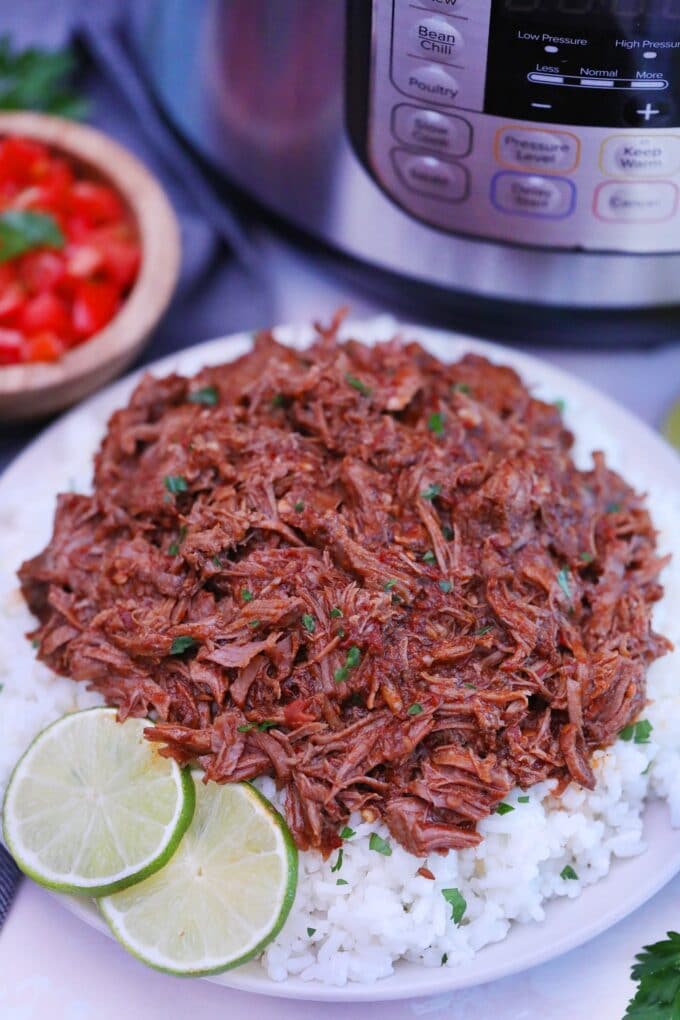 How do you make Instant Pot Barbacoa Beef?
Prepare the beef – Cut the briskets or chuck roasts into small chunks. We like cutting into larger pieces, but feel free to cut into smaller ones. Both versions are totally fine.
Prepare the sauce – Mix beef broth, chipotle chiles in adobo sauce, garlic, onion, lime juice, apple cider vinegar, and other sauce ingredients.
Saute the meat – Turn on the Saute mode of your instant pot. Saute the meat in olive oil until brown.
Cook it – Pour the sauce and broth or beer in the pot. Change the setting into a Pressure Cooker or manual mode. Leave for an hour. Check if you can easily shred the beef using two forks. Serve and enjoy!
How long do you cook Barbacoa Beef in the pressure cooker?
After sauteeing the meats, pour the prepared sauce and let the pressure cooker work for 40-50 minutes. Wait for the pressure to release naturally.
What is Natural Pressure Release?
It is when you allow the instant pot machine to cool naturally. The user does not need to do anything when the cooking time ends.
Use Natural Pressure Release when you want the meat to be very tender. Leave the machine in a Sealed position and just wait for the float valve to drop on its own.
How to make Barbacoa Beef in the Slow Cooker?
This recipe can also be easily made in the slow cooker or crockpot. The slow cooker version of this recipe can be accessed by clicking this link.
How do you serve Instant Pot Barbacoa Beef?
The most common way is to follow the Mexican style. Serve it wrapped in a burrito, with salsa, in tacos, on nachos, tostadas, enchiladas, quesadillas, or on top of a rice bowl. Also, add your favorite herbs and vegetables.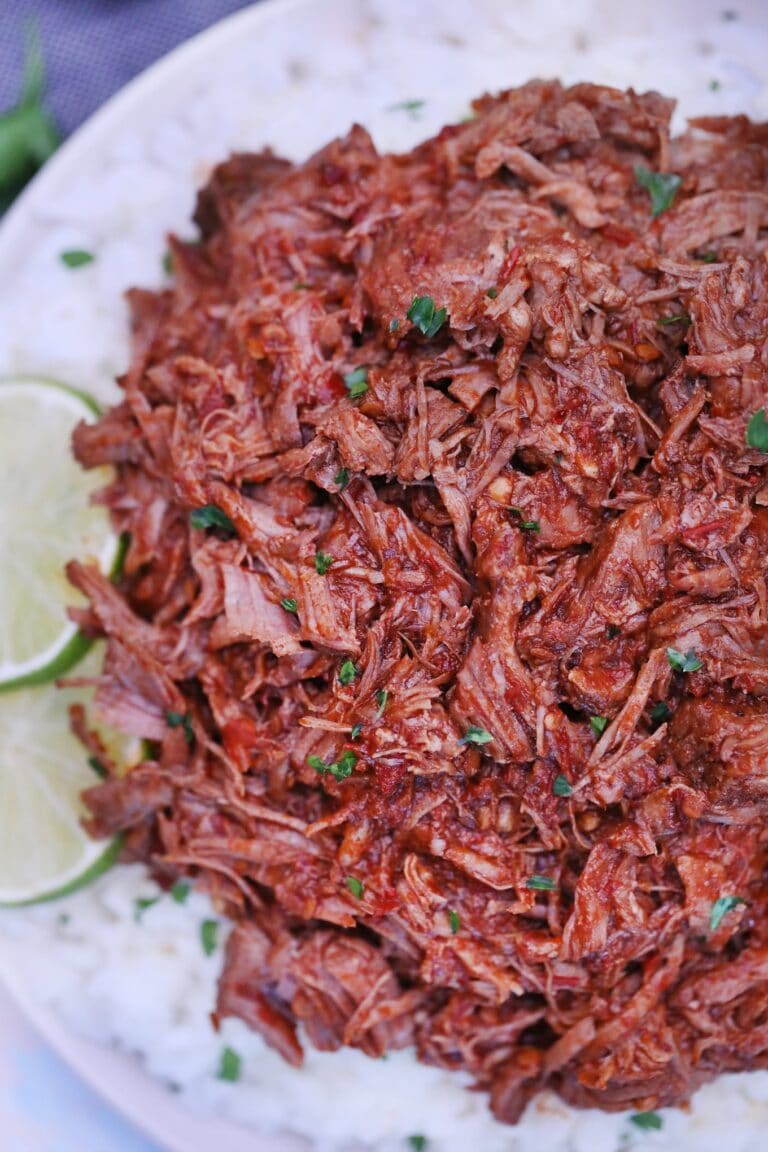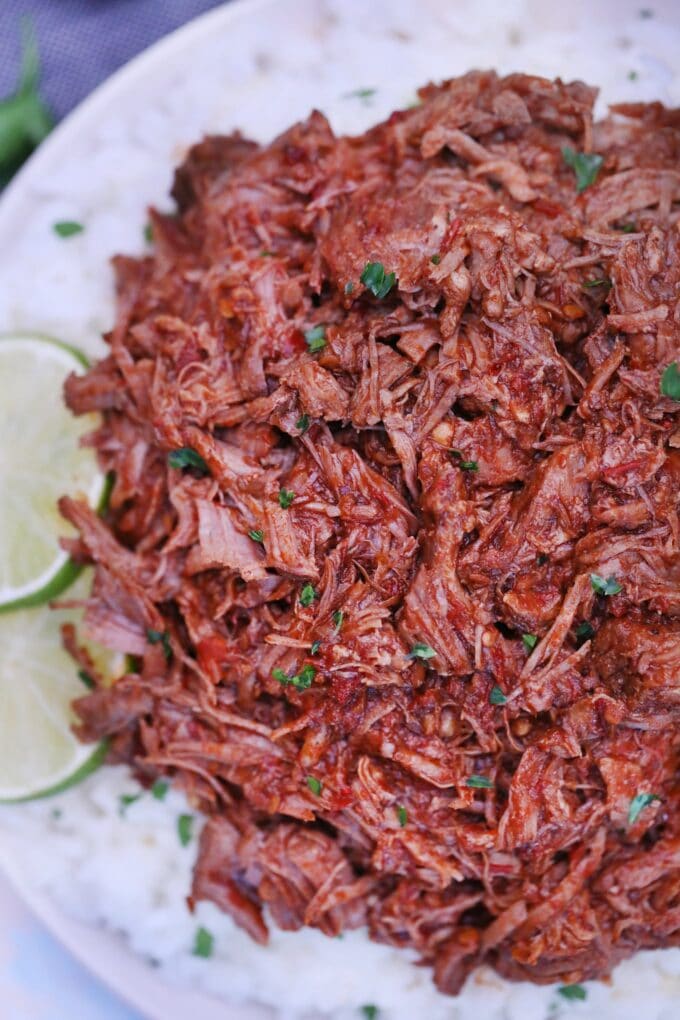 How do you store it?
Store leftover Beef Barbacoa in an airtight container before putting it in the fridge. It will last for at most 7 days. This way, you can serve the dish in the different Mexican styles mentioned above!
How do you freeze it?
If you want to make a large batch of it to serve on different occasions, it is safe to freeze the dish for up to 3 months. Remember to put some leftover liquid together with the meat before freezing it.
Recipe Tips
We recommend using a blender to combine the sauce ingredients well. It will be easier than mixing everything manually.
Also, control the spiciness of the dish by watching the amount of pepper you put. In addition, you can prepare the sauce a day in advance. Keep it chilled.
Mix some beer with the broth for extra flavor.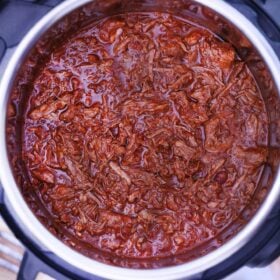 Instant Pot Barbacoa Beef
Instant Pot Barbacoa Beef is super tender and extra flavorful that can be done in no time at all. This dish is perfect for tacos, burritos, salads, quesadillas and much more!
Save
Share
Print
Pin
Rate
Ingredients
3

pounds

beef brisket

(or chuck roast - trimmed of extra fat and cut into 2-inch chunks)

1

cup

beef broth

2

medium Chipotle chiles in adobo sauce

(add more if preferred)

4

cloves

garlic minced

1

tablespoon

onion powder

1

tablespoon

apple cider vinegar

Juice of 1 lime

1

tablespoon

dried oregano

1

teaspoon

smoked paprika

1

tablespoon

cumin

1

teaspoon

sea salt

1

teaspoon

black pepper

1/4

teaspoon

red pepper flakes

2

whole bay leaf
Instructions
Add all the ingredients, except beef and bay leaves to a blender and puree until the mixture is smooth.

Add the beef chunks to the Instant Pot, If you have time, for extra flavor, you can saute them for a few minutes.

Pour the pureed mixture on top of the beef and add the bay leaves.

Lock the lid and point valve to sealed/

Cook for about 40 minutes on HIGH PRESSURE, followed by a 15 minutes Natural Pressure Release. The beef should be very tender and fall apart when shredded with a fork. If needed cook for 10-15 minutes more.

When done, remove the bay leaves and discard.

Shred the meat using two forks into the cooking juices. Let the beef absorb some of the juices for about 30 more minutes before serving.

Use a slotted spoon or tongs to serve.
Nutrition
Calories:
373
kcal
|
Carbohydrates:
3
g
|
Protein:
48
g
|
Fat:
17
g
|
Saturated Fat:
5
g
|
Cholesterol:
140
mg
|
Sodium:
783
mg
|
Potassium:
825
mg
|
Fiber:
1
g
|
Sugar:
0
g
|
Vitamin A:
465
IU
|
Vitamin C:
0.9
mg
|
Calcium:
44
mg
|
Iron:
5.7
mg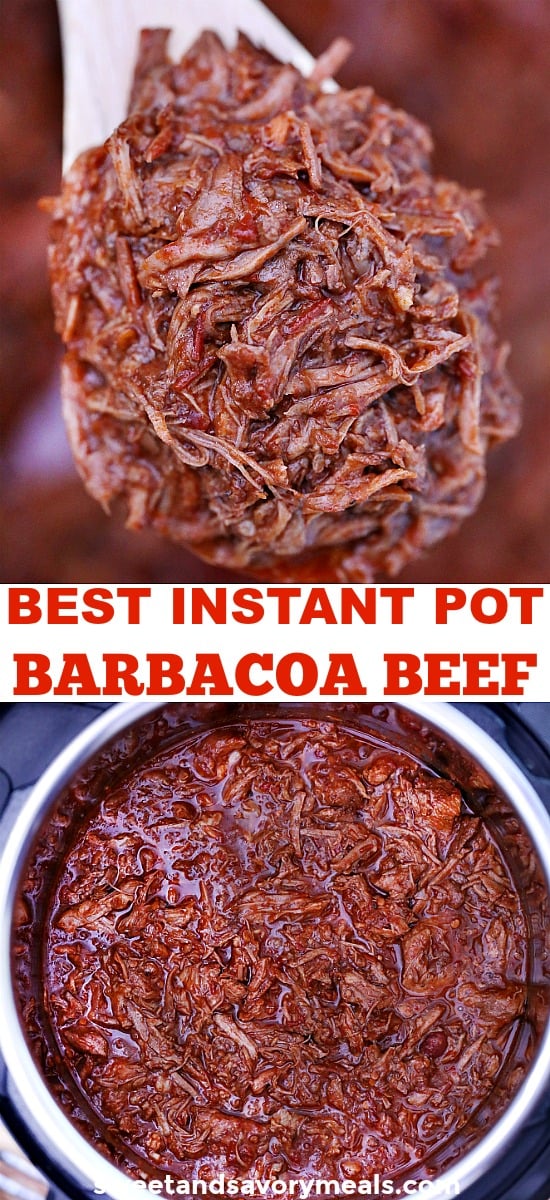 More recipes you might love