Instant Pot Mexican Beef Stew
Last updated on June 18th, 2021 at 11:35 pm
Instant Pot Mexican Beef Stew is incredibly tender, packed with veggies, and filled with unmistakable Tex-Mex flavor from the jalapenos, bold taco spices, fresh lime, and several other herbs and seasonings!
Make that Taco seasoning from scratch, so you always have some on hand! Use it for tasty dishes like Taco Breakfast Burrito and Instant Pot Chicken Tacos.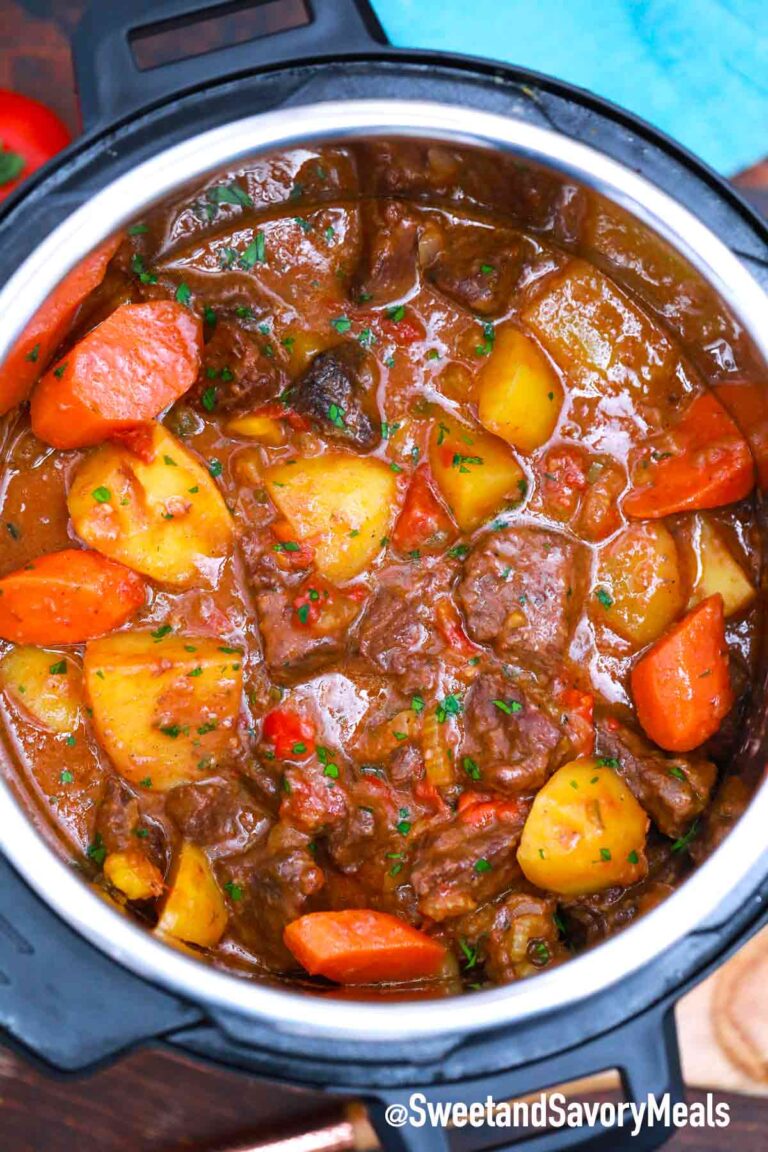 Pressure Cooker Mexican Beef Stew
Instant Pot Mexican Beef Stew is done in less than an hour, but you won't believe how brimming with flavor this stew is! It's so savory, slightly spicy, and zesty, all at once. The beef is meltingly tender, while the veggies are perfectly done!
And that fantastic sauce— it's rich with herbs, spices, broth, and a little butter and red wine. It's seriously impressive how well all those different flavors come together.
What is the best beef cut for stew?
Our first choice will always be a well-marbled chuck roast. It's a tough, affordable cut that's perfect for pressure or slow cooking. Once those connective tissues get broken down in the slow cooker or Instant Pot, you end up with the most tender meat that still has a nice bite.
It also has big, beefy flavors that make the resulting gravy or sauce incredibly delicious.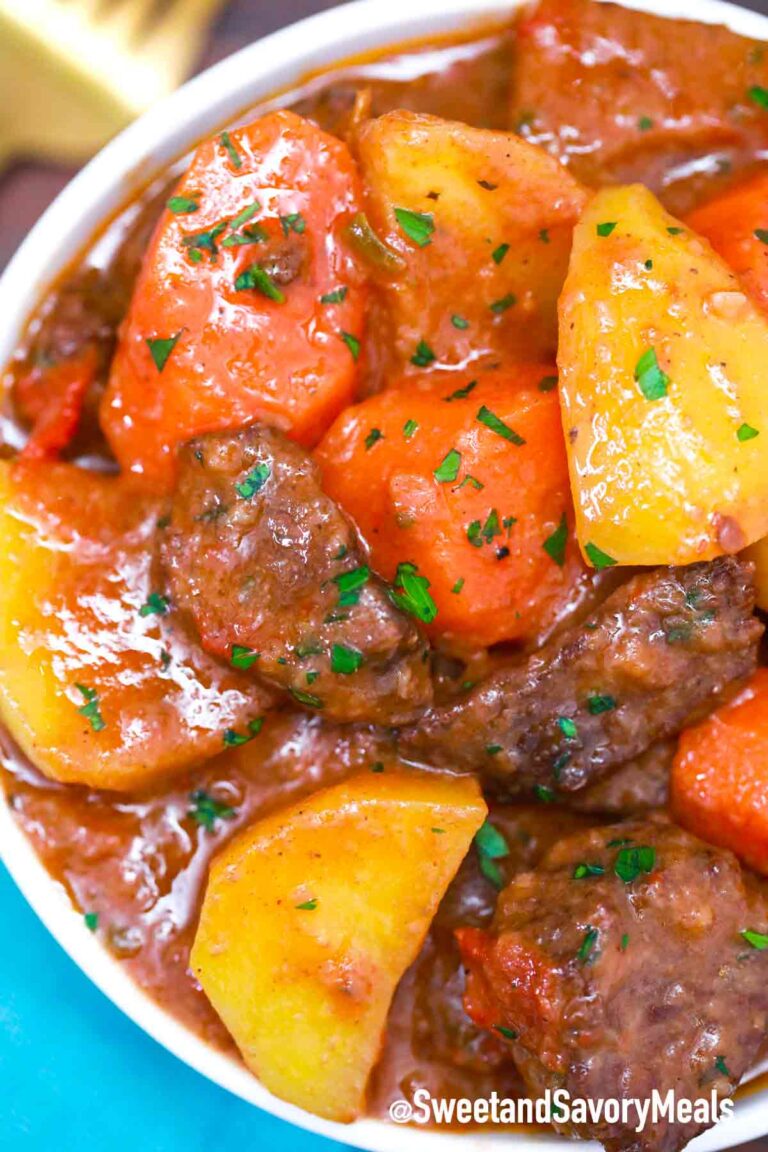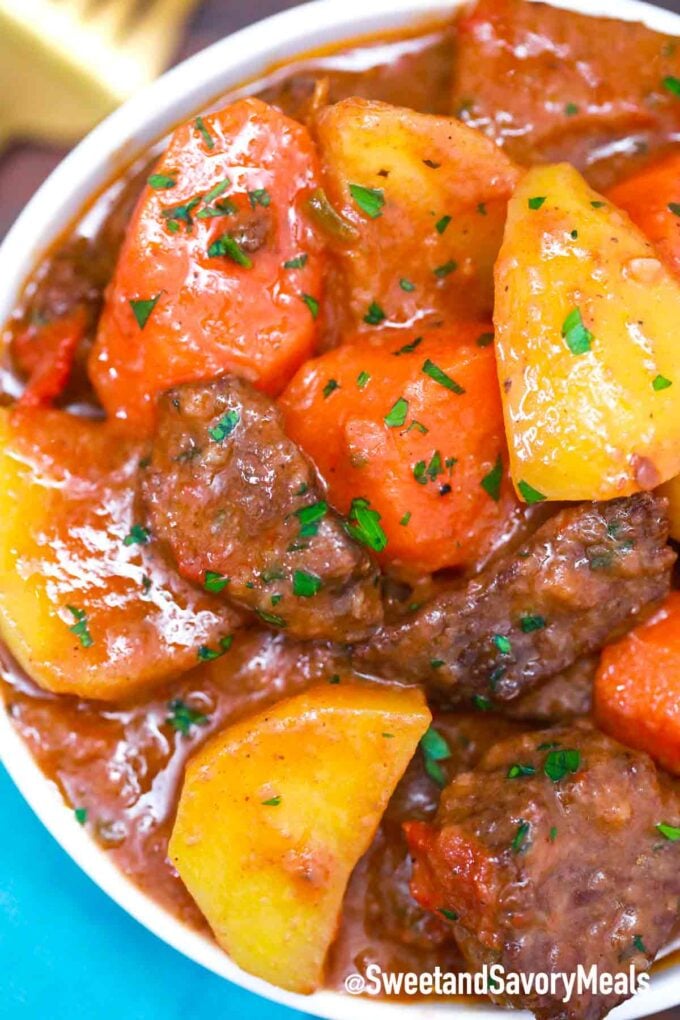 Instant Pot Mexican Beef Stew Ingredients:
Chuck roast, plus just enough flour to coat all the cubes lightly: Get one with lots of marbling. Divide into cubes.
Vegetable oil and butter: We're using these to saute and brown our ingredients.
Herbs and seasonings: For that bold Tex-Mex flavor, we're combining taco seasoning, fresh thyme sprigs, bay leaves, and tomato paste, plus a dash of Worcestershire.
Japalenos: These tangy, spicy peppers add both heat and depth to our sauce! You can skip them if you want a milder dish, but it really makes a difference.
Lime: Both the zest and juice wake up all those amazing Mexican flavors!
Aromatics: Fresh garlic, chopped celery, and fresh onions build the stew's base flavor.
Beef broth plus a little red wine: Use low-sodium stock to avoid too much salt in the dish, and you can use any basic red wine you have on hand.

Vegetables: Adding color and heartiness to our stew are different veggies like chunks of potatoes and carrots, bell peppers, and diced tomatoes.
How to make Instant Pot Mexican Beef Stew?
Sear. Using the IP's Saute mode, heat the oil. Once it's hot, sear the floured beef until nice and deep brown. Remove and leave aside.
Deglaze and saute. Using red wine, scrape off all the brown bits from the IP. Add a little butter, then stir-fry your aromatics. Add the bell peppers and taco spice blend, tomatoes, Worcestershire, lime, and tomatoes, followed by the broth.
Layer. Arrange the meat cubes in the IP, topped with the veggies. Add herbs on top.
Cook. Cook on High for 35 mins., then leave it to release steam for 15 minutes before opening the valve.
Serve. Enjoy hot with your preferred sides!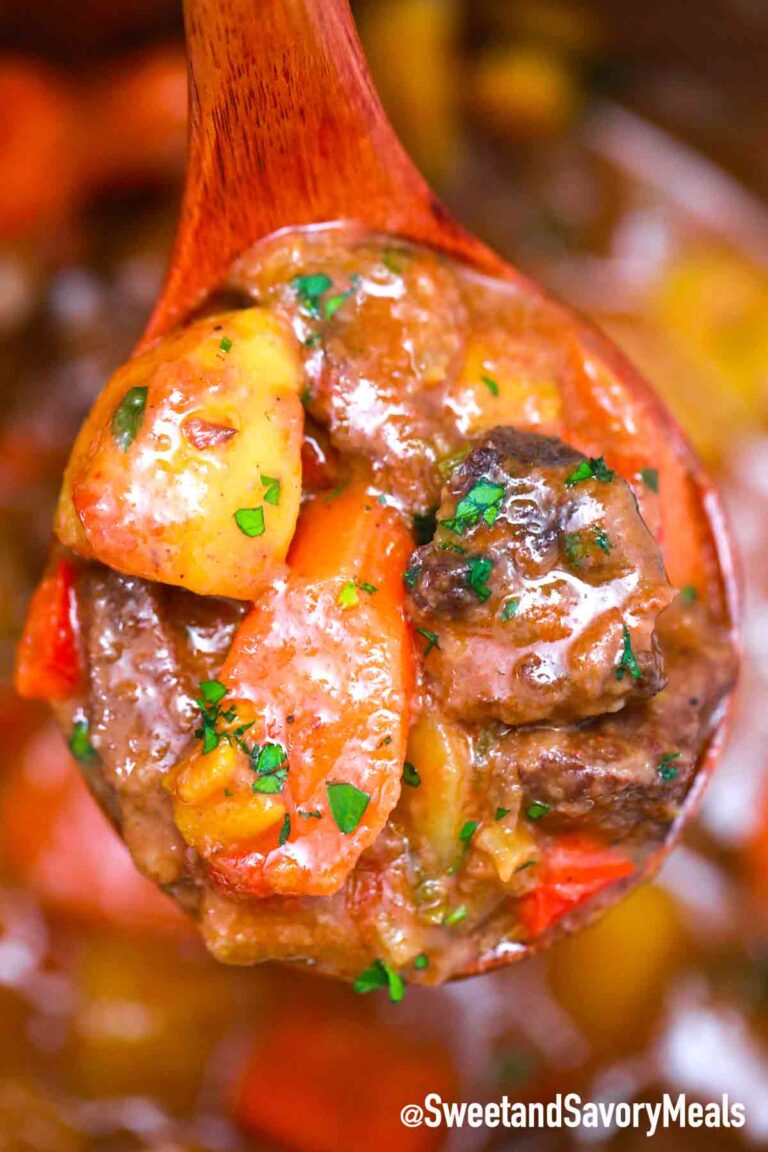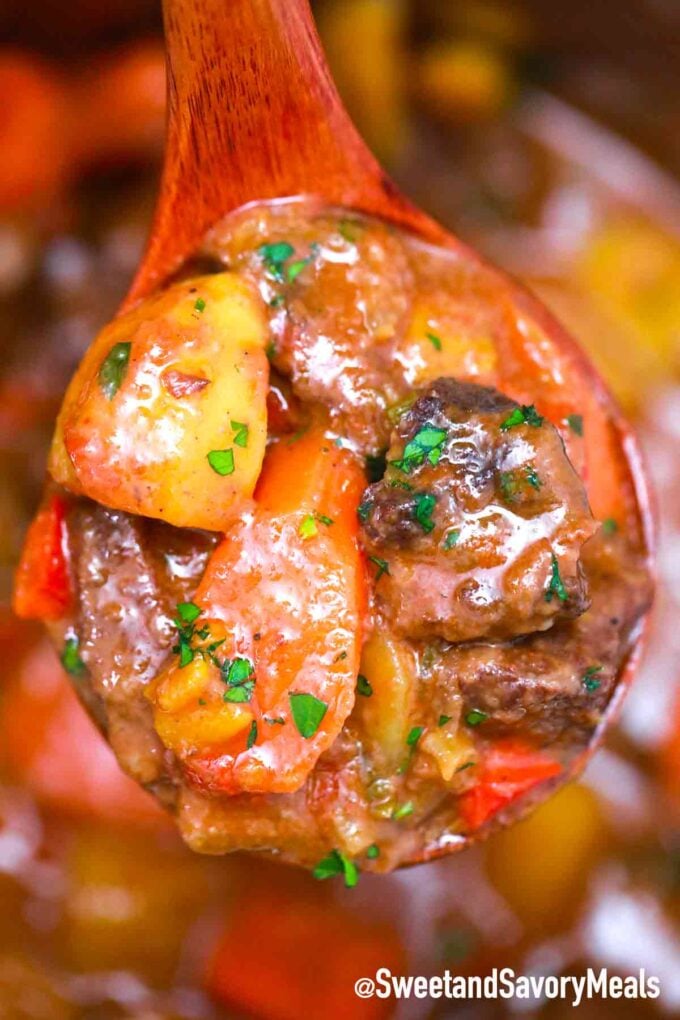 Recipe Variations and Substitutions:
Oven method: Don't have an Instant Pot? This Mexican Beef Stew recipe begins on the stove and gets finished in the oven.
Spicier: Love heat? Add some chopped serrano peppers, dried red chilies, pepper flakes, or cayenne.
Slow cooker: Prepare all the ingredients for this Mexican stew, then use these slow cooker instructions.
Include other veggies: Throw in whatever veggies you have in the fridge! Most vegetables will work in this dish, like frozen corn and peas, green beans, squash, sweet potatoes, baby spinach, and zucchini.
Use other meat cuts: Aside from chuck, you can also use cubed brisket and bottom round roast.
More Instant Pot recipes to try:
Can you overcook beef in an Instant pot?
Yes, and overcooked meat is almost impossible to salvage. You'll be left with tasteless and stringy fibers that are simply unpleasant to eat. That's why it's so important to pay attention to the timing of Instant Pot recipes. Not just the pressure cooking part, but the pressure release instructions as well.
How do you thicken stew in an Instant pot?
First, you can turn on the Saute function and let the sauce simmer down to a thicker consistency. You can also use a cornstarch or flour slurry. Mix it in, then simmer using the Saute function until thick. Depending on the recipe, you can also add some heavy cream to the sauce.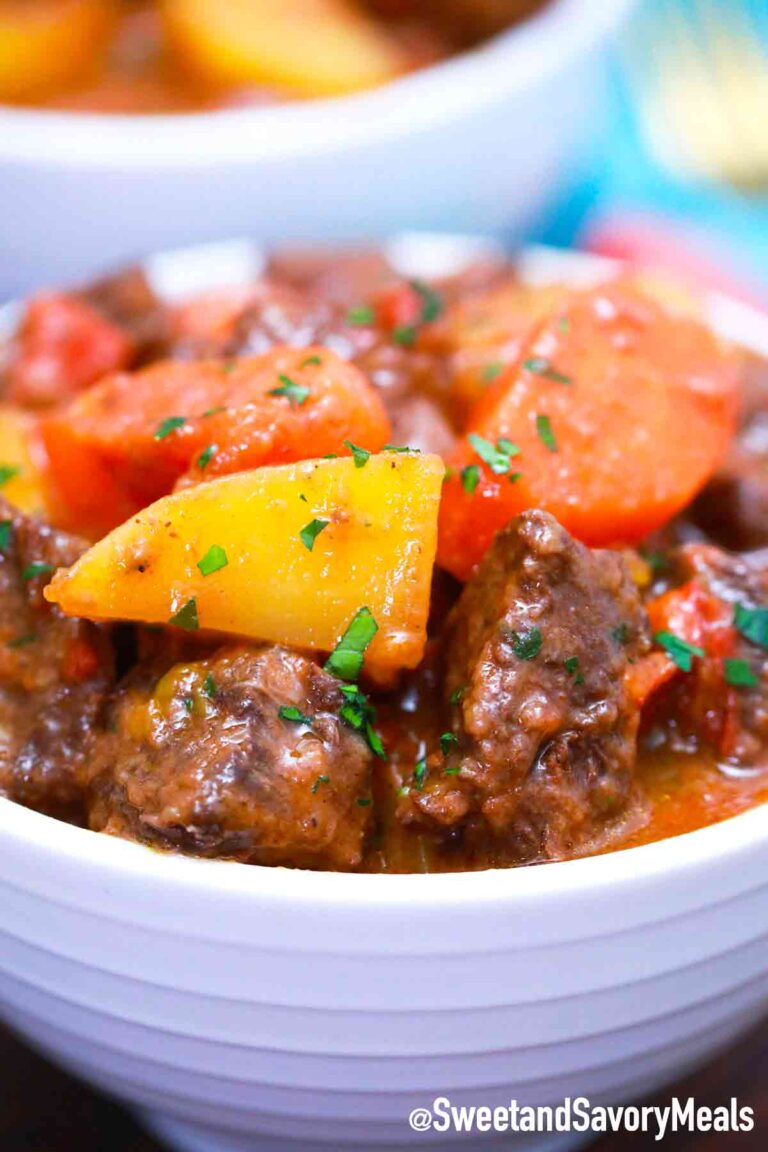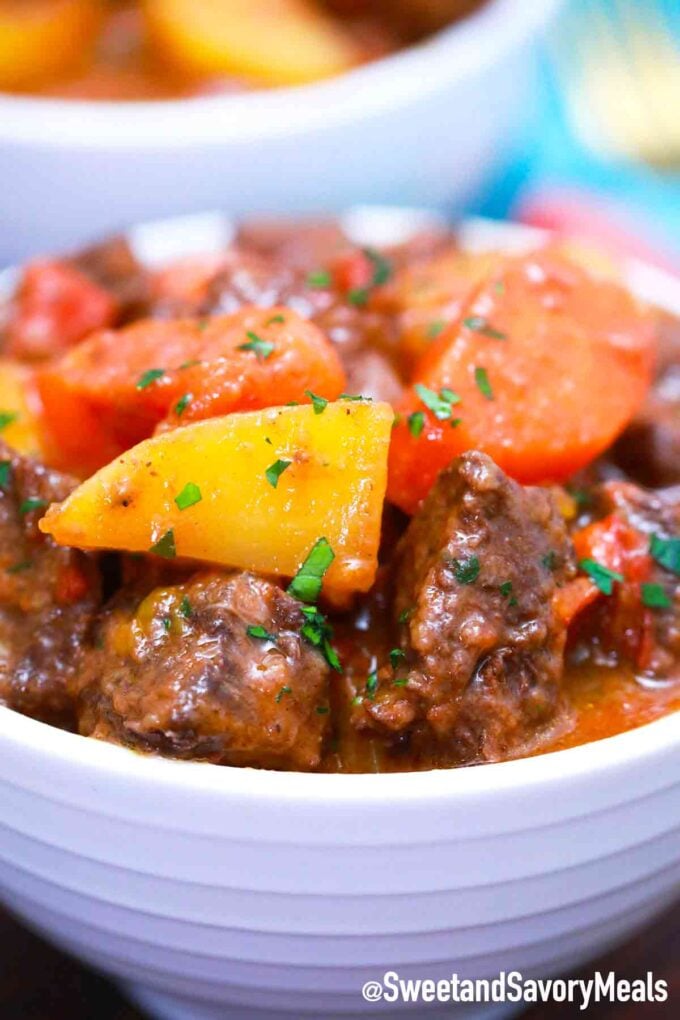 What sides go with Mexican Beef Stew?
Bake up from fresh dinner rolls or crusty bread to wipe every bit of that flavorful sauce! For a complete Mexican-inspired spread, serve it with homemade Chipotle Black Beans, Mexican Salad with Lime Dressing, and Cilantro Lime Rice. If you want more classic sides, mashed potatoes would be perfect.
Storage instructions:
Before placing in a well-sealed container or freezer bag, cool all the leftovers entirely first. Keep in the fridge up to a week, and 3 months frozen.
To reheat, defrost frozen leftovers overnight or on the counter. You can microwave until hot or warm-up on the stove with a bit of water or stock.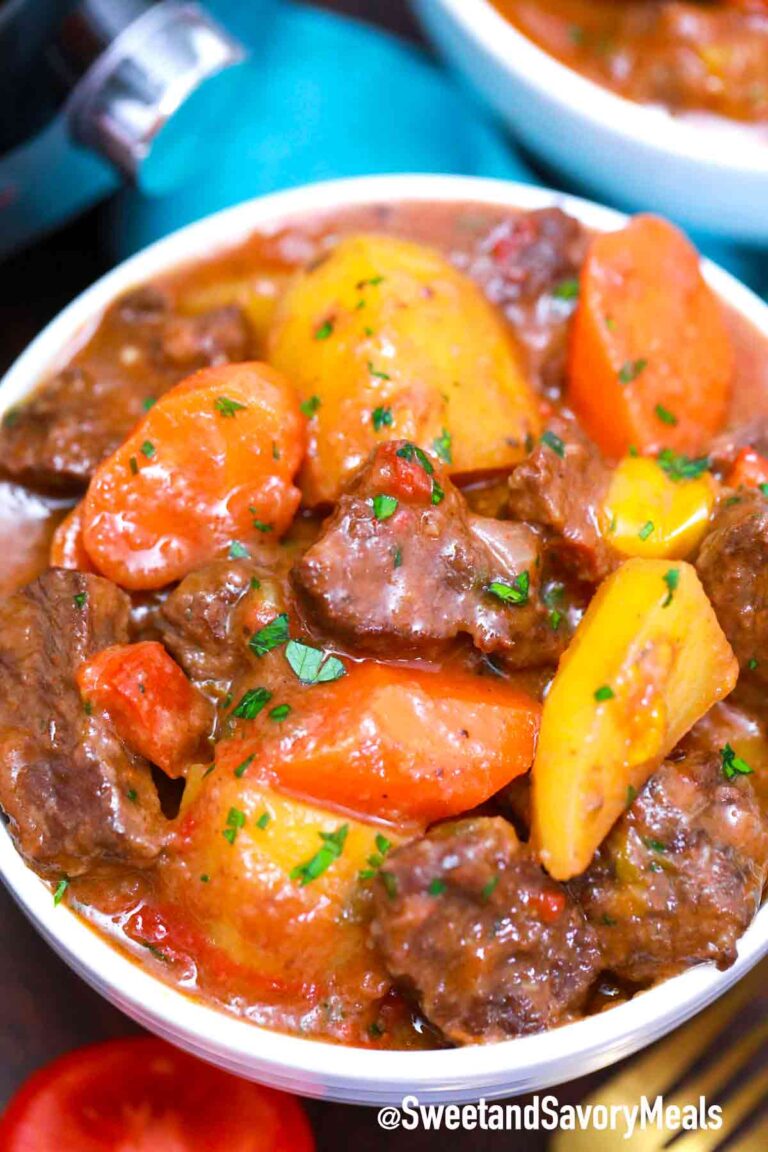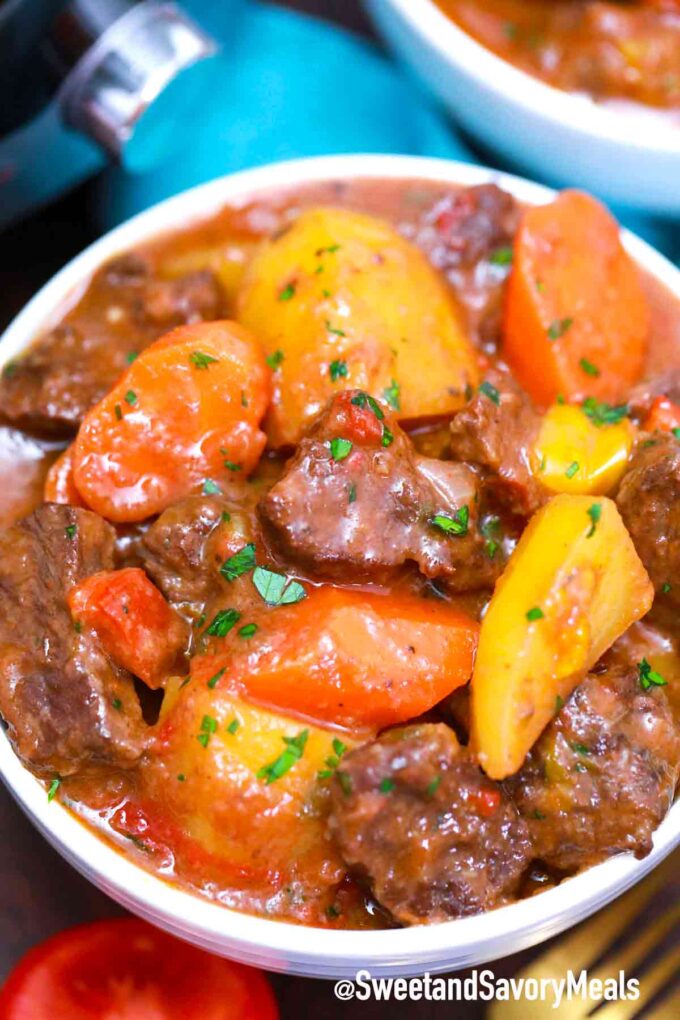 Recipe tips:
When buying chuck, we recommend getting it whole and slicing it into cubes yourself.

You can skip the browning part if you want to save time, but it does add a lot of flavors.
Want a milder stew? Skip the jalapenos.
Chop the veggies in big chunks so they stay intact after cooking.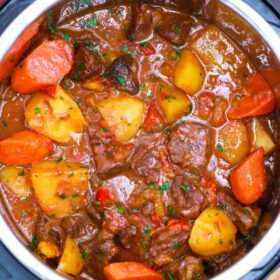 Instant Pot Mexican Beef Stew
Instant Pot Mexican Beef Stew is incredibly tender, packed with veggies, and filled with unmistakable Tex-Mex flavor from the taco spices!
Save
Share
Print
Pin
Rate
Ingredients
2

pounds

chuck roast

(trimmed and cut into 2-3 inch cubes)

1/4

cup

all-purpose flour

2

teaspoons

salt

1/4

teaspoon

freshly ground pepper

4

tablespoons

vegetable oil

1

cup

red wine

2

tablespoons

butter

(unsalted)

1

medium onion

(peeled and finely diced4 cloves garlic (minced))

4

cloves

garlic

(whole)

2

tablespoons

Worcestershire sauce

2

tablespoons

tomato paste

1

can 14oz diced tomatoes

2

jalapenos

(diced)

1

chipotle in adobo sauce

2

bell peppers

(any color - chopped)

3

tablespoons

taco seasoning

Juice of 1 lime

Zest of 1 lime

3

cups

beef broth

(low-sodium, more if needed)

3

bay leaves

1

bunch of fresh thyme

3

medium carrots

(peeled and cut into 1/4-inch rounds)

1

cup

celery

(diced)

1

pound

mini red potatoes

(peeled and cut into halves)

Chopped fresh cilantro

(for garnish)
Instructions
Prepare the beef:
Cut the beef into cubes, place in a bowl and add flour and some salt. Mix it so it's well coated.
Sear:
Turn on Saute mode, add and heat the oil. Once it's hot, sear the floured beef until browned. Remove and set aside.

Deglaze the pot using the red wine, and scrape with a wooden spoon the bits that stuck to the bottom.

Add the butter, and saute the onion for 2-3 minutes, add the garlic and saute for 30 seconds.

Add the bell peppers, jalapeno peppers, chipotle, and taco spice blend, tomato paste, Worcestershire, lime zest and juice, diced tomatoes, followed by the broth. Stir to combine.
Add the beef:
Add the carrots, celery, potatoes stir and add the beef on top.

Add the thyme and bay leaves.
Pressure cook:
Pressure Cook on High for 35 mins., then do a NPR for 15 minutes, release manually the remaining pressure.
Open the pot:
Discard the thyme and the bay leaves.

If you prefer a thicker stew, combine 2 tablespoons of cornstarch with 1/4 cup water until dissolved and add the sulyy to the IP, cook on Saute until thickened.

Stir, taste and adjust for salt and pepper and serve.

Garnish with chopped cilantro.
Nutrition
Calories:
552
kcal
|
Carbohydrates:
27
g
|
Protein:
34
g
|
Fat:
32
g
|
Saturated Fat:
16
g
|
Trans Fat:
1
g
|
Cholesterol:
104
mg
|
Sodium:
1639
mg
|
Potassium:
1340
mg
|
Fiber:
4
g
|
Sugar:
7
g
|
Vitamin A:
6873
IU
|
Vitamin C:
69
mg
|
Calcium:
85
mg
|
Iron:
5
mg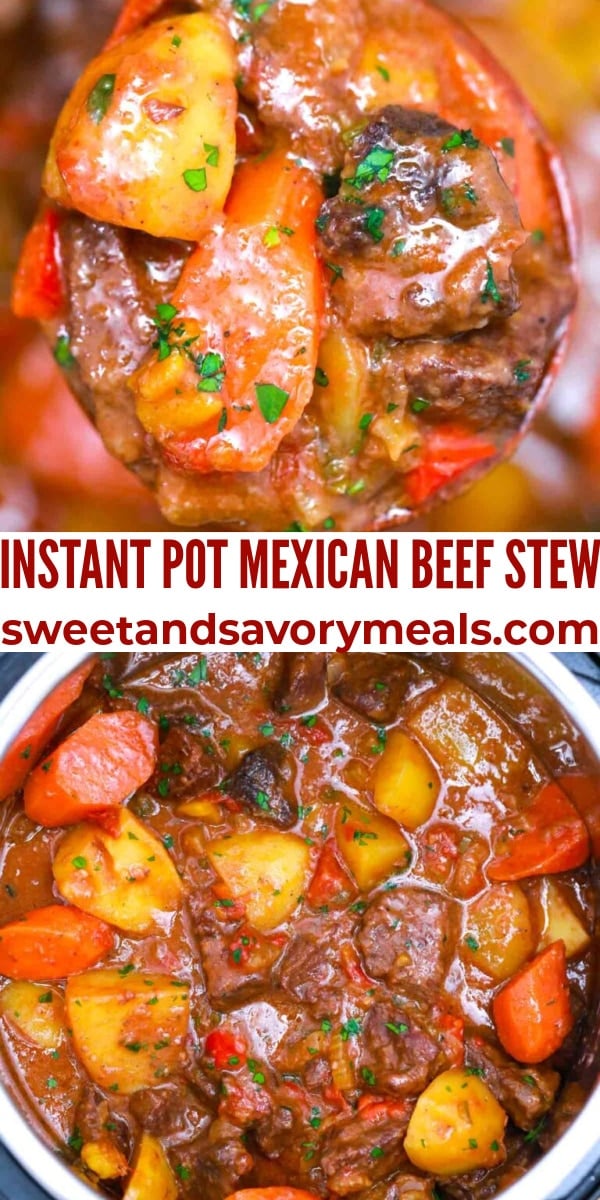 More recipes you might love