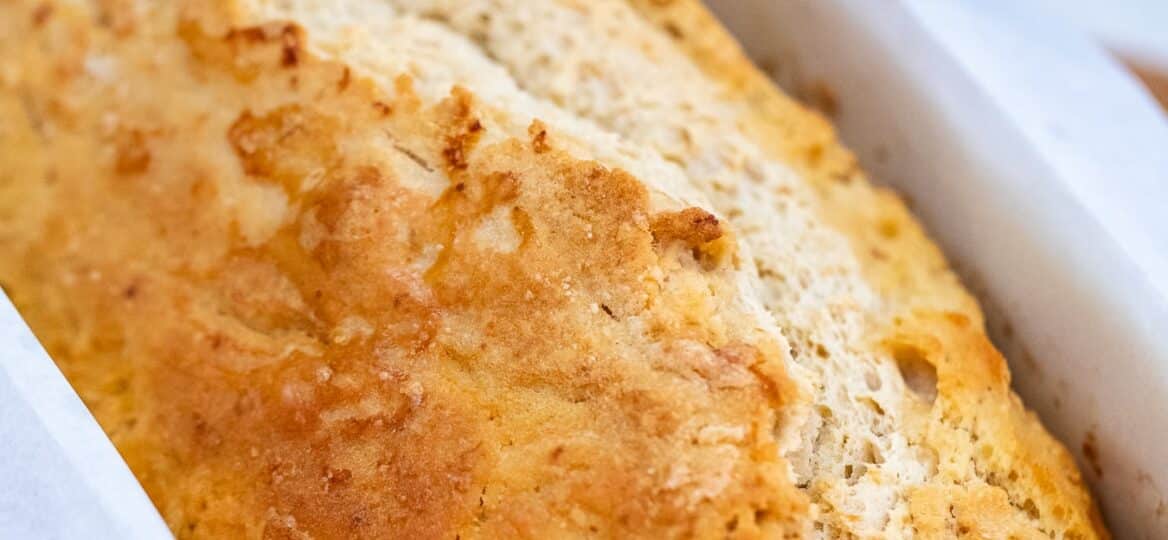 Beer Bread Recipe [Video]
Beer Bread is a soft and flavorful bread that can be made with your favorite type of beer! With just a few ingredients, this recipe is foolproof! Also, watch the recipe video attached and see how easy this is to make!
Bread-lover or not, you will surely love this recipe. It is easy, simple, and made with just a handful of ingredients! I like to pair it with Ham and Bean Soup, Wendy's Chili, or Hot Cheesy Crab Dip!
Easy Beer Bread Recipe
Beer Bread is so simple that it takes only an hour of baking and uses about seven ingredients or less! Make this as part of your regular menu rotation especially during the soup season. Also, this is a great recipe to enjoy during St. Patrick's Day! It is a nice side dish to serve with almost any kind of soup, dip, or meaty main dishes.
Beer is an effective baking ingredient. It helps the dough rise as it helps sustain the leavening, just like what buttermilk or yogurt does in other recipes. Also, it lends a bit of its flavor to the end product.
I have a stash of this beverage hiding at the back of my fridge and I thought of this recipe. I would not need much of it but this recipe is a nice way of consuming alcohol without getting intoxicated!
What is Beer Bread?
It is a kind of bread that has the beer as the support for the leavening agent which is the baking powder in this recipe. Aside from these two ingredients, we also add sugar and salt into the flour to make the dough. Then, melted butter is added.
It is very popular during St. Patrick's Day, but it can be enjoyed year-round.
That is the simplest recipe for this. If you want to boost the flavor, add in more ingredients like herbs and aromatics.
What beer is best for Beer Bread?
Any kind will do. But I recommend that you use something that you consume yourself. It will slightly taste it so make sure that what you put in the dough is something that you like.
How to make Beer Bread:
For a quick step by step guideline, please watch the video tutorial attached above. But the general steps are as follows:
Prepare for baking: Preheat the oven and grease your loaf pan.
Make the dough: In a bowl, mix the dry ingredients. Once thoroughly mixed, stir in the beer. Pour the melted butter all over the dough.
Bake: Put the dough in the loaf pan then, bake for an hour.
Serve: Remove it from the pan then, allow it to cool for about 15 minutes before serving.
Beer Bread Recipe Variations
For the melted butter, you can opt to mix it in for a softer outcome. But when poured over the top, a nice crust is formed. You can also add toppings like poppy seeds or cheese before putting it in the oven.
Here are some suggested add-ins that you can mix along with the dry ingredients when you make the dough:
sautéed onions and garlic
shredded cheese
sundried-tomatoes and pesto
parmesan and cheese
crumbled bacon
browned ground beef or sausage
Can you make Beer Bread in advance?
Yes! It stays fresh for up to 3 days given that it is wrapped in plastic. Store it at room temperature. You can even freeze it!
Can you freeze beer bread?
The first step is to slice it.
Then, put parchment paper in between the slices and put them inside a plastic bag.
Then, double wrap by putting the bag inside a freezer bag.
More St. Patrick's day recipes:
Easy Beer Bread Recipe Tips:
Use self-rising flour in place of the flour and eliminate the use of baking powder and salt.
When preparing the flour, spoon it in the measuring cup and level the top. This way, you will be using just enough and not compact it. Because if you simply use the cup to scoop it out, you will be using too much and results will be tougher than expected. You can also sift it first.
You can also roll out the dough and bake it in a pizza pan to make a crust!