Guinness Beef Stew [Video]
Guinness Beef Stew has melt-in-your-mouth beef bites with veggie chunks simmered in your favorite Irish beer! This hearty recipe is perfect for St. Patrick's Day!
It is a meaty soup recipe that you can serve along with Beer Bread, Pudding Mint Chocolate Chip Cookies, and Bacon Fried Cabbage! These are all dishes that are perfect to celebrate the Irish tradition!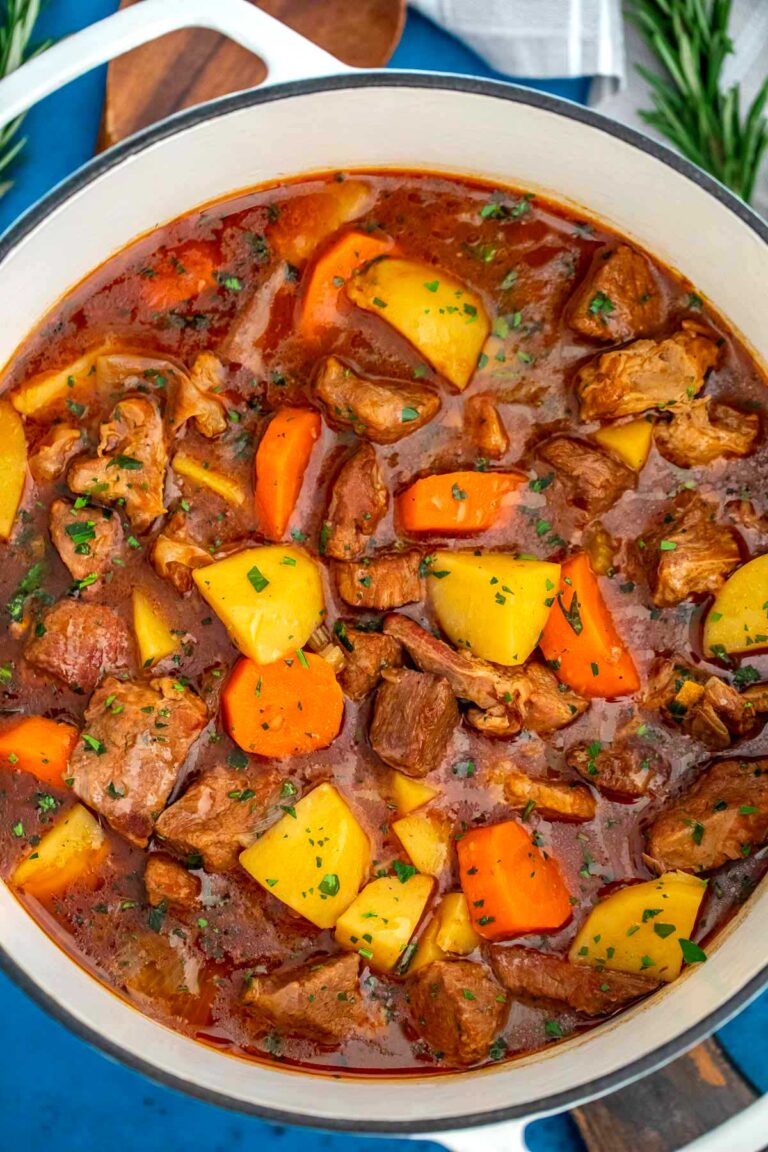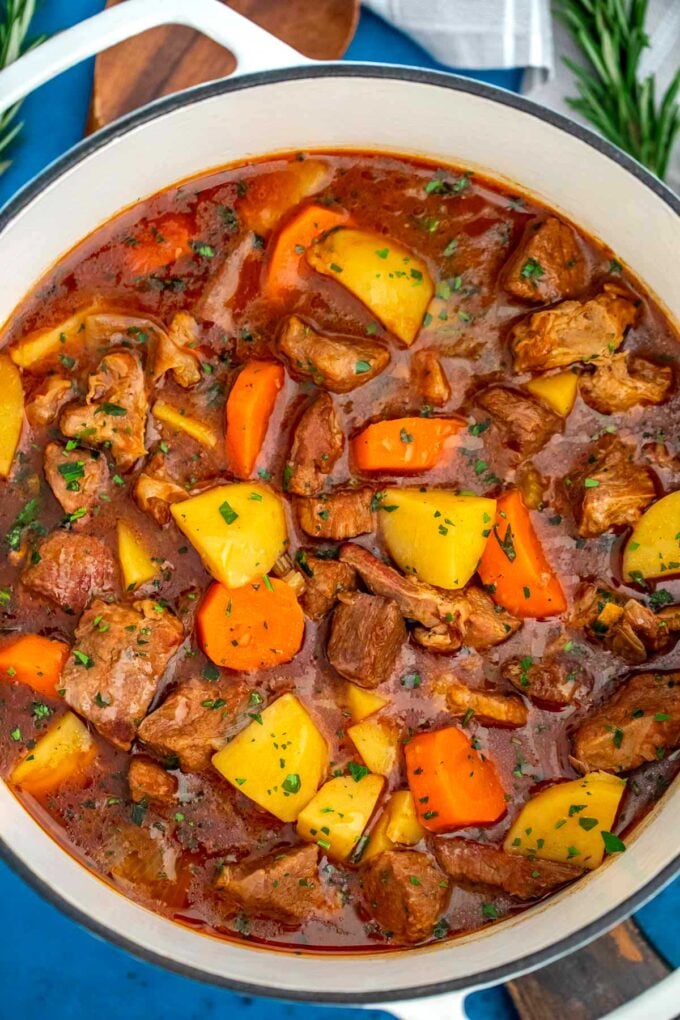 Irish Guinness Beef Stew
Guinness Beef Stew owes its flavors from the famous alcoholic drink as well as the rich taste of beef. They taste so good together! And with the addition of the vegetables, aromatics, and Worcestershire sauce in the broth further enhances the deep flavors of the soup.
Also called Irish Beef and Guinness Stew, this dish is famous in Ireland where the Guinness beer brand originated around the 18th century. Until today, it remains to be a popular drink globally, not just in Ireland. No wonder, recipes also include this favorite drink among the ingredients, just like this recipe.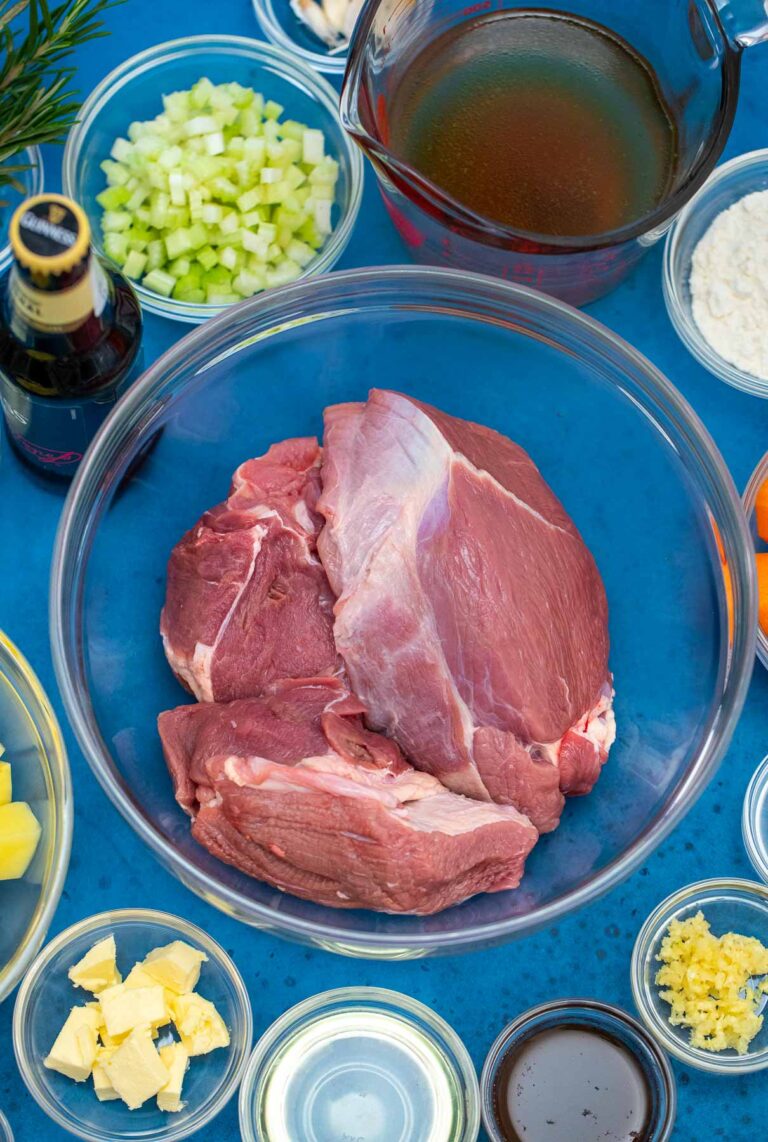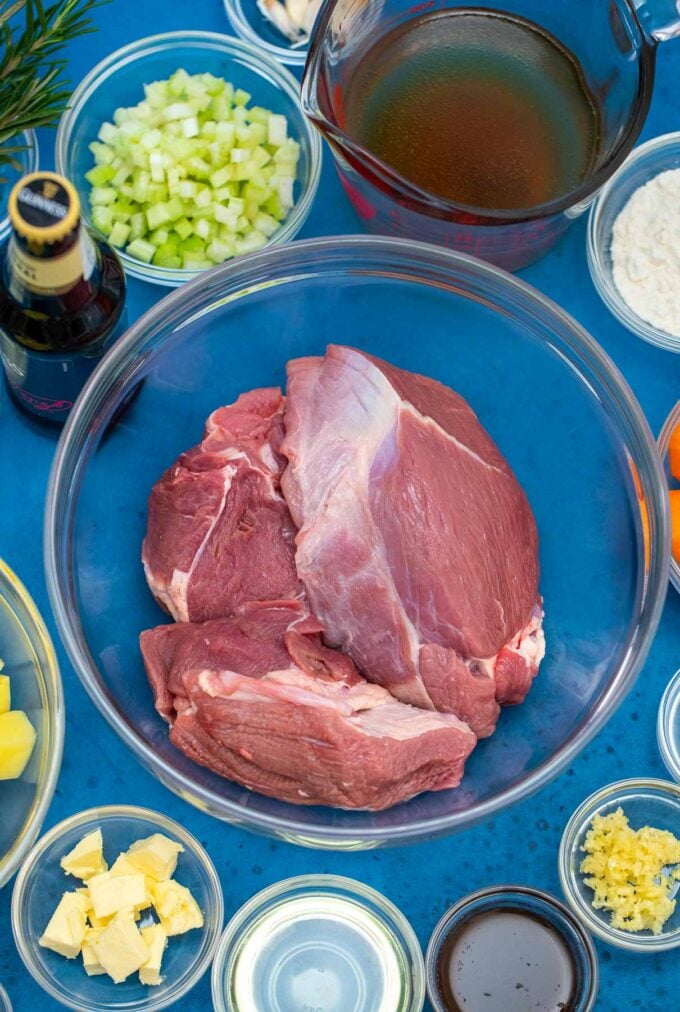 I love how this dish can be so comforting despite the meatiness and rich taste of the broth. Serve it with bread, rice, or pasta which make a perfect canvass for the colorful flavors of this soup.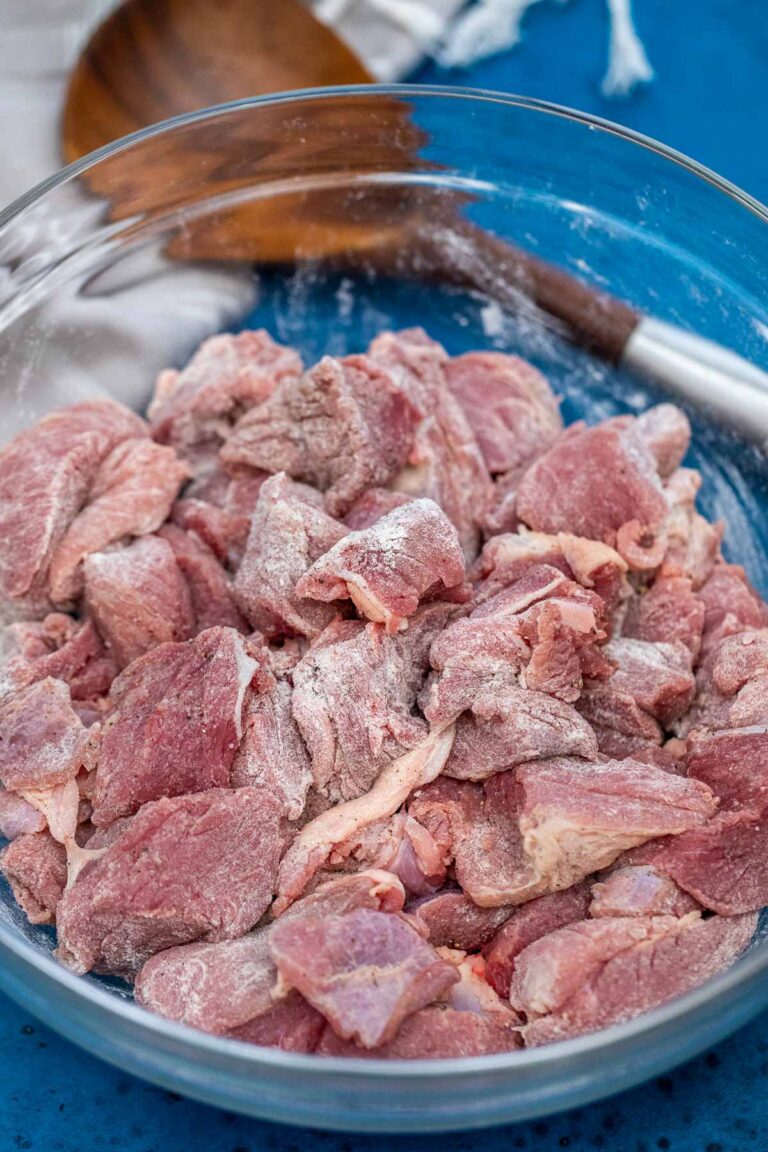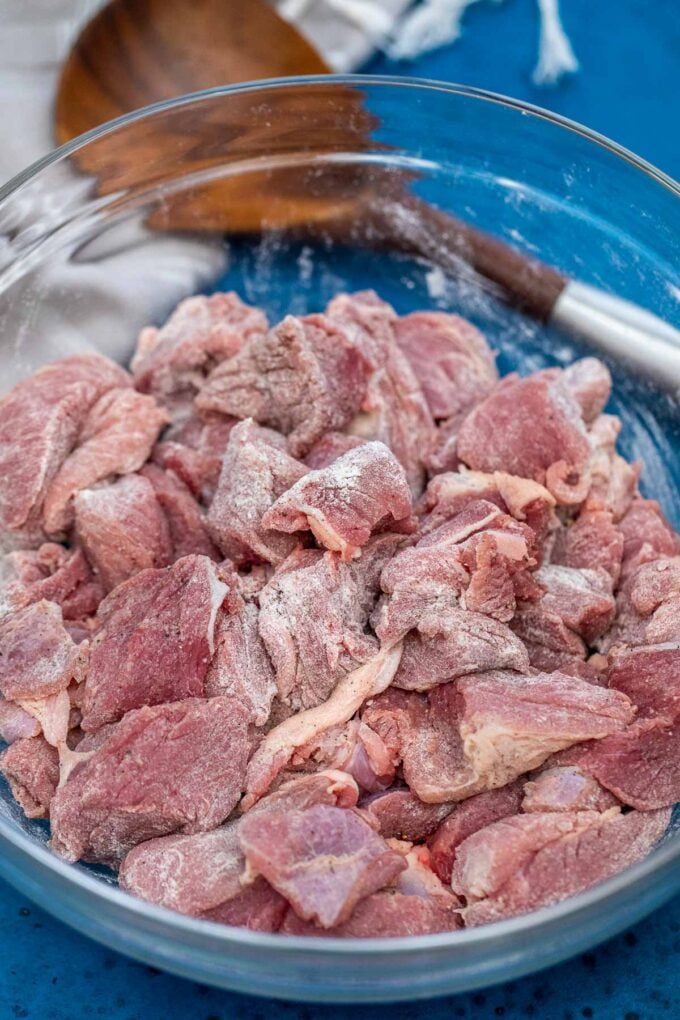 What kind of beer goes in Guinness Beef Stew?
It sports the Guinness beer which has a deep and dark brown color because of the roasted barley incorporated in it. This gives the stew its characteristic color, too.
This specific beer is a kind of porter and has a bitterness that complements the beef. The malt in it balances out some of the bitterness in it. The addition of the various vegetables helps, too.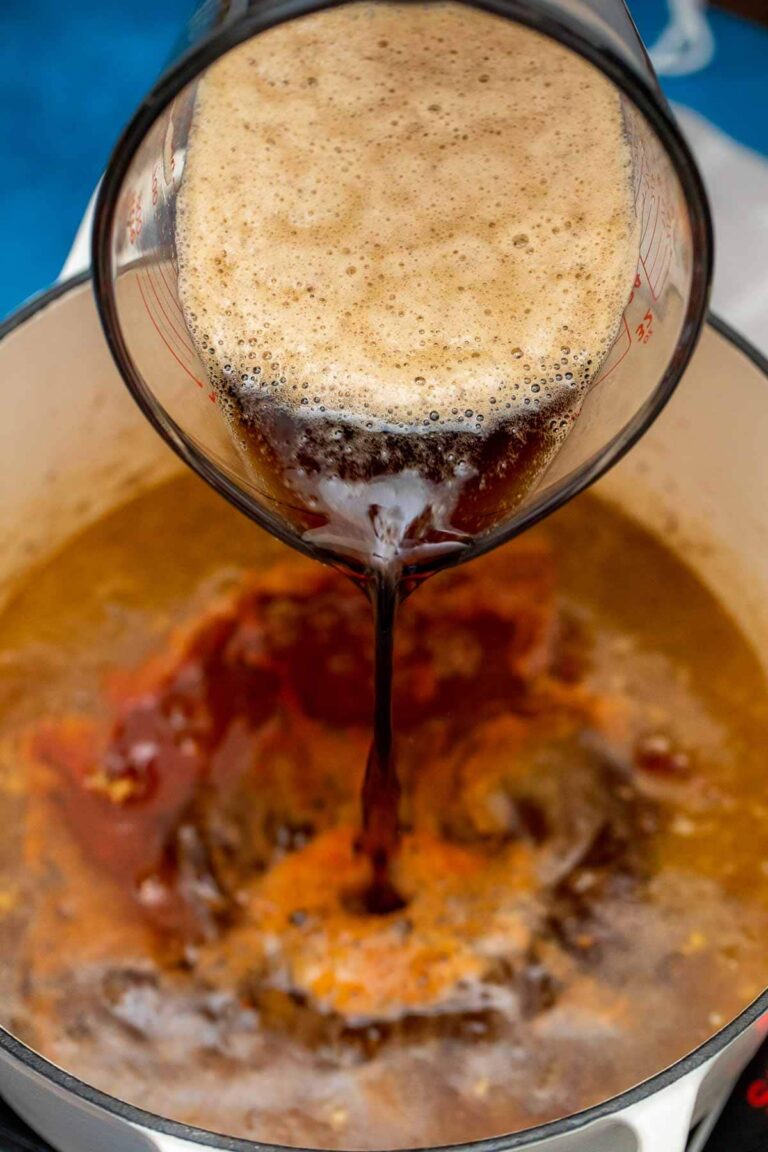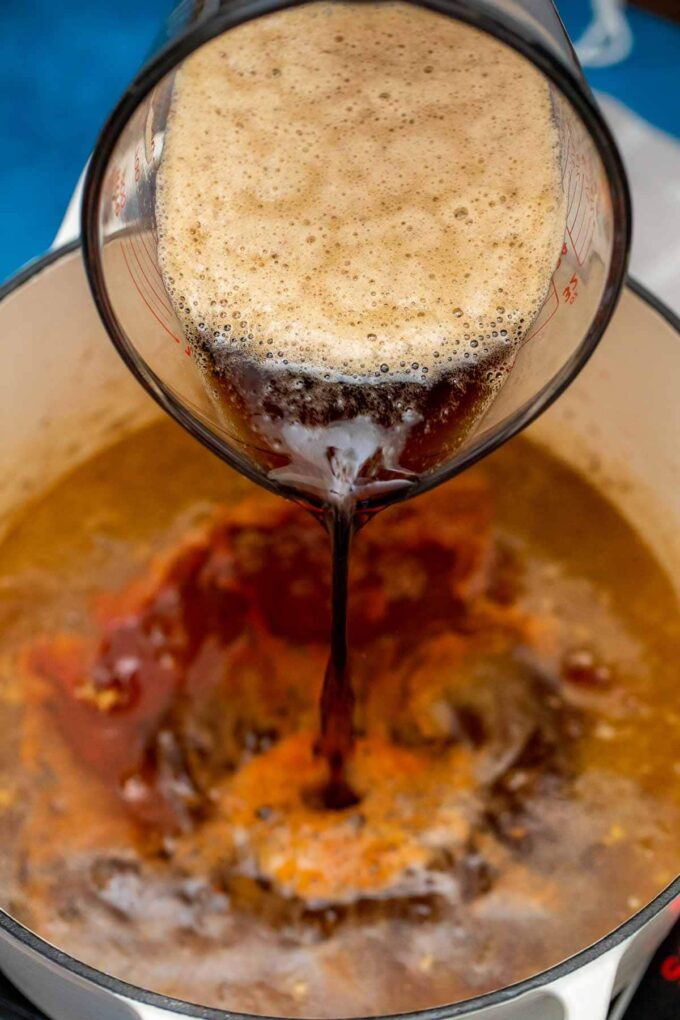 How to make Beef and Guinness Stew?
Season: Toss the meat in salt, pepper, and flour.
Brown: In a Dutch oven or similar pot, heat some oil and add the seasoned meat. Cook until browned evenly on all sides. Do this in batches, covering the browned ones in foil while you brown the other batches.
Deglaze: Add broth in the pot and scrape the bottom where the drippings stick. Do not skip this step as the drippings are flavorful and will make your stew richer.
Sauté: Add butter and sauté the aromatics. Stir in the Worcestershire sauce and tomato paste before adding in the beer.
Simmer: Add in the beef cubes and the rest of the aromatics and herbs. Allow everything to cook on low for about an hour and a half.
Oven-cook: Preheat the oven to 300 degrees Fahrenheit. Discard the herbs, add in the vegetables in the soup, and continue cooking in the oven for about an hour until the veggies are done. Add broth or water as needed.
Thicken: After cooking, add a slurry of cornstarch if you want to thicken it further.
Serve: Garnish, then, serve while still warm.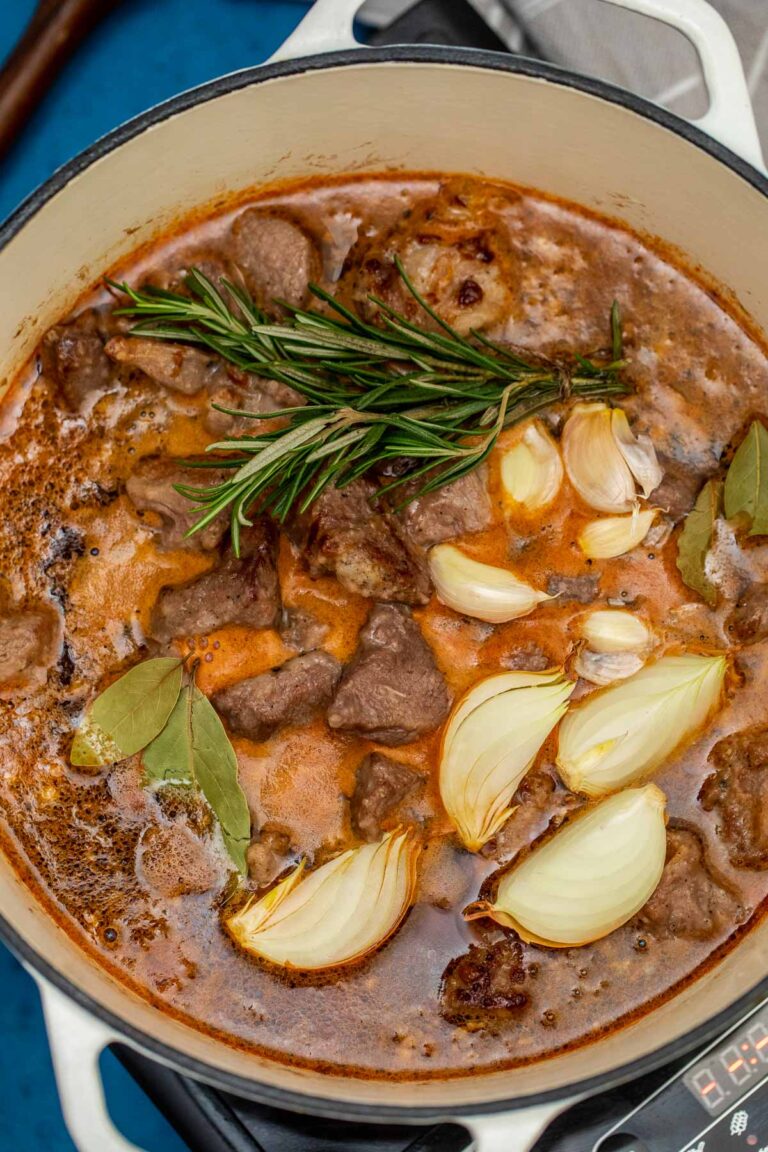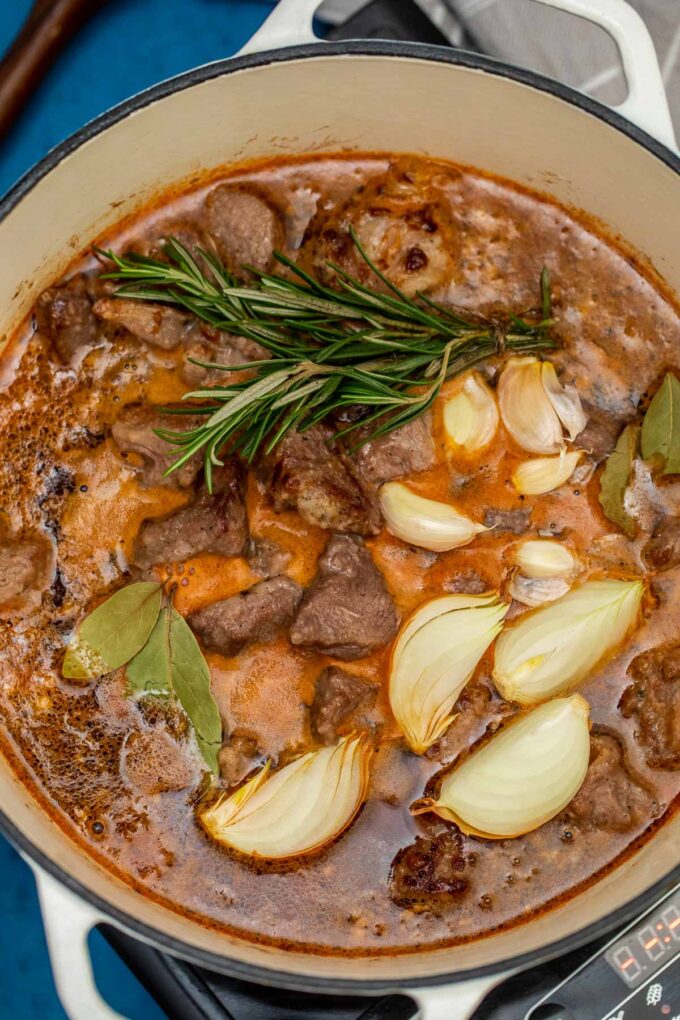 Does Guinness Beef Stew have alcohol?
Since it has beer in it, it does have alcohol at the beginning, but most of it will burn off anyway. So, it is okay to serve even for kids.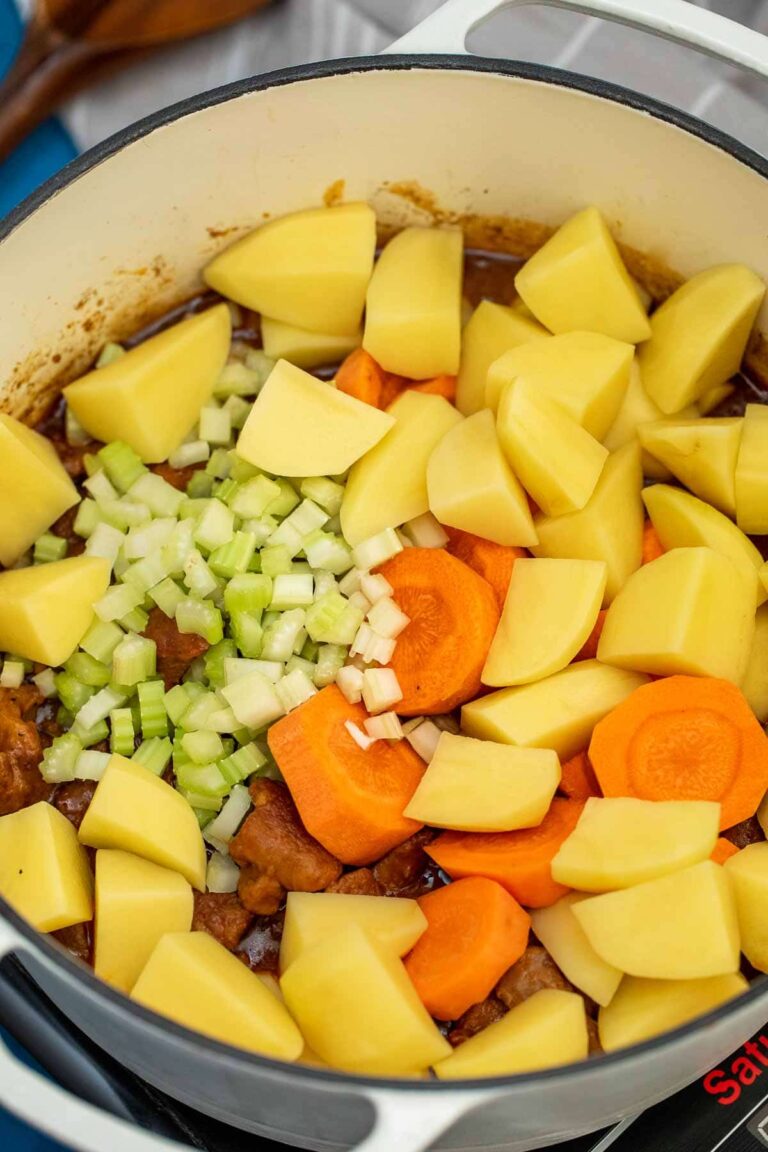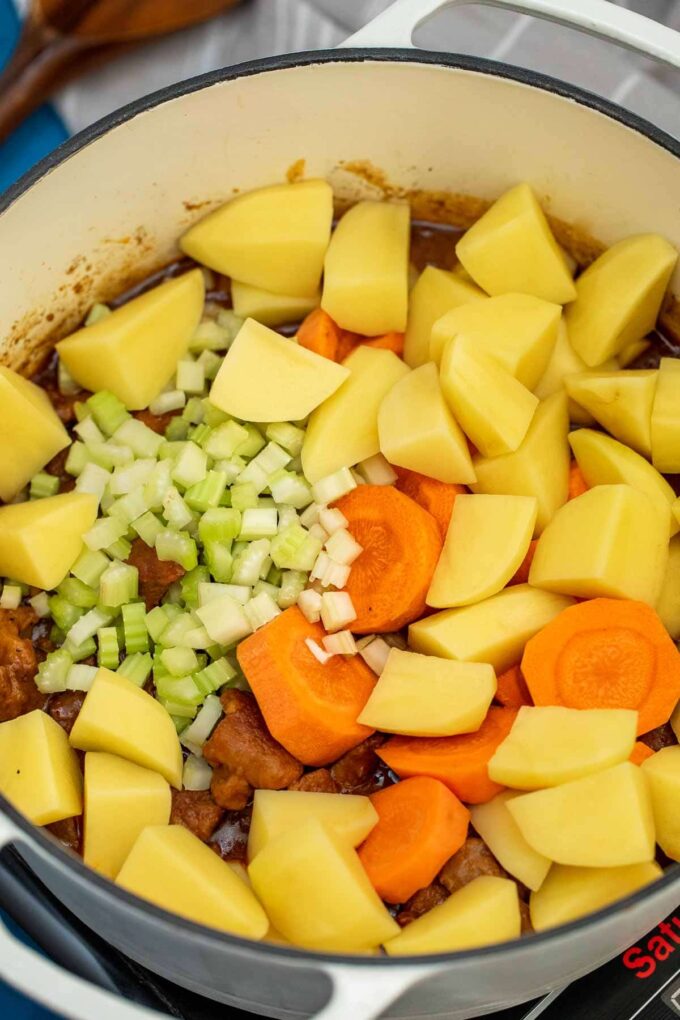 Can I make it with lamb?
Yes! For this, use the shoulder part as this is the best cut for stewing. It has great marbling and the long cooking time will tenderize it nicely.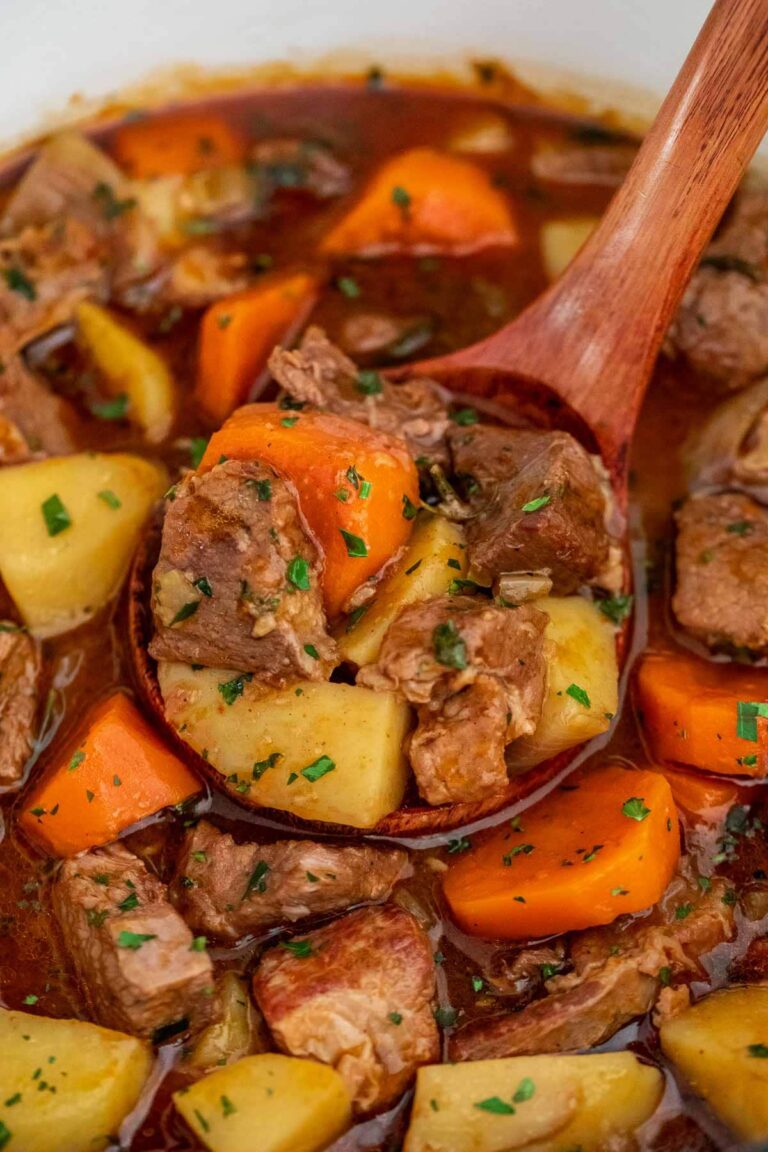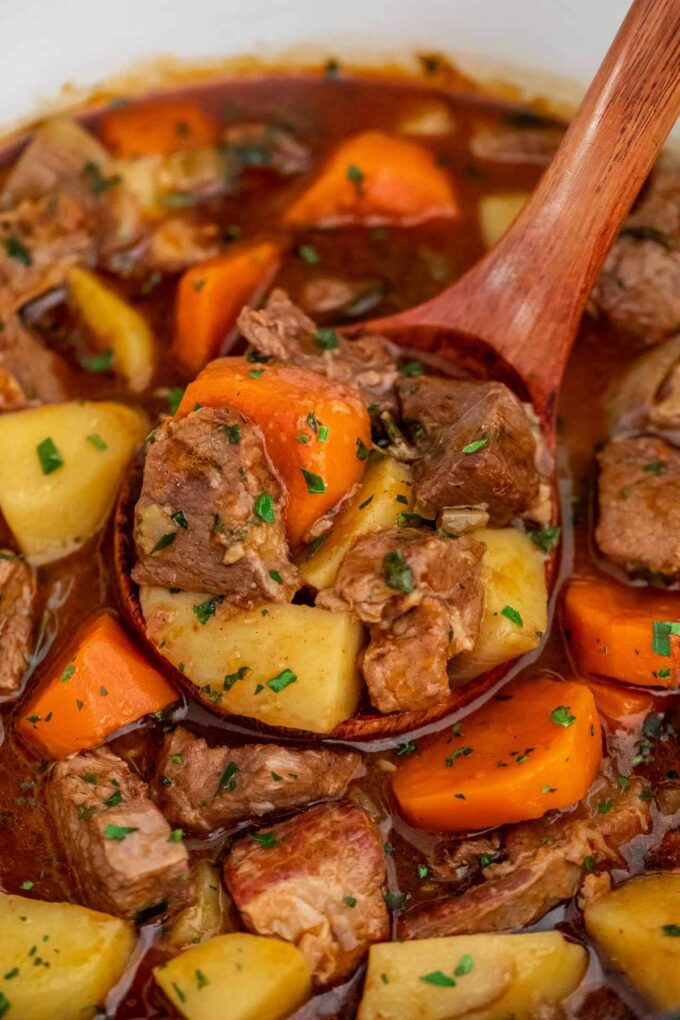 Can you make Guinness Beef Stew in advance?
Yes! For this, you can refrigerate the dish once completely cooled and reheat on the stovetop later. It will be okay for up to 3 or 4 days.
To extend the shelf life to 3 months, freeze it but leave out the potatoes as they do not freeze well. What you can do is boil some spuds to add to the dish when you reheat it after thawing.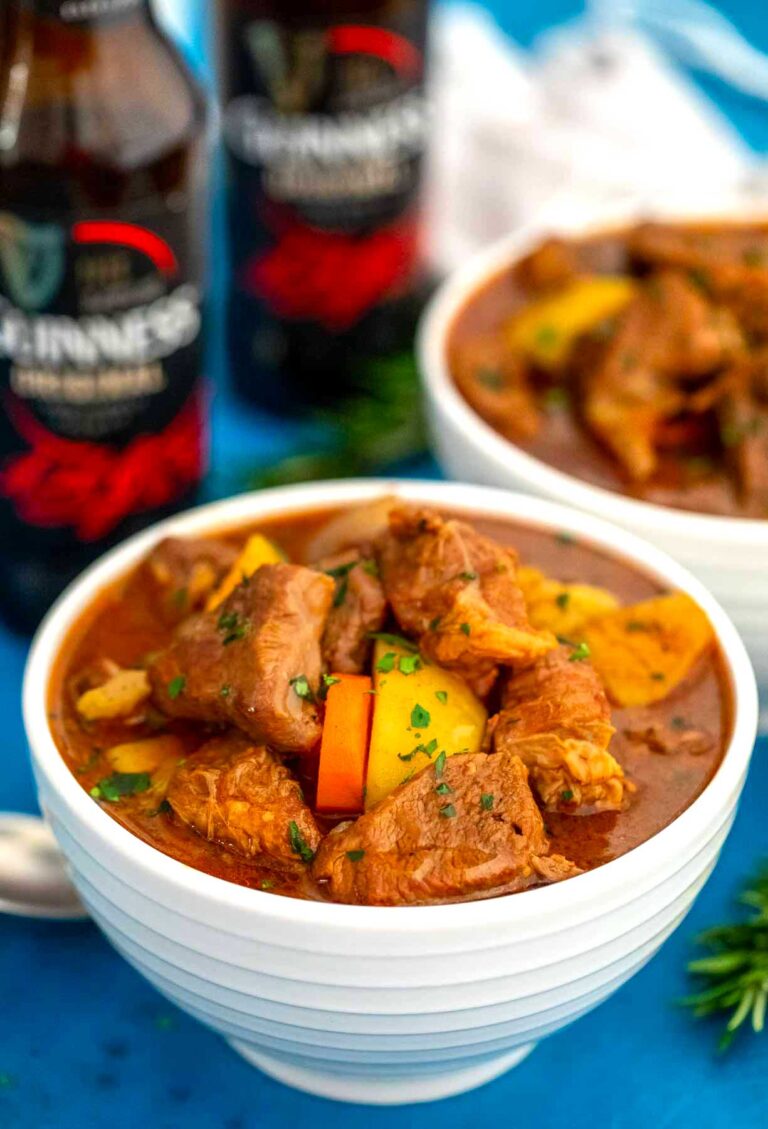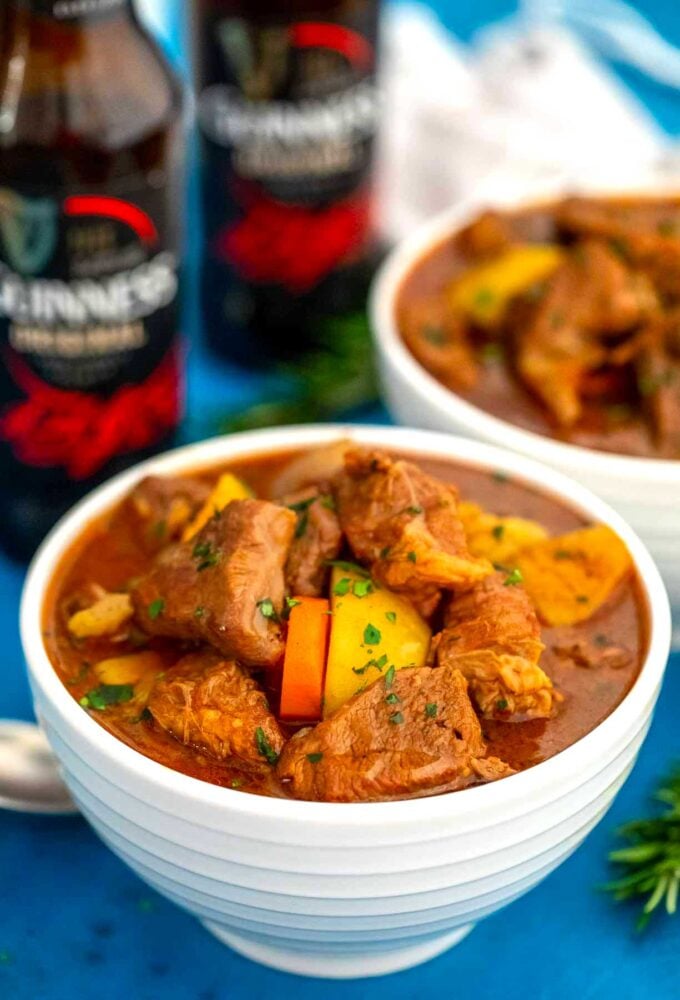 Guinness Beef Stew Recipe Tips:
You can add in parsnips and green peas. Frozen peas can be added towards the end of the cooking without the need to thaw.
Chuck roast is a good cut to use for this dish. It is affordable and the long cooking time will tenderize it well anyway.
Cut the beef into big cubes which can sustain the long cooking time. The longer it cooks, the more flavors can be extracted from the ingredients for a rich dish.
Other recipes perfect for St. Patrick's Day: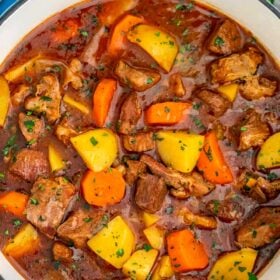 Guinness Beef Stew
Guinness Beef Stew has melt-in-your-mouth beef bites with veggie chunks simmered in your favorite Irish beer! This hearty recipe is perfect for St. Patrick's Day!
Save
Share
Print
Pin
Rate
Ingredients
2

pounds

beef stewing meat

(trimmed and cut into 2-3 inch cubes)

1/4

cup

all-purpose flour

2

teaspoons

salt

1/4

teaspoon

freshly ground pepper

4

tablespoons

vegetable oil

2

cups

beef broth

2

tablespoons

butter

(unsalted)

1

medium onion

(peeled and diced)

1

small onion

(cut into quarters)

5

cloves

garlic

(minced)

4

cloves

garlic

(whole)

2

tablespoons

Worcestershire sauce

3

cups

Guinness Beer

3

bay leaves

1

bunch of fresh rosemary

4

medium carrots

(peeled and cut into 1/4-inch rounds)

1

cup

celery

(diced)

1

pound

mini red potatoes

(peeled and cut into halves)

Fresh parsley

(for garnish)
Instructions
Add beef chunks to a large bowl, and sprinkle with flour, salt, and black pepper. Toss to combine.

Add a heavy-duty, oven safe large pot or Dutch oven over medium-high heat and add 2 tablespoons of oil. Once the oil is simmering, add the beef a few pieces at a time into one layer, making sure to not overcrowd the pieces.

Brown, turning the pieces on all sides, for about 5 minutes per batch. Remove from pot and transfer to a plate, cover with foil. Add another 2 tablespoons of oil to the pot and cook another batch of beef.

Once done cooking the beef, reduce the heat to medium and add the beef broth the pot. Use a wooden spoon to scrape well the bits that stuck to the bottom of the pot.

Add two tablespoons of butter and melt it.

Add the diced onion and minced garlic, stir and cook for 1 minute.

Add Worcestershire sauce and add the Guinness beer and stir.

Add back beef chucks. Add the quartered onion, whole garlic cloves, bay leaves and fresh bunch of rosemary.

Cover and cook on low heat, skimming broth from time to time, until the beef is tender, for about 1 1/2 hours.

Preheat oven to 300 degrees F.

Discard the rosemary and bay leaves.

Add the carrots, celery, and potatoes. Stir to combine.

Cover and cook in the preheated oven for about 1 hour, or until the veggies are tender. If needed, add broth or water if the stew is dry.

Remove the stew from oven, taste and adjust for salt and pepper. If you prefer the stew to be thicker, we like to add a cornstarch and water slurry to thicken it, 1 tablespoon cornstarch dissolved into 3 tablespoons of water.

Serve the stew warm, garnished with freshly chopped parsley.
Nutrition
Calories:
302
kcal
|
Carbohydrates:
17
g
|
Protein:
23
g
|
Fat:
14
g
|
Saturated Fat:
7
g
|
Cholesterol:
56
mg
|
Sodium:
591
mg
|
Potassium:
732
mg
|
Fiber:
2
g
|
Sugar:
3
g
|
Vitamin A:
2228
IU
|
Vitamin C:
8
mg
|
Calcium:
52
mg
|
Iron:
3
mg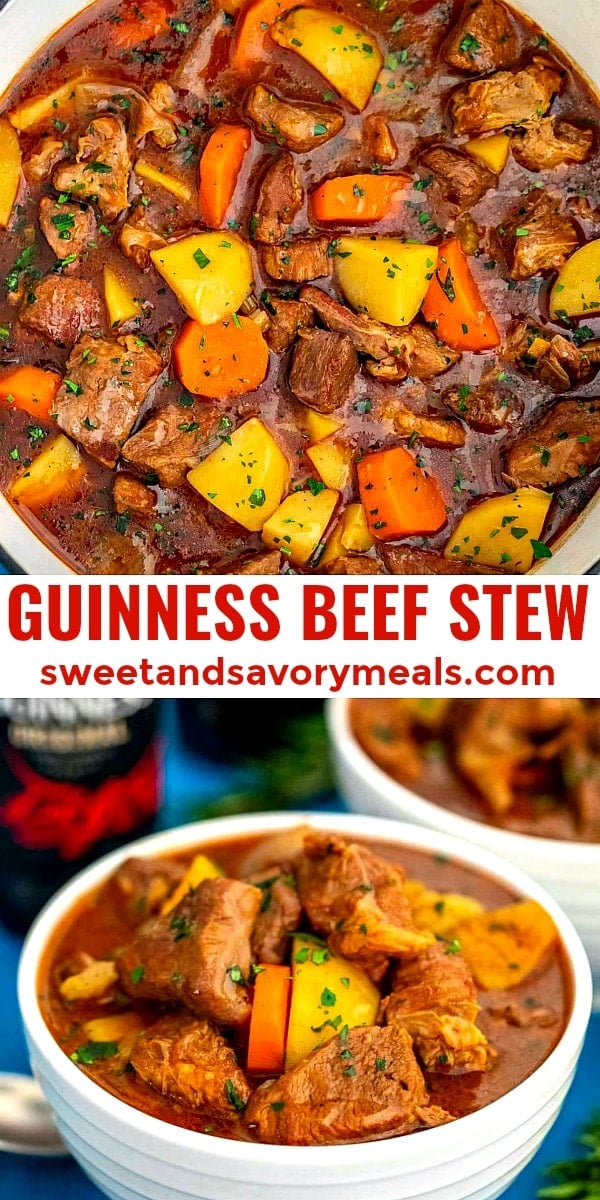 More recipes you might love