Easy Shepherd's Pie [VIDEO]
Shepherd's Pie is one of the best comfort foods with Irish roots. It is a delicious casserole with ground lamb, vegetables such as carrots, corn, and peas, topped with mashed potatoes.
I love all kinds of pies and I find that a Ham and Cheese Quiche, is a delicious equivalent. Also, use my recipe on Instant Pot Mashed Potatoes to make the perfect topping to this pie.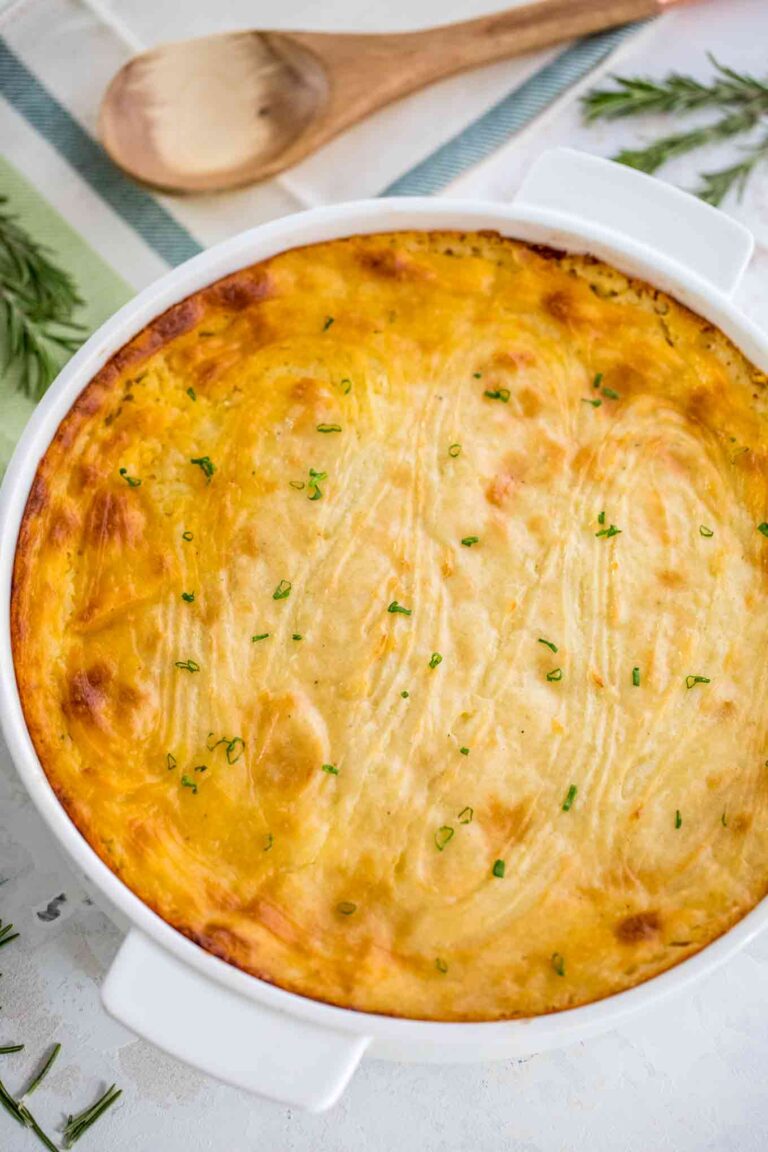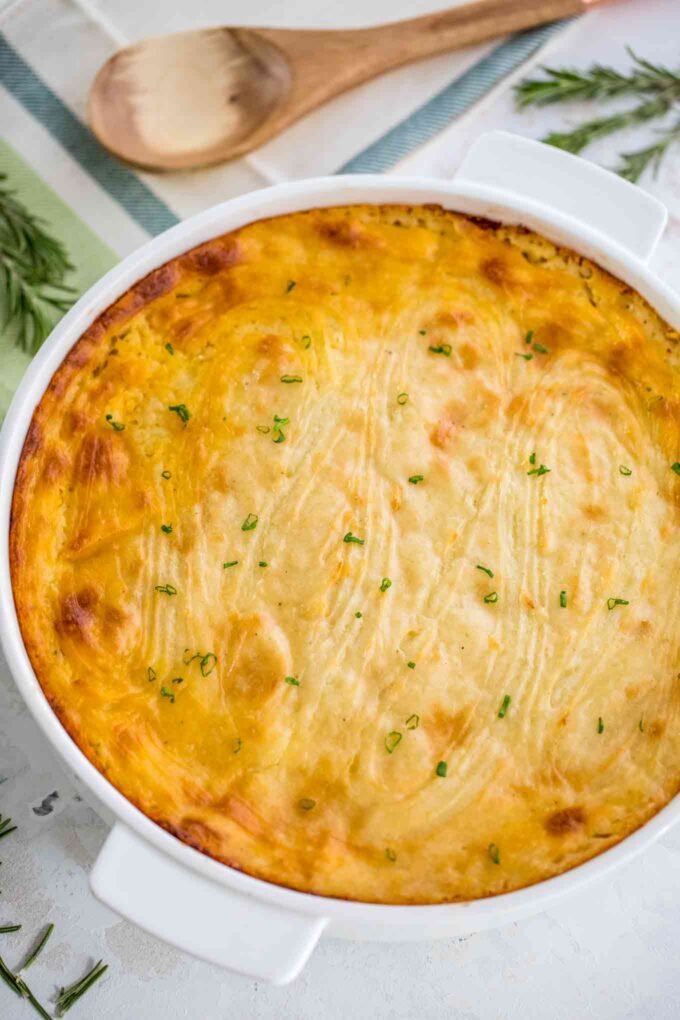 Easy Shepherd's Pie Recipe
This dish though originally from Ireland is a staple in other countries like England and Australia. This is the ideal addition of a Sunday roast. America has begun to take this recipe by storm as well!
By combining meat, cooked vegetables, and mashed potatoes in a straight forward dish that you would want to take to a dinner party and definitely cook for your family and friends. Also, this is one of our favorite St. Patrick's Day recipes to celebrate this special day!
I love how creamy and versatile this meal is. I enjoy having this dish with a nice side salad on the side because the cooked and the fresh add a nice contrast of flavors. When I'm feeling extra fancy and want to impress my friends, I try pairing this with a nice red wine as well. With your choice of beef or lamb, there are endless combinations of this homemade delicious recipe.
What is shepherd's pie?
This dish originates from Ireland and is traditionally made with ground lamb. However, since in the United States, ground beef is eaten more than lamb, this recipe is usually referred to as a shepherd's pie.
In England and other parts of the world, this version of it made with ground beef is called "cottage pie" and the lamb version "shepherd's pie.
Although the name might be a bit different, it is essentially a casserole with cooked meat and vegetables in a flavorful gravy, then topped with creamy mashed potatoes, and sometimes cheese. It is one of the best and most popular casseroles out there!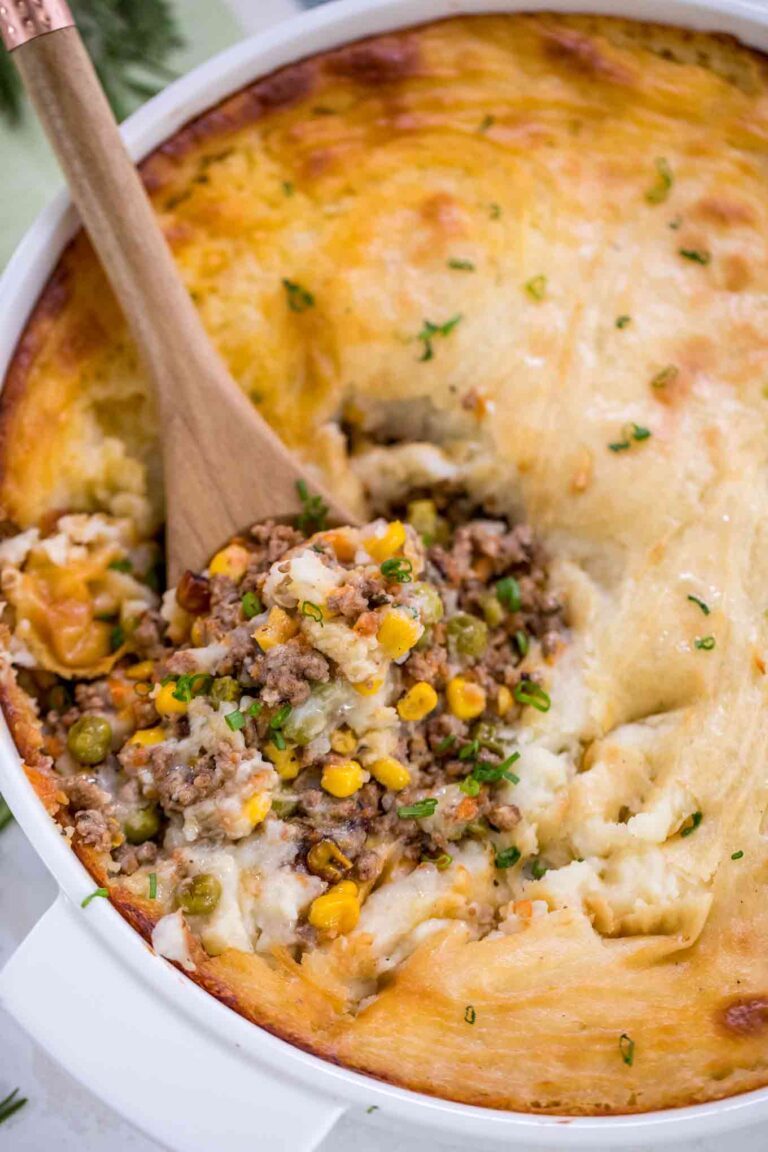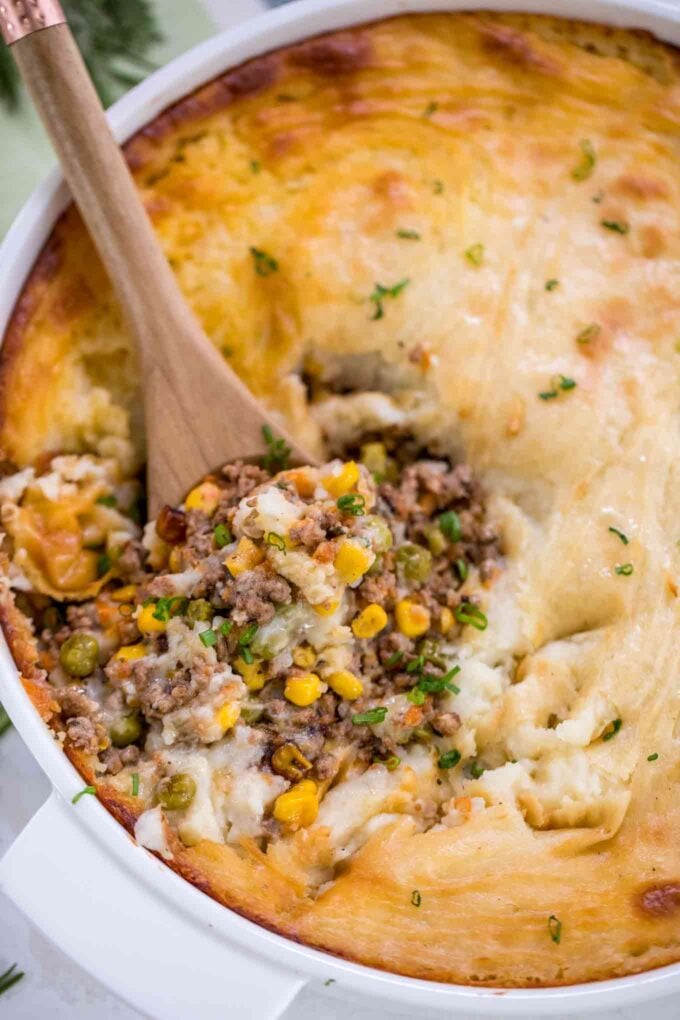 How to make easy Shepherd's Pie?
Feel free to watch the recipe video attached. The general steps are as follows:
Start off by preparing your meat base. Add sauce/ gravy and vegetables to your meat. This is the base of it. You can change the sauce and the vegetables to absolutely any other alternatives. Just make sure that the ratio of the vegetables to the meat is the same.
Add the potatoes. After the meat and veggie base is prepared, add mashed potatoes on top and add some texture by roughing them up with a fork. This will make the potatoes nice and crispy after the pie is baked. You could also add some cheese to the top instead of or in addition to the potatoes on the top of the pie. Just know that if you are adding cheese take it out of the oven 3 to 5 minutes early and then add the shredded cheese so that the cheese melts rather than burns. I like having the cheese, so I will definitely add some cheese.
Cooking the pie. Since everything is cooked when you put it in it cooks fairly quickly. It should cook until all of the potatoes are golden brown and the edges are bubbling. It will take about 25 to 30 minutes cooked at 400 degrees Fahrenheit.
Do you put cheese on top of the shepherd's pie?
I like putting cheese on top of it because I really enjoy cheese, and it gives a nice flavor. However, having the cheese is not for everyone, and it is not essential to the recipe, so it really is up to you to decide.
What to serve with Shepherd's Pie?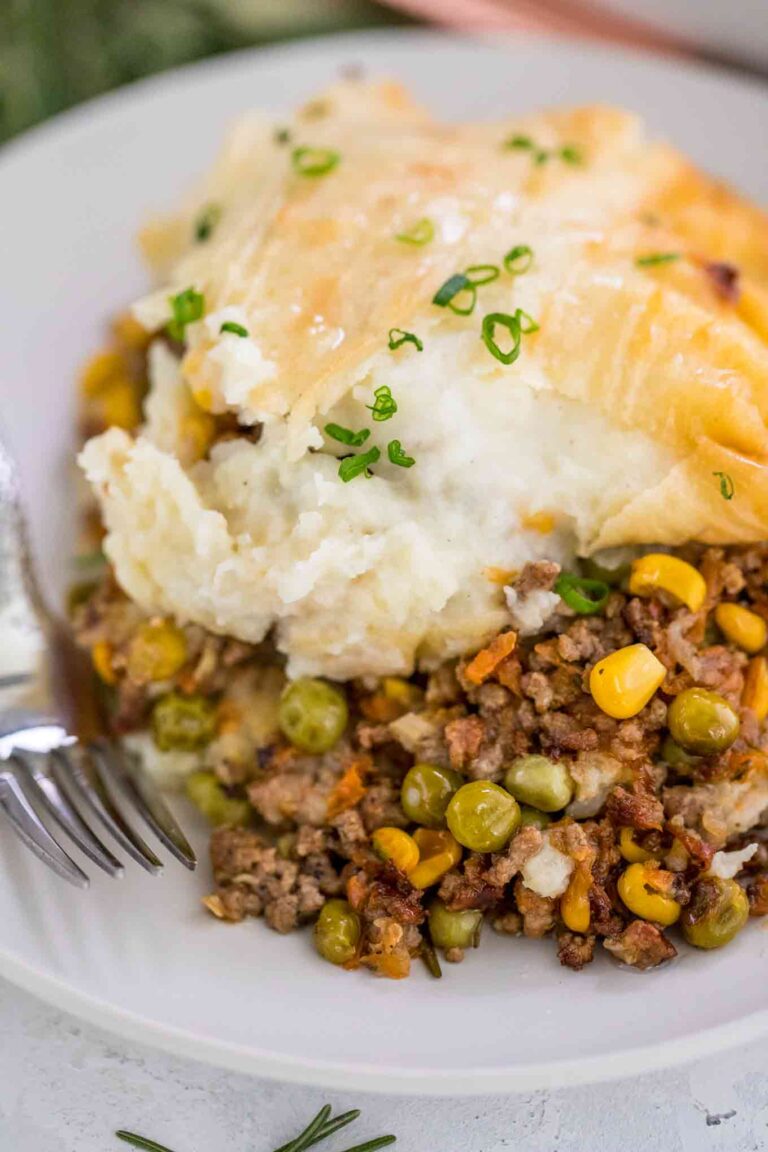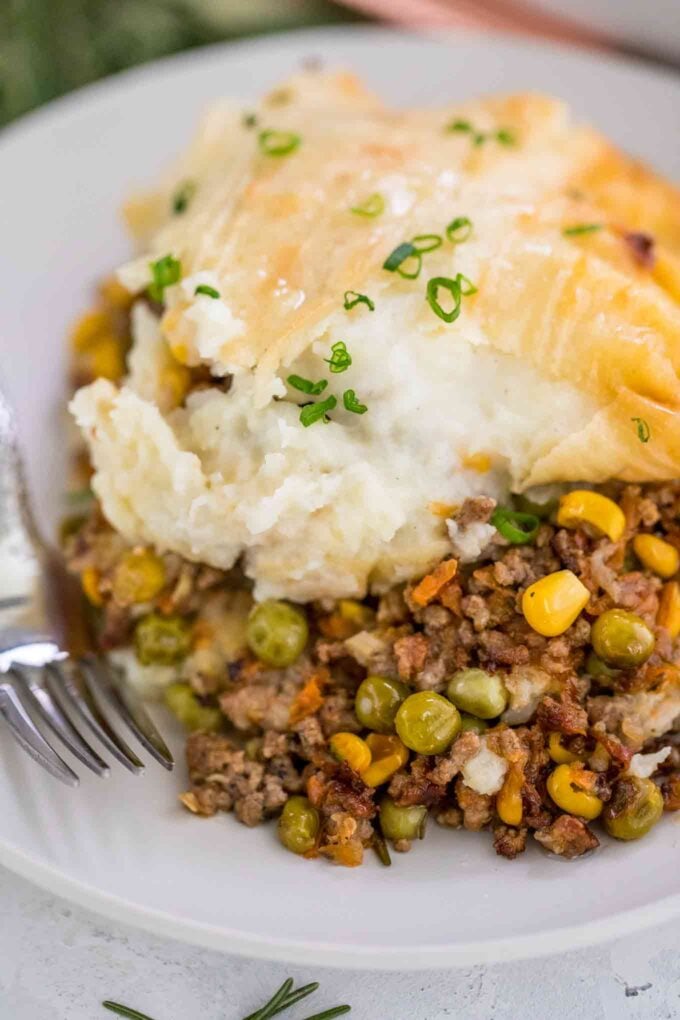 Can you make Shepherds Pie in advance?
Yes, this is a great dish to prepare a few days in advance. Simply, assemble and cover it with foil. Best to refrigerate it up to 2 days ahead, then bake in a preheated oven 400F about 25-30 minutes, or until heated through.
More St. Patrick's Day recipes:
Can you store Shepherd's Pie?
Yes, this is super easy to store in the refrigerator, put it into any container, and it will last for a few days. And it is really good for leftovers because chances are you are going to be making a bigger batch.
To freeze it, make sure that the pie is completely cooled before freezing. Then cover tightly with foil and place in the freezer for up to 2-3 months.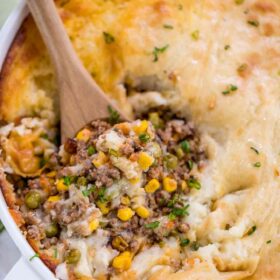 Easy Shepherd's Pie
Shepherd's Pie is one of the best comfort foods with Irish roots. It is a delicious casserole with ground beef, vegetables such as carrots, corn, and peas, topped with mashed potatoes.
Save
Share
Print
Pin
Rate
Ingredients
Mashed Potatoes:
1 1/2

pounds

russet potatoes

(peeled and cubed)

1/2

cup

heavy cream

(or half and half)

4

tablespoons

unsalted butter

4

oz

cream cheese

(room temperature)

Salt and Pepper to taste
Meat Filling:
2

tablespoons

canola oil

(or vegetable oil)

1

yellow onion

(diced)

5

cloves

garlic

(minced)

1 1/2

pounds

ground lamb

(or ground beef)

1

cup

tomato sauce

1

tablespoon

Worcestershire sauce

1

cup

beef broth

(optional)

1

tablespoon

freshly chopped rosemary leaves

1

tablespoon

dried oregano

1

medium carrot

(grated)

1/2

cup

corn kernels

(fresh or frozen)

1/2

cup

sweet peas

(fresh or frozen)

1

teaspoon

kosher salt

(or to taste)

1/2

teaspoon

freshly ground black pepper

(or to taste)
Instructions
Mashed Potatoes:
Place peeled, washed and diced potatoes in a medium saucepan over medium heat and cover with cold water. Simmer and cook until tender and easy to crush, for about 15-20 minutes.

Once tender, drain the potatoes and keep in the saucepan.

Combine cream and butter in a bowl and microwave for about 40 seconds until just warm. Add to the saucepan and mash the potatoes until smooth. If needed add more warm cream. Stir in the cream cheese until well combined. Taste and adjust for salt and pepper.

Set aside the mashed potatoes.
Meat Mixture:
Preheat the oven to 400 degrees F. Lightly grease a 9x13inches baking dish and set aside.

While the potatoes are cooking, prepare the meat filling.

Place a large skillet over medium-high heat. Add oil and wait for it to simmer. Once hot, add onion and cook stirring it for 1 minute. Add minced garlic and cook for 30 seconds, just until fragrant.

Add the ground lamb (or beef), season with salt and pepper and cook until browned and no longer pink breaking it into crumbs with a wooden spoon, approximately 5-7 minutes. Add the tomato sauce, Worcestershire sauce, rosemary, oregano, add beef broth for a wetter mixture and stir to combine.

Bring to a boil, reduce the heat to low, and simmer covered for about 10 minutes.

Add the grated carrot, corn, and peas to the skillet, stir and combine.

Transfer the mixture to the bottom of a lightly greased 9x13 inches baking dish. Spread it evenly and top with the mashed potatoes, smooth the top with a rubber spatula.

Bake in the preheated oven for 25-30 minutes or just until the potatoes begin to brown. Once done, place onto a cooling rack and let it sit for 15 minutes before serving. Garnish with chopped green onions before serving.
Nutrition
Calories:
464
kcal
|
Carbohydrates:
23
g
|
Protein:
19
g
|
Fat:
32
g
|
Saturated Fat:
14
g
|
Cholesterol:
86
mg
|
Sodium:
761
mg
|
Potassium:
780
mg
|
Fiber:
2
g
|
Sugar:
4
g
|
Vitamin A:
665
IU
|
Vitamin C:
11.8
mg
|
Calcium:
86
mg
|
Iron:
2.9
mg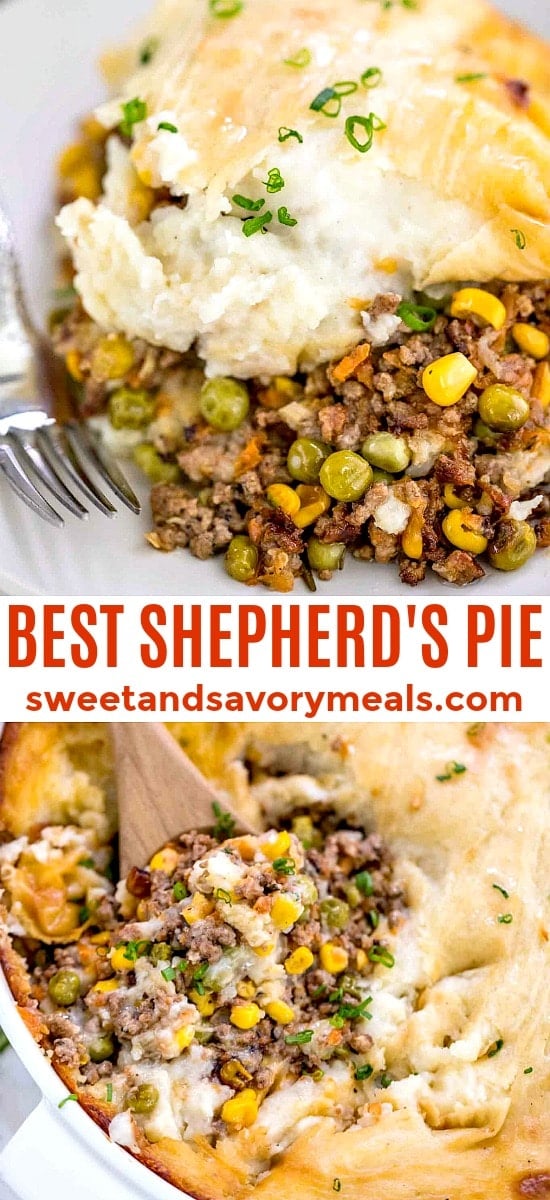 More recipes you might love