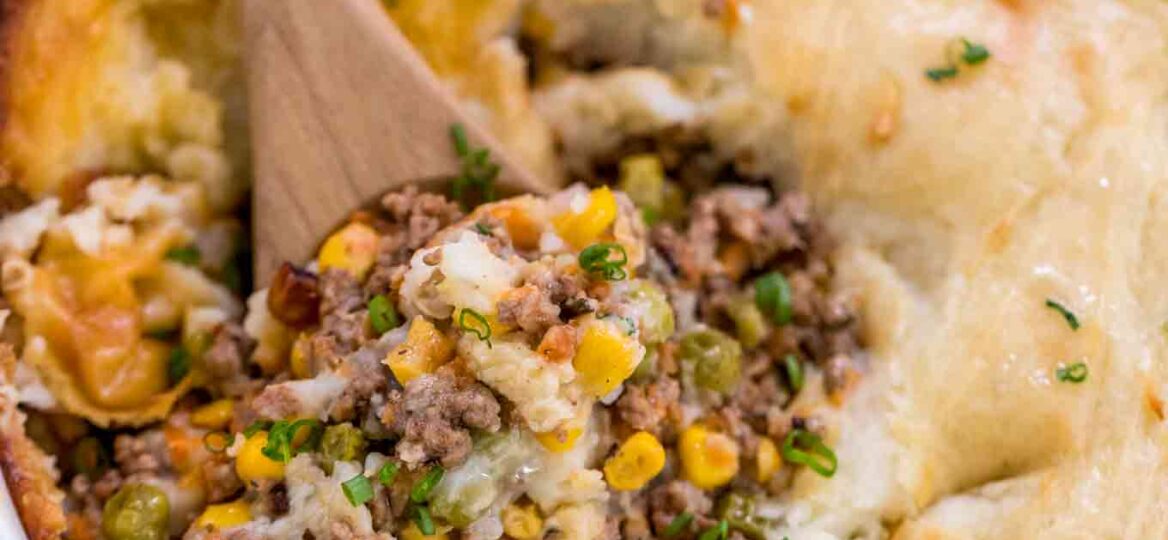 Easy Shepherd's Pie [VIDEO]
Shepherd's Pie is one of the best comfort foods with Irish roots. It is a delicious casserole with ground lamb, vegetables such as carrots, corn, and peas, topped with mashed potatoes.
I love all kinds of pies and I find that a Ham and Cheese Quiche, is a delicious equivalent. Also, use my recipe on Instant Pot Mashed Potatoes to make the perfect topping to this pie.
Easy Shepherd's Pie Recipe
This dish though originally from Ireland is a staple in other countries like England and Australia. This is the ideal addition of a Sunday roast. America has begun to take this recipe by storm as well!
By combining meat, cooked vegetables, and mashed potatoes in a straight forward dish that you would want to take to a dinner party and definitely cook for your family and friends. Also, this is one of our favorite St. Patrick's Day recipes to celebrate this special day!
I love how creamy and versatile this meal is. I enjoy having this dish with a nice side salad on the side because the cooked and the fresh add a nice contrast of flavors. When I'm feeling extra fancy and want to impress my friends, I try pairing this with a nice red wine as well. With your choice of beef or lamb, there are endless combinations of this homemade delicious recipe.
What is shepherd's pie?
This dish originates from Ireland and is traditionally made with ground lamb. However, since in the United States, ground beef is eaten more than lamb, this recipe is usually referred to as a shepherd's pie.
In England and other parts of the world, this version of it made with ground beef is called "cottage pie" and the lamb version "shepherd's pie.
Although the name might be a bit different, it is essentially a casserole with cooked meat and vegetables in a flavorful gravy, then topped with creamy mashed potatoes, and sometimes cheese. It is one of the best and most popular casseroles out there!
How to make easy Shepherd's Pie?
Feel free to watch the recipe video attached. The general steps are as follows:
Start off by preparing your meat base. Add sauce/ gravy and vegetables to your meat. This is the base of it. You can change the sauce and the vegetables to absolutely any other alternatives. Just make sure that the ratio of the vegetables to the meat is the same.
Add the potatoes. After the meat and veggie base is prepared, add mashed potatoes on top and add some texture by roughing them up with a fork. This will make the potatoes nice and crispy after the pie is baked. You could also add some cheese to the top instead of or in addition to the potatoes on the top of the pie. Just know that if you are adding cheese take it out of the oven 3 to 5 minutes early and then add the shredded cheese so that the cheese melts rather than burns. I like having the cheese, so I will definitely add some cheese.
Cooking the pie. Since everything is cooked when you put it in it cooks fairly quickly. It should cook until all of the potatoes are golden brown and the edges are bubbling. It will take about 25 to 30 minutes cooked at 400 degrees Fahrenheit.
Do you put cheese on top of the shepherd's pie?
I like putting cheese on top of it because I really enjoy cheese, and it gives a nice flavor. However, having the cheese is not for everyone, and it is not essential to the recipe, so it really is up to you to decide.
What to serve with Shepherd's Pie?
Can you make Shepherds Pie in advance?
Yes, this is a great dish to prepare a few days in advance. Simply, assemble and cover it with foil. Best to refrigerate it up to 2 days ahead, then bake in a preheated oven 400F about 25-30 minutes, or until heated through.
More St. Patrick's Day recipes:
Can you store Shepherd's Pie?
Yes, this is super easy to store in the refrigerator, put it into any container, and it will last for a few days. And it is really good for leftovers because chances are you are going to be making a bigger batch.
To freeze it, make sure that the pie is completely cooled before freezing. Then cover tightly with foil and place in the freezer for up to 2-3 months.