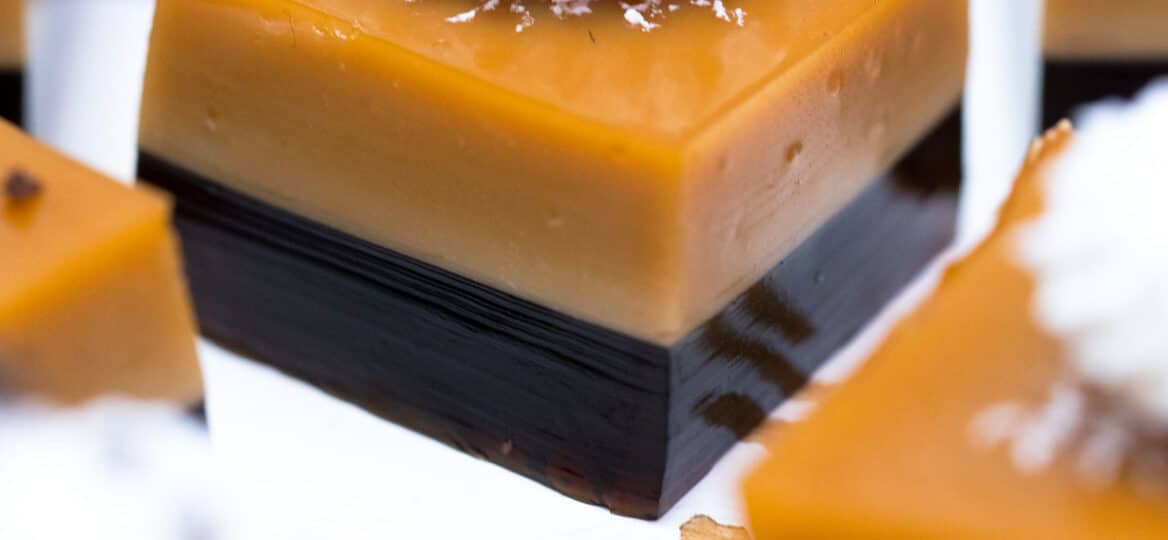 Baileys Jello Shots combines Irish cream and espresso for a boozy St. Patrick's Day treat. Made extra special with whipped cream and chocolate on top!
For more tasty and creative ways to enjoy alcohol, make sure to try our classic and colorful Jello Shots, Drunken Cherries, and Strawberry Prosecco Jelly Cocktails!
Irish Cream Jello Shots Recipe
Baileys Jello Shots are adorable, coffee-flavored alcoholic treats that will get your St. Patrick's Day party going in no time. First, the boozy Irish cream liqueur will get everyone in the mood to celebrate. At the same time, the espresso infuses these treats with a nice caffeine kick. They're basically the grown-up way to enjoy coffee!
Apart from being boozy and delicious, they will also steal the show at your St. Paddy's Day spread. These two-layered shots are topped with whipped cream swirls then finished with chocolate sprinkles, making them look as fabulous as they taste!
More Baileys Recipes:
Baileys Jello Shots Ingredients:
Bailey's Irish Cream: We're using roughly a bottle of this delicious coffee liqueur.
Espresso: You can also use regular coffee.
Gelatin: Unflavored, about 5 packets. This will form the structure of these treats.
Sugar: To balance out the bitter coffee and liquor.
Vanilla extract: Rounds out all the flavors!
Garnish: Chocolate sprinkles and whipped cream
How do you make homemade Irish Cream Baileys Jello Shots?
Make the coffee jelly layer. Mix the sugar into the espresso, followed by 2 gelatin packets, then the vanilla. Pour in your pan, then chill to set. Once firm, poke holes into the surface using a toothpick.
Prep the Irish cream layer. Heat a cup of Bailey's until just slightly simmering, then melt the gelatin by whisking it into the warm liqueur.

Pour in the rest of the bottle and continue whisking. Once thoroughly combined with no clumps, pour carefully on the coffee gelatin. Chill.
Slice. After a minimum of 2 hrs chilling time, unmold the gelatin by lifting it out. Cut into 36 cubes, or if you want round shots, use a 1-inch cookie cutter.
Serve. Finish with whipped cream swirls and chocolate sprinkles. Best enjoyed chilled!
How long does it take for jelly shots to set?
Since this recipe has two layers, it will take at least 3 hours for everything to set. The coffee gelatin layer needs about an hour or so, while the Irish cream gelatin needs a minimum of 2 hours to set.
Can I make Baileys Jello Shots with other alcohol?
Sure! To stay true to the flavor profile, you can sub the Irish cream with any coffee liqueur you prefer, such as Kahlua. Or, you can take spirits like whiskey, vodka, brandy, tequila, and gin, then mix them with cream and a little sugar for modified Irish cream.
What else can you add to Baileys Jello Shots?
We love playing around with different liqueur flavors for the layers! For example, try mixing some pecan liqueur or butterscotch schnapps into the shots' Irish cream layer. For a more festive St. Patrick's Day vibe, you can also skip coffee for the bottom layer. Instead of coffee, mix some clear rum and a few drops of food color into the gelatin. This way, the bottom layer will be a beautiful green!
There are so many options for the toppings, too. Instead of the plain whip, for instance, use some cinnamon-flavored whipped cream instead. Dress them up with coffee sauce, caramel sauce, or chocolate sauce. You can also replace the sprinkles with chocolate-flavored coffee beans, green sanding sugar, or cocoa dust!
How do you take a Baileys Jello shot?
You can use your fingers to pick Bailey's jello squares off the plate, then pop them into your mouth. So fun and delicious!
Can Baileys Jello shots get you drunk?
It depends on how many you take, but at most, it will just probably get you tipsy if you take a lot. Certainly not as much as a pure shot of Bailey's or other liquors. However, this still contains alcohol, so make sure to give them out only to adults!
How long do Baileys shots need to chill in the fridge?
Around 3 hours for both layers, but it's always a good idea to chill them for longer to make sure they are fully set.
Can you freeze jello shots?
We don't recommend it. Freezing gelatin can create frost or ice chunks in the mix, and it won't be as smooth as before. There's no need to freeze them anyway because these will last up to 5 days in the fridge— perfect for making ahead!
More St. Patricks day recipes to try:
Recipe tips:
Don't rush this recipe! You want the bottom coffee layer to be fully set before pouring the Irish cream gelatin on top. Otherwise, they'll mix together instead of creating two beautiful and separate layers.
If you want more booze in your shots, mix in some Kahlua into the espresso.
Instead of using a pan, you can also make these in actual shot glasses or small plastic cups.
Deliciousness to your inbox
Enjoy weekly hand picked recipes and recommendations