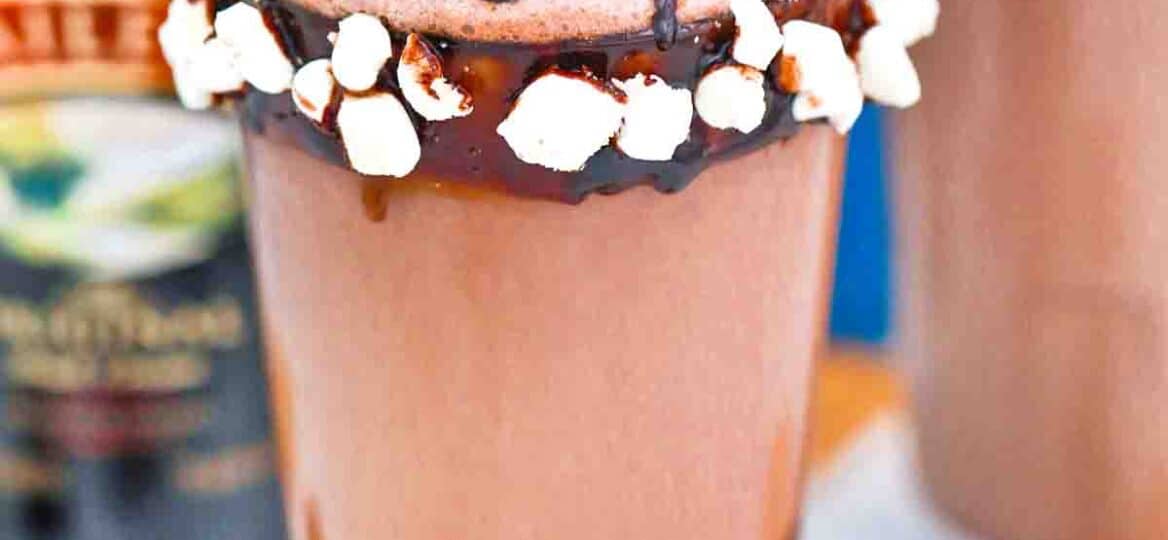 Grown-Up Baileys S'mores Milkshake [Video]
Baileys S'mores Milkshake is a rich and thick chocolate ice cream cocktail with some Irish cream booze to make it extra delicious. You can make a weak or strong boozy s'mores milkshake or even a virgin milkshake without the booze. But with this Baileys boozy s'mores milkshake recipe, you get plenty of ice cream to cool you down and liquor to warm you up so you can enjoy it any time of the year.
If you like this recipe, you will love our Vodka Cake Batter Shake. This scrumptious boozy delight is made with cake batter ice cream, funfetti cake mix, rainbow sprinkles, Kinky Vodka, and whole milk. Then it is topped with whipped cream and extra sprinkles. For something less like a dessert, our White Russian cocktail recipe is perfect. You only need a few ingredients including vodka, Kahlua, and heavy cream.
It was Loretta Scott Crew who gets credit for the very first s'mores recipe back in 1927 in one of the Girl Scouts of America handbooks. But milkshakes go back even further.
The first milkshakes were actually made in 1885 and they were not for kids! They were made from whiskey, eggs, and cream. But it was Ivar "Pop" Coulson who invented the milkshake. It was 1922 when Pop Coulson decided to mix a couple of scoops of vanilla ice cream with his malted milk.
For this yummy boozy milkshake recipe, all you need are a few ingredients including chocolate ice cream, Baileys Irish cream, vanilla vodka, marshmallows, and chocolate syrup. Add crushed graham crackers, fudge, and marshmallow bits on the rim with whipped cream, chocolate squares, and graham crackers for garnish.
Are you looking for some other sweet recipes? Try our delicious ambrosia salad. It is made with marshmallows, maraschino cherries, mandarin oranges, diced pineapples, and sweetened coconut. Or you might enjoy our no-bake pineapple dream dessert made from canned pineapple, lime, and whipped topping with a crushed graham cracker crust.
Ingredients needed:
To make this Baileys boozy s'mores milkshake recipe, gather up all of the ingredients listed below. Then, when you are ready to begin, scroll down to our recipe card for step-by-step instructions and exact measurements.
Baileys Irish cream
Vanilla vodka
Marshmallow fluff
Chocolate sauce
Chocolate ice cream
Graham cracker crumbs: For rimming.
Marshmallow bits: For rimming.
Chocolate fudge: For rimming.
Whipped cream: To garnish.
Chocolate squares: To garnish.
Graham cracker squares: To garnish.
How to make Baileys s'mores milkshakes from scratch?
Blend together the shake ingredients: To begin, blend the marshmallow fluff, vanilla vodka, chocolate sauce, Baileys Irish cream, and chocolate ice cream in a food processor or blender until it is thoroughly mixed.

Rim the glasses: Then, crush graham crackers and mix with marshmallow bits before adding them to a small plate. Spoon about two tablespoons of chocolate fudge on a separate small plate or bowl. Press the rim of each glass into the chocolate fudge before dipping it into the graham cracker crumbs and marshmallows.

Garnish, pour, and enjoy: Finally, pour into the glass and top with whipped cream, a chocolate square, and a graham cracker square. Drizzle some chocolate sauce on top and sprinkle cookie crumbs. Serve immediately.
Recipe variations:
Different ice cream: We used chocolate ice cream to make it more of a boozy s'mores milkshake, but you can use vanilla ice cream or whatever flavor you like best.

Chocolate flavors: Similarly, you could use other kinds of chocolate bars such as dark chocolate, salted almond chocolate, caramel chocolate, or even s'mores flavor.
Toasted marshmallow: Toasted marshmallows are easy to make and give these milkshakes an even yummier flavor. Cook them over your burner on a gas stove or use a food torch.

Chocolate liquor: Instead of vanilla vodka, try using crème de cacao or another chocolate liqueur.

Flavored vodka: Vodka comes in many flavors nowadays from fruity to spicy. Why not mix up this recipe by using different flavors like cherry, strawberry, or even marshmallow vodka?

Spicy Irish cream milkshake: If you are a fan of spicy drinks, you could also try adding a 1/2 teaspoon of red pepper flakes to your drink before blending it.

Give it some energy: Add some extra strong cooled coffee to your drink for a caffeinated boost.
How to serve:
This easy boozy milkshake is ready in minutes and can be served on a hot summer day by the pool or indoors on a wintry night. The ice cream will cool you down while the booze warms you up! Try one of our fun ideas listed here or share some of your own creative ideas in the comments section at the bottom of this page.
Add more chocolate sauce or syrup on top of the whipped cream for an even more chocolatey flavor.

This drink goes great with these cookies and cream cookies.

You could even add chopped bits of your leftover chocolate on top for optional garnish.

Add a handful of chopped nuts like pecans, walnuts, or almonds.

Take two large marshmallows and put them on a skewer and use a lighter to brown them before adding them to the top of your milkshake.

Make this even more delicious with a spoonful of caramel sauce.

Add a spoonful of dark brown sugar to each glass and stir it up before serving for a richer, more caramelized taste.
Frequently asked questions
What does the S in s'mores stand for?
Nothing. The name is actually a contraction like don't or can't. It stands for "some more." The name given was because after you try one, you will want some more. The recipe actually showed up in a 1925 cookbook, but it was called a graham cracker sandwich. Also, it was in a Girl Scout guidebook called "Tramping and Trailing with the Girl Scouts" in 1927.
How can I use ice instead of ice cream to make these shakes?
If you do not have chocolate ice cream, you can use a different flavor and add chocolate extract or cocoa powder. Or try blending 20 ice cubes with four cups of whole milk and one cup of granulated sugar. You could use heavy cream instead of milk for extra creaminess. Then add your chocolate flavoring or cocoa powder before adding it to your shake.
How do you toast marshmallows without a fire?
You do not need a campfire to make toasted marshmallows. Some people use a barbecue lighter or a cuisine torch. If you do not want to use an open flame, you can use your broiler instead. Simply line marshmallows on a baking sheet and broil them until the tops are golden brown. Then, flip them over and do it again.
What are the nutrition facts in this recipe?
Each serving has 500 calories, 16 grams fat, and 10 grams saturated fat. It also contains 61 mg cholesterol, 42 grams carbohydrates, 38 grams sugar, and 105 mg sodium. But it also has 6 grams protein, 173 mg calcium, 266 mg potassium, 2 mg vitamin C, and 2 grams fiber.
How to store leftovers:
Store: Although your milkshakes are best consumed right away, you can store them in the fridge for up to two days in a covered container.

Freeze: You can also freeze your Baileys boozy s'mores milkshake for up to three months. Put them in individual freezer-safe airtight containers (such as canning jars) so you can thaw them one at a time. But make sure you leave about an inch of space for expansion.

Thaw: Before drinking, heat for 20 seconds in the microwave. Then stir until it is mixed well. If it seems too runny, add ice and put it in a blender for a few seconds.
More recipes with Baileys Irish cream:
Recipe tips:
This recipe makes two large glasses of Baileys smores milkshakes. If you are having a crowd, you can double or triple the recipe easily.

Serving immediately is recommended for best results. You want your milkshakes to be thick, creamy, and cold – not runny and warm.

If you cannot find any marshmallow bits at your grocery store, look in the ice cream topping section by the freezers where they sell whipped cream, chocolate fudge, and other toppings.

You could also make your own. Simply cut up large marshmallows into smaller pieces. Use food scissors or a sharp knife rubbed lightly with oil to prevent sticking.
For dehydrated marshmallow bits, put them on a baking sheet lined with parchment paper and bake them in the oven at 170 degrees F for four hours.

Instead of Baileys, you can use another brand like Molly's, Carolans, or Ryan's. For a non-alcoholic version, just use cream or half and half.

If you cannot find vanilla vodka, simply add one teaspoon of vanilla extract to every cup of vodka. But make sure you use high-quality 100% pure vanilla extract for the best flavor.

Leave out the booze and you can serve these yummy drinks to the kids too.
Baileys S'mores Milkshake
Ingredients
2 1/2

cups

chocolate ice cream

1/2

cup

Baileys

1/2

cup

chocolate syrup

2

oz.

vodka

or vanilla vodka, or rum

1/2

cup

marshmallow fluff
Garnish:
Mini marshmallow

Chocolate fudge

Whipped cream

Chocolate squares

Graham crackers

Graham cracker crumbs

Chocolate sauce
Instructions
Add the ice cream to a blender.

After that add the Baileys, vanilla vodka, chocolate sauce, and marshmallow fluff, and blend together until smooth and creamy.

In a small shallow plate combine some of the graham cracker crumbs and marshmallow bits. Rim 2 milkshake glasses with chocolate fudge and dip into graham crackers and marshmallows mixture so it sticks to the rim.

Pour Bailey's milkshake into glasses and top with whipped cream, a chocolate square, a graham cracker square, a drizzle of chocolate sauce, and some cookie crumbs.
Deliciousness to your inbox
Enjoy weekly hand picked recipes and recommendations