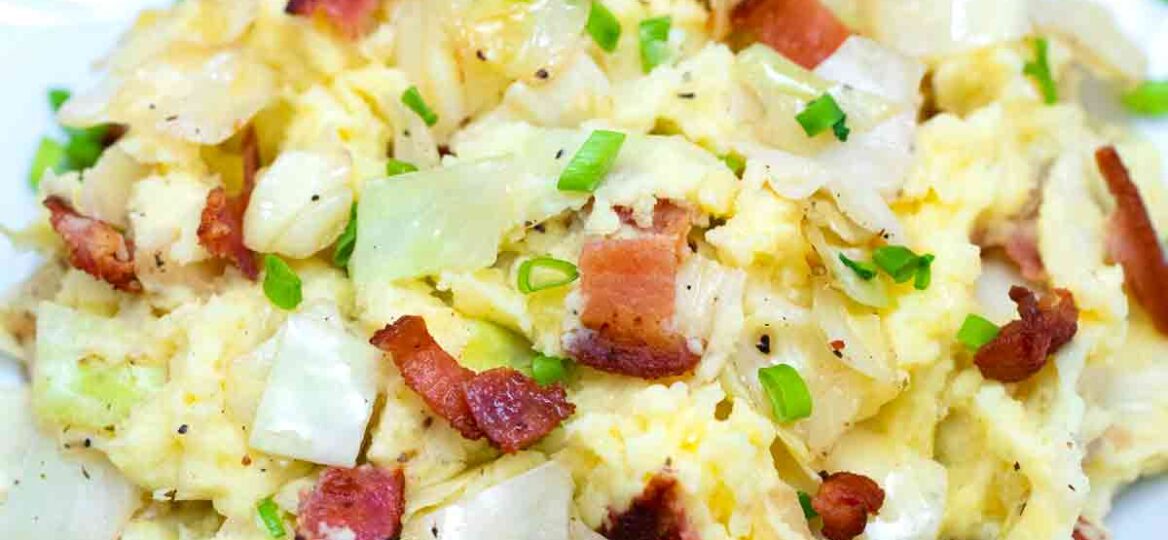 Irish Colcannon Recipe [Video]
Colcannon Recipe is a traditional, Irish version of mashed potatoes, everyone's favorite side dish! Buttery cabbage, crispy bacon, and herbs take your usual creamy mashed a notch higher.
We've got the Irish to thanks for some of the most delicious dishes to grace our tables! The Best Irish Lamb Stew is terrific with a side of fresh-baked Irish Soda Bread. Of course, we can't talk about Irish food without mentioning Corned Beef and Cabbage which you should definitely try making at home!
Irish Mashed Potatoes
Colcannon Recipe became an instant favorite the first time I tried it. Perfectly Creamy Mashed Potatoes and Bacon-Fried Cabbage are already awesome on their own, but together? HEAVENLY. The garlic, dried herbs, and splash of lemon also add a warm zing to the dish. It's so good, I swear you'll be licking your bowl clean!
What does Colcannon mean?
It comes from the Gaelic words for cabbage (cál) and leeks (caineann). It also translates loosely to "white-headed cabbage."
Where does it come from?
Historically, this dish used to be popular among Irish peasants
because it was filling and cheap. Nothing like potatoes after a hard day's work! Today, it's one of Ireland's most iconic dishes, served all year long and enjoyed by all.
What is Colcannon made of?
The traditional version has mashed boiled potatoes mixed with dairies like heavy cream and butter. Then, veggies like cabbage, spring onions, and kale are folded through.
For my version, I added crispy bacon, herbs, and a splash of lemon to cut through the richness of this dish.
What do you need to make the Colcannon recipe from scratch?
For the mash: Peel and quartered starchy potatoes, butter, and heavy cream
Herbs: We'll be using a blend of dried Italian herbs and oregano
Cabbage: Use Savoy or regular green, chopped
Bacon: Around 12 slices, chopped
Lemon: Adds zest to the dish
Aromatics: Mince some garlic and dice a white onion
Garnish: Melted butter and chopped green onions
Seasonings: Salt and pepper
How do you make homemade Colcannon recipe?
Cook the bacon: Crisp it up until it renders fat. Set aside. To save time you can actually use pre-cooked bacon.
Boil: Cook potatoes in boiling water and make them very soft.
Sauté. Use the bacon fat to sauté the aromatics. Add veggies, lemon juice, and herbs. Season with salt and pepper to taste.
Mash.

Crush the potatoes with the dairy until fluffy and smooth. Here again, make sure you taste and adjust for salt and pepper.
Fold. Gently stir in the cabbage mixture and crispy, chopped bacon.
Serve. Spoon melted butter on top and sprinkle with more bacon and roughly-chopped green onions. Enjoy!
Recipe Variations:
Use other veggies: Try it with kale, leeks, chives, or baby spinach instead of cabbage.
Make Champ: Champ is another Irish dish similar to Colcannon but blends green onions or fresh chopped scallions instead of cabbage.

Use sausage bits: Instead of bacon (or along with it!), fold in small slices of kielbasa.
Make it Cheesy: You can never go wrong by adding some cheese into your mashed potatoes. We love a good shard cheddar, gouda, fontina cheese, or a nice Pepper Jack cheese.
Vegetarian: Skip the bacon altogether and make this dish vegetarian. I highly recommend using tempeh if you omit the bacon.
Loaded version: Grate some white cheddar, and fold it in and also add some dry Ranch seasoning mix. Shred more cheddar on top and your Irish mashed potatoes will be the bomb.
Add corned beef: Make this recipe even more hearty and delicious by adding leftover cooked corned beef into the mix!
What can you serve with Colcannon?
Old-fashioned pairings for Colcannon include:
But you can actually pair it with anything you'll eat mashed potatoes with, such as roasted or fried chicken, pot roast, crispy pork chops, or steak.
What potatoes are best for the Colcannon recipe?
Use starchy potatoes like Russet, Idaho, and Yukon gold. The high amount of starch in these varieties is key to fluffiness.
What cabbage is best for Colcannon?
Regular green cabbage or crisp Savoy are excellent options. Their mild, slightly sweet taste complements the mashed potato while making the vegetables shine.
How to store:
Cool the leftovers before transferring them into a tightly-sealed container. Consume within 3 days.
Can you freeze it?
Sure! What I do is scoop the cooled dish onto a baking tray in single-serve portions. Then, I freeze them. Once frozen, I put them in a baggie or air-tight container, making sure to consume them within a month or earlier.
To reheat, bake for 20 minutes in a 350F oven. This way, they maintain their texture.
More Cabbage Recipes:
Recipe Tips:
If you like texture in your mash, leave some chunks behind.
For a subtle, delicious tang, stir some sour cream into the dish.
Flavored butter will give this dish a serious boost of flavor!
Deliciousness to your inbox
Enjoy weekly hand picked recipes and recommendations