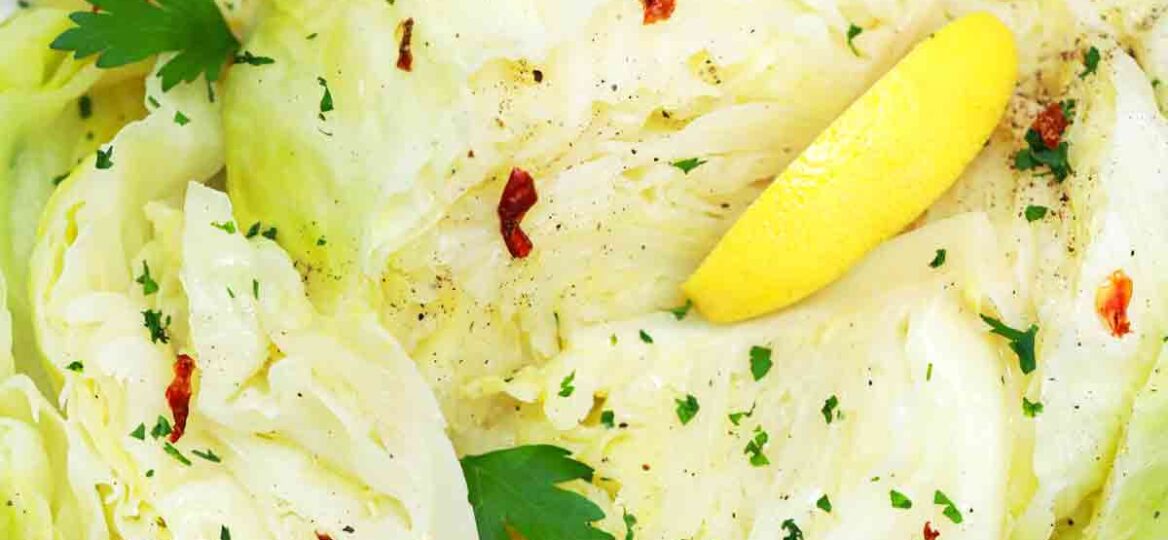 Boiled Cabbage Recipe [Video]
Boiled Cabbage is buttery and it almost melts in your mouth. It is an easy way to cook it as a side dish or to use it as part of the main dish. Using a few ingredients you can cook cabbage in just under 30 minutes. Serve it tossed with butter, spiced, and a drizzle of lemon juice.
Cabbage recipes are a staple on the blog since they are budget-friendly, filling, and hearty. More often, we enjoy serving this veggie with ham, pork, or corned beef for St. Patrick's Day celebration. One of the most delicious ways to prepare this veggie is to keep it simple, also, make sure to try our Sauteed Cabbage and Stuffed Cabbage Rolls recipes.
While boiled and steamed veggies are healthy and also easy to make, you have to keep an eye on them and make sure you do not overcook them. Regardless of the popular opinion that boiling veggies are boring, I can assure you, that if you do it the right way, you will end up with a tasty, not bland dish!
I will teach you one of the simplest ways how to cook cabbage and you will be able to turn it into a yummy side dish that also costs just a few dollars. Also, you can use the cooked cabbage in other recipes, like casseroles or soups.
The recipe begins by boiling the veggie, which turns them really tender and a beautiful green. After that, it's tossed gently in butter, then served with a splash of lemon, some fresh herb, and crushed red pepper. So simple and unbelievably delicious!
Ingredients needed:
A whole head of cabbage: We recommend using green cabbage or savoy cabbage. Red cabbage will also work, but it may have a bit of a bitter taste.
Unsalted butter
Salt and Pepper: We recommend sea salt and freshly ground black pepper.
Red pepper flakes: Used to add a bit of heat to the dish.
Chopped fresh parsley
Lemon wedges
How do you make boiled cabbage from scratch?
The first time you will have to follow the steps exactly, and you will see that after that you will be an expert. The preparation time for this recipe is only about 10 minutes, and the cooking time is about 20 minutes, without you actively guarding it.
Boiling water: First, start by placing a large Dutch oven or large pot with 1 1/2-2 inches of water, over medium-high heat, add a teaspoon of salt, and bring to a boil.
Prepare. Next, cut cabbage in half and then rinse the head, after that slice the cabbage into 6 evenly-sized cabbage wedges.
Cook. Boil the lightly salted water, then arrange the wedges in the boiling liquid. After that, reduce heat, and cover and simmer for up to 8 to 10 minutes. Turn the slices, then finish simmering for 8 minutes more or until fork-tender.
Butter and season. Toss out all the water, then evaporate all the remaining moisture over low heat. Add a few tablespoons of butter and coat every slice thoroughly. After that, use a slotted spoon to transfer the pieces to a serving plate. Next, sprinkle with fresh ground pepper and kosher salt.
Serve. Enjoy hot garnished with lemon slices, crushed pepper, chopped green onion, spring onion, and parsley.
Recipe variations:
Boil in broth: Use stock instead of water for more flavor, or chicken broth.
Oil: Also, to keep this recipe healthier, instead of butter use vegetable oil, olive oil, or sesame oil for more flavor.
Garlic and Onion: Similarly, add more flavor to this side dish by tossing in a few garlic cloves and adding a peeled large onion when boiling.
Try other seasonings: After adding the butter, sprinkle with some Italian seasoning, lemon pepper, Old Bay, or Cajun seasoning for a southern twist.

Add bacon: Everything's better with bacon! Use bacon fat in place of butter, and add crumbled bacon bits to the vegetables.
Tomato Sauce: Alternatively, for a tangy taste and extra flavor, add 1 cup of tomato sauce when simmering it.
Chop it smaller: Instead of wedges, chop them into 1-inch chunks instead if you wish. Another option is to remove the outer leaves and use the cabbage leaves to make stuffed rolls, or to stir into soups.
What goes well with boiled cabbage?
You can eat it as-is for a very light meal. It's also delicious as a side for most proteins and main dishes.
Serve the wedges whole or chop them and drizzle with butter or oil.
Also, it is very good when served with mashed potatoes.
Similarly, it goes hand in hand with corned beef.
Another option is to top it with some sauteed onions for extra flavor.
Alternatively, try chopping and stirring it into cooked ground meat or ground turkey.
Also, make it part of brunch recipes by serving it with this corned beef hash and some candied bacon slices on the side.
Add a splash of white vinegar for some tanginess.
Frequently Asked Questions
How many types of cabbage there are?
400+ varieties exist in the world, but you'll come across four main types in American stores.
These are green cabbage (the most common variety!), purple or red, Savoy (set apart by its crinkly and dark green leaves), and Napa cabbage (aka Chinese variety, with an oblong shape and yellow-green color). They are all high in dietary fiber and low in saturated fat.
What cabbage is best for boiling?
I prefer the regular green variety because of the bright and beautiful green color, it is just so gorgeous. Boiling also coaxes out the vegetable's innate sweetness. Also, white cabbage is great for this easy recipe.
Is it bad to boil cabbage?
Incredibly so this leafy vegetable is super low in calories, fat, and carbs. Also, the quick boiling process is one of the easiest ways of cooking it that allows it to retain most of its nutrients.
Just half a cup already contains 35% of the daily vitamin C you need! It's also packed with fiber, vitamin K and B6, minerals like folate and manganese, plus protein.
It's also great for weight loss, because not only is it nutritious, but it also makes you feel full faster. Eat as much as you want, as often as you like!
How long does cabbage take to boil?
Sliced into wedges, it takes around 20 minutes more or less to boil an entire head until it's tender and perfectly done. Therefore, 8 to 10 minutes on each side is the sweet spot because the wedges become tender with a slight crispness. Any longer, and you risk overcooking the slices.
It also depends on how big your slices are, so adjust the boiling time based on their size.
Is it better to boil or steam it?
Either is fine! However, boiling is better for chunkier wedges, because they cook evenly. Steaming is perfect for shredded pieces. You can also steam wedges, but they'll take a bit longer. Therefore, here is how to steam the cabbage in the instant pot.
How to store leftovers:
Store: First, let the cooked veggie cool fully, and after that transfer it to an air-tight container and place it in the refrigerator. Consume within 3 to 4 days. The earlier you finish it, the better the taste and texture!
Freeze: Once it's fully cooled, transfer it to a freezer-friendly container with an air-tight seal or to wrap in plastic wrap and foil and place into freezer bags. After that freeze for up to 3 months.
Thaw: To thaw, transfer the frozen cabbage from the freezer to the fridge and thaw overnight.
Reheat: Do it in a cooking pan with a sprinkle of water, over medium heat, until hot. Also, you can microwave it for a few seconds.
Southern Cabbage Recipes:
Recipe Tips:
Don't cut out the core, because they will keep the wedges together.

Don't forget to salt the water while boiling, and again when you place the vegetable in it.
Also, make sure you keep an eye and check for doneness, this way you will avoid overcooking it.
Deliciousness to your inbox
Enjoy weekly hand picked recipes and recommendations