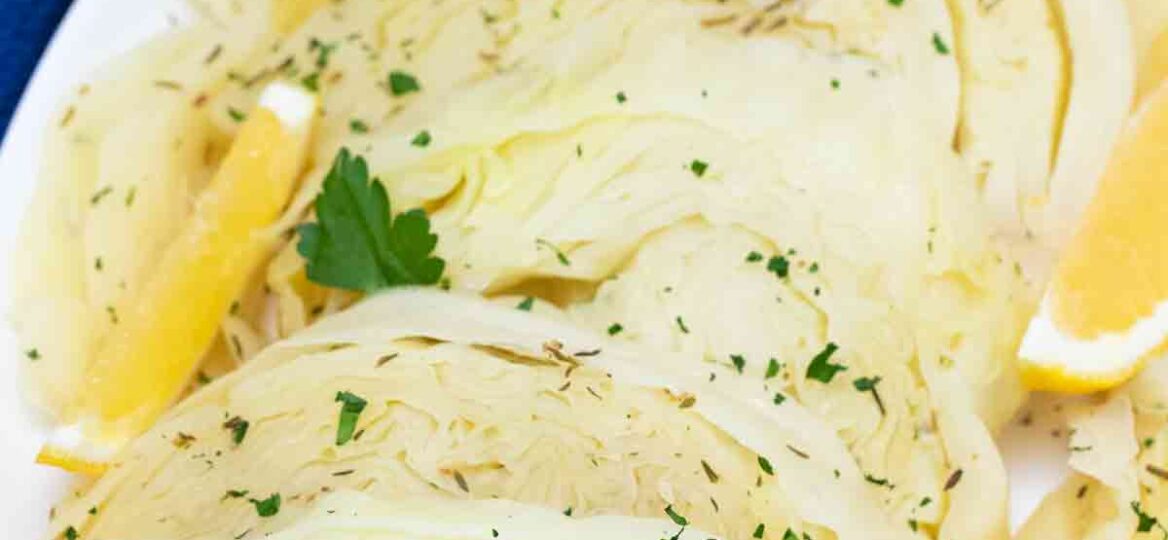 Instant Pot Cabbage Recipe [Video]
Instant Pot Cabbage is cooked in a flavorful broth, butter, and herbs for a simple but tasty veggie side dish. Pairs brilliantly with everything from stews to fried mains, roasts, and grilled entrees!
The perfect side can turn an everyday meal into something special. Brighten up your next lunch or dinner with this Creamy Mashed Sweet Potatoes, Brown Sugar Roasted Carrots, and Pomegranate Orange Salad!
Pressure Cooker Cabbage Recipe
Instant Pot Cabbage is good for you and so delicious, too! This vegetable is loaded with fiber, vitamins, and minerals, plus antioxidants. We use a little butter for richness, but apart from that, this dish is low in fat, carbs, and calories.
It also goes so well with almost any entrée. On top of that, it only takes 3 minutes in the IP! If you're stumped on what to serve with your main dish tonight, give this one a try. It'll become your go-to veggie side in no time!
What is an Instant Pot?
It's a multi-function kitchen appliance best known as a pressure cooker. You can get it as a 3-quart mini all the way up to a large 10-quart model.
Aside from pressure cooking, the IP also works as a yogurt maker, rice cooker, slow cooker, steamer, and warmer. The Sauté feature allows you to sear and even fry food. Some models also come with air-fryer functionality.
The thing I love the most about my IP is that it cooks food so fast! For instance, it only takes 30 minutes under pressure to cook the most melt-in-your-mouth Guinness Beef Stew. You can prepare a complete meal in 13 minutes like my Instant Pot Chicken and Vegetables. It saves so much time without compromising on flavor.
Can you tell I'm a massive fan of the IP? Because I am!
Can I steam in my Instant Pot?
Yes! All you need is a trivet or a steamer basket to hold the food and keep it above the liquid. The IP has a built-in "Steam" function. Simply press it, set the timer according to the recipe, and cook.
What cabbage type is best steamed?
I prefer regular green cabbage. I love how it turns a bright, translucent green after steaming, and the vegetable flavors out and becomes sweeter. The red ones tend to leach color, while other types like Savoy and Napa can be too delicate for the heat.
How do you steam cabbage in an Instant Pot?
Assemble. Add all the ingredients – butter, stock, seasonings, and herbs – to the bottom of the IP then give it a good mix. Submerge the vegetable wedges partially in the liquid.
Cook. If you want tender but still crisp veggies, set the timer to 3 minutes. If you like it fork-tender, set it to 6 minutes. Cook on High Pressure finished by a quick manual release.
Serve. Season and enjoy hot!
Recipe Variations:
Add meat: Sauté some bacon, sausage, or ham bits before adding the liquids and vegetables
Use other seasonings: Sprinkle some nutmeg or a dash of chili flakes
Try other cuts: You can also chop the vegetables into chunks or shred them if you prefer thinner slices. Just adjust cooking time accordingly.
Make it vegetarian: Sub veggie broth and vegan butter. Or skip it and use olive oil!
How long does it take to steam cabbage in the Instant Pot?
Whole: About 15 to 18 mins., or a little longer for bigger heads
Half: Use a trivet, place core side down, and cook for around 10 minutes
Chopped: About 6 minutes on high
Wedges: About 3 to 6 minutes, or a little longer for bigger wedges
Shredded: About 3 minutes, steamer basket recommended
Can you cook frozen cabbage in the Instant Pot?
Yes, but don't forget to add a minute or two to the cooking time. The IP will take a tiny bit longer to come to pressure if the contents are frozen.
What to Serve with Instant Pot Cabbage?
The mild, buttery flavors of this veggie side dish complement endless mains! Serve it with your favorite roast, fried entrees like chicken or pork chops, BBQs, grilled seafood, or rich stews.
How to store:
Cool the leftovers first before transferring them to a container with an air-tight seal. Store in the fridge for up to 2 days, but I suggest you finish it as soon as you can for the best texture and flavor.
Can you freeze steamed cabbage?
Yes, but if you're planning on freezing steamed cabbage, I recommend undercooking it a little. This way, it won't become soggy while it cools down before freezing. It's also a great way to ensure it's perfectly done instead of mushy after getting reheated.
How to thaw:
Transfer it from the freezer down to the lower part of your fridge. Let it slow thaw overnight.
More IP Cabbage Recipes:
Recipe Tips:
When picking out cabbage, look for one with bright green leaves without any discoloration. The leaves should also be tightly packed, and it should feel heavier than it looks in your hands.

Take out the tough core as you prep the veggies.
If you like your veggies on the crispier side, set the IP to 3 minutes only.
Deliciousness to your inbox
Enjoy weekly hand picked recipes and recommendations