Pomegranate Orange Salad
Pomegranate Orange Salad is vegan, gluten free and grain free, with lots of citrusy flavor and crunchy almonds.
I love making easy and delicious salads like BLT Potato Salad and Garlic Kale Salad.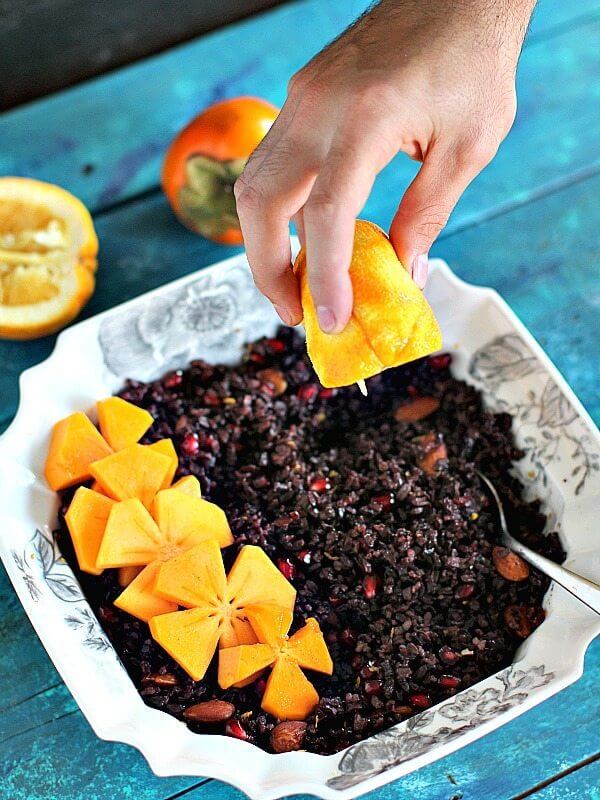 Pomegranate Orange Salad
This Pomegranate Orange Salad is loaded with fresh citrus flavor. Also, it has so many amazing textures, chewy rice, crunchy almonds and juicy pomegranate arils. The salad has orange juice and lots of orange zest add a beautiful citrus aroma. The wild rice is very filling, so thats why this side dish can easily be passed as a vegan main dish. The almonds add extra crunch and a boost of protein. The pomegranate arils, with their delicious tartness and full of juice make this salad festive and add a nice pop of color.
Served with some persimmons, for a little more sweetness, this fruity salad is definitely something you want to try. Vegan, Gluten Free and Grain Free, this Wild Rice Pomegranate Orange Salad will satisfy all your guests.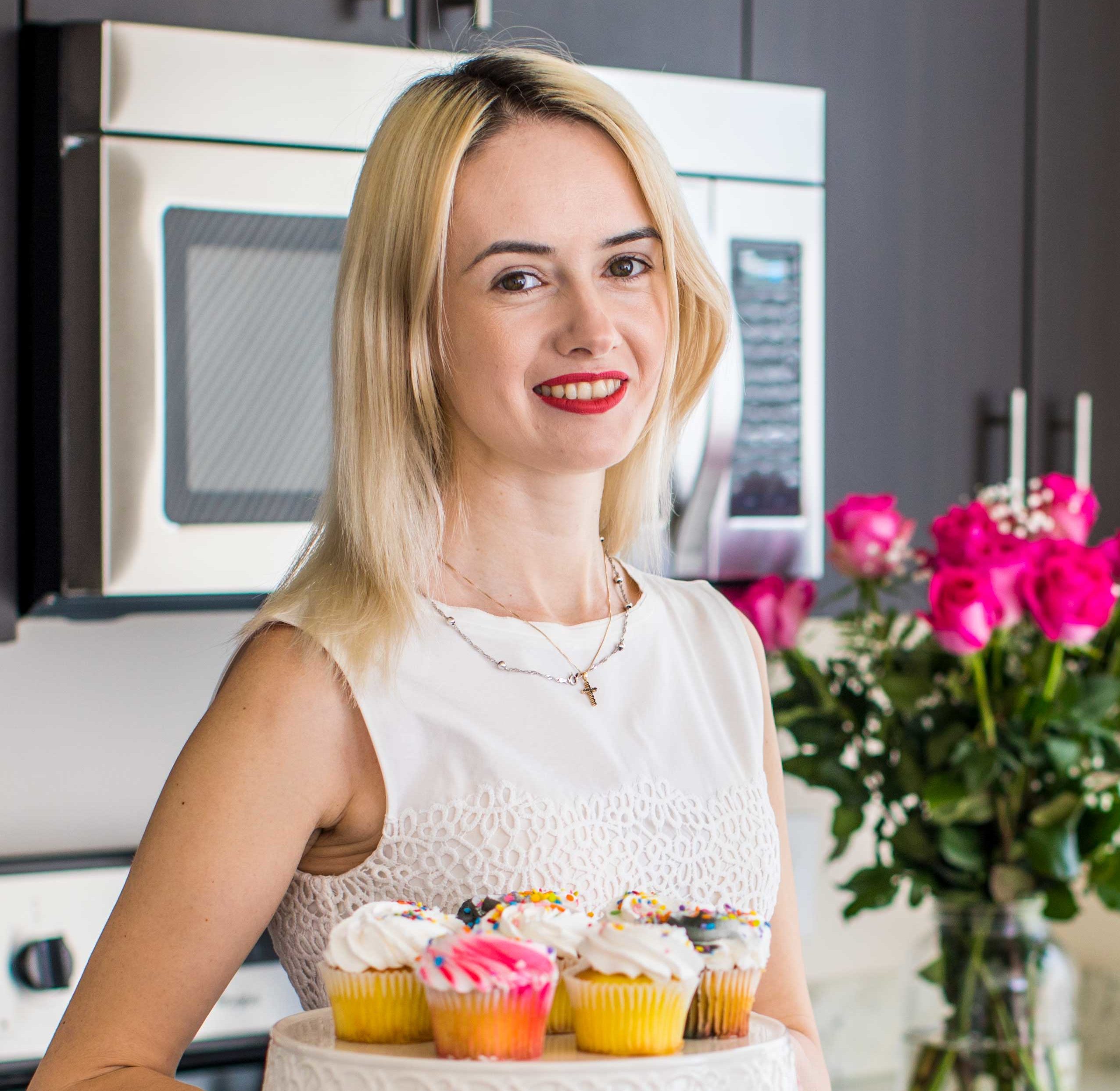 Follow us on Pinterest for more delicious recipes!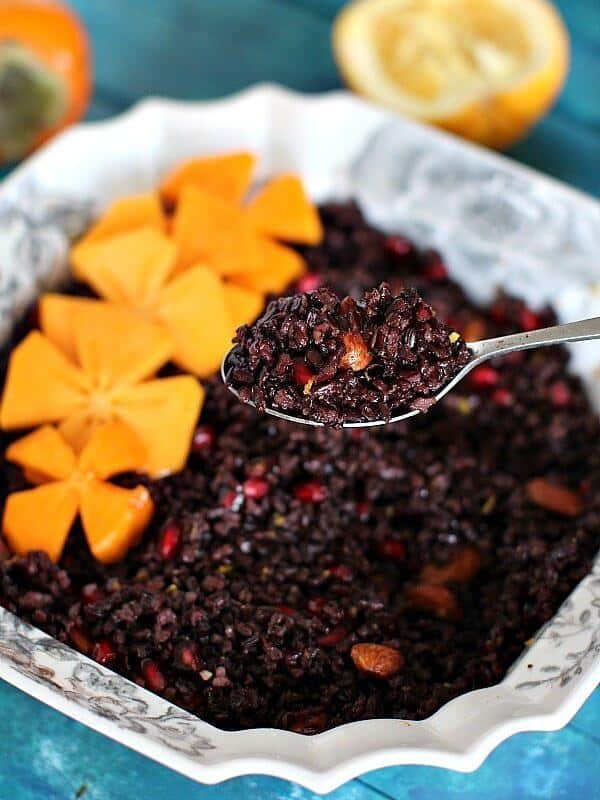 This Wild Rice Pomegranate Orange Salad can be made in advance and you can store it in an airtight container. Just mix all the ingredients except the liquid once. Then, when you are ready just pop it from the fridge, add the orange juice and olive oil and you are good to go.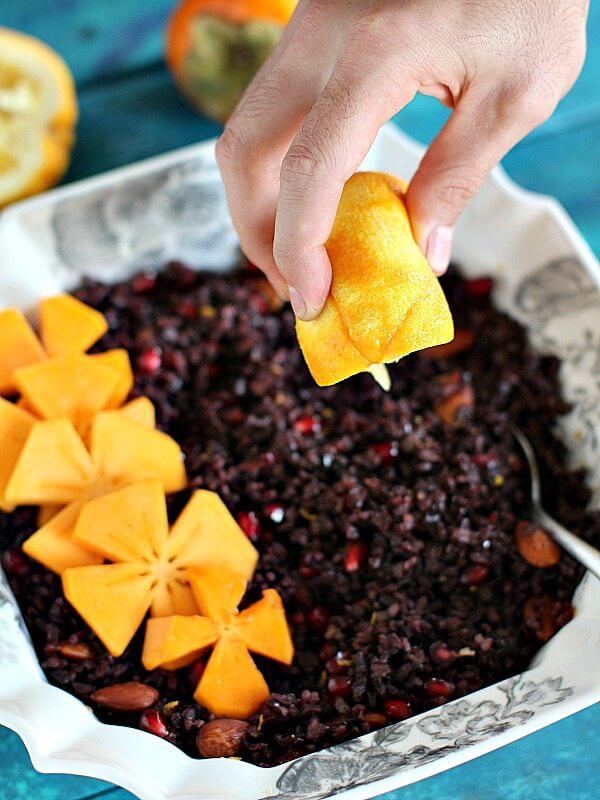 Since this Wild Rice Pomegranate Orange Salad is so fruity and bright I actually added a little sugar. I just love sweet and savory combos, but you can totally skip that, that step is optional and your salad will taste delicious either way.
Why you will enjoy this Pomegranate Orange Salad
Firstly, it is easy to make with minimal ingredients.
Also, it is healthy and full or citrusy flavors.
In addition, contains lots of vitamins and nutrients.
Can be topped with various flavors, such as tuna, chicken, bacon.
Save Recipe
Author: Catalina Castravet
Serves: 4 servings
Prep time:

15

minutes
Cook time:

40

minutes
Total time:

55

mins
Ingredients
Wild Rice:
1 cup wild rice
1 tablespoon olive oil
3 cups water
pinch of salt
Salad:
1 cup pomegranate arils
1 tablespoons orange zest
1/3 cup orange juice
1/2 cup unsalted almonds
1 persimmon
1 tablespoon olive oil
1 tablespoon sugar – optional
Instructions
Wild Rice:
I a medium pot, bring 3 cups of water to a boil, stir in 1 cup uncooked rice, pinch of salt and 1 tablespoon of olive oil. Reduce heat to low and simmer covered for 45 minutes or just until kernels puff open. Uncover and fluff with a fork and simmer an additional five minutes. Drain off any excess liquid. Let the rice completely cool before using in the salad.
Salad:
In a small bowl mix sugar, olive oil, pinch of salt and orange juice until combined.
In a deep dish mix the rice with the rest of the ingredients (except the persimmon) , pour the orange juice dressing over it and gently stir. Decorate with persimmon slices and serve cold.
Calories: 249 Carbohydrates: 40 Protein: 6 Fat: 7 Saturated Fat: 1 Cholesterol: 0 Sodium: 13 Potassium: 308 Fiber: 4 Sugar: 8 Vitamin A: 40 Vitamin C: 16.6 Calcium: 18 Iron: 0.9
Save Recipe
More recipes you might love