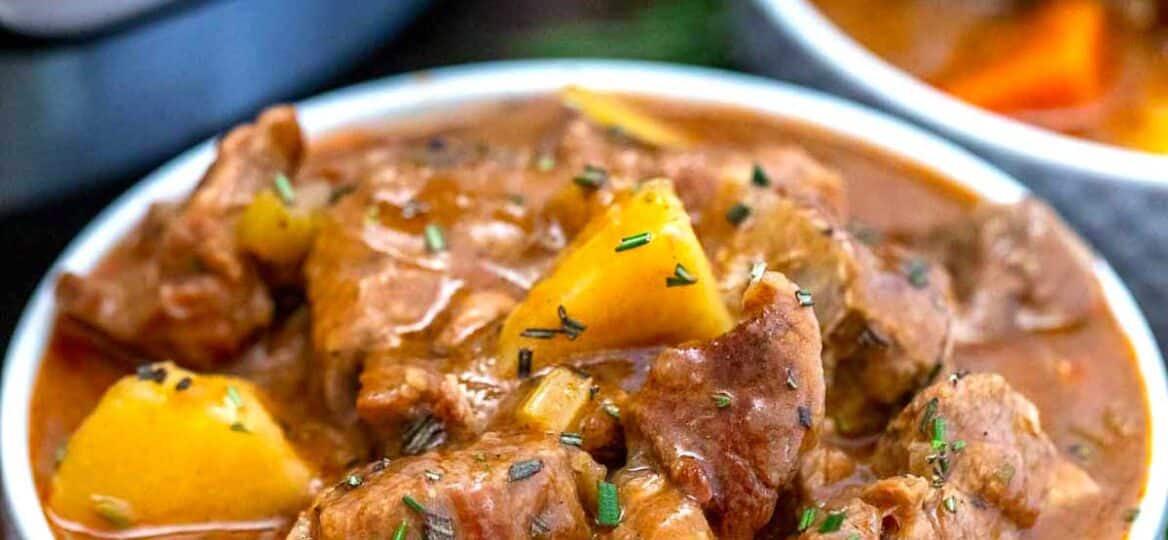 Instant Pot Guinness Beef Stew
Instant Pot Guinness Beef Stew takes only a few minutes to make, saving you hours of preparation! It is a hearty warm dish perfect for St. Patrick's Day!
When it is crunch time, using the IP will save your day! I like using it in recipes like this in which you will need hours to enjoy your perfectly warm entree. The IP is so versatile that it can help you prepare desserts, too, like Creme Brulee, Baked Apples, and Chocolate Muffins!
Pressure Cooker Guinness Beef Stew
Instant Pot Guinness Beef Stew has the intense flavor that the stovetop and slow cooker versions have but without the hours put in. It does taste like a lot of effort have been put in it, but with this recipe, you do not have to!
Feast on this comforting dish that has everything you need! It has protein-rich meat chunks and fiber-rich vegetables drowning in a flavorful and thick base made with beer and broth.
The Guinness beer is the star of this stew. It has an intense flavor brought by the roasted barley in it. It is not just bitter, but it has the characteristic sweetness that is not present in other kinds of beer.
So, if you want to impress your guests, then, follow this recipe!
How to make Instant Pot Guinness Beef Stew
Brown: Use the SAUTE function of the IP for this. Toss the meat chunks in flour, salt, and pepper, then, brown in oil. Do not place each piece too close to each other. Sear each side and do this in batches, setting aside each batch on a plate covered with foil.
Deglaze: Get the flavors from the drippings by putting half of the broth and scraping off the bottom. Once done, melt in the butter and cook the aromatics. Add in the rest of the ingredients including the browned meat except the vegetables.
Pressure-cook: Seal the IP and set it to cook at high pressure for about 30 minutes. Then, do a quick release and add in the vegetables. Set it again at MANUAL for 7 minutes.
Thicken: At this point, you may release the pressure again and use the SAUTE function to allow the stew to simmer. Then, stir in a slurry of cornstarch and water.
Serve: Adjust the taste if you want, garnish, then, serve warm.
Can I use beer in the Instant Pot or Pressure cooker?
Yes! While it may be unsafe to use liquor in the IP, beer, which has a relatively low concentration of alcohol, is safe to be used in IP recipes. It is diluted in the broth anyway.
If you heat alcohol, there is a tendency for the IP to produce vapors from the evaporating liquor which poses safety hazards in the kitchen.
So, if you have recipes calling for use of liquors, reevaluate and using the stovetop version could very well be the safer route.
What kind of Guinness do you use for stew?
You may use any of the Guinness beers, draught or extra stout. But it is highly recommended that you use the Extra Stout one. It is richer because of the roasted barley with a hint of sweetness, almost like a hint of molasses.
How to Store:
Refrigerate: You may refrigerate this dish for up to 4 days. Put portions in airtight containers.
Freeze: You may also put it in freezer bags and freeze for up to 3 months. Thaw before reheating on the stove. You may leave out the vegetables that could turn mushy when thawed.
Recipe Tips:
Chuck roast or shoulder is the recommended beef cut for this. Or, swap it with lamb.
If you do not have Guinness or dislike its taste, you may want to use any stout beer that you have.
Serve it with mashed potatoes, dinner rolls, or white rice.