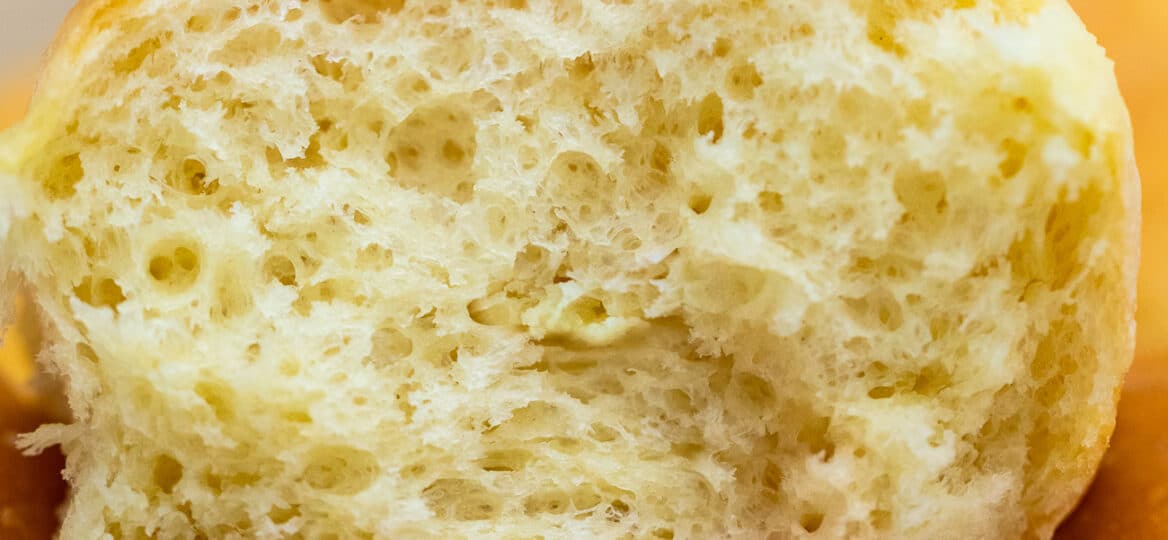 30 Minute Dinner Rolls [video]
Dinner rolls are soft, fluffy, and super delicious! Pair them with just about anything and eat them for dinner, or lunch, or anytime in between! Ready in less than 30 minutes, these soft and fluffy rolls are a must-try!
I love eating them with butter or with soup. You can try pairing it with Slow Cooker Cream of Mushroom Soup, Instant Pot Asian Chicken Noodle Soup, or Instant Pot Cheesy Potato Soup!
Dinner Rolls Recipe
These Dinner rolls may look simple, but it is not so easy to achieve the perfectly soft and fluffy kind. In this recipe, we will teach you how to achieve the best and the perfect dinner rolls.
We will share a foolproof formula that was tried many times in making this delectable bread. The great thing about this recipe is that you only need seven ingredients to make it. Aside from that, if you have a stand mixer with a dough hook, then, all you need to do is watch as it kneads your dough! It is that simple.
Enjoy these homemade rolls with Pasta, Beef, Chicken, or any type of veggies. They are even perfect on their own with some butter on them!
What are the dinner rolls?
They are a kind of bread that is round, plain, and golden in color. Even without any filling, they still taste awesome with the buttery top. They can also be enjoyed with jam or gravy.
How do you make fluffy dinner rolls?
Prep the oven: Preheat to 400 degrees.
Mix the ingredients: In a bowl, mix the warm milk, oil, yeast, and sugar. Let the mixture rest for 10 minutes. Then, use a stand mixer with a dough hook to mix in the salt and egg. Mix in a couple of cups of flour, and slowly add increments of half a cup until the dough ball forms.
Shape: The dough should be tacky. At this point, you can shape smaller balls by first spraying your hand with cooking spray. This recipe makes a dozen.
Bake: Grease a baking pan and arrange the balls. Let them rise for 10 more minutes. Then, bake them in the oven for about 10 minutes until they turn golden brown.
Serve: Brush the top with melted butter. Let cool or enjoy hot!
How do you eat dinner rolls?
There is a proper way to do it to observe etiquette. Here is how you eat bread in a formal setting:
Lay it on your bread plate.
Using your hands, break off a bite-sized piece.
Use your butter knife to put some butter on the piece you just broke off.
Then, eat it. Repeat.
If you are sopping soup or gravy, use a fork. You are not supposed to butter a whole piece although you may butter one half if it is hot and you intend to melt the butter.
What's the best flour for making dinner rolls?
Use all-purpose flour but the fluffiest bread results from using bread flour. For this recipe, use the same measurement as you would in using all-purpose.
How do you keep dinner rolls fresh longer?
Do not refrigerate them as they can spoil much faster. What you can do is either store them in the pantry at ambient temperature or freeze them. Just observe the proper storage guidelines.
How do you freshen dinner rolls?
You can reheat them in the oven at about 300 degrees for about 5 minutes, or use an oven toaster.
How to store them?
Room temperature: Let the rolls cool down to room temperature completely then, wrap each one tightly in foil or plastic bags with the air squeezed out. They can keep for 4 to 5 days.
Freezer: The shelf life can be extended to 3 months. Make sure to wrap each bread in freezer bags. When ready to serve, simply put them in a baking rack to acclimatize to room temperature.
Recipe Tips:
If you do not have a stand mixer, you can prepare the dough using a sturdy wooden spoon. Also, mix until you cannot mix anymore, and then, knead manually on a clean countertop. Again, all you are after is for the dough to be tacky.
When adding the flour, it is better to add small portions at a time until you achieve the ideal dough. If you put excessive flour, the resulting bread will be stiff, and you do not want that.
When making the small balls, ensure that each piece is of the same size. This will ensure even cooking. For a first-timer or someone who is not comfortable eyeballing it, then I recommend using a kitchen scale. Weigh the dough first and divide the weight by twelve for this recipe. That will be the weight of each piece that you will shape into balls.
Remember to warm the milk before mixing it with the yeast. Heat it in the microwave for about a minute. Your target temperature is about 100 degrees and never hotter than 110 degrees.