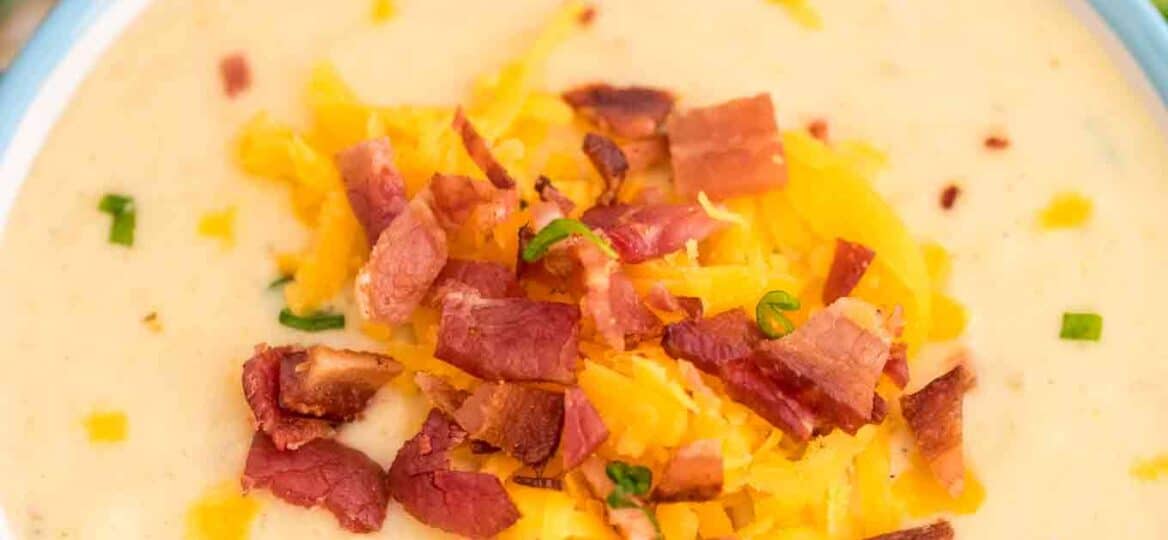 Instant Pot Cheesy Potato Soup
Instant Pot Cheesy Potato Soup is creamy, delicious, and perfect during colder weather. This will quickly become your family's favorite meal!
This soup is perfect to enjoy during the winter months. We also love crockpot chicken noodle soup, ultimate slow cooker beef stew, and clam chowder.
Instant Pot Cheesy Potato Soup
This homemade soup is loaded with cheese, is very rich and flavorful. It is also one of the easiest meals to cook in the pressure cooker, and it will warm you right up in no time. You can top it with bacon for the perfect finish!
Since winter hit, we've made this Instant Pot Cheesy Potato Soup at least 4 times already. It is so hearty and comforting, that once you try it, it's impossible to resist. Our family absolutely loves it, and my son says it is one of the best Instant Pot recipes he has ever tried!
You will need only a few simple ingredients such as bacon, chicken broth, cheese, potatoes, and seasoning to make it. This meal takes only about 30 minutes to make from start to finish, and is guaranteed to win you over!
How do you make Instant Pot Cheesy Potato Soup?
This is one of the easiest recipes you can do in the pressure cooker. Start out by cooking some diced onions in a little butter or olive oil on the saute setting of your Instant Pot.
Then, add the rest of the ingredients to the pot. We recommend cutting the potatoes in slightly large cubes as it works best for the texture.
Stir well to combine, and make sure you don't go over the inner Max line of your pot.
Close the lid and cook.
It's that simple!
What is the best potato for potato soup?
We've been making this recipe for a while and found out that Yukon Gold potatoes work best. Also, you don't need to peel them, they don't take long to cook, and they have a rich, buttery taste.
How long do you cook cheesy potato soup in the Instant Pot?
This soup takes 10 minutes to cook on HIGH pressure with a 10-minute Natural Pressure Release.
Can you make this soup in the slow cooker?
Absolutely! Making it in the slow cooker is also very flavorful because it is cooked for a longer period of time, resulting in a rich and flavorful dish. Also, if you don't own a pressure cooker, making it in the crockpot is the perfect alternative.
For the slow cooker version of it, check out the recipe here.
TOPPING SUGGESTIONS
You can enjoy the soup as it is with a warm slice of bread or baguette. In addition, you can top it with some of the below:
Bacon crumbs or chopped bacon
Mozzarella cheese
Chopped green onion
Chopped parsley
Diced chives
Garlic croutons
More delicious soups:
Recipe TIPS:
We use a 6qt Instant Pot and just love it!
For the best taste and texture, use golden Yukon or Russet potatoes.
We love adding some bacon when cooking the potatoes as it gives this meal a rich and flavorful aroma. However, if you are not a fan of bacon or want to skip on the calories, skip this step.
Similarly, to make the soup even more creamy, use an immersion blender to cream it.
In addition, if cheddar cheese is not your favorite, replace it with other cheese. Any kind will work just fine.
The soup can be easily made vegetarian if you skip the bacon and use vegetable stock.
To store the soup, transfer to an airtight container and then refrigerate for up to 3-4 days.