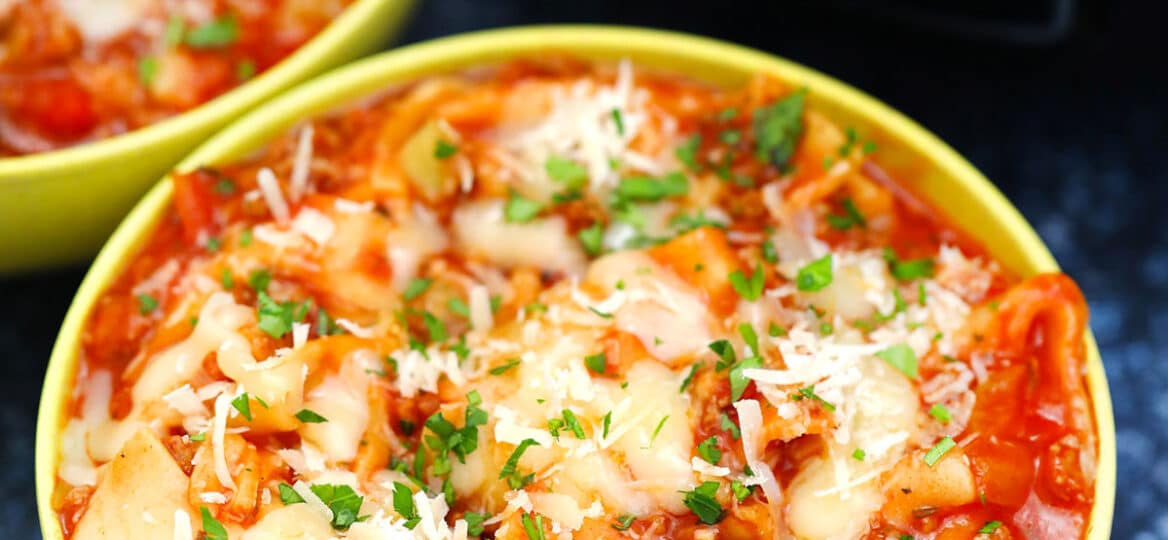 Easy Slow Cooker Lasagna Soup
Slow Cooker Lasagna Soup is hearty, cheesy, and meaty! It has all the flavors of traditional lasagna but in the form of soup, and is effortlessly made in the crockpot. The perfect dish for the cold season for the whole family to enjoy!
I love making easy and delicious crock pot recipes because they require little effort and are always full of flavors. If you are looking for more great recipes to make in the crockpot, then try this Italian wedding soup, slow cooker vegetarian minestrone soup, and baked potato soup.
Crockpot Lasagna Soup
This Slow Cooker Lasagna Soup is my new favorite soup recipe. It is made with simple ingredients and is very easy to make. First, no layering is required and it only needs a few minutes of prep time. Just throw all the ingredients into the bottom of the slow cooker and you have an easy and delicious lasagna soup ready.
Also, while it is slowly cooked in the crockpot, your kitchen smells heavenly! The tomato sauce adds in richness and the lean ground beef gives it a meaty dimension.
Combined with herbs and spices, the vegetables and lasagna give a subtle balance to tie everything together. In addition, the cheesy top makes it so yummy!
This hearty soup has plenty of fiber, carbs, and protein in every single bowl. It is simply a delicious and healthy dish that is perfect for any weeknight dinner. So, if you like the lightness of soups, but something hearty too, then, this dish is a great choice!
Especially now that the weather is freezing, this dish is that kind of comfort food that will just warm you up inside. And you get to have pasta in it, too, so that is good news for pasta-lovers. It is like two dishes in one ultimate comfort food, without having to layer the lasagna!
Pasta or soup?
I will be honest, I love both! However, depending on the time of the year, I would pick one over the other.
First, the soup is easier to make especially in the crockpot. You simply dump the ingredients, cover, and cook. This is perfect for busy families, or if you are short on time.
At the same time, it is a one-pot dinner and can be kept warm in the crockpot for a long time. A bowl of soup will warm you up during colder winter days!
On the other hand, traditional lasagna is more time-consuming but is also a great comforting meal. Both are just great recipes, and I highly recommend adding them to your rotational menu!
Ingredients needed:
Meat: I go with lean ground beef (85-90% lean). It has the right fat content and it works just fine here.
Seasoning: Basil, thyme, oregano, rosemary, bay leaves, salt, and black pepper.
Veggies: Carrots, bell pepper, onion and garlic, diced tomatoes.
Tomato sauce or tomato paste
Chicken stock: I love using homemade chicken broth. It just has plenty of flavors and aromas. But you could also use beef broth or vegetable broth.
Lasagna noodles: I use uncooked pasta.
Garnish: Parmesan cheese, mozzarella cheese, and chopped parsley.
How to make Slow Cooker Lasagna Soup
Brown the meat: In a large skillet add some olive oil, and over medium-high heat, cook the meat until no longer pink. Season with salt and pepper. Then, drain off any excess fat. Add the aromatics and sauté.
Cook: Once done, add the meat to the crockpot along with the other ingredients minus the lasagna. Turn the settings to low heat and cook for 7 to 8 hours, or set on high for 3 to 4 hours.
Add the pasta: Next, place the lasagna around 30 minutes before the end of the prescribed cooking time. This ensures that it will just be al dente for when you turn off the crockpot, it will continue to cook.
Serve: Lastly, top with cheese and parsley or basil, and serve in bowls. Enjoy!
Variations and substitutions:
Meat: Feel free to substitute the ground beef with ground turkey, ground chicken, Italian sausage, or even chicken sausage.
Seasoning: Go with your favorite seasonings. Some great additions would be Italian seasoning, ranch seasoning, red pepper flakes, etc.
Other veggies: Alternatively, use your favorite veggies, such as sliced zucchini, green beans, sweet corn.
Instant Pot: Making this delicious recipe in the electric pressure cooker is super easy. In addition, it is ready in 30 minutes. So, if you are looking for a quick dinner during busy weeknights, then try this Instant Pot Lasagna Soup.
Stovetop Lasagna Soup Recipe:
To make this classic dish on the stovetop, follow these easy steps:
First, brown the beef with onion in a large pot over medium-high heat.
Season with salt and pepper to taste, and stir until browned. Then, drain any excess fat and set it aside.
Next, add the broth, diced tomatoes, and the rest of the ingredients, except pasta. Bring to boil, and then reduce heat to simmer for another 30 minutes.
Lastly, stir in cooked pasta and simmer for another 5 minutes.
Serve warm.
What type of pasta is best to use?
You can experiment on the brands, but what works best for me is dry instant lasagna sheets. Also, I cut them up into smaller pieces before putting them in.
I have used fresh lasagna sheets before, but they tend to clump up during slow cooking.
About the shape, you can use any type. Campanelle and Mafaldine are popular choices, too.
What are the best toppings for it?
The cheesy part is the top where you also sprinkle your favorite herbs. What I suggest for you to put is a combination of your favorite cheeses like ricotta cheese or a cup of cottage cheese. Here are some great toppings to try:
Lots of cheese: Such as shredded parmesan, mozzarella, or cheddar cheese, or parmesan rinds. The melty cheese on top makes this comfort food so much better!
Fresh herbs: Go with fresh basil, thyme, or green onions.
Croutons or crackers: For a crunchier texture.
Crispy bacon bits
Can you make it in advance?
Yes! Here are some suggestions on how to go about it:
First, brown the beef in advance and refrigerate it.
Prepare the lasagna and simply add it last or around 15 minutes before you finish.
Next, freeze the soup ingredients except for the pasta in freezer bags. Then, simply thaw and pour into the crockpot for later.
Prepare the dish and just reheat it when ready to serve. Read on for the storage instructions.
More delicious slow cooker soups:
How to Store it:
Refrigerate: Store it in the fridge for up to 4 days in an airtight container.
Freeze: You can freeze this dish for later once done but without the pasta because, in general, it does not freeze well as they become mushy. So, prepare this dish up until the point before you put the lasagna. Then, let it cool entirely, put it into freezer bags, and freeze for up to 3 months.
To reheat: Simply thaw in the fridge, reheat on the stove and add in freshly cooked pasta. Or, heat in the crockpot again.
Recipe Tips:
You can make this dish using ground poultry, or turkey.
Feel free to substitute the tomato sauce with marinara sauce or pasta sauce. Both are already seasoned with herbs and spices.
Serve it with crusty bread or dinner rolls.
To make the best lasagna soup, I recommend cooking the pasta sheets separately (al dente). Then, add them during the last 5 minutes of cooking to the pot so they absorb all the flavors from the broth and tomato sauce.
Also, feel free to use a combination of Italian sausage mixed with ground beef.