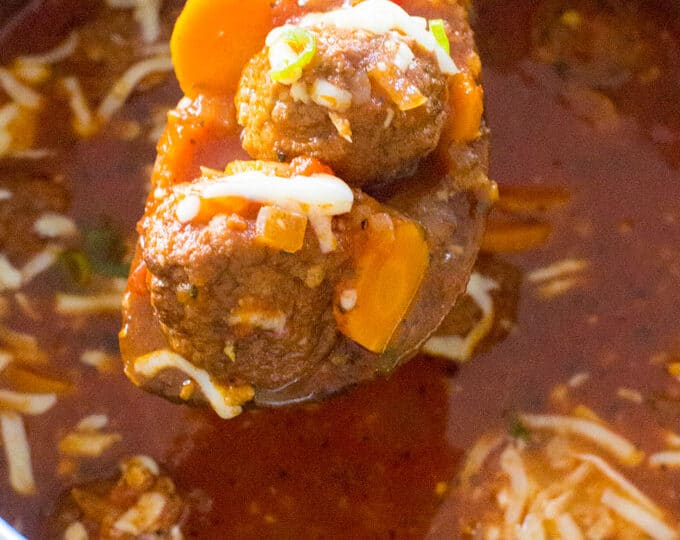 Instant Pot Italian Meatball Soup
Instant Pot Italian Meatball Soup is easily made in the Pressure Cooker, with accessible ingredients and in just 30 minutes. Juicy and delicious meatballs cooked in a rich tomato broth.
This dish is my definition of pure comfort food. All you need is a warm bowl of it, some crusty bread, and a comfy blanket. If you are a huge fan of Instant Pot recipes just like we are, you will love IP Mongolian Chicken, IP Orange Chicken, and IP Tomato Soup.
Easy Pressure Cooker Italian Meatball Soup
Instant Pot Italian Meatball Soup is the perfect easy meal you can put on the table in 30 minutes or less. With budget-friendly ingredients and thanks to using frozen, store-bought meatballs, this delicious soup is easy breezy to make.
Made with juicy meatballs, marinara sauce, crushed tomatoes and topped with cheese, this meal is pure comfort food. Instant Pot Italian Meatball Soup is best served with fresh, crusty bread, and use lots of it for dipping into the soul-warming tomato broth.
An easy dinner option that's perfect for a busy weeknight! Also, it is perfect to enjoy during colder winter days, as is guaranteed to warm up your souls!
Instant Pot Italian Meatball Soup Recipe Tips:
Firstly, I prefer to use frozen fully cooked meatballs, because they already have a nice golden-brown color. However, you can make your own, freshly made meatballs. If decided to make from scratch, go with 90% lean ground beef.
In addition, I kept the vegetables to the minimum in this soup, because I wanted a rich tomato broth. You can add 1 cup of celery or 3 potatoes.
Also, beans are a great addition too. You can add a can of cannellini beans. Make sure you rinse the beans before adding them to the pot.
You should taste and adjust for salt, pepper, and spiciness.
MEATBALL SOUP VARIATIONS
This is an easy dish to adjust based on your own preferences. For example, you can make it with other meats, such as Italian sausages, or other veggies. Here are some of our favorite ways to swap the ingredients:
Sausage: Go with 50% Italian sausage, 50% ground beef in the meatballs.
Turkey: Also, you could use ground turkey instead of beef, and swap out the beef broth for chicken broth.
Veggies: Feel free to add other vegetables you might like.
How to make Crockpot Italian Meatball Soup?
If you want to make it in the Crockpot, it is similarly simple.
Then, stir to combine, and cover the lid. Cook on LOW for 6-7 hours, or HIGH for 2-3 hours, until vegetables are tender.

During the last 15 minutes of cooking, stir in the pasta, cover and cook on HIGH for an additional 15 minutes, until pasta is tender.

Serve warm and garnish with some Parmesan cheese or chopped parsley.
How to store it?
Prior to storing it, ensure the soup is completely cooled. Then, transfer it to an airtight container and store in the fridge for up to 4 days.
How to freeze the Instant Pot Meatball Soup?
I recommend using quart bags for this soup. Use a cup to transfer the soup from the pot into the bag. Then, squeeze out excess air and seal the bags. The bags can nicely be stored in the freezer for up to 3-4 months.
To thaw the soup, remove it from the freezer the night before serving, or put the sealed soup bag in warm water to thaw it faster.
Heat in a soup pan and simmer for 5-10 minutes.
WHAT IS A 10 MINUTES NATURAL PRESSURE RELEASE?
A Natural Pressure Release means that the pressure is released gradually. For a Natural Pressure Release, you click on Keep Warm, and wait 10 minutes, after which you open the valve and let any leftover pressure to release. Another option is to Turn Off/Unplug the pressure cooker, wait 10 minutes and after that open the valve.
A natural release is usually used when cooking soups, meat in a large amount of sauce, pasta or steel-cut oats. This method prevents any foam from the dish to shoot out through the valve, which can happen during a Quick Pressure Release.
Tools/Ingredients I used to make this recipe:
Instant Pot – I use it all the time, either the Pressure Cooker function or the Slow Cooker function, I also like that I can just sauté / brown the meat and veggies directly in the pot using the Sauté function