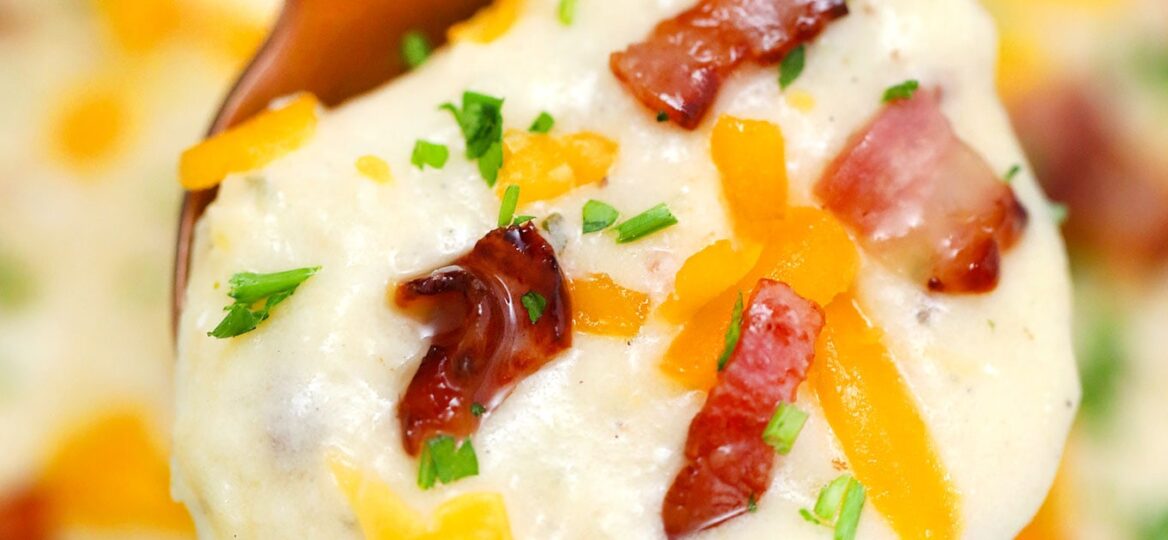 Instant Pot Bacon Ranch Potato Soup
Instant Pot Bacon Ranch Potato Soup is hearty, creamy, and yummy! Done in a few minutes, this dish makes for a great dinner on a busy weeknight!
We have had a lot of recipes for America's most favorite vegetable and here is another one using bacon, ranch, and cheddar cheese. Here are some more amazing dishes that you can try using the same ingredients: Cheese Ball, Crack Chicken and Dumplings, and Crack Chicken Spaghetti Casserole.
Pressure Cooker Bacon Ranch Potato Soup
What I like about this Instant Pot Bacon Ranch Potato Soup recipe is that it is so quick to make. Not to mention, the combination of the crispy bacon, tangy ranch dressing, and the cheesy base is too good to pass up!
This dish is comforting and with the chilly weather outside, this will be in our menu rotation for quite some time. It is so good that I make bigger batches of this and freeze some for later.
Freezer meals like this are becoming common in our household nowadays. Reheated, it still tastes as amazing as it does when freshly cooked. This makes this dish even more hassle-free!
What potatoes are best to use for this soup?
The best ones are waxy varieties, not the starchy ones. The starchy varieties like Russet or Idaho soak up water and they do not freeze well.
On the other hand, the waxy type is creamy and freezes well. Since they are naturally moist, they do not interfere much with the thickness of the soup.
Hence, I go for the kinds of Yukon Gold for this dish. Other waxy spuds that you can use are Red Bliss, New Potatoes, Purple Peruvian, and even Sweet Potato!
How to make Instant Pot Bacon Ranch Potato Soup:
Sauté: Using the sauté function of the IP, put the bacon in and cook it until crispy. Set it aside at first and cut into smaller pieces. Sauté the aromatics in the fat that the bacon left behind. Remember to discard any excess fat.
Cook: Add in the spuds together with the broth, seasonings, ranch dressing, and the aromatics. Set to high pressure. Cook for 10 minutes. Once done, perform natural pressure release then, vent by moving the knob. Then, open the lid carefully.
Mash: Mash the potatoes using a masher or a blender.
Thicken: Add in the cream and cornstarch. You may have to add in more salt and pepper. Select the sauté function and let it simmer some more before adding the sour cream. When already thick, add in the cheese and turn off the IP.
Serve: Put the toppings and serve while hot.
How to make Bacon Ranch Potato Soup in the slow cooker:
The crockpot is another amazing tool that you can do this dish with. It will take hours to make but the flavors are intensified by that, resulting in a comforting and delicious dish. Check out the slow cooker version in this post.
How to make it on the stovetop:
You can make this in a Dutch oven and follow this procedure:
Crisp up some bacon, and using the resulting fat, sauté the aromatics.
Deglaze the drippings with the broth, add in the potatoes, season, then, simmer.
Mash the spuds, add the ranch, cheese, and other seasonings. Then, thicken with cream and flour.
Simmer some more to thicken. Then, serve while warm. Remember to put your favorite toppings!
How to Store:
Refrigerate: This soup keeps well in the fridge for about 3 to 4 days, stored in an airtight container.
Freeze: Before adding the dairy, you can keep the soup in freeze-proof containers. When you reheat, that is when you put in the dairy. Freeze and consume within 3 months.
Reheat: To reheat, simply thaw in the fridge then, reheat on the stove.
Recipe Tips:
For the toppings, you can put the bacon crumbles, cheese, green onions, a dollop of sour cream, or some croutons.
For the thickening agent, you can also add in a roux. Make this on a skillet by whisking in flour with butter.
Mash the spuds manually using a masher and leave some chunks if you like, or, you can use a blender for a smooth finish.
You can add in more broth or milk to thin out if you find it too thick.