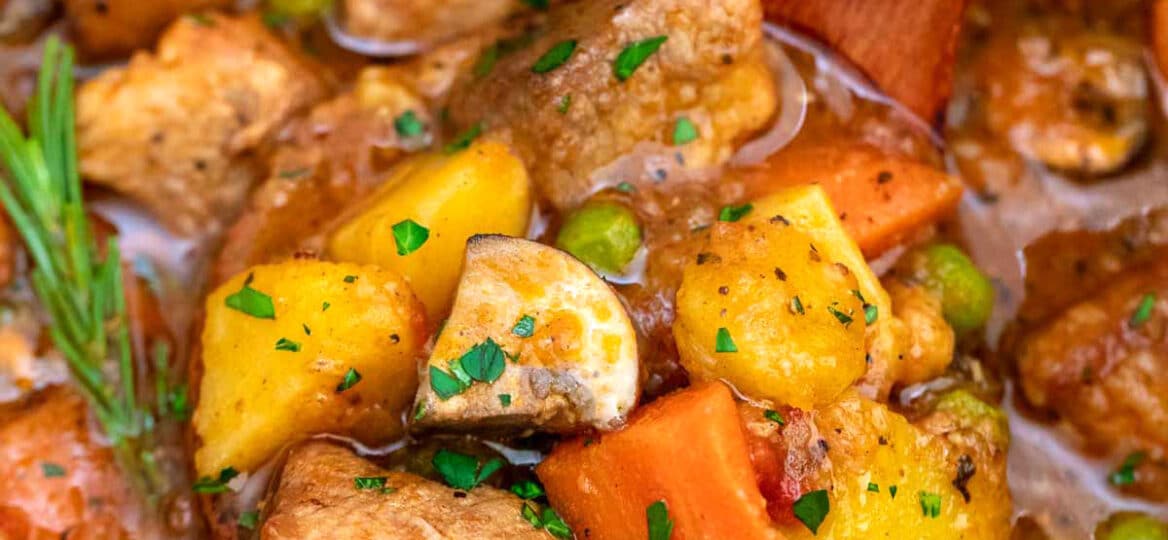 Instant Pot Pork Stew [Video]
Instant Pot Pork Stew is the perfect comfort food to make on a busy weeknight in a fraction of the time! Tender pieces of pork cooked in a flavorful broth with red wine and veggies. This recipe is great to add to meal plans and also freeze for later to have on hand.
Pressure cooker recipes are such a time saver and also they reduce the cooking process so you can rest or concentrate on other things. Cooking meat in the instant pot is so great like you have been slow cooking it for hours. Check here another way of how you can cook pork in the instant pot, or check our library for more delicious, time-saving dinners.
Instant Pot Pork Stew recipe is a tasty dish with amazing flavor and the easiest way to cook a hearty stew in a fraction of the time. In addition, using a cut of pork as the main protein is perfect because it does not dry out and the vegetables complement it beautifully.
While the traditional method of cooking this dish is equally delicious, it involves more steps and the cooking time is longer. Therefore, we tweaked the recipe for this one-pot meal to make it in less time, but still, keep all the great flavors as in the original recipe.
This is one of the best pork recipes you will try and rest assured that the whole family will love it. It is like a hearty soup, with tender pieces of meat, and lots of yummy vegetables.
Ingredients needed:
Meat: For this recipe, we use a piece of pork loin, however, pork tenderloin, pork butt, or pork shoulder would work great.
Seasoning: A mixture of salt and ground black pepper. In addition, you can add some smoked paprika, chili powder, onion powder, and garlic powder.
Flour: Also, we use a bit of all-purpose flour to coat the meat pieces into, this helps absorb the moisture and therefore they are easier to saute.
Oil: You can use vegetable oil, canola oil, extra virgin olive oil, or avocado oil.
Vegetables: A combination of yellow onion, garlic, carrots, celery, baby Bella mushrooms, mini red potatoes, and frozen peas.
Liquid: Everything is cooked in a mixture of chicken stock and red wine. However, you can also use chicken broth, vegetable broth, or beef broth.
Thickener: To extra flavor, but not extra liquid to this easy recipe we use tomato paste, and a cornstarch mixture.
Herbs: We don't use many herbs in this recipe except bay leaves, but feel free to use more.
How do you make Instant Pot Pork Stew?
Sauté mode: First, start by tossing the pork cubes in flour, salt, and black pepper, in a large bowl. Click on the saute button and add the oil to the bottom of the pot. Brown the pieces of meat in a single layer and after that set it aside.
Brown the veggies: Still using the sauté function, cook the onion and garlic.
Deglaze: After that, add the wine and scrape the browned bits that stuck to the bottom of the inner pot.
Cancel saute: Next, press cancel to turn off the saute mode, and add back the meat, followed by tomato paste, carrots, celery, potatoes, mushrooms, and beef broth. Season and stir well, and add the bay leaf.
Pressure cook: Close the lid and seal the valve, and pressure cook on high pressure for 20 minutes.
Natural pressure release: After that, when the pressure cooker beeps, do a 10-minute natural release.
Quick pressure release: Then, using the quick release method release pressure by carefully opening the valve.
Sauté function: After releasing the remaining pressure, carefully open the electric pressure cooker and select saute again.
Thickener: Now, if the sauce is too thin, mix the cornstarch mixture and add it to the pot. Cook for a few minutes, also adjust for salt and pepper.
Serve: When the delicious pork stew recipe is ready to be enjoyed, sprinkle some fresh chopped parsley on top and serve it.
Recipe Variations
Meat: Alternatively, you may substitute the meat, check our other stew recipes with chicken or beef, and choose the one you like.
Veggies: In addition, you can use more or fewer veggies, since this easy and delicious meal is also very versatile. We recommend making it also with some sweet potatoes, bell peppers, red onion, whole garlic cloves, and some fresh tomatoes for extra acidity and sweetness.
Beans: This easy recipe can be made vegetarian, or just make it heartier by using pinto beans, black beans, or chickpeas.
Spicier: As an option, if you prefer your food on the spicier side, use some cayenne pepper, chili peppers, peppers in adobo sauce, or a can of diced green chiles.
Herbs: As an alternative, add extra flavor to this meal by using fresh or dried herbs like rosemary and thyme.
Crockpot version: In addition, if you don't have an instant pot, make this slow cooker pork stew.
Frequently Asked Questions
What kind of pork is best to use for stew?
I use a boneless pork roast for this recipe. Ideally, you would want inexpensive cuts.
Those are kind of tough to use for other recipes, but stewing will eventually tenderize them anyway. But you can always opt for your favorite whether it be chops, loin, or tenderloin.
What potatoes to use for stew?
I use Yukon Gold, which is somewhat waxy but somewhat starchy, too. That starch will also aid in thickening the stew.
Also, you may use red, white, or new potatoes.
Can I use frozen meat in the Instant Pot?
Yes, the Instant Pot is handy in the kitchen as you can use it even for frozen meat without the need to fully thaw it. Therefore you can make this recipe using frozen meat, however, you will have to break it apart at least so it's not a big block of frozen meat pieces.
After that, add all the ingredients to the electric pressure cooker and pressure cook on high for 35 minutes, followed by a 10-minute natural pressure release.
In addition here are a few more instant pot recipes using frozen meat:
How to serve:
This tasty meal goes well with some homemade bread like these dinner rolls, so you can dip them into that saucy goodness.
Also, it pairs nicely with a dollop of sour cream on top and some cornbread on the side.
The dish is already hearty, however, if you want to maximize the servings and make the most of it, serve it with some white or brown rice on the side.
In addition, this is such a hearty and filling meal, it goes well with a light salad on the side.
More pork recipes:
How to store:
Refrigerate: First, cool it down and transfer the leftover stew to an airtight container, then refrigerate for 3 to 4 days.
Freeze: To freeze the pressure cooker pork stew, put it in freeze-proof containers or freezer bags and freeze for up to 3 months.
Thaw: Transfer it from the freezer for the fridge section and thaw it overnight. In addition, make sure to reheat it well to kill any bacteria.
Reheat: Either reheat it on the stove or in the microwave. Also, make sure to adjust the seasoning if needed.
Cooking Tips:
Potatoes are natural thickeners in dishes like this. However, if you want to thicken it more, add in a slurry of cornstarch towards the end of the cooking.
Also, this makes a great freezer meal. You can make a huge batch and freeze several portions for you to thaw and reheat later.
We recommend using baby potatoes with the skin on. The skin will have a great texture upon cooking, and it is healthier, too, as much of the fiber in the spuds are in the skin. Also, it helps the potatoes maintain their shape and not become too mushy.
Instant Pot Pork Stew
Ingredients
Pork Stew:
2

pounds

pork loin meat

cut into 2-3 inch cubes

1

teaspoon

salt

1/4

teaspoon

freshly ground pepper

1/4

cup

all-purpose flour

4

tablespoons

vegetable oil

1

yellow onion

peeled and chopped

5

cloves

garlic

minced

2

tablespoons

tomato paste

1/2

cup

red wine

5

cups

chicken stock or beef broth

low-sodium, more if needed

4

medium carrots

peeled and cut into 1/4-inch chunks

1

cup

celery

diced

1

pound

mini red potatoes

peeled and cut into halves

2

cups

baby Bella mushrooms

cleaned and sliced

1

cup

frozen peas

3

bay leaves
Cornstarch Mix:
3

tablespoons

cornstarch

1/2

cup

water
Instructions
Place pork chunks into a large bowl, sprinkle with flour, salt, and black pepper. Toss to coat evenly.

Turn on the Instant Pot, select Saute and adjust to High, once Hot add the oil and once the oil is simmering, add the meat into one layer, work in batches if needed. Brown, on all sides, for about 5 minutes per batch. Once browned set aside.

Add onion and garlic and cook for 1-2 minutes. Add 1/2 cup of wine to deglaze the pot, using a wooden spoon scrape the bits that are stuck to it.

Add back the meat and add tomato paste.

Add carrots, celery, potatoes, and mushrooms.

Pour the beef broth on top.

Add bay leaves and season with salt and pepper.

Cover and lock the lid, point the valve to seal.

Select manual Pressure cook for 20 minutes on High. Followed by a 10 minutes Natural Pressure Release, after which release manually the remaining pressure.

Carefully remove the lid and taste and adjust for salt and pepper.

Select Saute om Medium, simmer the stew, and add the peas, stir.

If you prefer the stew to be thicker, either mash some of the potatoes or add the cornstarch mix.

To add the cornstarch slurry, mix cornstarch and water in a small bowl until fully combined.

While on Saute on Medium, add the mixture to the pot, stir and simmer for 3-5 minutes or until thickened.

Cancel Saute function and turn off the Instant Pot.

Garnish with chopped parsley and serve.