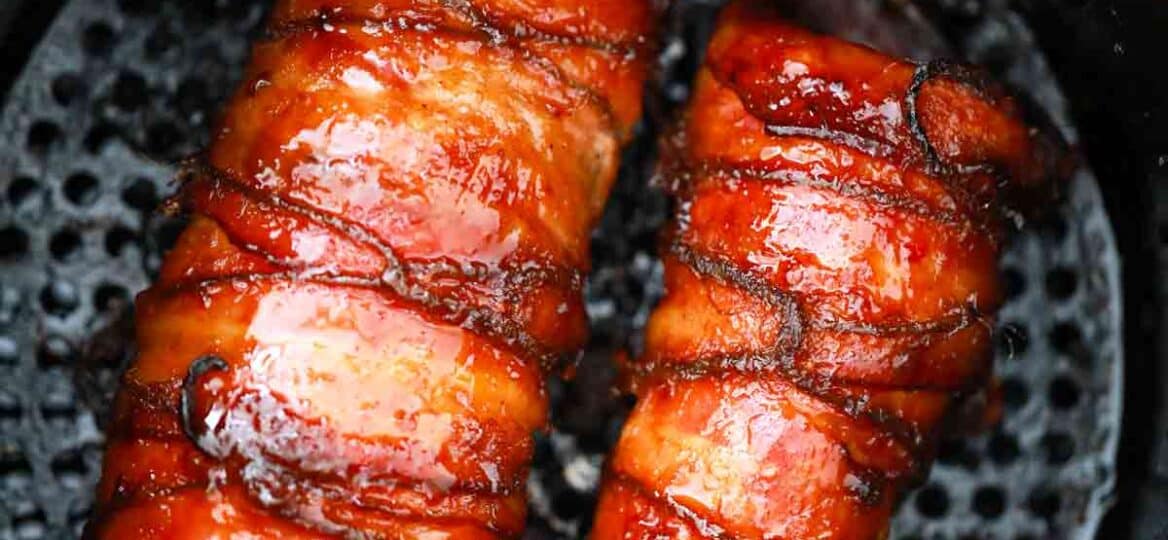 Air Fryer Bacon Wrapped Pork Tenderloin [Video]
Air Fryer Bacon Wrapped Pork Tenderloin is made with a lean cut of pork that stays tender and moist with this easy recipe. With a little meal prep, you can add so much flavor rubbing it with smoked paprika, brown sugar, garlic powder, and onion powder. And the bacon holds in all the precious juices that you need to keep it from drying out.
If you are not a fan of bacon, this Juicy AF Pork Tenderloin is for you and it takes even less meal prep time. Did you forget to take the meat out to thaw? That is okay too. Here is a recipe for cooking Frozen Pork Loin in the instant pot. Another way to enjoy this dish is to cut it into slices and make Bacon Wrapped Pork Medallions.
This pork tenderloin recipe makes this the perfect dish to serve any time of year and it is done so quickly, you can whip up dinner in about a half an hour. Also, you could change the cooking methods depending on your needs, so you do not have to use the fryer if you do not have one or if it is being used to cook something else.
Ingredients needed:
Be sure to scroll down to our recipe card to get the precise measurements. But here are the basic ingredients you will need:
For the tenderloin:
Pork tenderloin: About 1½ pounds is what we used.
Bacon: We used six center cut strips of bacon for this pork recipe.

Salt: Kosher salt is what we used but you can use any.
Black pepper: Just a bit.
Cooking string or toothpicks: To wrap the loin.
For the rub:
Paprika: Smoked paprika gives it an extra smoky taste.
Brown sugar: Light or dark are both fine.

Garlic powder
Onion powder
Canola oil: You could also use olive oil.
How do you make air fryer bacon wrapped pork tenderloin?
Preheat: First, preheat the air fryer to 400 degrees F.

Prepare: Next, season your pork with pepper and salt.

Cut: After, spread bacon on your cutting board and cut two of them in half. The ends of the loin are smaller, so they do not need whole pieces.

Lay the bacon: Then, lay the two halves of the bacon together and then lay four whole pieces before laying another two halves.

Place tenderloin: Next, carefully place the meat on the lop of the bacon and roll it up like a jelly roll starting with the long side.

Tie it up: Then, using the cooking string, tie the roast up every two inches or so.

Rub: After mixing the rub ingredients together rub it onto the meat.

Cut: If you have small air racks or an air fryer basket, you will probably have to cut the pork loin into two pieces.

Fry: Finally, place the meat in your fryer basket and cook it at 400 degrees F for about 10 minutes, turn it, and then cook it for 10 more minutes. Check it with a digital meat thermometer before removing it.
Recipe variations:
Spice it up: Also, you could make it spicy by adding some cayenne pepper to the rub mixture.

Juice it: Alternatively, sprinkle some orange or lemon zest into the rub for a fruity flavor.

Add more bacon: If you really love bacon, add some bacon bits to the rub.
More flavors: Add Italian or ranch seasoning for more flavor.
How to serve:
This simple bacon wrapped tenderloin is perfect with mashed potatoes and garnished with parsley. However, there are many other ideas you could try such as:
Frequently Asked Questions
Can I cook frozen pork loin in the air fryer?
There is no reason why you would not be able to cook frozen pork loin in your air fryer. Just make sure you start out with the fryer cold instead of preheating it first. Fry it for 35 to 40 minutes at 330 degrees F. The cooking time may vary depending on the size of the cut and the kind of fryer you are using.
Can you cook raw meat in the air fryer?
Of course, you can also cook raw meat in your air fryer. In fact, you can roast a whole chicken in about 30 minutes. Your pork tenderloin can be done even faster, in about 20 minutes. Just make sure you check the internal temperature of the meat before you take it out.
What temperature should you cook pork to?
When the internal temperature reaches between 145- and 150-degrees F, your pork should be done.
If you cook it any longer than that, the meat will be dried out and chewy. Let the meat rest for at least five minutes before you slice it though, so the juices have time to settle in.
How to store leftovers:
Store: Let your air fryer pork tenderloin cool to room temperature before storing. Then, place it in an airtight container and it will stay good for three or four days in the fridge.
Freeze: To freeze your leftovers, wrap them in aluminum foil or plastic wrap before placing it in a freezer bag. It will last for up to 90 days in the freezer.

Thaw: Thaw the loin in your refrigerator overnight before reheating.
Reheat: You can reheat it in the microwave but the best way is the air fryer so you will get a nice crispy crust.
More Air Fryer Recipes:
Cooking tips:
Be sure to check the temperature of the meat before taking it out. Insert a meat thermometer into the center of the meat about halfway through. The temperature should be between 145- and 150-degrees F.

Season the meat before wrapping it with bacon slices and then tying it up. After that, you can add the rub.
If you do not have any kitchen twine or string, you could use toothpicks.
Use smoky bacon for an extra smoky flavor.
Preheat the fryer for best results. If yours does not have a preheat setting, just set it to the temperature you need for about five minutes before using it.
Air Fryer Bacon Wrapped Pork Tenderloin
Ingredients
1/2

teaspoon

kosher salt

1/4

teaspoon

ground black pepper

1

pork tenderloin

about 1 1/2 lbs

6

center cut strips bacon
Rub:
1

teaspoon

smoked paprika

1

teaspoon

brown sugar

1

teaspoon

garlic powder

1

teaspoon

onion powder

1

tablespoon

canola oil

cooking string
Instructions
Season pork with salt and pepper.

Carefully wrap the tenderloin in the bacon

Tie the roast at 2- inch intervals with kitchen string each about 12-inches long.

Mix the rub ingredients. And press onto the tenderloin.

Carefully cut the tenderloin in half to fit in the air fryer basket.

Air fry at 400 F for 20 minutes turning halfway, until an instant-read thermometer inserted into the center of the meat reads 145-150 F.

Let the pork rest about 5 minutes before slicing.

Slice into 12 slices.

Serve with mashed potatoes. Garnish with chopped parsley.
Deliciousness to your inbox
Enjoy weekly hand picked recipes and recommendations