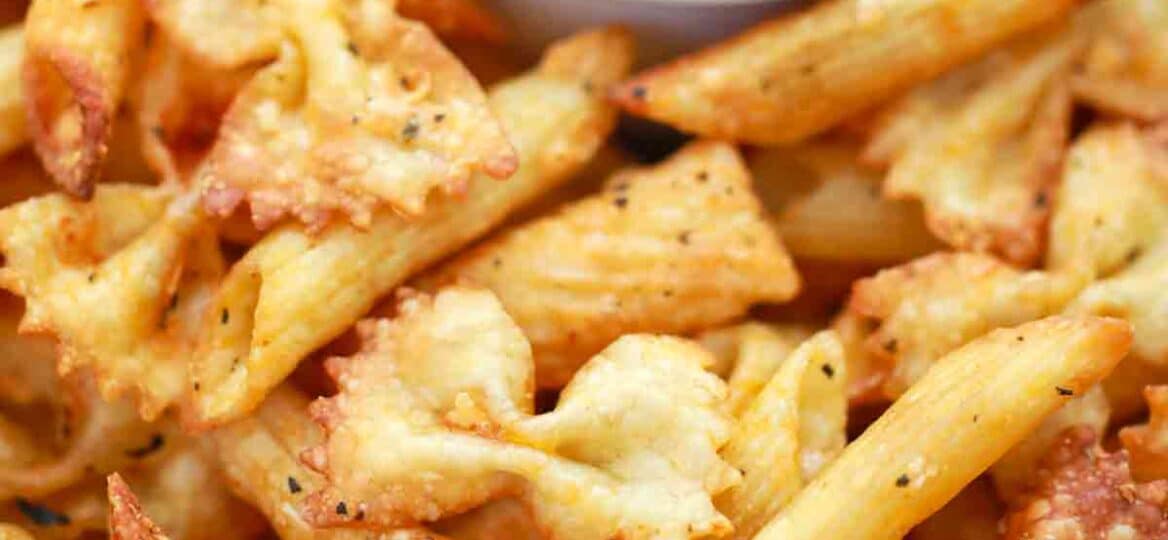 Crispy Air Fryer Pasta Chips
Air Fryer Pasta Chips are crunchy, cheesy, flavorful, and fun to eat. This quick snack is a new take on the regular pasta recipes and you get that satisfying crunch with a burst of flavors including parmesan cheese and garlic powder. In fact, this is the perfect appetizer and party food!
New recipes are always fun to try. For a more traditional but still healthy snack, cook up these crispy Air Fryer Potato Chips. If you would rather have something sweet, our Air Fryer Banana Chips are crunchy and make a fantastic after-school snack for the kids. Why not toss in some apples to make some Air Fryer Apple Chips to go with the bananas? They are tangy and delicious with a delightful texture.
No matter whether you are making these for the kids or for yourself, this fun recipe is very versatile. For instance, you can change the shape of the pasta or the seasoning you use. Also, try one of the many dipping sauces we have on our blog, like tangy honey mustard or sweet and spicy tzatziki sauce.
In fact, this recipe is so good, and it's a great way to make even picky eater clean their plates. There are only a few ingredients for this easy viral TikTok recipe that has recently blown up in the media.
Also, you can make it healthier by using whole wheat macaroni or gluten-free. This is a great recipe to make with kids, and usually, the whole family loves it.
Follow us on Pinterest for more delicious recipes!
Ingredients needed:
Our recipe card below has the exact ingredients, but these are the basics you will need for these pasta crisps:
Pasta: We used farfalle pasta, but you can use penne pasta or whatever you like.

Olive oil: Or your favorite oil. Just make sure it has a high smoke point.
Parmesan cheese: Store-bought is fine.

Herbs and spices: We used garlic powder, smoked paprika, onion powder, and dried basil.
Salt: We used kosher salt to taste.
How do you make pasta chips?
Boil: To start, boil the macaroni in a large pot of salted water from the directions on the package. You want it to be just tender but not fully cooked.
Drain: Next, drain pasta and move it to a large bowl.

Season: Then, toss it with olive oil and other seasonings until it is well coated.
Preheat: Meanwhile, preheat the fryer to 380 degrees F.
Cook: After, spray the bottom of the basket with cooking spray and cook for seven to 10 minutes.
Tip: Remember, cook in batches so there is good airflow and be sure to shake every two or three minutes to help get them golden brown and evenly crispy. The first batch is usually your test batch. After your first time, you should know exactly how long to cook them.
Recipe variations:
Add some heat: Add red pepper flakes or cayenne pepper to give it a kick of spiciness.
Ranch chips: Make these delicious ranch chips by adding ranch seasoning.

Anything else: Alternatively, use Italian seasoning, Cajun seasoning, or your favorite flavor.
Sweet treat: Another idea is to turn this snack into a sweet treat by using sugar and cinnamon instead of garlic and parmesan cheese.
Yeast: For an even healthier snack, sprinkle some nutritional yeast into your seasoning.
How to serve:
These chips are best served with a side of warm marinara sauce for dipping. But you may also like one of these ideas for serving:
Use nacho cheese dip for a Mexican flair.

Or dip sweet pasta chips into this mouthwatering strawberry sauce.
Try other dipping ideas like hot sauce, rice wine vinegar, thousand island dressing, mayo, or even ketchup.
Serve these as a side dish to sloppy joes, burgers, or burritos.
Frequently asked questions
Are pasta chips healthy?
The answer to this question depends on who you ask. But if you look at the basic facts like calories, carbs, fat, and cholesterol, the answer should be pretty clear. One serving of these chips has about 250 calories, 40g carbs, 8g fat, and 4mg cholesterol.
On the other hand, French fries have 326 calories, 55g carbs, 10g fat, but they have no cholesterol. One serving of traditional plain potato chips contains 365 calories, 48g carbs, 17g fat, and they have no cholesterol either. The answer seems pretty clear.
Macaroni is lower in calories, carbs, and fat than both fries and chips. The only benefit to the other two is the zero cholesterol but that is ruined by the amount of fat you consume. It is also a good source of vitamin B, vitamin A, potassium, calcium, and magnesium. No matter what you use, cooking in the air fryer is much healthier than a deep fryer.
Is it okay to eat raw pasta?
Although it is not dangerous per se, it is better to eat it cooked than raw. First of all, when uncooked it is harder for you to digest, which means it can cause digestive issues. Also, you do not get as many of the vitamins as you would with cooked.
What is the healthiest type of pasta to eat?
Legume pasta, typically made with chickpeas or lentils, is the one with the most nutrients and least carbs. Whole wheat is also a great choice with more fiber and protein than the others. Veggie noodles are healthy options too when comparing calories and carbs.
How to store leftovers:
Store: Store leftovers in an airtight container on the counter or in the refrigerator where they will be fresh for three to five days.
Freeze: Freezing is not recommended for these chips.

Reheat: Although they are great eaten at room temperature, you could heat them up in the oven or air fry them to get them warm again.
More Air Fryer Recipes:
Cooking tips:
You do have to boil the noodles before air frying them or you will just have super hard macaroni you cannot even chew.

Only cook until it is tender but still has a bite to it (al dente pasta) or it will not turn out as crispy.

Salt the water to ensure they get a good infusion of flavor from the start.

The best shape of pasta is one that you can easily pick up with your fingers and dip in the sauce.

Be sure to cook the noodles in a single layer on the air fryer basket without them touching for the best results.
Gluten-free pasta is a great snack for those who have celiac disease.
To keep your chips crispy and warm as you cook, put them on a baking sheet in a warm oven.
Air Fryer Pasta Chips
Ingredients
8

oz.

dried pasta

bowtie or farfalle

1

tablespoon

olive oil

1

teaspoon

garlic powder

1

teaspoon

smoked paprika

1

teaspoon

onion powder

1

teaspoon

dried basil

1/3

cup

grated Parmesan cheese

1/2

teaspoon

kosher salt

or to taste
Optional:
Italian seasoning

Dried basil
Instructions
Boil the pasta according to package directions, a little beyond al dente.

Drain it well and add it to a large bowl.

Toss with the rest of the ingredients.

Cook it in batches if needed.

Arrange it in a single layer in the air fryer basket/tray.

Air Fry at 380°F for 7-10 minutes, shaking and stirring it every 2-3 minutes making. Cook until golden and crispy to your liking. Timing will vary depending on your air fryer, type of pasta, and quantity.

Serve with marinara sauce.