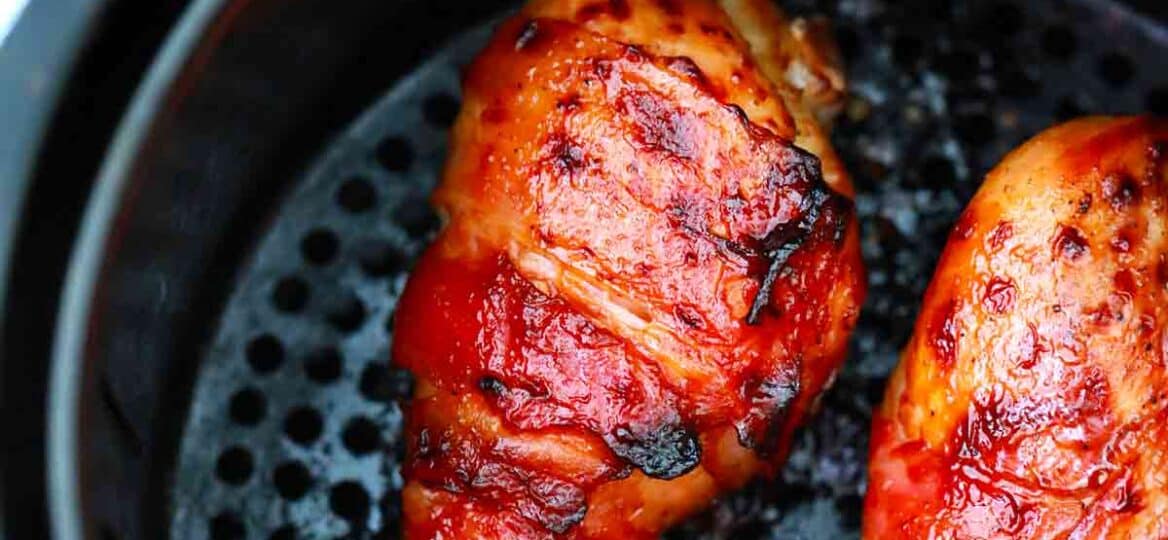 Air Fryer Bacon Wrapped Chicken Drumsticks
Air Fryer Bacon Wrapped Chicken Drumsticks are unbelievably crispy outside and tender inside with a yummy BBQ sauce to make them extra flavorful. This delicious recipe is a family favorite of mine and is a great way to have healthy fried chicken since this chicken recipe uses bacon and air instead of breading and oil.
If you don't have your air fryer handy, cook these Brown Sugar Bacon Wrapped Chicken Drumsticks in the oven instead. Or, if you are not into dark meat, try these scrumptious Bacon Wrapped Chicken Breasts. If you do not like bacon, you can use this Crispy Air Fryer Fried Chicken recipe instead.
Air Fried Chicken Drumsticks
You will find that this is the best way to make these drumsticks with barbecue sauce. This easy recipe is much juicier than just using the bacon and dry rub. Also, the barbecue sauce helps keep the rub from being blown off the chicken in the air when it is cooking.
The sauce is almost like a sticky glaze on the crispy bacon slices. You will end up liking your fingers clean. The same way you can cook chicken thighs and wings.
This combination of flavors and texture is a hit with everyone, even picky eaters. It is so good, that you can serve these as a main dish for dinner, or as the perfect party appetizer.
Follow us on Pinterest for more delicious recipes!
Ingredients needed:
Besides the drumsticks and bacon, you will not need much to make this meal. We list the exact ingredients on our recipe card below but here are the basics:
For the chicken:
Chicken drumsticks: Fresh is best but you can use frozen if you add a few minutes to the cook time.

Bacon: You will need 12 slices cut in half for six drumsticks.
Barbecue sauce: Use your favorite or try our homemade BBQ sauce recipe.
For the rub:
Canola oil: To make the rub stay on the chicken.
Brown sugar: Light or dark will do.
Paprika: We like the rich taste of smoked paprika.
Chili powder: Store-bought or homemade.
Garlic powder
Onion powder
How do you make air fryer bacon wrapped chicken drumsticks recipe?
Preheat: To start, preheat your fryer to 390 degrees F for five minutes.

Season: Meanwhile, season your drumsticks with salt and black pepper before wrapping.

Wrap: After, wrap your chicken with two slices of bacon each.

Rub: Using a small bowl, combine the ingredients for the rub and roll each piece in the rub before placing it on a baking sheet with parchment paper on it.

Brush: Then, place each one in the air fryer basket, making sure they are not touching, and brush the top with the barbecue sauce.

Flip: After seven minutes, flip the chicken and brush with the sauce again. Cook for another five to seven minutes.

Check: During, place the cooked chicken on a paper towel while you finish cooking the rest. To make sure it is done, use a meat thermometer to check the internal temperature of each piece. The internal temperature of the chicken should be 165 degrees F.
Recipe variations:
Add more spices: Add any other spices you like for more flavor.
Make it spicy: To heat things up, add some hot sauce or cayenne pepper to the sauce.

Other cuts: You could also make air fryer chicken thighs, breasts, or wings for this recipe.
Other meat: In addition, boneless pork would also work well in this dish.
Sweeten it up: Add honey to the barbecue sauce to make it sweeter.
How to serve:
These drumsticks go well with just about any side dish and can be served with a dipping sauce as well. Here are some other great ideas:
Frequently asked questions
Can you put raw chicken in the air fryer?
Yes, you can cook raw chicken with no problem. Whether you are making chicken breasts, chicken legs, chicken wings, or chicken thighs, they can all be done the easy way in the air fryer. In fact, you can even cook a whole chicken in the fryer, and it will be done in about 30 minutes. The cooking time may vary depending on the size of the chicken and your air fryer.
What are the disadvantages of air fryers?
There are always advantages and disadvantages of any cooking method and air frying is not always the best way to go. For example, grilled cheese is not a good choice for the air fryer, and neither is granola. The cheese gets stuck in the grill and the granola flies all over the place due to the air circulation.
Other issues are that some are difficult to clean, can be too small for a big family, and can take up a lot of counter or cabinet space. They typically have a short plug wire too so you cannot move it very far from the wall. You just have to know which one to choose that is right for you.
What can you not cook in an air fryer?
We already mentioned grilled cheese sandwiches and granola, so you know not to try those. But there are other things you probably do not want to cook in your fryer.
Also, some kinds of pasta have to be boiled first. And toast just does not work out well either. Also, anything with wet batter is not a good idea.
How to store leftovers:
Store: Wrap your air fryer chicken drumsticks in foil or plastic wrap or put them in an airtight container in the fridge and they will stay fresh for up to three days.
Freeze: If you have leftovers that will not be eaten in a few days, freeze them by wrapping them in plastic wrap, then aluminum foil, and then put them in a freezer bag. These should be good for up to 90 days.

Thaw: Thaw your chicken in the fridge overnight before reheating for best results.

Reheat: Then, reheat in the oven to get the bacon to crisp up again. Just put them on a baking sheet and bake for 10 minutes at 375 degrees F.
More Chicken Air Fryer Recipes:
Recipe tips:
Let your bacon strips sit until they are at room temperature to make it easier to wrap. It just does not wrap very well when it is cold.
Also, use toothpicks to hold the bacon in place but don't forget to remove them before serving.
Although you can try turkey bacon or another light bacon, the real stuff works best for this recipe.
In addition, do not use thick-cut bacon or it will take longer to cook and may not be as crispy.

For extra crispy drumsticks, put them in the broiler for a few minutes after air frying them.
Air Fryer Bacon Wrapped Chicken Drumsticks
Ingredients
6

chicken drumsticks

1

pound

bacon

12 slices cut in half

1/2

cup

bbq sauce
Rub:
2

tablespoons

canola oil

4

tablespoons

brown sugar

1

tablespoon

smoked paprika

1/2

teaspoon

chili powder

1

teaspoon

garlic powder

1

teaspoon

onion powder
Instructions
Preheat the air fryer to 390 F.

Season the chicken with salt and pepper.

Wrap the bacon tightly around the chicken drumsticks.

Mix the rub ingredients and gently toss each bacon-wrapped chicken in the mixture, pressing it slightly, and place on a parchment-covered sheet.

Arrange in the air fryer basket in one layer, not touching each other.

Make sure there is space between them so the bacon can crisp.

Mix the two sauces and brush the chicken.

Increase temperature to 400 F and air fry for 7 minutes at 400F. Flip, brush again with sauce, and air fry for another 5-7 minutes or until crispy.

Serve immediately.