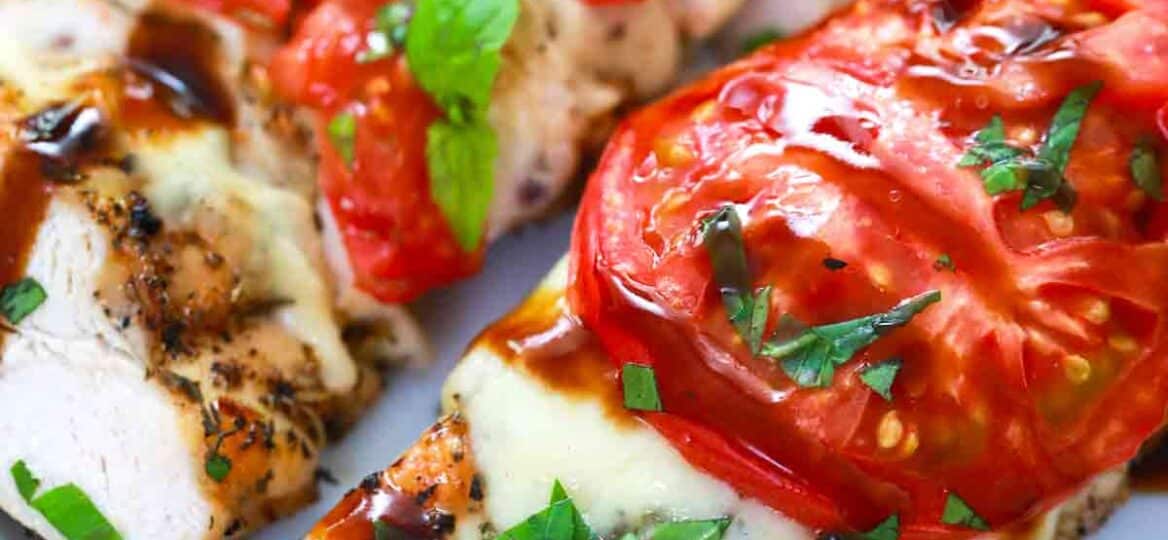 Air Fryer Caprese Chicken [Video]
Air Fryer Caprese Chicken is made with chicken breast, mozzarella cheese, and tomatoes. This is a healthy family dinner, that is ready in less than 30 minutes.
I love cooking in my Air Fryer because it is quick, healthy, and delicious. Some of my favorite dishes cooked in it are Meatballs, Hasselback Potatoes, and Ribeye Steak.
Healthy Air Fryer Caprese Stuffed Chicken
Making this classic Caprese Chicken dish in the Air Fryer has a few advantages. Firstly, the poultry is cooked to perfection, with a crispy outside and tender inside, in less than 20 minutes.
Also, it has fresh and bold flavors yet, it is very easy to make. The air fryer is a delicious way to make pretty much any meal. The chicken cooks quickly in the AF and is then topped with fresh mozzarella cheese, tomatoes, and basil.
The fresh cheese here works the best, especially when topped with basil. The aromas and flavors are simply outstanding. However, if you cannot find it fresh, use the regular store-bought version.
When cooked together, the cheese on top starts to melt, making a gooey and juicy meal. I like to drizzle some balsamic vinegar on top, but you can simply use some virgin olive oil or simply squeeze fresh lemon. This is a classic and healthy summer dish, full of flavors and proteins, that can be enjoyed at the pool with friends and family.
What is an Air Fryer and how does it work?
An air fryer is a great way to cook meats, veggies, fish, and pretty much anything else. It is essentially a countertop oven where hot air circulates and cooks the ingredients.
Cooking this way has a few advantages. Firstly, it is healthier than frying because you using very little oil. That way you are cutting the calories by about 80%. Secondly, it cooks meats and veggies perfectly. For example, when chicken or beef meat is cooked, it will end up with a crispy exterior and a juicy and moist interior.
In addition, it is super easy to utilize and the cooking time is greatly reduces compared to frying or baking. All in all, this is a great kitchen appliance, that should be on everyone's lists.
What is Caprese Chicken?
This is very similar to the Classical Italian Caprese Salad, which is made of sliced fresh mozzarella, tomatoes, chicken, fresh basil, and then seasoned.
Ingredients needed:
Chicken breast: Try using organic meat as it is healthier. Also, you can use about 2 breasts and cut them into cutlets. This way you end up with 4 pieces, and it also cooks faster. Or, if you need to feed a larger crowd, simply use more.
Italian seasoning: I always use homemade Italian seasoning. It is super easy to make and it stores well for months. Alternatively, you can use a store-bought one. For extra flavor, you can add dried basil and garlic powder.
Fresh mozzarella cheese
Fresh tomatoes
Basil
How to make Air Fryer Caprese Chicken?
Cut and season the meat: Cut the breasts into cutlets if they are too big. Then, using a paper towel, pat them dry. Season with Italian seasoning to taste.
Slice the veggies: Using a sharp knife, slice the fresh mozzarella cheese and tomatoes. Set aside.
Cook: Next, place the cutlets in the air fryer basket and cook at 380 degrees F for about 10 minutes. After, open the lid, top each chicken breast with a slice of mozzarella cheese and a tomato. Then, cook for additional 2-3 minutes.
Serve: Garnish with some fresh basil and vinegar dressing, and serve warm.
Flavor Variations and substitutions:
Add avocado: Traditionally, this recipe does not contain avocados. However, you can easily incorporate it to make a bowl of this delicious meal.
Tomatoes: Cherry tomatoes or grape tomatoes are ideal to use. But if you cannot find them, feel free to use any fresh variety you have available.
Cheese: Fresh mozzarella or mozzarella balls are your best option for this. However, you can incorporate other cheeses as well, such as Greek feta.
Greens: Other greens can be used as well. Celery, romaine, butter, iceberg lettuce, or spinach are great substitutions.
Meat: You can use boneless, skinless chicken breasts, thighs, or even beef steak.
What to serve with Caprese Chicken?
This is a full and satisfying dish on its own, with plenty of proteins. It is ideal to serve during summer times as it is healthy, and the flavor combination is amazing.
You can also pair it with Italian Tomato Bruschetta, Beer Bread, Southwest Salad.
Some great topping suggestions:
More Air Fryer Recipes:
How to store leftovers?
Use an airtight container, and store leftovers for up to 4 days. Reheat in the microwave for 2-3 minutes, or in the oven for about 10 minutes at 350 degrees F.
Recipe Tips:
Fresh ingredients are essential for this dish. Try using fresh basil, fresh cherry or grape tomatoes, and cheese.
Also, Do NOT crowd the chicken in the air fryer basket, leave room for the air to circulate.
Chicken thighs can be used instead of breasts. In addition, turkey, beef, or other meats can be used as an alternative.
Deliciousness to your inbox
Enjoy weekly hand picked recipes and recommendations