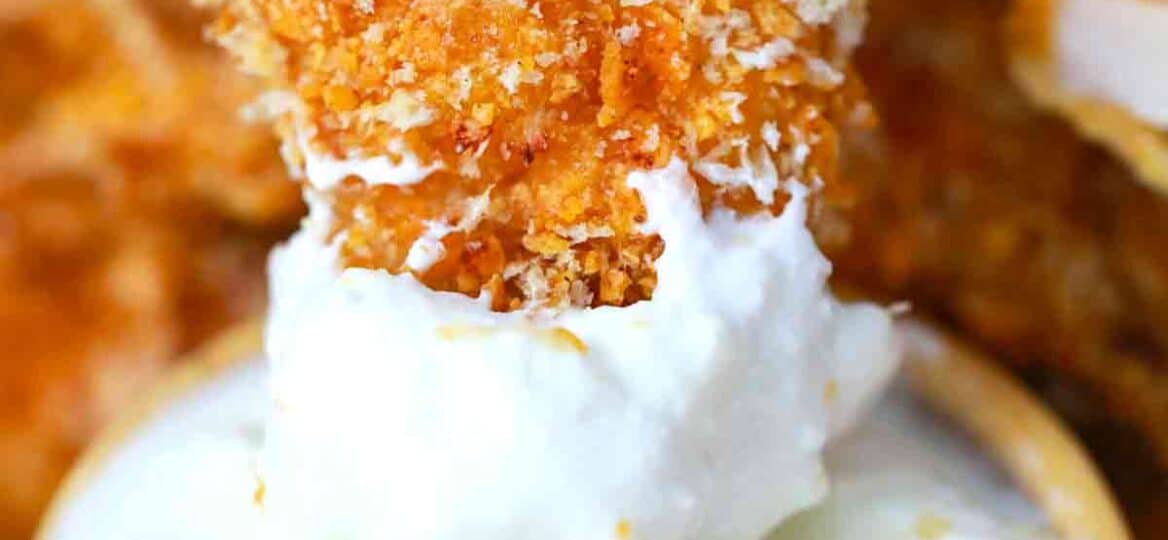 Air Fryer Dorito Chicken [Video]
Air Fryer Dorito Chicken is coated in spices and crushed Doritos, then air-fried until super crunchy! The chips add layers of flavor and texture, which the chicken is juicy. Use your favorite Doritos flavor for a quick and delicious lunch that's also kid-friendly!
For more delicious and kid-approved dishes, add these Mac and Cheese Balls, Tortilla Pizza, and Turkey Grilled Cheese to this week's menu! As a bonus, they're very easy to make as well!
Air Fried Dorito Chicken Recipe
Air Fryer Dorito Chicken is a fun way to turn plain chicken tenders into a unique and delicious meal. Fresh chicken strips are coated in spiced flour, fresh eggs, and a generous layer of crushed Doritos, then air-fried until they're crispy, crunchy, and super tasty!
These are perfect, especially if you have picky eaters at home. You can serve these with tater tots, fries, a small salad, or pasta and vegetables for a full meal. Or, you can just serve it with homemade dips for a great snack. We encourage you to experiment with your favorite chip flavors!
What is Dorito chicken?
They're fresh chicken strips breaded in crushed Doritos chips! If you have never tried – or even heard – of this dish before, we know it sounds a little odd. But don't knock it till you try it!
The crushed Doritos add so much flavor to the chicken plus incredible crunch. In addition, this recipe takes very little time in the air fryer. Less than 15 minutes, and you've got dinner sorted out! Finally, it's always a hit with kids because it combines two of their favorite things: chicken and chips!
How to make homemade air fryer Dorito chicken from scratch
Crush chips into crumbs. Dump the chips into a Ziploc, and crush until you have something that resembles panko.
Coat. In one bowl, mix flour, cayenne, plus spices. In a second bowl, add eggs and whisk. Get a third bowl and place the crumbs in there. Coat the meat in this order: first, in flour, then a dip in egg, and finally, a good coating of the crumbled chips.
Cook. Air-fry at 380F for about 12 to 14 mins.
Serve. Enjoy hot!
Recipe variations and substitutions:
Other Doritos flavors: Use literally any Dorito flavor you like! Try the Pizza, Cool Ranch, Taco, Corn, Supreme Cheddar, etc.
Oven: Bake these at 350F for about 20-30 mins., or until crunchy and meat is done.

Skillet: Add a little oil to your pan, and lightly fry on both sides.
Instant Pot: Use the Sauté function to shallow-fry the tenders in a bit of oil.
Nuggets: Instead of strips, use chunks of breast or thigh meat.
Fish: You can use this recipe to make Dorito fish sticks! Use white, mild-tasting fish like dory or tilapia, slice into strips, and follow the recipe.
Spicy: Add some chili flakes or cayenne into the crushed chips. Or, you can also use spicy Doritos flavors like Spicy Nacho, Flamin' Hot Nacho, Poppin' Jalapeno, or Salsa Verde.
Frequently Asked Questions
What to serve with air fryer Dorito chicken?
We love them with fries, onion rings, or zucchini fries for a healthier option. Also, for a more balanced meal, you can serve it with roasted or steamed vegetables, a side of pasta like spaghetti, or on top of a light salad.
Then, you have the sauces! Don't forget the dips, such as:
More chicken recipes to try:
How to store leftovers?
Breaded and air-fried dishes like these are best consumed immediately. In case of any leftovers, however, store in a covered container and chill in the fridge for up to 2 days. Reheat by air-frying at 350F for about 5-7 mins. to re-crisp.
We don't recommend freezing the leftovers, because they will become soggy when you defrost them.
Recipe tips:
Use any Doritos flavor you want! We love involving the kids by letting them pick out their favorites.
Crush the chips extremely small, so they coat every inch of the meat.
Use the cook times here only as a guide. It will vary based on how big the pieces of meat you're using, and what kind of air fryer brand you have. You know your air fryer best, so adjust the cooking as needed.