Chicken Parmesan is amazingly crispy topped with tomato sauce and melted mozzarella cheese. This is a restaurant-quality dish, easily made at home.
This is one of the best recipes you can get. It is flavorful, and the rich homemade tomato sauce elevates this dish to a higher level. Enjoy it over pasta, or with some roasted asparagus, or mashed potatoes.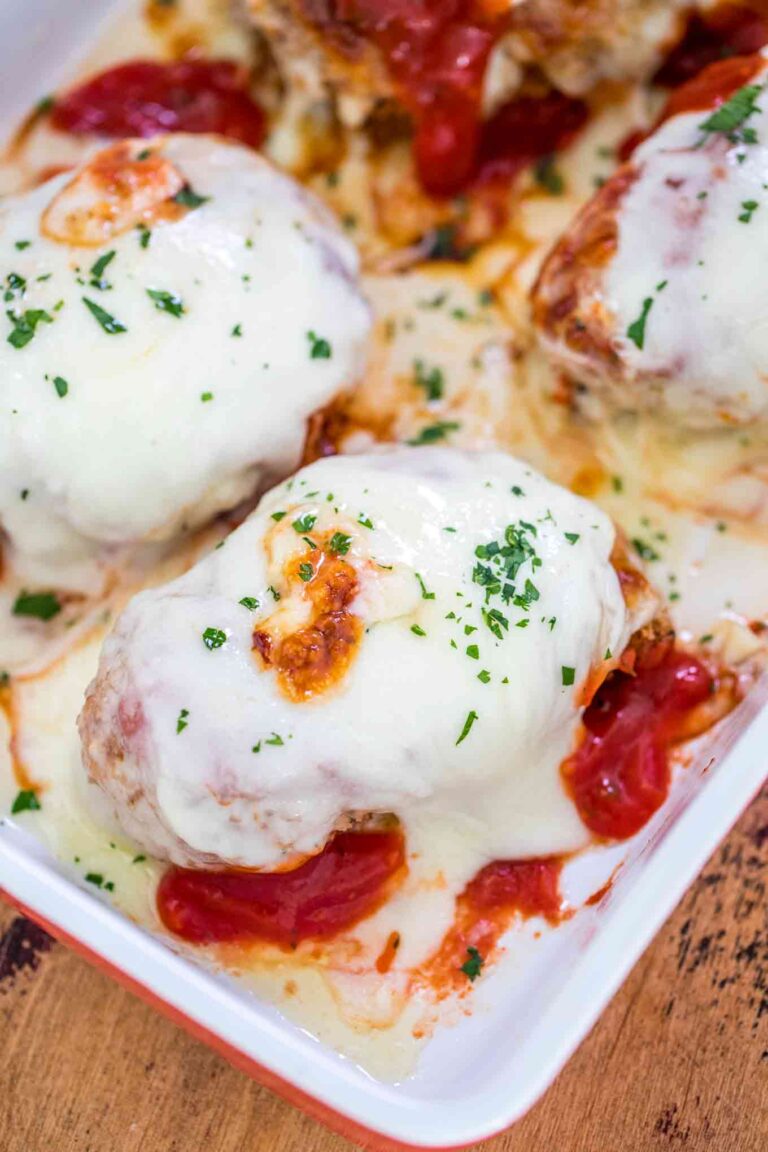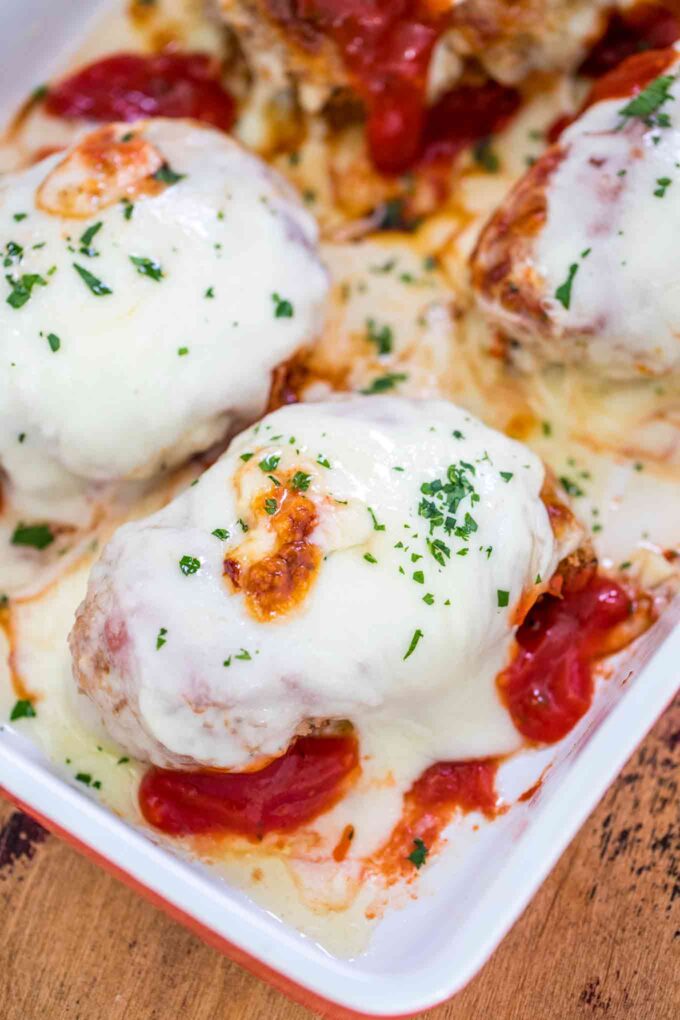 Crispy Chicken Parmesan
This crispy chicken parmesan recipe is our favorite homemade dinner. If you crave one of the Best classic Italian dishes, then this one is for you! We bread the chicken breast and then pan fry it in the skillet with a bit of oil. Just enough to give it the perfect golden color and a crispy texture. Then, we top it with tomato sauce and mozzarella cheese.
For the perfect finish, we bake it in the oven just enough for the cheese to get bubbly and melted. This will beat any restaurant recipe out there. It will be ready in about 30 minutes, and the flavors are amazing and super delicious!
What is Chicken Parmesan?
Chicken parmigiana or parmesan is a popular Italian-American dish. It consists of a breaded chicken breast topped with tomato sauce and cheese, then baked to perfection. It is thought to have originated from Southern Italy using breaded eggplant.
Today is one of the most ordered dishes at an Italian restaurant around the world! Therefore, by all means, go ahead and try to make this amazingly delicious and popular dish.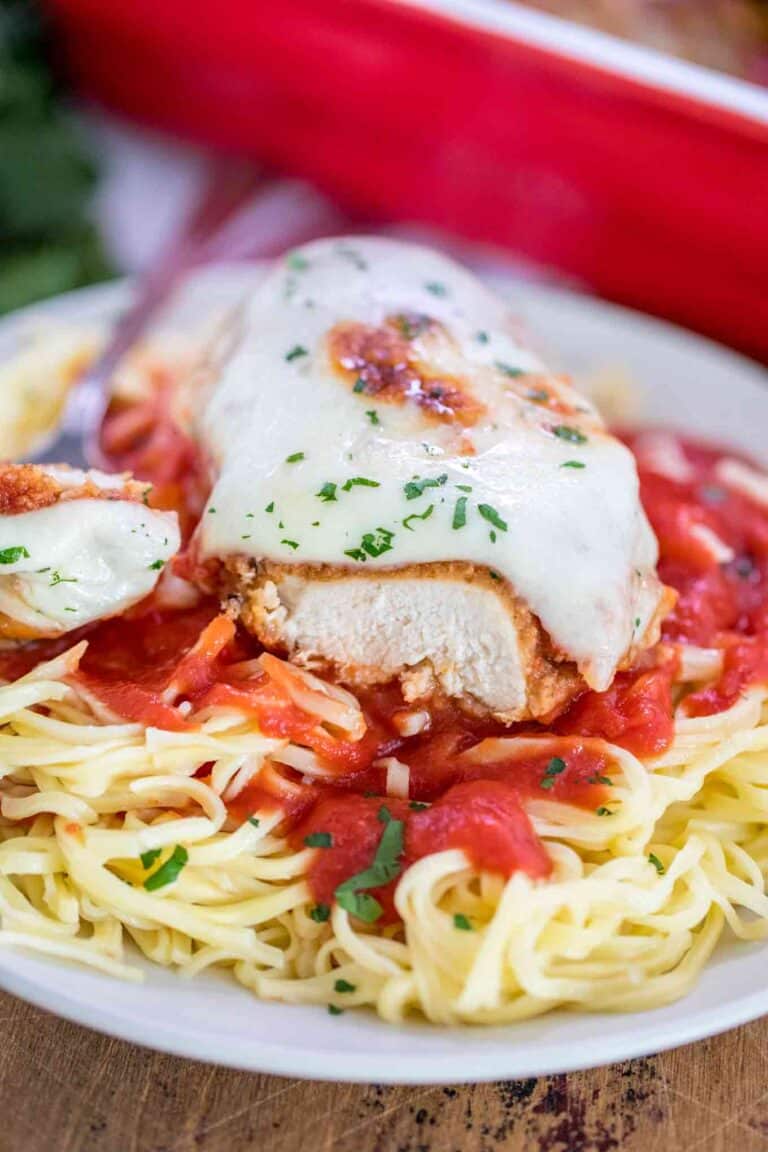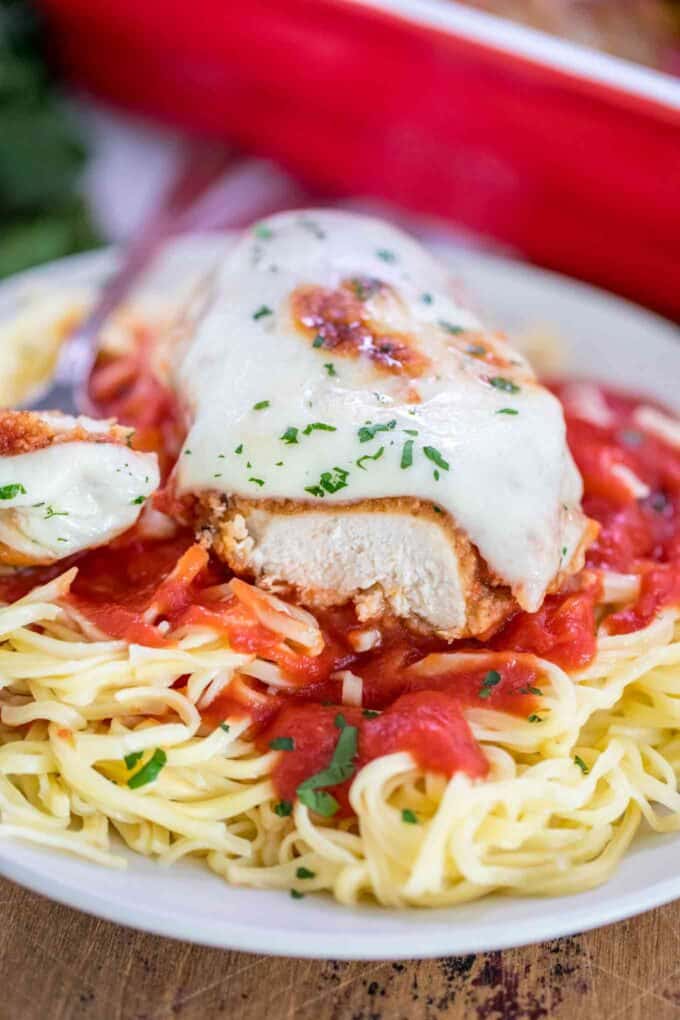 How to Make Chicken Parmesan
Depending on your liking, you can use whole breasts or thin them in half. If you are going with the thinner option, make sure to pound it with a mallet or roll with a rolling pin. This will ensure tender and juicy meat. Also, important to remember the thinner the meat, the faster it cooks, so reduce the cooking time by a few minutes.
Pat the meat dry before dipping it into the beaten eggs and then the breading and parmesan.
The crumb coating ratio we use is about a 2:1 mixture of bread crumbs to parmesan cheese plus some herbs.
Similarly, to make the breasts crispy, cook them coated in very hot oil in a single layer. This will give them crispy golden outside which is exactly what you want here.
To finish off this delicious dish, all you need to do is top it with a decent portion of amazing tomato sauce, and then top that with some slices of fresh mozzarella or provolone, along with some grated parmesan.
Lastly, put it in the oven for a few minutes until the cheese gets bubbly and melty.
How to make the breading?
Breading mixture is very easy to make, and requires only a few ingredients:
Panko Japanese breadcrumb – this is ideal for coating and frying, because it is dryer than regular breadcrumbs, and absorb less oil-producing a crispy and crunchier crumb!
Italian seasoning breadcrumbs
Parmesan or Provolone cheese
Garlic powder
Paprika – it adds a nice color
Italian seasoning herbs – for extra flavor
Salt and pepper to taste
Put all the ingredients in a small bowl and combine them together.
What to serve with chicken parmesan
Traditionally, it is served over pasta or fettuccini. However, for a healthier alternative you could try: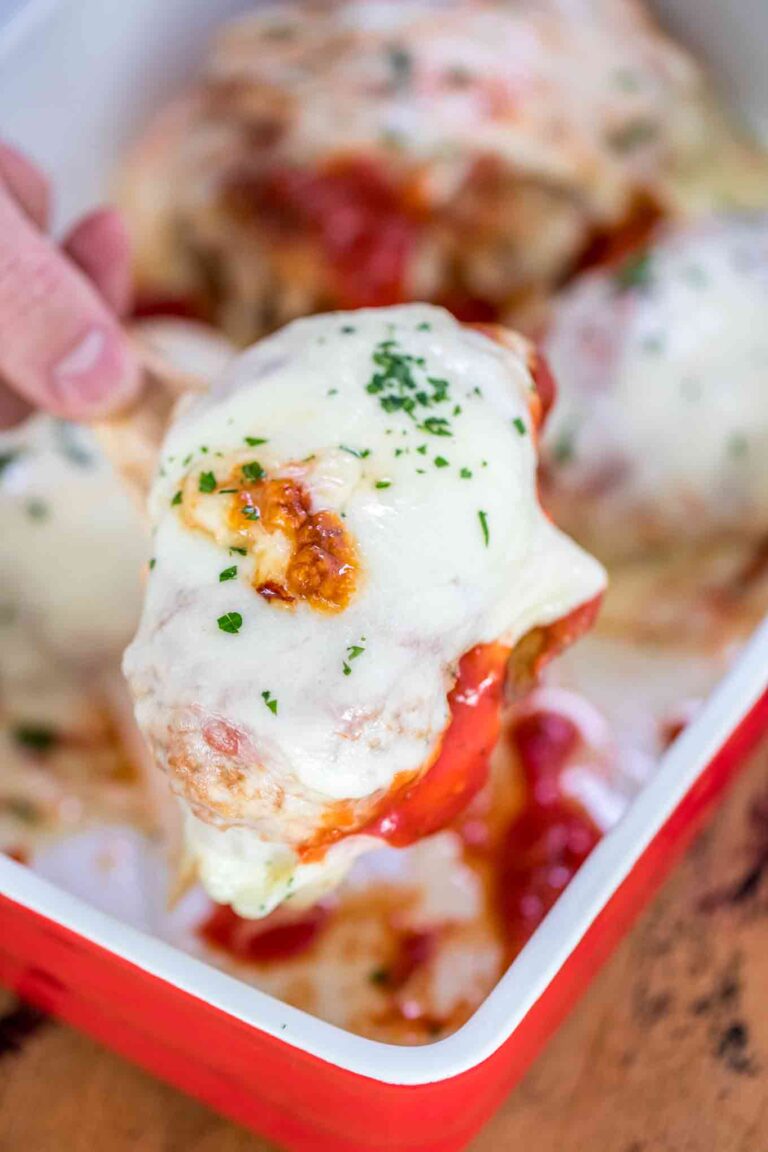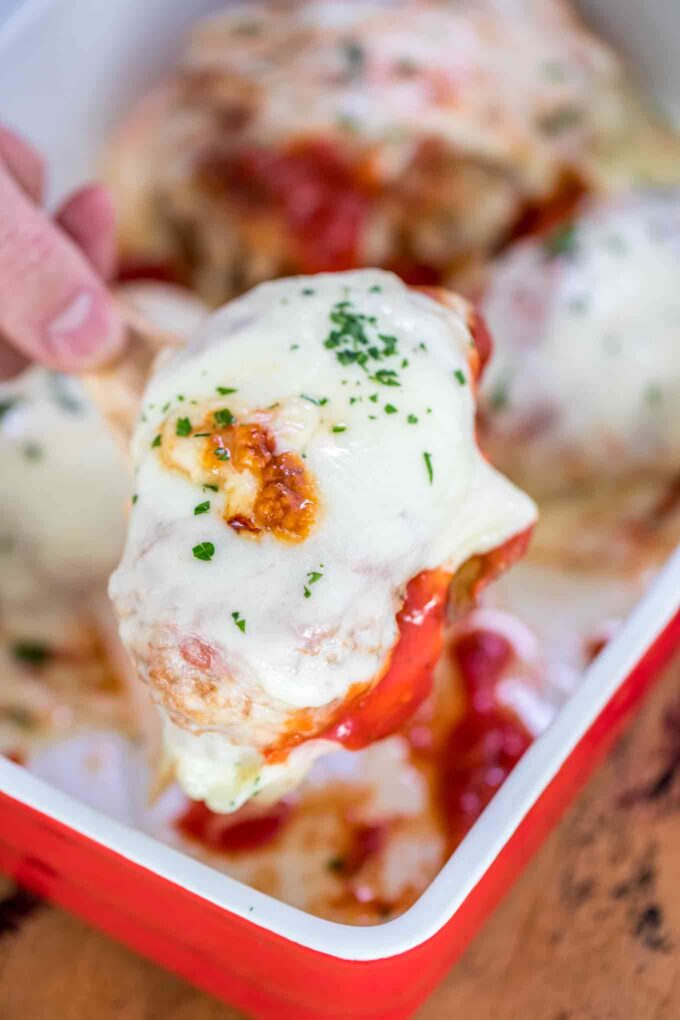 How to make oven-baked chicken parmesan?
For a healthier option, you can go ahead with the oven-baked version. It is similarly delicious and flavorful. You can check the oven-baked recipe by clicking here.
Can Chicken Parmesan be Frozen?
Absolutely! If you have any leftovers this is the right dish to freeze. However, keep in mind that once frozen, it may not be as crispy as fresh, but will be just as delicious!
Simply, transfer the dish to a freezer-proof container or quart bags, and store it in the freezer for up to 3 months. You can reheat it in the microwave or oven.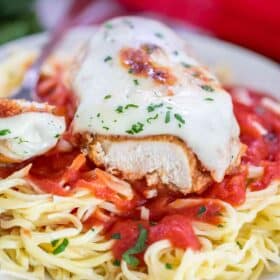 Classic Chicken Parmesan
Chicken Parmesan is amazingly crispy topped with tomato sauce and melted mozzarella cheese. This is a restaurant quality dish, easily made at home.
Save
Share
Print
Pin
Rate
Ingredients
3

medium-large skinless/boneless chicken breasts

(sliced into cutlets or use smaller chicken breasts)

Vegetable Oil

(for frying)
Chicken Crust:
1

cup

panko bread crumbs

1/2

cup

regular bread crumbs

1/2

cup

finely grated Parmesan cheese

1

teaspoon

salt

1/2

teaspoon

ground black pepper

1 1/2

teaspoons

garlic powder

1

teaspoon

onion powder

1

teaspoon

ground paprika

(optional)

1

teaspoon

dried Italian seasoning
Topping:
1

cup

tomato sauce

(or marinara sauce)

12

slices

Buffalo mozzarella cheese

Fresh chopped parsley
Instructions
Lightly grease a large baking dish with cooking spray and set aside. If desired, for extra crispiness to bake the chicken you can place a cooling rack inside a baking dish.

Lightly pound each chicken cutlet with a flat meat mallet or rolling pin to slightly flatten it.
Brine Chicken:
Add 6 cups of water to a large bowl and add 1 tablespoon of salt. Whisk until salt is dissolved. Add the chicken into the mixture, cover and refrigerate for 30 minutes or overnight.

While this step is optional, it is added to make the meat extra tender and juicy.
Prep Work:
In a large shallow bowl, combine all the "Chicken Crust" ingredients and set aside.

In another bowl, whisk the eggs and set aside.

Preheat oven to 400 degrees F.

Place a large, deep skillet over high medium-heat and add enough oil until its about half full. Make sure the oil is hot when you start cooking the chicken.
Fry the Chicken:
Take each chicken cutlet, pat it dry with paper towels and first dip it into the beaten eggs, shake to drain and roll it into the bread crumbs mixture. Cover it very well in bread crumbs. Transfer to the pan with hot oil and cook on each side just golden-brown, it will take just 2-4 minutes per side.

Transfer the chicken to the prepared baking dish.
Bake Chicken:
Top each chicken cutlet with a few tablespoons of tomato sauce, and 2 slices of Buffalo mozzarella cheese.

Bake for 10 minutes or until cheese is melted and the meat is cooked through.

Garnish with freshly chopped parsley and serve.
Nutrition
Calories:
360
kcal
|
Carbohydrates:
18
g
|
Protein:
38
g
|
Fat:
14
g
|
Saturated Fat:
6
g
|
Cholesterol:
156
mg
|
Sodium:
1196
mg
|
Potassium:
658
mg
|
Fiber:
1
g
|
Sugar:
3
g
|
Vitamin A:
715
IU
|
Vitamin C:
4.2
mg
|
Calcium:
293
mg
|
Iron:
2.4
mg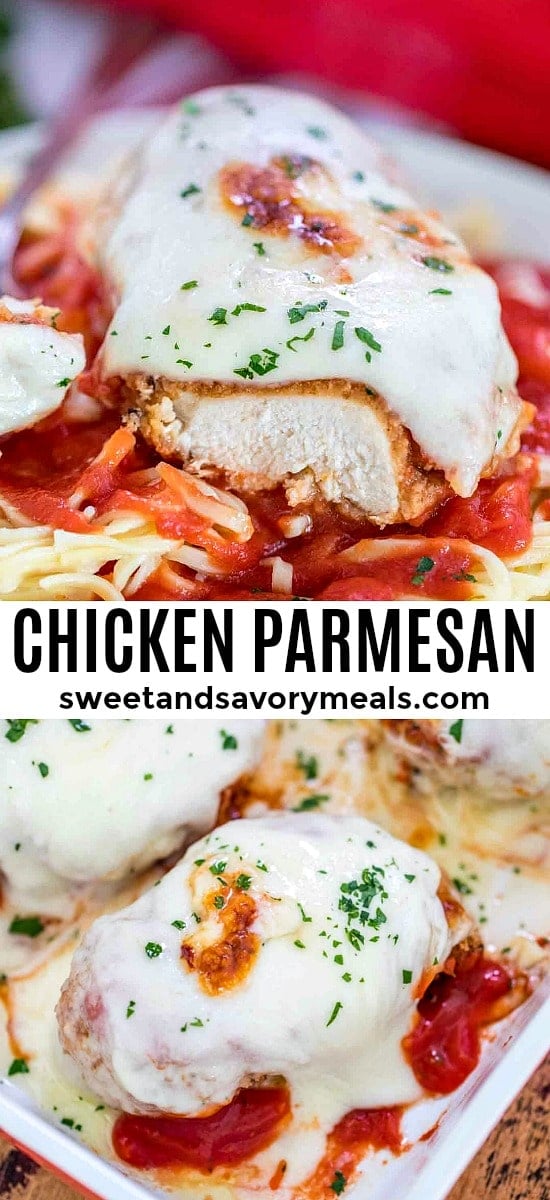 More recipes you might love