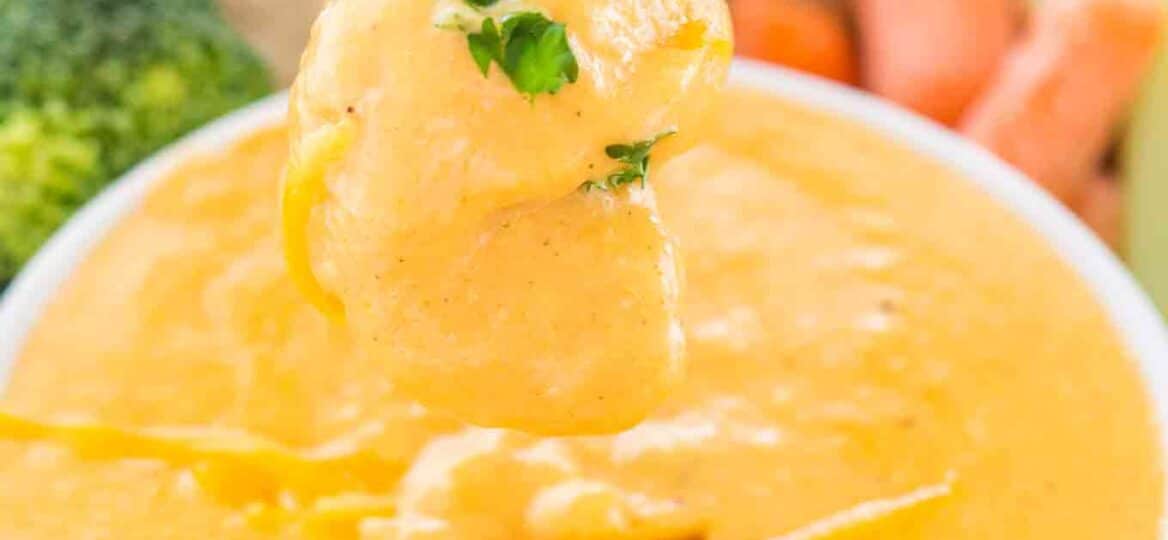 Beer Cheese Dip
Beer Cheese Dip is made with just a handful of easy to find ingredients and is ready in 15 minutes only! This pub staple is a hit, especially when served with soft pretzels for dipping.
This Dip is also Keto friendly with only 6 carbohydrates per serving!! Serve it with sausages, mini hot dogs or cauliflower for dipping to make a Keto meal out of it.
Cheese Dips are so easy to make and they are great for parties, game nights or when you have friends over to watch a game. We love the simplicity of putting together cheese dips and that you can easily feed a crowd with minimum effort. Among our favorites is this Spinach Artichoke Dip with pull-apart rolls, Buffalo Crack Chicken Dip and Million Dollar Dip. If you are looking for a dip that is not cheese-based, you should try our highly popular Deviled Eggs Dip!
Beer Cheese Dip
Beer Cheese Dip is one of our favorite appetizers to serve during football parties and game nights. Since it's so easy to make, you get to spend more time with your guests, not in the kitchen. Also, the dip is Keto friendly so you can let your friends know they won't break the carbohydrate bank by enjoying it.
We love serving this dip with a tray of crunchy veggies like celery sticks, carrots, broccoli, cauliflower and obviously some soft pretzels as they are amazing dipped into the cheesy goodness. For a protein-packed appetizer, serve some sausages on the side, and you basically don't even have to cook dinner.
What do you need to make Beer Cheese Dip?
Cream cheese
Cheddar Cheese
Mozzarella Cheese
Beer
Garlic powder
Ground Mustard
Smoked Paprika
Salt and Pepper
How to make Beer Cheese Dip:
Place a large saucepan over medium heat.
Next, add cubed cream cheese and melt. Add beer, slowly and stirring, until fully combined with the cream cheese.
After that, add garlic powder, smoked paprika, mustard powder, and stir.
Remove from heat and add cheese little by little, stirring continuously until all the cheese is fully melted.
Add salt and pepper to taste.
Pour Beer Cheese Dip into a dipping bowl and serve immediately.
What is the best cheese for Beer Cheese Dip?
Choosing a good cheese is so important, as together with the beer, the cheese is the star of the show here.
Do NOT choose hard cheeses that are very low in moisture, like Parmesan, Emmental, Manchego, Gruyere, Pecorino Romano, etc.
While aged cheeses are delicious, try to stay away from the very aged ones for this recipe, they don't melt too well.
Choose a cow's milk cheese that has moderate moisture content and is intended for melting, like Cheddar, Mozzarella, Pepper Jack Cheese, White American Cheese, Asiago, Fontina, etc.
Preferably do NOT buy pre-shredded cheeses. Shred the cheese yourself and let it come to room temperature before melting it, otherwise, the cheese may clump.
Finally, NEVER add the cheese to a boiling or too hot liquid. Add the cheese slowly, in small batches and stir well until combined, into a liquid that has been slightly cooled off.
What is the best beer for Beer Cheese Dip?
You can use any beer that you like, but popular choices are bock lager, stout beer, wheat beer, and brown ales.
How to reheat Beer Cheese Dip:
Reheat the dip in the microwave or on the stovetop over low heat, stirring for the cheese to melt.
HOW LONG WILL BEER CHEESE DIP LAST IN THE FRIDGE?
If you want to refrigerate the dip, add it to an airtight container, it is best to refrigerate it up to 3-4 days. Preferably, reheat before serving.
CAN YOU FREEZE BEER CHEESE DIP?
Freezing this dip is not recommended. Since the dip contains cream cheese, it will separate when frozen. Also, once frozen, the texture of the dip will not look as good as expected, hence best not to freeze it.