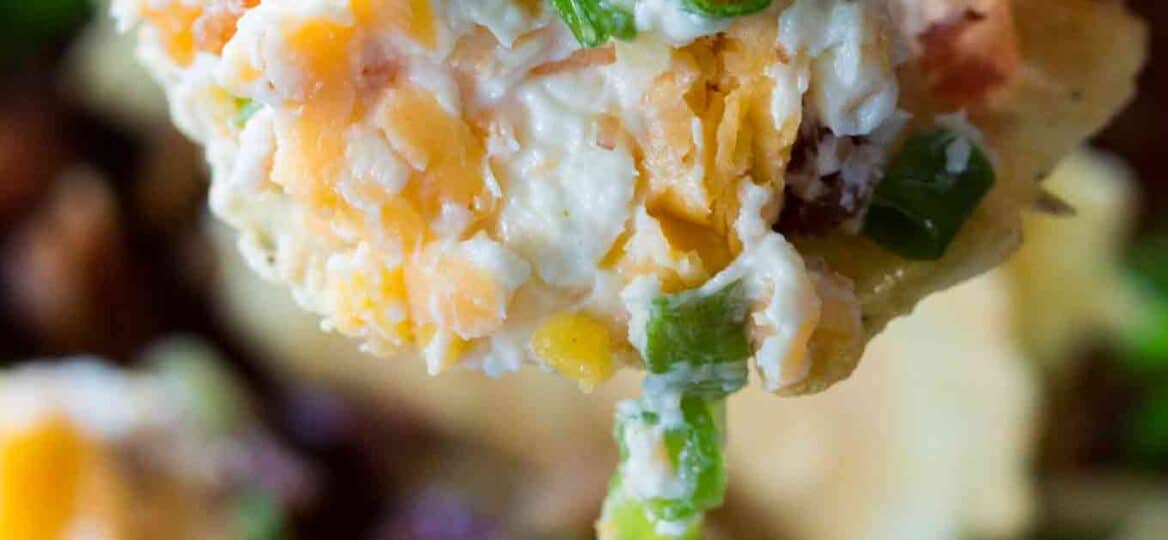 Best Million Dollar Dip Recipe [Video]
Million Dollar Dip is the best cheese dip that you can make! Layers of creamy cheese, sharp cheddar cheese, bacon, slivered almonds, and green onions!
I love dips because they are simple to make, and can be served at about any event. Like Deviled Eggs Dip, Creamy Chicken Caesar Dip and Roasted Red Pepper Tomato Feta Dip, this dip will be the highlight of any party!
Million Dollar Dip Recipe
Million Dollar Dip is basically a bowl full of happiness! You can't go wrong with so many layers of pure cheesy goodness! A delicious blend of cream cheese, Gruyere cheese and blue cheese dressing combined with layers of aged sharp cheddar cheese, lots and lots of bacon, slivered almonds, and green onions.
This dip is a great appetizer you can serve at just about any event, such as Superbowl, or a party. Serve with chips, crackers or crunchy veggies, this Dip will be gone before you know it.
Why you'll love this easy Million Dollar Dip Recipe:
The dip is incredibly easy to make with minimum dishes to clean.
The dip is creamy and rich, the perfect crowd appetizer.
It can be served with crunchy veggies, veggie sticks, chips, crackers or toasted bread.
Pin This Million Dollar Dip Recipe to your Favorite Board
What is a million-dollar dip?
Also called Neiman Marcus Cheese Dip, this recipe seemed to has its roots from Helen Corbitt's Cookbook. It is a very popular and comfort spread dip, that is usually loaded with various cheeses, bacon, and topped with almonds. Also, this recipe is very versatile as it can be easily adjusted. Therefore, it is one of the most popular spreads and crowd-pleasing appetizers.
Tips how to make the perfect Million Dollar Dip Recipe:
You need a softer, creamy base, that will basically pull the dip together. I used a mix of cream cheese, blue cheese dressing, and Gruyere cheese. If you are not a fan of the blue cheese dressing, feel free to use Ranch or Buttermilk salad dressing.
The bacon is optional, you can skip it if you want to make a vegetarian version of this dip.
Select a good cheddar cheese, preferably aged, so it adds flavor to the dip.
Don't buy the shredded/grated cheddar cheese, get your hands on quality cheddar cheese and grate it at home. The difference in flavor is huge.
The slivered almonds are added for texture, also they pair nicely with the cheese. You can use chopped pecans or chopped walnuts instead.
The green onion adds freshness to the overall hearty and savory dip, but you can skip them if you are not an onion fan.
What to serve with Million Dollar Dip?
Since this Dip is a great appetizer, it pairs well with:
Chips and crackers
Crunchy veggies such as celery, zucchini, cucumbers, carrots
Toasted bread, soft pretzels or breadsticks
Can you make it in advance?
Yes! This is one of those appetizers that you can easily make a few hours in advance, and store refrigerates prior to serving. In fact, it usually tastes better that way, as the ingredients combine together, and blend in nicely.
Can you refrigerate Million Dollar Dip?
Yes. If you plan on refrigerating the dip, wrap the dish tightly in plastic wrap, this way the cheese won't dry out. Also, you can use a bowl with a sealable lid, or an airtight container to store it. Then, simply refrigerated for up to two days.